Global Electrolyzer Market Size, Share, and COVID-19 Impact Analysis, By Type (Alkaline Electrolyzer, Proton Exchange Membrane, Solid Oxide Electrolyzer, and Anion Exchange Membrane), By Application (Energy, Mobility, Industrial, and Grid Injection), By Power (<500 KW, 500-2,000 KW, and >2,000 KW), By Region (North America, Europe, Asia-Pacific, Latin America, Middle East, and Africa), Analysis and Forecast 2022 – 2032
Industry: Energy & Power
---
REPORT FORMAT

---
Global Electrolyzer Market Insights Forecasts to 2032
The electrolyzer market was valued at USD 3.15 billion in 2022.
The market is growing at a CAGR of 44.7% from 2023 to 2032
The global electrolyzer market is expected to reach USD 126.76 billion by 2032
Europe is expected to grow the fastest during the forecast period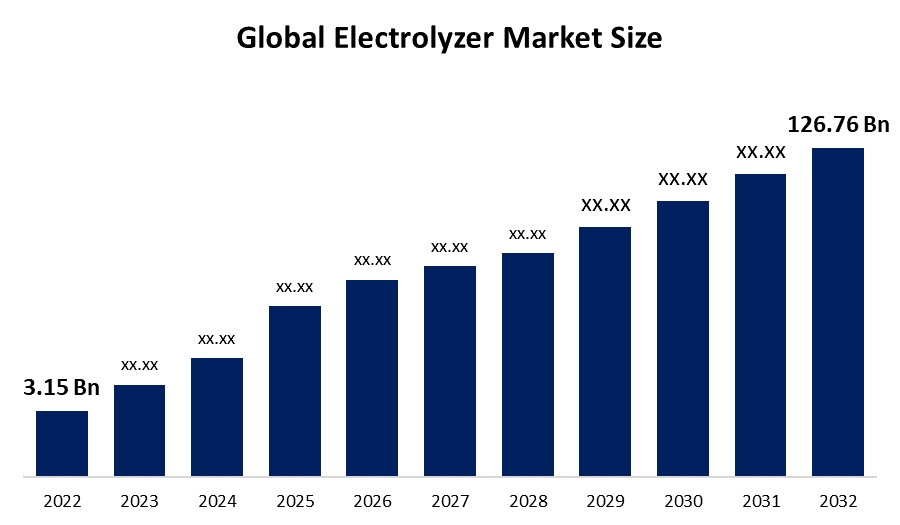 Get more details on this report -
Request Free Sample PDF
The global electrolyzer market is expected to reach USD 126.76 billion by 2032, at a CAGR of 44.7% during the forecast period 2023 to 2032.
Market Overview
An electrolyzer is an electrochemical device that uses electricity to drive a non-spontaneous chemical reaction, typically the splitting of water into hydrogen and oxygen gases through the process of electrolysis. It consists of an electrolyte, electrodes (anode and cathode), and an external power source. When an electric current is passed through the electrolyte, water molecules are dissociated into hydrogen ions (H+) and hydroxide ions (OH-). Hydrogen gas is generated at the cathode, while oxygen gas is generated at the anode. Electrolyzers are used in various applications, such as hydrogen production for fuel cells, energy storage, and industrial processes. They are considered a promising technology for sustainable energy production and storage due to their ability to produce hydrogen, which is a clean and versatile fuel.
Report Coverage
This research report categorizes the market for electrolyzer market based on various segments and regions and forecasts revenue growth and analyzes trends in each submarket. The report analyses the key growth drivers, opportunities, and challenges influencing the electrolyzer market. Recent market developments and competitive strategies such as expansion, product launch, and development, partnership, merger, and acquisition have been included to draw the competitive landscape in the market. The report strategically identifies and profiles the key market players and analyses their core competencies in each sub-segments of the electrolyzer market.
Global Electrolyzer Market Report Coverage
| Report Coverage | Details |
| --- | --- |
| Base Year: | 2022 |
| Market Size in 2022: | USD 3.15 Billion |
| Forecast Period: | 2022 - 2032 |
| Forecast Period 2022 - 2032 CAGR: | 44.7 |
| 2032 Value Projection: | USD 126.76 Billion |
| Historical Data for: | 2018 - 2021 |
| No. of Pages: | 227 |
| Tables, Charts & Figures: | 120 |
| Segments covered: | By Product, By Application, By Capacity, By Region |
| Companies Covered: | Linde plc, Suzhou Green Hydrogen Energy Co., Ltd., Air Products Inc., Cummins, Inc., Sunfire GmbH, Next Hydrogen, Green Hydrogen, ErreDue spa, NeL ASA, Cockerill Jingli Hydrogen, Idroenergy, ITM Power PLC, PLUG POWER INC., Air Liquide, Siemens Energy |
| Pitfalls & Challenges: | COVID-19 has the potential to impact the global market |
Get more details on this report -
Request Free Sample PDF
Driving Factors
The drivers of the electrolyzer market include the increasing demand for green hydrogen as a clean energy source, the global emphasis on decarbonization, advancements in electrolyzer technologies, supportive government policies and incentives, and collaborations for innovative solutions. The rising need for green hydrogen in various applications such as transportation, industrial processes, and energy storage is driving the market growth. Governments and organizations worldwide are investing in electrolyzer technology to produce green hydrogen and reduce greenhouse gas emissions. Advancements in electrolyzer technologies, including improved efficiency, scalability, and cost reduction, are further propelling the market. Supportive government policies, incentives, and funding initiatives, along with collaborations among industry players and research institutions, are contributing to the electrolyzer market's expansion.
Restraining Factors
The restraints of the electrolyzer market include high initial capital costs, limited availability of renewable energy sources, lack of established hydrogen infrastructure, regulatory barriers, and competition from other hydrogen production methods. The significant upfront investment required for electrolyzer systems, including materials, manufacturing, and installation costs, can hinder the market growth. The availability and reliability of renewable energy sources, such as solar or wind, to power electrolyzers may also be limited, affecting the widespread adoption of the technology. The lack of established infrastructure for hydrogen storage, transportation, and distribution can pose challenges for commercializing electrolyzer-produced hydrogen. Regulatory barriers, such as varying codes and standards, can create complexities and uncertainties.
Market Segmentation
In 2022, the alkaline electrolyzers segment accounted for around 72.4% market share
On the basis of the type, the global electrolyzer market is segmented into alkaline electrolyzer, proton exchange membrane, solid oxide electrolyzer, and anion exchange membrane. The alkaline electrolyzers segment is dominating the market with the largest market share in 2022, due to their mature and established status. These electrolyzers operate by using an alkaline solution as an electrolyte, making them relatively simple and cost-effective compared to other types of electrolyzers. They have a long history of commercial use in various applications, such as hydrogen production for industrial processes, and are well-suited for large-scale operations. Additionally, alkaline electrolyzers have demonstrated high efficiency and reliability, making them a popular choice for hydrogen production, which has contributed to their dominant position in the electrolyzer market.
The grid injection segment is expected to grow at a higher CAGR of around 51.7% over the forecast period
Based on the application, the global electrolyzer market is segmented into energy, mobility, industrial, and grid injection. The grid injection segment is expected to significantly grow due to the increasing demand for grid-scale energy storage solutions and the integration of renewable energy sources into the electricity grid. Grid injection refers to the process of injecting hydrogen produced from electrolyzers into the existing natural gas grid or electricity grid. This can help address the intermittency of renewable energy sources by storing excess energy as hydrogen and injecting it back into the grid when needed. The growing focus on decarbonization, renewable energy integration, and energy storage solutions is expected to drive the growth of the grid injection segment in the electrolyzer market.
Regional Segment Analysis of the Electrolyzer Market
North America (U.S., Canada, Mexico)
Europe (Germany, France, U.K., Italy, Spain, Rest of Europe)
Asia-Pacific (China, Japan, India, Rest of APAC)
South America (Brazil and the Rest of South America)
The Middle East and Africa (UAE, South Africa, Rest of MEA)
North America is leader in the market with around 41.8% revenue share in 2022.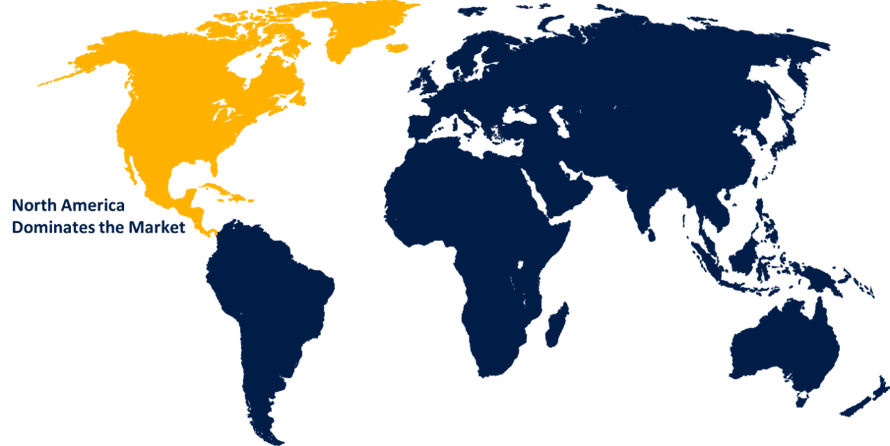 Get more details on this report -
Request Free Sample PDF
Based on region, North America has emerged as one of the largest markets for electrolyzers. The region has seen significant growth in demand for electrolyzers due to various factors such as increasing investments in renewable energy projects, government initiatives to promote green hydrogen production, and growing interest from industries and investors in decarbonization solutions. The favorable regulatory environment, supportive policies, and technological advancements in the electrolyzer sector have contributed to the growth of the market in North America. Additionally, collaborations between governments, industries, and research institutions have fostered innovation and further propelled the adoption of electrolyzers in the region, making North America one of the largest markets for electrolyzers.
Competitive Analysis:
The report offers the appropriate analysis of the key organizations/companies involved within the global electrolyzer market along with a comparative evaluation primarily based on their product offering, business overviews, geographic presence, enterprise strategies, segment market share, and SWOT analysis. The report also provides an elaborative analysis focusing on the current news and developments of the companies, which includes product development, innovations, joint ventures, partnerships, mergers & acquisitions, strategic alliances, and others. This allows for the evaluation of the overall competition within the market.
List of Companies:
Siemens AG
ITM Power PLC
Nel ASA
McPhy Energy S.A.
Ballard Power Systems Inc.
Plug Power Inc.
ABB Ltd.
Hydrogenics Corporation
Toshiba Energy Systems & Solutions Corporation
ELB Elektrolysetechnik GmbH
Proton OnSite
Giner ELX
Enapter AG
Green Hydrogen Systems
Areva H2Gen
Key Target Audience
Market Players
Investors
End-Users
Government Authorities
Consulting and Research Firm
Venture Capitalists
Value-Added Resellers (VARs)
Recent Developments
In June 2022, Air Liquide and Siemens Energy have announced the establishment of a joint venture that will focus on the mass production of industrial-scale electrolyzers for renewable hydrogen production in Europe. This collaboration between two leading companies in their respective fields, from France and Germany, aims to promote the development of a sustainable hydrogen economy in Europe and support the growth of an electrolysis and hydrogen technology ecosystem in the region. The joint venture is expected to commence production in the second half of 2023 and scale up to an annual production capacity of three gigawatts by 2025.
Market Segment
This study forecasts revenue at global, regional, and country levels from 2019 to 2032. Spherical Insights has segmented the global electrolyzer market based on the below-mentioned segments:
Electrolyzer Market, By Type
Alkaline Electrolyzer
Proton Exchange Membrane
Solid Oxide Electrolyzer
Anion Exchange Membrane
Electrolyzer Market, By Application
Energy
Mobility
Industrial
Grid Injection
Electrolyzer Market, By Power
<500 KW
500-2,000 KW
>2,000 KW
Electrolyzer Market, Regional Analysis
North America
Europe

Germany
Uk
France
Italy
Spain
Russia
Rest of Europe

Asia Pacific

China
Japan
India
South Korea
Australia
Rest of Asia Pacific

South America

Brazil
Argentina
Rest of South America

Middle East & Africa

UAE
Saudi Arabia
Qatar
South Africa
Rest of Middle East & Africa
Need help to buy this report?