Global Electrolyzer Market By Product (Alkaline Electrolyzer, PEM Electrolyzer, Solid Oxide Electrolyzer), By Application (Power Generation, Transportation, Industry Energy, Industry Feedstock, Building Heating & Power), By Capacity (≤ 500 kW, > 500 kW - 2 MW, Above 2 MW), By Region (North America, Europe, Asia Pacific, Middle East & Africa, and South America) – Market Size & Forecasting To 2030
Industry: Energy & Power
---
REPORT FORMAT

---
The Global Electrolyzer Market Size was valued at $5.6 billion in 2021 and is expected to reach at a CAGR of 32.21% from 2021 to 2030. For the forecast period of 2021–2030, the market for hydrogen electrolyzers is expected to develop as a result of the rising application of these devices in end-use sectors such power plants, chemical, and petrochemical production. Concurrently, the market for hydrogen electrolyzers has been presented with numerous potential for income production due to the growth in the need for green energy and the development of green hydrogen.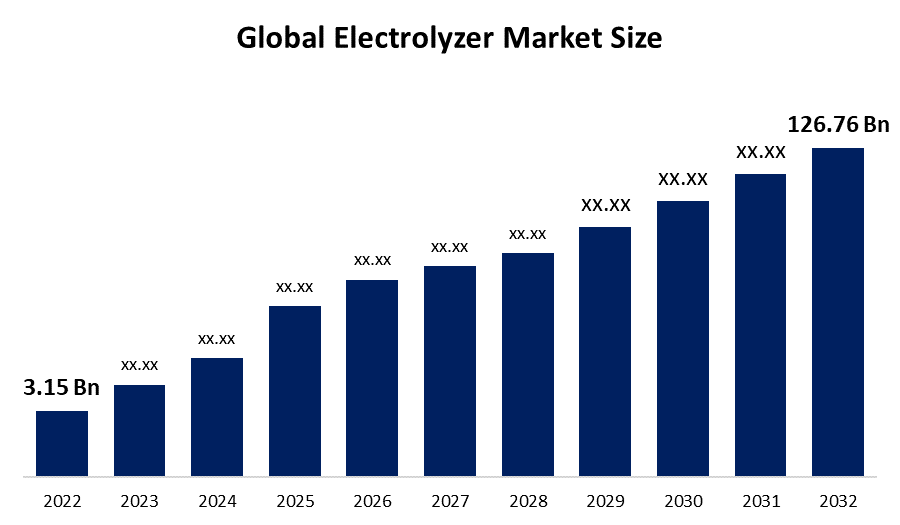 Get more details on this report -
Request Free Sample PDF
One of the most popular choices for producing compounds like methanol and ammonia has been thought of as hydrogen gas. The fuel hydrogen gas is regarded as clean burning and helps to cause very little pollution. The hydrogen gas component turns out to be quite advantageous for the environment. For the fertilisers used in the agricultural industry, the ammonia component proves to be a crucial component. In order to produce gasoline and other petroleum products, hydrocracking technologies extensively utilise hydrogen. Due to individuals using vehicles more frequently, there has been a sharp rise in the use of fuel and diesel worldwide.
Driving Factors
The market will rise as a result of the ongoing development of dependable and cutting-edge technological power solutions and the expanding use of clean hydrogen generation technologies. The industrial trend will change as a result of the growing consumer shift toward environmental security and the widespread integration of renewable energy sources.
Carbon emissions and global warming are issues that have come to light. Numerous laws and regulations mandating a reduction in carbon emissions from various sectors have been passed by governments all over the world. By employing electricity to divide water into hydrogen and oxygen, electrolyzers produce hydrogen. Either renewable or nonrenewable resources were used to produce the electricity used. In addition, hydrogen can be generated by an electrolyzer working with solar or wind power. The creation of green hydrogen that is carbon neutral is encouraged by this strategy. Many businesses decide to install on-site electrolyzers with 1 to 5 MW of capacity in order to lower their carbon footprint, which has a substantial impact on the growth of the worldwide electrolyzer industry.
Renewable energy sources have seen a surge in popularity as a result of worries about climate change, the rise in earth's temperature, and the alarming growth in carbon emissions. Many companies have abandoned the conventional method of producing electricity from fossil fuels in favour of using abundant natural resources like solar, wind, natural gas, and water in order to behave responsibly. However, developing such programmes came with a substantial upfront cost. In contrast, because to technological advancements and fervent support for the advantages of renewable energy, several advantageous government policies have been put into place. Costs for renewable energy have come down, with the added bonus of having a far less carbon footprint. The demand for electrolyzers is fueled by these falling prices.
Restraining Factors
Alkaline electrolyzers have been used for electrolysis for a long time. Alkaline electrolyzers are unstable because of their vulnerability to sudden power spikes. Due to the accessibility of alternate hydrogen production techniques, which inhibited the advancement of new technologies, the market expansion of electrolyzers was hampered. The worldwide electrolyzers market is also significantly constrained by equipment supply delays.
Covid 19 Impact
The COVID-19 outbreak has shut down the industry globally, with severe government-imposed restrictions and limited labour management. The market is poised to regain its lost strength, though, as a result of reducing instances in tandem with the restart of numerous industrial operations. Additionally, the market demand will increase due to a growing trend toward the use of renewable resources and significant government investments in various initiatives.
Global Electrolyzer Market Report Coverage
| Report Coverage | Details |
| --- | --- |
| Base Year: | 2021 |
| Market Size in 2021: | USD 5.6 billion |
| Forecast Period: | 2021-2030 |
| Forecast Period 2021-2030 CAGR: | 32.21% |
| Historical Data for: | 2017-2020 |
| No. of Pages: | 227 |
| Tables, Charts & Figures: | 120 |
| Segments covered: | By Product, By Application, By Capacity, By Region |
| Companies Covered: | Linde plc, Suzhou Green Hydrogen Energy Co., Ltd., Air Products Inc., Cummins, Inc., Sunfire GmbH, Next Hydrogen, Green Hydrogen, ErreDue spa, NeL ASA, Cockerill Jingli Hydrogen, Idroenergy, ITM Power PLC, PLUG POWER INC., Air Liquide, Siemens Energy |
| Pitfalls & Challenges: | COVID-19 has the potential to impact the global market |
Get more details on this report -
Request Free Sample PDF
Segmentation
The global electrolyzer market is segmented into Product, Application, Capacity, and Region.
Global Electrolyzer Market, By Product
According to forecasts, the alkaline electrolyzer market will expand at a 33% annual pace until 2030. The demand for the product is influenced favourably by a number of characteristics, including long-term stability, cheap operation and installation costs, high efficiency and durability, and mature technology. Additionally, the market will rise due to ongoing product advancements and expanding system deployments in a variety of locations. The industry situation will also be aided by the rising demand for hydrogen as a feedstock across a range of industries as well as ongoing infrastructure improvements.
Global Electrolyzer Market, By Application
During the predicted period, the transportation segment is expected to experience significant growth. This increase is linked to a growing trend toward FCEV adoption that is consistent with a favourable prognosis for a clean environment. The market outlook will be boosted by strict government regulations and policies that encourage a sustainable environment in accordance with the growing consumer trend toward hydrogen-powered automobiles. The economic potential will also be increased by the expansion of applications for powering trams, forklift trucks, light vehicles, buses, and other vehicles.
Global Electrolyzer Market, By Capacity
By 2030, it is estimated that the ≤ 500 kW capacity sector will generate USD 276 million in revenue. The industry dynamics will be fueled by expanding investments in both the public and private sectors for the development of hydrogen infrastructure in accordance with continuing advancements of many projects, especially across industrial & mobility applications. The market demand will also be boosted by a growing trend toward the use of environmentally friendly energy sources to address growing worries about carbon emissions.
Global Electrolyzer Market, By Region
Due to favourable government incentives, regulations, and standards for infrastructure growth as well as growing consumer predisposition toward the use of renewables, the Europe electrolyzer market is anticipated to experience considerable growth over the forecast timeframe. Additionally, a growing emphasis on alternative power sources along with an increase in electricity demand across a variety of commercial and industrial buildings would speed up market expansion.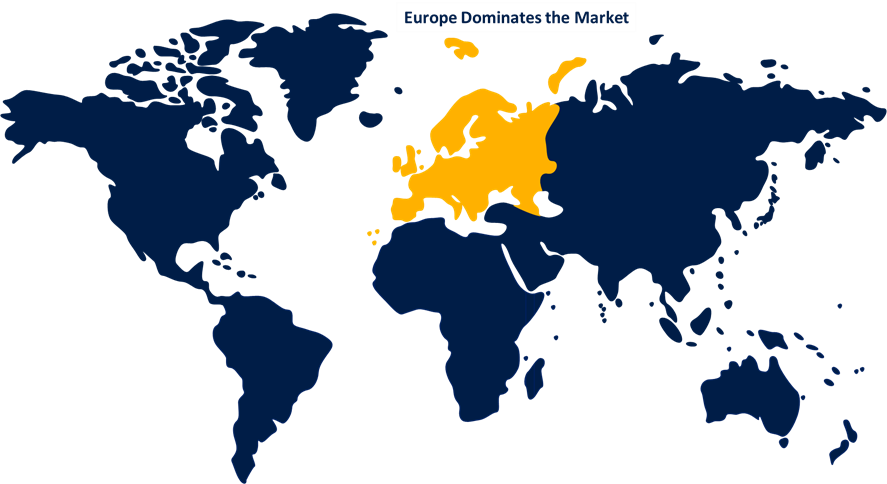 Get more details on this report -
Request Free Sample PDF
The market in Germany is expected to grow significantly over the next few years as a result of ongoing infrastructural improvements and the integration of renewable energy sources. The launch of several projects by government agencies, together with significant laws and initiatives to decrease carbon emissions, would change the market environment. The market will expand as a result of significant investments made by both the public and commercial sectors, as well as a number of funding initiatives that place an emphasis on environmentally friendly hydrogen generation technologies.
List of Key Companies
Linde plc
Suzhou Green Hydrogen Energy Co., Ltd.
Air Products Inc.
Cummins, Inc.
Sunfire GmbH
Next Hydrogen
Green Hydrogen
ErreDue spa
NeL ASA
Cockerill Jingli Hydrogen
Idroenergy
ITM Power PLC
PLUG POWER INC.
Air Liquide
Siemens Energy
Segmentation
By Product
Alkaline Electrolyzer
PEM Electrolyzer
Solid Oxide Electrolyzer
By Application
Power Generation
Transportation
Industry Energy
Industry Feedstock
Building Heating & Power
By Capacity
≤ 500 kW
> 500 kW - 2 MW
Above 2 MW
By Region:
North America
North America, by Country
North America, by Product
North America, by Application
North America, by Capacity
Europe
Europe, by Country

Germany
Russia
U.K.
France
Italy
Spain
The Netherlands
Rest of Europe

Europe, by Product
Europe, by Application
Europe, by Capacity
Asia Pacific
Asia Pacific, by Country

China
India
Japan
South Korea
Australia
Indonesia
Rest of Asia Pacific

Asia Pacific, by Product
Asia Pacific, by Application
Asia Pacific, by Capacity
Middle East & Africa
Middle East & Africa, by Country

UAE
Saudi Arabia
Qatar
South Africa
Rest of Middle East & Africa

Middle East & Africa, by Product
Middle East & Africa, by Application
Middle East & Africa, by Capacity
South America
South America, by Country

Brazil
Argentina
Colombia
Rest of South America

South America, by Product
South America, by Application
South America, by Capacity
Need help to buy this report?