Global Electric Powertrain Market Size, Share, and COVID-19 Impact Analysis, By Vehicle Type(BEV & HEV),By Component(Motor, Battery, and Power Electronics Components) and by Region (North America, Europe, Asia-Pacific, Latin America, Middle East, and Africa), Analysis and Forecast 2021 – 2030
Industry: Automotive & Transportation
---
REPORT FORMAT

---
The Global Electric Powertrain Market Size is said to grow by USD 760.1 billion by 2030 at a CAGR of 32.4% from USD 60.8 billion in the year 2021.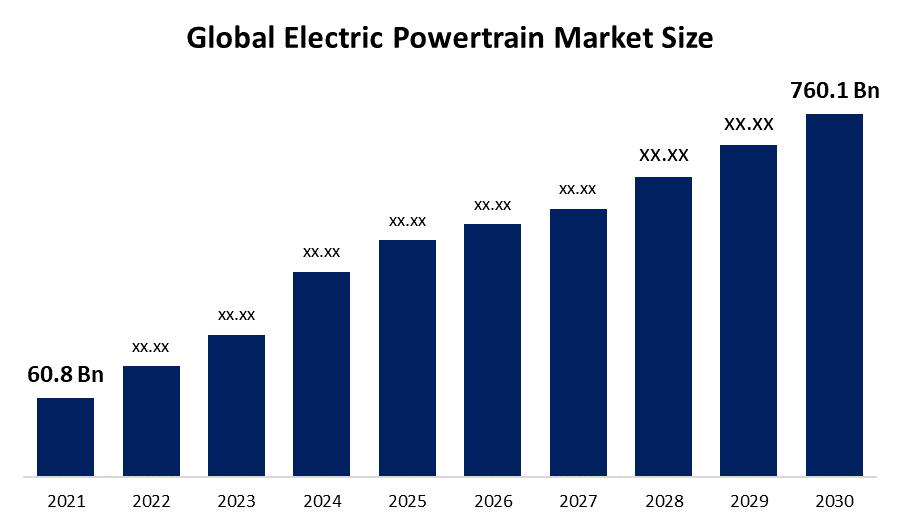 Get more details on this report -
Request Free Sample PDF
Market Overview
The value chain for the electric drivetrain market is composed of Original Equipment Manufacturers (OEMs), Tier 2+ suppliers, Tier 1 suppliers, integrated electric chassis solution providers, and new electric vehicle startups. Steel, plastic, rubber, aluminium, aluminium alloys, nickel, lithium, and cobalt are a few of the basic elements required to make the parts of an electric powertrain. A battery, reducer, motor, onboard charger, and battery management system make up the majority of an electric powertrain.
For the past few decades, the value chain in the automotive industry from tier 2+ to tier 1 suppliers to OEMs has been the standard. The supply chain has evolved into an ecosystem where the boundaries between industries are no longer fixed as a result of advancements in electric vehicle technology. By offering integrated electric chassis solutions, the tier 1 suppliers are altering their product lines and falling to tier 0.5. As businesses alter their business practises, pressure is mounting on the market for tier 1 suppliers. For instance, the market for e-motors is extremely complex and competitive due to the presence of more than 20 suppliers.
Drivers for the Global Electric Powertrain Market –
The Increased Demand for Vehicle Electrification and the sudden surge in the sales of electric vehicles are key driving elements for the market.
Large automakers have invested a lot of money into making automobiles more electric, which has greatly increased demand for electric vehicles. These manufacturers include Tesla, Honda, Ford, Toyota, and General Motors. Also, the increased collaborations between manufacturers and suppliers of electric motors ought to increase interest in electric cars. For instance, the announcement of a North American automotive collaboration between General Motors Co. and Honda Motors Co. General Motors plans to market 20 electric vehicle types by 2023, and Honda plans to produce two plug-in electric vehicle models using GM's battery pack.
The largest automakers are now producing electric vehicles as they are growing in popularity. For instance, the market leader in traditional automobiles, Maruti Suzuki, announced in 2019 that it will soon begin selling electric cars for private use on the Indian market. Due to the market's profitability, more and more manufacturers of conventional automobiles are probably going to start producing electric vehicles. This will fuel the market for electric powertrains to develop. The escalating costs of conventional fuels and the increasing popularity of electric vehicles are likely to hasten the expansion of vehicle electrification.
Due to severe pollution regulations and a rise in consumer environmental consciousness, the market for electric vehicles is predicted to increase. Also, automakers like Bosch and Renault Group are putting an emphasis on developing electric vehicles for their product lines, which is anticipated to enhance demand for vehicle electrification. All of these things are anticipated to drive the powertrain market upward over the coming few years.
The surge in sales of Electric Vehicles boosts the Electric Powertrain Market.
A significant driver of the expansion of the global market for electric powertrains is the market for hybrid and electric vehicles, which is expanding significantly. More than 45 percent of the global market for pure electric vehicles is sold in China, more than any other nation. In 2019, 1.1 million electric cars, SUVs, MPVs, and LCVs were sold in the Chinese market. Tax cuts and subsidies for both consumers and electric car producers have improved the regulatory climate in Europe and the Asia-Pacific region, which has resulted in a significant rise in the sales of electric vehicles. All governmental levels support electric car legislation, which is focused on sustainability and environmental objectives.
Global Electric Powertrain Market Report Coverage
| Report Coverage | Details |
| --- | --- |
| Base Year: | 2021 |
| Market Size in 2021: | USD 60.8 billion |
| Forecast Period: | 2021 - 2030 |
| Forecast Period 2021 - 2030 CAGR: | 32.4% |
| 2030 Value Projection: | USD 760.1 Billion |
| Historical Data for: | 2017 - 2020 |
| No. of Pages: | 210 |
| Tables, Charts & Figures: | 123 |
| Segments covered: | By Vehicle Type, By Component, By Region |
| Companies Covered: | Borgwarner Inc., Continental AG, Magna International Inc., Marelli Holdings Co. Ltd., Mitsubishi Electric Corporation, Nidec Corporation, etc. |
| Pitfalls & Challenges: | COVID-19 Empact, Challenge, Future, Growth, & Analysis |
Get more details on this report -
Request Free Sample PDF
Restraints for the Global Electric Powertrain Market –
Higher Costs of Electrical Components and Technological Challenges related to Electric Powertrains are major restraints
Although buying an electric vehicle is more expensive than buying a combustion engine vehicle, overall ownership costs for electric vehicles are lower than those for conventional vehicles. According to a report by the Natural Resources Defense Council, the average cost of an electric passenger car in the US in June 2020 would be USD 19,000, which is more expensive than a car that runs on gasoline. When originally purchased, the costs of these two vehicles are so dissimilar that it is difficult for consumers who are concerned with costs to select an electric vehicle. Consumers do not want to pay the extra cost for electric automobiles, even though the total cost of ownership could be low because the cars are used a lot.
Due to the higher cost of electric powertrains compared to ICE powertrains, which can range from USD 5,000 to USD 13,000 more depending on the required range and battery size, OEMs throughout the world find it challenging to replace an ICE powertrain with an electric powertrain in passenger vehicles. As more individuals become aware of and comprehend the general advantages and cheap ownership costs of an electric vehicle, this situation is likely to alter in the upcoming years (EV). The cost differential between these cars is anticipated to vanish in the coming years as battery technology advances and more vehicles are produced.
The main factors impeding the expansion of the market for electric powertrains are technological ones, such as low energy and power density, range anxiety among consumers, and battery charging issues. The quantity of energy stored in the battery determines the range of an electric vehicle. How quickly the energy in the battery is depleted determines how quickly the vehicle drives. Because they must create vehicles with greater speed and range, manufacturers are faced with a difficult challenge.
Range anxiety is a result of the fact that early electric cars' batteries were much smaller and could only travel 70 miles on a single charge. Customers worry that the backup battery might die in the middle of a trip as a result, which could be problematic given that most nations lack reliable charging infrastructure. But since they were first produced, electric cars have advanced significantly. Recent years have seen significant advancements in lithium-ion batteries, which can now power a light-duty EV for about 300 miles on a single charge.
Opportunities in the Global Electric Powertrain Market –
The rise in the demand for electric vehicles creates massive opportunities in the said market segment.
The largest automakers now produce electric automobiles as they become more and more popular. Since the market is so lucrative, it's conceivable that more traditional automakers will start producing electric vehicles. The market for electric powertrains will benefit from this. Increased sales of electric automobiles and rising traditional fuel prices are anticipated to hasten the development of electric vehicles. Due of severe pollution laws and more people caring about the environment, the market for electric vehicles is anticipated to expand. Meanwhile, automakers like Bosch and Renault Group have taken the lead in implementing vehicle electrification and concentrating on expanding their product lines to include electrified vehicles.
Segmental Analysis –
The global electric powertrain market is segmented in two sub-segments, by vehicle type and by component.
The 'by vehicle' segmentation is further sub-segmented into BEV & HEV, where the BEV segment dominates the segment.
BEV –
BEVs are the most popular form of vehicle, with a market value of USD 60.89 billion in 2021 and a CAGR of 32.8% to reach USD 782.2 billion. This high percentage is a result of decreased ICE vehicle sales and more stringent CO2 standards. In the long run, increasing the number of BEV purchases will be the most effective strategy to reduce emissions and lower overall cost of ownership. Over the next few years, there will probably be more demand for BEVs due to advancements in battery technology and declining Lithium-ion battery pricing.
HEV –
The HEV is the second most important market sector, with a market share of USD 25.8 billion in 2021 and a projected CAGR of 36.7% to reach USD 430.5 billion in 2030. Using a low-range, High Voltage (HV) electric powertrain, these vehicles aim to enhance how the internal combustion engine operates. They have a more potent electric motor and a larger battery that can be charged from an external power source. As a result, they offer clients a selection that is adaptable and simple to utilise.
The by-component –
The electric powertrain market when segmented by component, is further classified into motor, battery, and power electronics components, where the battery segment dominates with the maximum market value.
Motor –
With a CAGR of 32.1%, the Motor segment is predicted to rise from its market worth of USD 7.13 billion in 2021 to USD 87.34 billion by 2030. The need for e-motors is being driven by the increase in BEVs and HEVs globally. These cars' electric motors can be configured in a similar manner. In order to capitalise on the rising demand for electric powertrains, suppliers and OEMs are also likely to establish joint ventures to develop e-motors.
Battery –
In the by-component segmentation, the battery is the most prominent kind, with a market share of USD 39.1 billion in 2021 and a growth rate of USD 502.2 billion with a CAGR of 32.8%. The rise of battery-powered vehicles that function on par with gasoline-powered vehicles is the cause of it.
Power Electronics Component –
The least significant segment, which had revenues of USD 8 billion in 2021, is predicted to rise to USD 96.3 billion in 2030 at a CAGR of 31.7%.
Regional Analysis –
The global electric powertrain market is primarily segmented into three regions, namely- North America, Europe, and Asia-Pacific, where the Asia-Pacific region dominates the market.
North America –
The market size in the North American region, which was USD 11.28 billion in 2021 and is projected to reach USD 190.5 billion by 2030 with a CAGR of 36.9%, is sizable. As the most developed region and home to key economies like the US and Canada, North America makes a significant contribution to the market's expansion.
Europe –
The majority of industries in every industrial sector are based in Europe, which is the world's industrial centre. In 2021, Europe had a market share of USD 39.2 billion, and by 2030, it is predicted to reach USD 477 billion with a CAGR of 32%.
Asia-Pacific –
With a market share of USD 36.1 billion in 2021 and an anticipated CAGR of 35% to reach USD 537.6 billion by 2030, Asia-Pacific is likely to continue to dominate the industry. Because of the existence of rapidly expanding emerging economies like China and India, the area is the most dominant.
Competitors Analysis –
The key competitors in the global electric powertrain market are – Borgwarner Inc., Continental AG, Magna International Inc., Marelli Holdings Co. Ltd., Mitsubishi Electric Corporation, Nidec Corporation, etc.
Recent Developments by Key Players –
BorgWarner Inc. increased the availability of two inverters for a top Chinese OEM in May 2022 by expanding its hybrid system applications.
Borgwarner Inc. completes the acquisition of the Light Vehicle eMotor Business from Santroll in April 2022.
Magna International launched a new production facility for the BMW group's first mild hybrid transverse transmission in May 2022.
Global Electric Powertrain Market Segmentation -
By Vehicle Type –
By Component –
Motor
Battery
Power Electronics Controller
By Region –
North America
Europe
Asia-Pacific
Need help to buy this report?