Global Ecotourism Market Size, Share, and COVID-19 Impact Analysis, By Type of Traveller (Solo and Group), By Age Group (Generation X, Generation Y, and Generation Z), By Sales Channel (Travel Agents and Direct), By Region (North America, Europe, Asia-Pacific, Latin America, Middle East, and Africa), Analysis and Forecast 2022 – 2032
Industry: Consumer Goods
---
REPORT FORMAT

---
Global Ecotourism Market Insights Forecasts to 2032
The Global Ecotourism Market Size was valued at USD 212.75 billion in 2022.
The market is growing at a CAGR of 14.7% from 2023 to 2032
The Global Ecotourism Market Size is expected to reach USD 838.50 billion by 2032
Asia-Pacific is expected to grow the fastest during the forecast period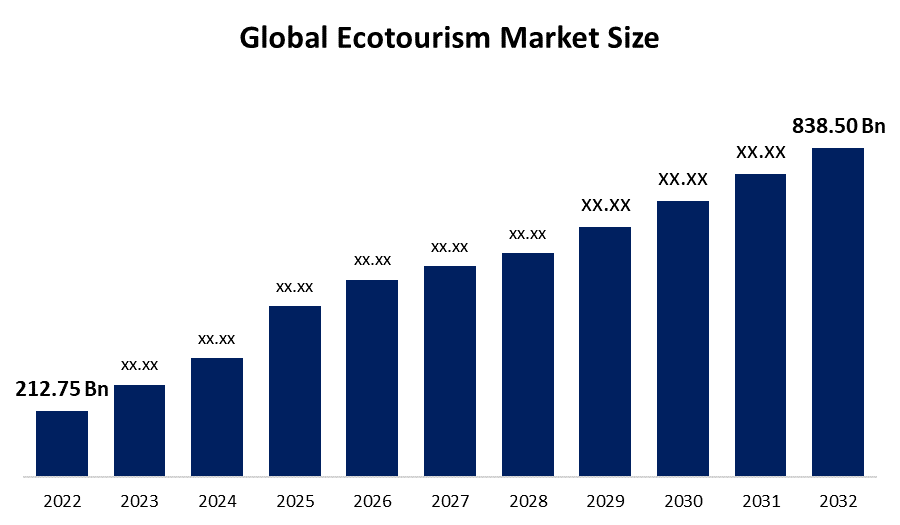 Get more details on this report -
Request Free Sample PDF
The Global Ecotourism Market Size is expected to reach USD 838.50 billion by 2032, at a CAGR of 14.7% during the forecast period 2023 to 2032.
Market Overview
Ecotourism is a sustainable form of travel that focuses on responsible travel practices, the conservation of natural resources, and the protection of local cultures and communities. It aims to minimize negative impacts on the environment and promote education, conservation, and community empowerment. Ecotourism provides travelers with authentic, meaningful experiences in natural and cultural heritage destinations while supporting local economies and promoting awareness about environmental and social issues. It is a growing market driven by increasing traveler demand for sustainable travel options and the need to protect our planet's natural and cultural diversity for future generations.
Report Coverage
This research report categorizes the market for ecotourism market based on various segments and regions and forecasts revenue growth and analyzes trends in each submarket. The report analyses the key growth drivers, opportunities, and challenges influencing the ecotourism market. Recent market developments and competitive strategies such as expansion, product launch, and development, partnership, merger, and acquisition have been included to draw the competitive landscape in the market. The report strategically identifies and profiles the key market players and analyses their core competencies in each sub-segments of the ecotourism market.
Driving Factors
The ecotourism market is driven by several key factors. Firstly, there is a growing awareness and concern about environmental and social issues among travelers. Many tourists are now seeking travel experiences that promote sustainability, conservation, and community empowerment. Secondly, government policies and initiatives at global, regional, and local levels are promoting sustainable tourism practices, protecting natural and cultural heritage, and encouraging ecotourism development. Thirdly, the demand for authentic and meaningful travel experiences that connect with nature and local cultures is driving the growth of ecotourism. Additionally, increasing consumer preferences for responsible and sustainable travel options, as well as the growing influence of environmental and social advocacy groups, are driving the demand for ecotourism. Lastly, the positive economic impact of ecotourism, including local economic benefits, job creation, and community development, is also driving the growth of the ecotourism market as it provides incentives for destinations and communities to embrace sustainable tourism practices.
Global Ecotourism Market Report Coverage
| Report Coverage | Details |
| --- | --- |
| Base Year: | 2022 |
| Market Size in 2022: | USD 212.75 Billion |
| Forecast Period: | 2022 - 2032 |
| Forecast Period 2022 - 2032 CAGR: | 14.7% |
| 2032 Value Projection: | USD 838.50 Billion |
| Historical Data for: | 2018 - 2021 |
| No. of Pages: | 220 |
| Tables, Charts & Figures: | 121 |
| Segments covered: | By Type of Traveller, By Age Group, By Sales Channel, By Region |
| Companies Covered: | Intrepid Travel, G Adventures, Natural Habitat Adventures, Lindblad Expeditions, World Expeditions, Adventure Alternative, Wilderness Safaris, Ecoventura, National Geographic Expeditions, TUI Group, Airbnb, Marriott International, The International Ecotourism Society, Sustainable Travel International, Rainforest Expeditions, Green Global Travel, Earthwatch Institute, African Wildlife Foundation |
Get more details on this report -
Request Free Sample PDF
Restraining Factors
The ecotourism market also faces several restraints. One of the key challenges is the potential for greenwashing, where some tourism operators falsely claim to be environmentally responsible or engage in practices that harm the environment and local communities. Another restraint is the lack of standardized definitions and certifications for ecotourism, which can create confusion among travelers and hinder the development of genuine ecotourism practices. Additionally, limited infrastructure, lack of access to funding and resources, and regulatory challenges in some destinations can pose obstacles to ecotourism development.
Market Segmentation
In 2022, the group type segment accounted for around 81.3% market share
On the basis of the type of traveler, the global ecotourism market is segmented into solo and group. The group type segment is dominated the market with the largest market share in 2022. due to several factors such as an increasing preference for group travel, the emergence of numerous travel groups on social media platforms, and a rise in the number of young eco-tourists. Moreover, young travellers have demonstrated a strong inclination towards group travel, which has contributed to the industry's growth. To appeal to a diverse range of group travellers, tour operators worldwide are providing travel packages that incorporate various group activities. As a result, the ecotourism industry's growth has been further stimulated.
In 2022, the generation Y segment dominated with around 62.4% market share
Based on the aged group, the global ecotourism market is segmented into generation X, generation Y, and generation Z. Out of this, the generation Y segment is dominating the market with the largest market share in 2022. This generation has a strong affinity for sustainability, social responsibility, and authentic travel experiences. Millennials are actively seeking out ecotourism options that align with their values, such as responsible travel practices, conservation efforts, and support for local communities. They are also drawn to unique and meaningful travel experiences that allow them to connect with nature, cultures, and communities on a deeper level. As a tech-savvy generation, millennials also rely heavily on social media and online platforms to research, plan, and share their ecotourism experiences, driving the demand for innovative and socially conscious travel options in the market.
Regional Segment Analysis of the Ecotourism Market
North America (U.S., Canada, Mexico)
Europe (Germany, France, U.K., Italy, Spain, Rest of Europe)
Asia-Pacific (China, Japan, India, Rest of APAC)
South America (Brazil and the Rest of South America)
The Middle East and Africa (UAE, South Africa, Rest of MEA)
North America witness to experience higher growth rate of 16.1% over the forecast period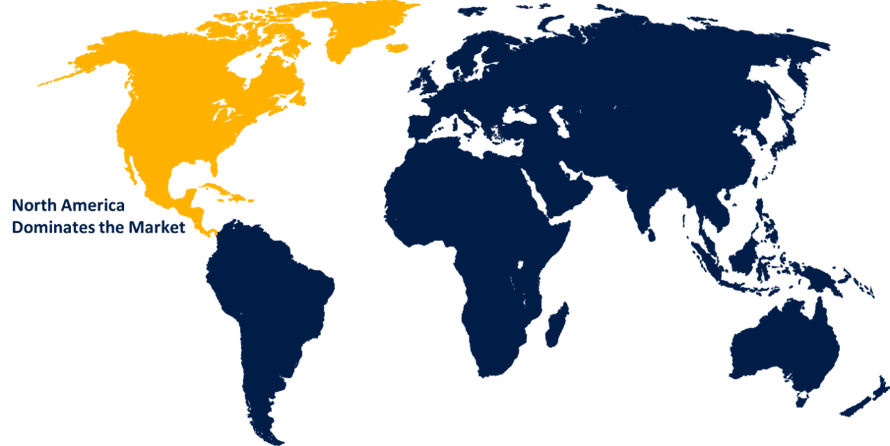 Get more details on this report -
Request Free Sample PDF
North America is expected to grow at a higher CAGR during the forecast period due to strong demand for sustainable travel options. The region is home to diverse natural landscapes, including national parks, forests, coasts, and wildlife reserves, which attract eco-conscious travelers seeking unique experiences in pristine environments. North American travelers prioritize responsible travel practices, such as conservation efforts, supporting local communities, and engaging in educational and immersive experiences. Additionally, North America has a well-developed tourism infrastructure with a wide range of ecotourism operators, accommodations, and transportation options catering to the growing demand for sustainable travel.
Recent Developments
In July 2022, Rabbie's, a renowned tour company based in the U.K., has recently introduced two ecologically and ethically conscious tours in Scotland as part of their "We Care About There" campaign. These newly released excursions aim to provide responsible and sustainable travel experiences while delivering an exceptional and ethical journey. Rabbie's is known for its commitment to promoting responsible travel practices and its efforts to create meaningful experiences that prioritize the environment and local communities. Through their "We Care About There" campaign, Rabbie's is dedicated to offering travelers the opportunity to explore Scotland in an ethical and sustainable way, aligning with their mission of responsible and mindful travel.
Competitive Analysis:
The report offers the appropriate analysis of the key organizations/companies involved within the global ecotourism market along with a comparative evaluation primarily based on their product offering, business overviews, geographic presence, enterprise strategies, segment market share, and SWOT analysis. The report also provides an elaborative analysis focusing on the current news and developments of the companies, which includes product development, innovations, joint ventures, partnerships, mergers & acquisitions, strategic alliances, and others. This allows for the evaluation of the overall competition within the market.
List of Companies:
Intrepid Travel
G Adventures
Natural Habitat Adventures
Lindblad Expeditions
World Expeditions
Adventure Alternative
Wilderness Safaris
Ecoventura
National Geographic Expeditions
TUI Group
Airbnb
Marriott International
The International Ecotourism Society
Sustainable Travel International
Rainforest Expeditions
Green Global Travel
Earthwatch Institute
African Wildlife Foundation
Key Target Audience
Market Players
Investors
End-users
Government Authorities
Consulting And Research Firm
Venture capitalists
Value-Added Resellers (VARs)
Market Segment
This study forecasts revenue at global, regional, and country levels from 2019 to 2032. Spherical Insights has segmented the global Ecotourism Market based on the below-mentioned segments:
Ecotourism Market, By Type of Traveler
Ecotourism Market, By Age Group
Generation X
Generation Y
Generation Z
Ecotourism Market, By Sales Channel
Ecotourism Market, Regional Analysis
North America
Europe

Germany
Uk
France
Italy
Spain
Russia
Rest of Europe

Asia Pacific

China
Japan
India
South Korea
Australia
Rest of Asia Pacific

South America

Brazil
Argentina
Rest of South America

Middle East & Africa

UAE
Saudi Arabia
Qatar
South Africa
Rest of Middle East & Africa
Need help to buy this report?