Global eConsent In Healthcare Market Size, Share, and COVID-19 Impact Analysis, By Platform (Cloud-based and Web-based), By Enrollment Type (On-site and Remote), By Form Type (General Consent, General Consent with Specific Denial, General Denial with Specific Consent, and General Denial), By Region (North America, Europe, Asia-Pacific, Latin America, Middle East, and Africa), Analysis and Forecast 2023 – 2032
Industry: Healthcare
---
REPORT FORMAT

---
Global eConsent In Healthcare Market Insights Forecasts to 2032
The Global eConsent In Healthcare Market Size was valued at USD 0.43 Billion in 2022.
The market is growing at a CAGR of 10.9% from 2023 to 2032
The Worldwide eConsent In Healthcare Market Size is expected to reach USD 1.21 Billion by 2032
Europe is expected to grow significant during the forecast period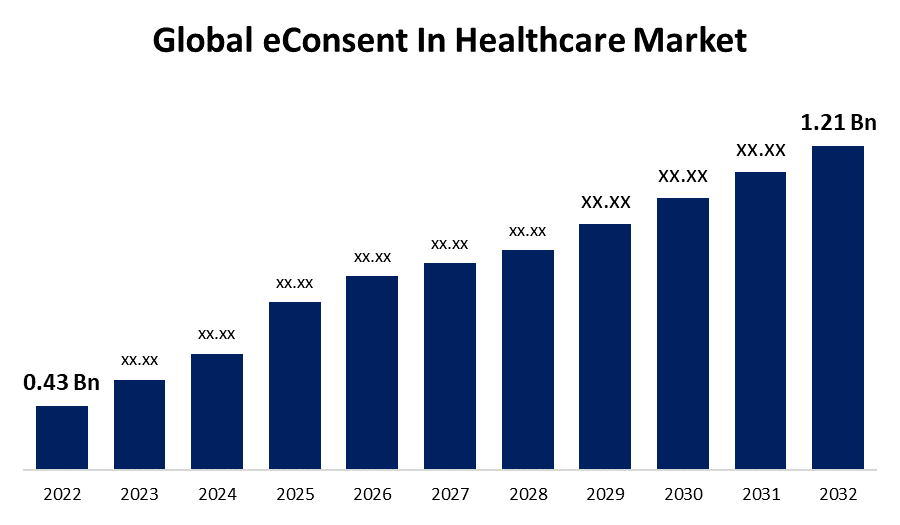 Get more details on this report -
Request Free Sample PDF
The Global eConsent In Healthcare Market Size is expected to reach USD 1.21 Billion by 2032, at a CAGR of 10.9% during the forecast period 2023 to 2032.
Market Overview
eConsent in healthcare refers to the electronic process of obtaining patient consent for medical procedures, treatments, and the sharing of health information. It replaces traditional paper-based consent forms with digital platforms, allowing patients to provide their consent through electronic signatures or other forms of authentication. eConsent offers numerous benefits, including improved efficiency, accuracy, and accessibility. It simplifies the consent process for patients, enabling them to review and sign consent forms conveniently from anywhere. Additionally, healthcare providers can track and document consent in electronic health records, ensuring compliance and facilitating the retrieval of consent information when needed. eConsent enhances patient autonomy by providing clear and comprehensive information about procedures and their associated risks, empowering individuals to make informed decisions about their healthcare.
Report Coverage
This research report categorizes the market for eConsent in healthcare market based on various segments and regions and forecasts revenue growth and analyzes trends in each submarket. The report analyses the key growth drivers, opportunities, and challenges influencing the eConsent in healthcare market. Recent market developments and competitive strategies such as expansion, product launch, and development, partnership, merger, and acquisition have been included to draw the competitive landscape in the market. The report strategically identifies and profiles the key market players and analyses their core competencies in each sub-segments of the eConsent in healthcare market.
Global eConsent In Healthcare Market Report Coverage
| Report Coverage | Details |
| --- | --- |
| Base Year: | 2022 |
| Market Size in 2022: | USD 0.43 Billion |
| Forecast Period: | 2022-2032 |
| Forecast Period 2022-2032 CAGR: | 10.9% |
| 2032 Value Projection: | USD 1.21 Billion |
| Historical Data for: | 2018-2021 |
| No. of Pages: | 200 |
| Tables, Charts & Figures: | 130 |
| Segments covered: | By Platform, By Enrollment Type, By Form Type, By Region, and COVID-19 Impact Analysis |
| Companies Covered: | Veeva Systems, Wellbeing Software, a Citadel Group, Florence Healthcare, Concentric Health Ltd., 5thPort, LLC, Cloudbyz, Calysta EMR, Interlace Health, and Thieme Compliance GmbH And Others Key Venders |
| Pitfalls & Challenges: | COVID-19 has the potential to impact the global market |
Get more details on this report -
Request Free Sample PDF
Driving Factors
The eConsent in healthcare market is driven by several key factors because of the increasing adoption of digital technology in healthcare is a significant driver. With the growing digitization of medical records and the rise of electronic health records (EHRs), there is a need for electronic consent processes to align with the overall digital transformation in healthcare. The eConsent offers advantages in terms of efficiency and accuracy compared to traditional paper-based consent forms. It reduces administrative burden and streamlines the consent process, leading to time and cost savings for healthcare providers. eConsent enhances patient engagement and empowerment. It allows patients to review and understand consent forms at their own pace, promoting transparency and informed decision-making. Moreover, regulatory requirements and compliance standards also play a role in driving the adoption of eConsent, as healthcare organizations strive to meet regulatory guidelines while ensuring patient privacy and data security in the consent process.
Restraining Factors
While eConsent in the healthcare market offers numerous benefits, there are also some restraints to consider. One major restraint is the digital divide, as not all patients may have access to or be comfortable with digital platforms. This could result in disparities in healthcare access and consent processes. Additionally, concerns around data security and privacy pose a challenge. Healthcare organizations must ensure robust security measures to protect sensitive patient information from unauthorized access or breaches. There may also be resistance from healthcare professionals who are accustomed to traditional paper-based consent forms and may require training and education to adapt to digital consent processes. Overall, integrating eConsent systems with existing healthcare IT infrastructure and ensuring interoperability can be complex and may require significant investments.
Market Segmentation
In 2022, the cloud-based segment accounted for around 85.3% market share
On the basis of the platform, the global eConsent in healthcare market is segmented into cloud-based and web-based. The cloud-based segment has experienced a substantial gain in market share within the eConsent in healthcare market. There are several key factors contributing to this significant growth. The cloud-based solutions offer numerous advantages over traditional on-premises systems. Cloud-based platforms provide scalability and flexibility, allowing healthcare organizations to easily adapt and expand their eConsent capabilities as needed. This scalability is particularly crucial in the healthcare industry, where the volume of patient data and consent forms can vary significantly. The cloud-based solutions eliminate the need for extensive hardware infrastructure and maintenance. This reduces upfront costs and IT complexities for healthcare providers, making cloud-based eConsent solutions more accessible and cost-effective. Additionally, cloud-based platforms typically offer faster implementation and deployment compared to on-premises systems, allowing organizations to realize the benefits of eConsent more quickly. Furthermore, cloud-based solutions offer enhanced accessibility and mobility. Healthcare professionals can securely access and manage consent forms and patient data from anywhere with an internet connection, enabling efficient workflows and facilitating remote collaboration. Patients also benefit from increased convenience, as they can access and review consent forms electronically, eliminating the need for physical visits to healthcare facilities. Overall, data security and privacy are paramount in the healthcare sector. Cloud-based solutions often employ robust security measures and compliance frameworks to protect patient information, addressing concerns around data breaches and unauthorized access. Cloud service providers also undergo regular audits and certifications to ensure adherence to industry standards and regulations.
In 2022, the general consent segment dominated with more than 34.8% market share
Based on the form type, the global eConsent in healthcare market is segmented into general consent, general consent with specific denial, general denial with specific consent, and general denial. General consent forms have captured the highest market share in the eConsent in Healthcare market. This dominance can be attributed to several key factors driving the popularity and widespread adoption of general consent forms in healthcare settings. The general consent forms serve as a foundational element of the consent process. These forms typically cover broad permissions for routine medical procedures, treatments, and information sharing, allowing healthcare providers to perform common activities without needing specific consent for each instance. General consent forms streamline the consent process, saving time and effort for both patients and healthcare professionals. Moreover, general consent forms offer convenience and ease of use. Patients can review and sign a single consent form that covers multiple aspects of their care, eliminating the need for multiple specialized forms for each procedure or treatment. This simplification enhances the patient experience, reduces paperwork, and improves overall operational efficiency in healthcare settings. Additionally, general consent forms align with regulatory requirements and compliance standards. These forms provide a standardized approach to capturing patient consent, ensuring that healthcare providers comply with legal and ethical guidelines while maintaining patient rights and privacy. They also facilitate documentation and auditing processes, making it easier to demonstrate compliance with regulations. Furthermore, general consent forms empower patients by providing them with information about common procedures and treatments, their associated risks, and the choices they have in their healthcare journey. This transparency and involvement in the decision-making process align with the principles of patient-centered care and promote shared decision-making between patients and healthcare providers. Overall, the dominance of general consent forms in the eConsent in healthcare market is driven by their ability to streamline the consent process, enhance convenience, ensure compliance with regulations, and empower patients.
Regional Segment Analysis of the eConsent In Healthcare Market
North America (U.S., Canada, Mexico)
Europe (Germany, France, U.K., Italy, Spain, Rest of Europe)
Asia-Pacific (China, Japan, India, Rest of APAC)
South America (Brazil and the Rest of South America)
The Middle East and Africa (UAE, South Africa, Rest of MEA)
North America dominated the market with more than 36.5% revenue share in 2022.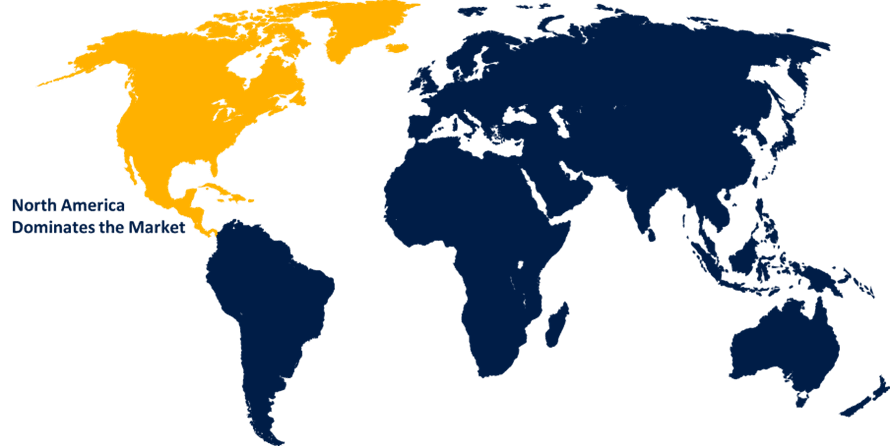 Get more details on this report -
Request Free Sample PDF
Based on region, North America has emerged as a dominant player in the eConsent in healthcare market, holding the largest market share. North America boasts advanced healthcare infrastructure and widespread adoption of digital technologies in the healthcare sector. The region has well-established electronic health record systems and robust connectivity, facilitating the implementation of eConsent solutions. The stringent regulations and privacy laws, such as the Health Insurance Portability and Accountability Act (HIPAA), have driven the need for secure and compliant consent processes, further promoting the adoption of eConsent solutions. Additionally, North America has a high level of healthcare spending, enabling healthcare organizations to invest in advanced technologies and innovate in the consent management space. The presence of key market players and a tech-savvy population also contribute to the region's leading position in the eConsent in healthcare market in North America.
Competitive Analysis:
The report offers the appropriate analysis of the key organizations/companies involved within the global eConsent in healthcare market along with a comparative evaluation primarily based on their product offering, business overviews, geographic presence, enterprise strategies, segment market share, and SWOT analysis. The report also provides an elaborative analysis focusing on the current news and developments of the companies, which includes product development, innovations, joint ventures, partnerships, mergers & acquisitions, strategic alliances, and others. This allows for the evaluation of the overall competition within the market.
List of Companies:
Veeva Systems
Wellbeing Software, a Citadel Group
Florence Healthcare
Concentric Health Ltd.
5thPort, LLC
Cloudbyz
Calysta EMR
Interlace Health
Thieme Compliance GmbH
Key Target Audience
Market Players
Investors
End-Users
Government Authorities
Consulting and Research Firm
Venture Capitalists
Value-Added Resellers (VARs)
Recent Developments
In June 2022, uMotif and ClinOne collaborated to provide a single, integrated solution that provides best-in-class electronic informed consent (eConsent) and electronic clinical outcome assessments technology to address the challenges that patients and clinical research coordinators face when navigating multiple systems, apps, and sensors for each protocol in the life sciences industry.
In November 2022, YPrime, LLC introduced an eConsent technology to assist research teams in presenting complicated patient information in digestible components, enhancing understanding and participation. This technology is designed to increase patient recruitment and retention by streamlining the clinical trial procedure.
Market Segment
This study forecasts revenue at global, regional, and country levels from 2019 to 2032. Spherical Insights has segmented the global eConsent in healthcare market based on the below-mentioned segments:
eConsent In Healthcare Market, By Platform
eConsent In Healthcare Market, By Enrollment Type
eConsent In Healthcare Market, By Form Type
General Consent
General Consent with Specific Denial
General Denial with Specific Consent
General Denial
eConsent In Healthcare Market, Regional Analysis
North America
Europe

Germany
UK
France
Italy
Spain
Russia
Rest of Europe

Asia Pacific

China
Japan
India
South Korea
Australia
Rest of Asia Pacific

South America

Brazil
Argentina
Rest of South America

Middle East & Africa

UAE
Saudi Arabia
Qatar
South Africa
Rest of Middle East & Africa
Need help to buy this report?