Global Drone Analytics Market Size, Share and Statistics, By Type (On-Premises, On-Demand), Solution (End- To- End Solutions, Point Solutions), Application (Thermal Detection, Geolocation Tagging, Aerial Monitoring, Ground Exploration, Volumetric Calculations, 3D Modeling, Others), End User (Agriculture and Forestry, Construction, Insurance, Mining and Quarrying, Utility, Telecommunication, Oil and Gas, Transportation, Scientific Research, Others), Regional Scope(U.S., Canada, Mexico, Brazil, Argentina, Rest of South America, Germany, Italy, U.K., France, Spain, Netherlands, Belgium, Switzerland, Turkey, Russia, Rest of Europe, Japan, China, India, South Korea, Australia, Singapore, Malaysia, Thailand, Indonesia, Philippines, Rest of Asia-Pacific, Saudi Arabia, U.A.E, South Africa, Egypt, Israel, Rest of Middle East and Africa) Industry Trends and Forecast 2021 to 2030
Industry: Aerospace & Defense
---
REPORT FORMAT

---
The Global Drone Analytics Market size was valued at USD 2.10 billion in 2021 and is expected to grow at a CAGR of 24.7% during the forecast period. The global drone analytics market size is expected to surpass USD 13.09 billion by 2030. Over the projection period, it is predicted that growing demand for drones in a number of end-use industries, including agricultural, mining, and construction, will propel the drone analytics market. The increased use of analytics in enterprises to guarantee company continuity and process improvement is yet another important element driving the drone analytics market demand throughout the forecast period.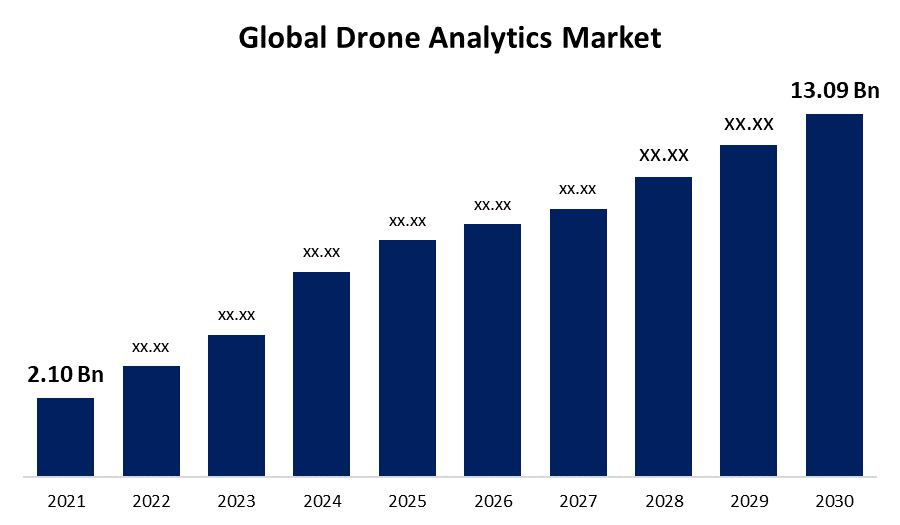 Get more details on this report -
Request Free Sample PDF
The market for drone analytics is expected to rise due to rising investments in the creation of sector-specific analytical solutions. The drone analytics industry is also expanding as a result of the quickly rising demand for drone analytics in commercial applications. Drone technology's growing acceptance and advancement have made high-resolution photos more widely available for use in a variety of applications, including maintenance, surveying, mapping, and monitoring. In order to make unstructured drone data "actionable" and provide significant insights in a shorter amount of time, the industry has noticed the development of a sizable number of firms offering intelligent data analysis solutions.
Drones are likely to play a larger role in global defence spending in the form of unmanned surveillance and to detect attack-type purchases, therefore the market is anticipated to expand significantly throughout the study period. Additionally, the growing significance of drones for the analysis and study of data collected for the deployment in military forces is anticipated to support the market's growth throughout the forecast period. Additionally, over the projected period, the drone analytics market is anticipated to experience tremendous growth prospects due to the industry's growing adoption of artificial intelligence technology. However, over the anticipated term, the market's growth may be constrained by drones' high production and operating costs.
Driving Factors
The primary driver of the expansion of the drone analytics market is predicted to be the rising demand for drones across a variety of end use industries, including agriculture, industry, transportation, and the military. Across all industrial sectors, data analytics software is becoming more prevalent in a wide range of drone applications. In contrast to other industries, the more developed ones (energy, construction, and mining & quarrying) employ a significant number of software developers. Small-scale enterprises are now now motivated and determined to use analytical software solutions, in addition to these developed industries. A growing number of industries are looking for and obtaining access to analytical software, including those in insurance, agriculture, real estate, and transportation.
Drone analytics Market growth is anticipated to be fueled by technological advancements such IoT applications for drones and the creation of solutions tailored to particular industries. Additionally, the market expansion is anticipated to be boosted by the rising demand for drone analytics due to its efficiency in time & adaptability in the application. Additionally, it is estimated that the establishment of an enhanced regulatory framework and the rising demand for high-quality data will drive the market during the projected decade.
Global Drone Analytics Market Report Coverage
| Report Coverage | Details |
| --- | --- |
| Base Year: | 2021 |
| Market Size in 2021: | USD 2.10 Billion |
| Forecast Period: | 2021 - 2030 |
| Forecast Period 2021 - 2030 CAGR: | 24.3% |
| 2030 Value Projection: | USD 13.09 Billion |
| Historical Data for: | 2019 - 2021 |
| No. of Pages: | 160 |
| Tables, Charts & Figures: | 114 |
| Segments covered: | By Segmentation: By Type, By Solution, By Application, By End User, By Regional Scope and Global Economy: Recession Risk Rising Analysis and Russia-Ukraine Conflict War Impact we have added in the report. |
| Companies Covered: | The major players covered in the drone analytics market report are Delair, AeroVironment, Inc., DroneDeploy, Esri, PrecisionHawk, Inc., Delta Drone, VIATechnik LLC, Pix4D SA, Kespry Inc., Optelos LLC, HUVRdata, Sentera, Inc., BAE Systems, Boeing, Saab AB, Thales Group, Textron Systems, 3DR, Elbit Systems Ltd., and AgEagle Aerial Systems Inc., among other domestic and global players. |
| Growth Drivers: | High demand for drone analytics and Growing capital investments for the development |
| Pitfalls & Challenges: | ack of highly skilled professionals can hamper the drone analytics market growth in the forecast period of 2021 to 2030. |
Get more details on this report -
Request Free Sample PDF
Restraining Factors
Security-related worries are becoming more prevalent, and cyber security issues constitute a major market barrier. Another significant barrier to the business is the high cost of data collection. Cybercrime is getting worse every day, endangering individuals, and the drone analytics market hasn't improved its cyber security, which is a major barrier. It might limit market expansion during the projection period. To prevent the market from being constrained, the company should adhere to the Drone Analytics Market Trends.
COVID 19 Impact
As production was halted, there was less raw material availability under lockdown. But because of the pandemic impact, several companies began deploying drones to transport goods to the public in a number of nations. Since they were unable to leave due to the shutdown, many people also used the drone for security purposes. The expansion of the market in the pandemic is impacted by delays in activities and the development of raw materials. Numerous small and high-end market players were impacted by the lockdown and shutdown that many regional governments imposed. Market participants are making every effort to deal with the crisis and emerge stronger. During the anticipated time frame, the drone analytics market will grow.
Segmentation
The global drone analytics market is segmented into Deployment, Application, and Region.
Global Drone Analytics Market, By Deployment
Based on deployment, the global drone analytics market is segmented into on-premise and cloud. In 2020, the on-premise sector will account for a significant portion of the drone analytics market. For the quick creation of 2D/3D models, on-premise deployment makes it possible for data to be collected and stored more quickly. For instance, Airobot, a well-known provider of drone analytics solutions, devised and created AiroBox. A collection of 500 photos may produce a sparse point cloud in 15 minutes and a detailed point cloud in an hour thanks to the company's drone analytics solution's strong GPUs.
Global Drone Analytics Market, By Application
On the basis of application, the global drone analytics market is segmented into Agriculture & Forestry, Construction, Insurance. Drone analytics are widely employed in agricultural applications for crop spraying. According to studies on the benefits of precision agriculture and drone platforms, farmers can boost their crop production by up to 5% while lowering their input expenses by 5%. By enabling closer, more frequent, and more timely inspections of their crops, drone analytics may help farmers gain a better understanding of their crops. Low-cost drone platforms enable farmers to regularly monitor and care for crops in an economical way while also lowering the expense of chemical and inspection treatments.
Global Drone Analytics Market, By Region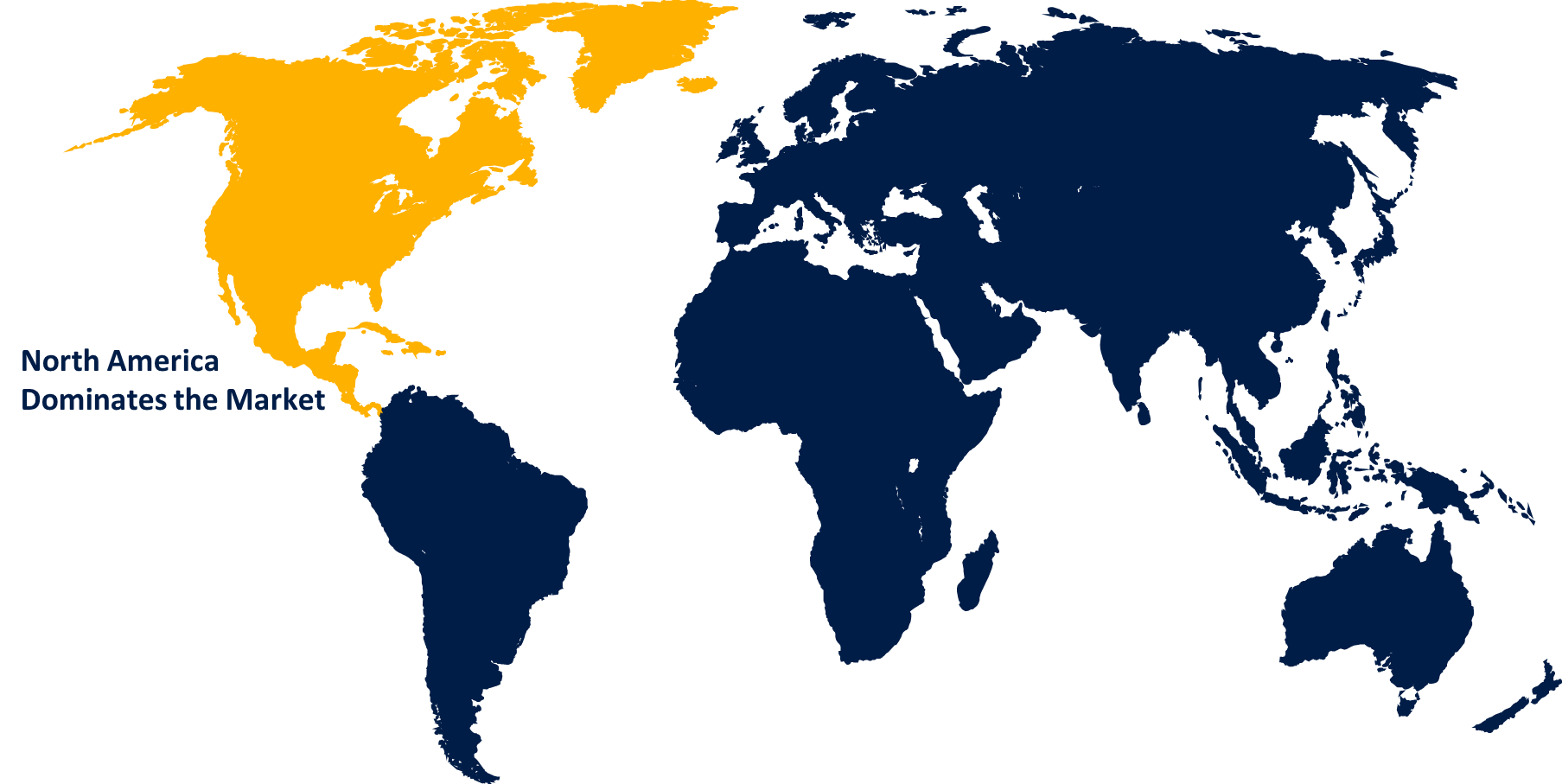 Get more details on this report -
Request Free Sample PDF
On the basis of region, the global drone analytics market is segmented into North America, Europe, Asia Pacific, Middle East & Africa, and South America. Due to the presence of numerous companies and the increasing demand for drones in the region, North America has established itself as the region responsible for the majority of market revenue, and this trend is anticipated to continue.
Recent Developments in Global Drone Analytics Market
February 2022: Garuda Aerospace Private Ltd. has stated that it intends to raise more than $30 million in order to pay for the capital expenses necessary to produce high-quality agricultural drones. To effectively compete with multinational corporations, they want to invest Rs. 250 crores in drone R&D and production activities. They will also spend money on data analytics and artificial intelligence to increase crop yield through drone applications. Enhancing crop protection knowledge is intended to quadruple farmers' income.
February 2022: H3 Dynamics has revealed a new Robots-as-a-Service solution for autonomous solar farm monitoring in collaboration with Sitemark, a Belgian AI analytics firm. In this new partnership, Sitemark's visual and thermal analytics are paired with the DBX drone-in-a-box robots from H3 Dynamics to automate and increase remote monitoring operations in large solar farm projects. Using Sitemark's technology, Total, Bouygues, EDF, Engie, and Orix have inspected over 30,000 ha of solar PV parks in 35 different countries. The DBX robot (video) was developed to be permanently deployed to track the development of solar farm projects, spot solar panel deterioration, and offer on-site security.
List of Key Market Players
Agribotix
Aerovironment
Dronedeploy
Delta Drone
ESRI
Precisionhawk
Viatechnik
Segmentation
By Deployment
By Application
Agriculture & Forestry
Construction
Insurance.
By Region
North America
North America, by Country
North America, by Deployment
North America, by Application
Europe
Europe, by Country

Germany
Russia
U.K.
France
Italy
Spain
The Netherlands
Rest of Europe

Europe, by Deployment
Europe, by Application
Asia Pacific
Asia Pacific, by Country

China
India
Japan
South Korea
Australia
Indonesia
Rest of Asia Pacific

Asia Pacific, by Deployment
Asia Pacific, by Application
Middle East & Africa
Middle East & Africa, by Country

UAE
Saudi Arabia
Qatar
South Africa
Rest of Middle East & Africa

Middle East & Africa, by Deployment
Middle East & Africa, by Application
South America
South America, by Country

Brazil
Argentina
Colombia
Rest of South America

South America, by Deployment
South America, by Application
Need help to buy this report?