Global DNA Synthesizer Market Size, Share, and COVID-19 Impact Analysis, By Product (Benchtop DNA Synthesizers and Automated DNA Synthesizers), By Application (Research & Development, Diagnostics, and Therapeutics), By End-User (Biotechnology companies, Academic & Research Organizations, and Contract Research Organizations), By Region (North America, Europe, Asia-Pacific, Latin America, Middle East, and Africa), Analysis and Forecast 2023 – 2032
Industry: Healthcare
---
REPORT FORMAT

---
Global DNA Synthesizer Market Insights Forecasts to 2032
The Global DNA Synthesizer Market Size was valued at USD 230.58 Million in 2022.
The Market is growing at a CAGR of 14.5% from 2023 to 2032
The Global DNA Synthesizer Market Size is expected to reach USD 893.05 Million by 2032
Asia-Pacific is expected to grow significant during the forecast period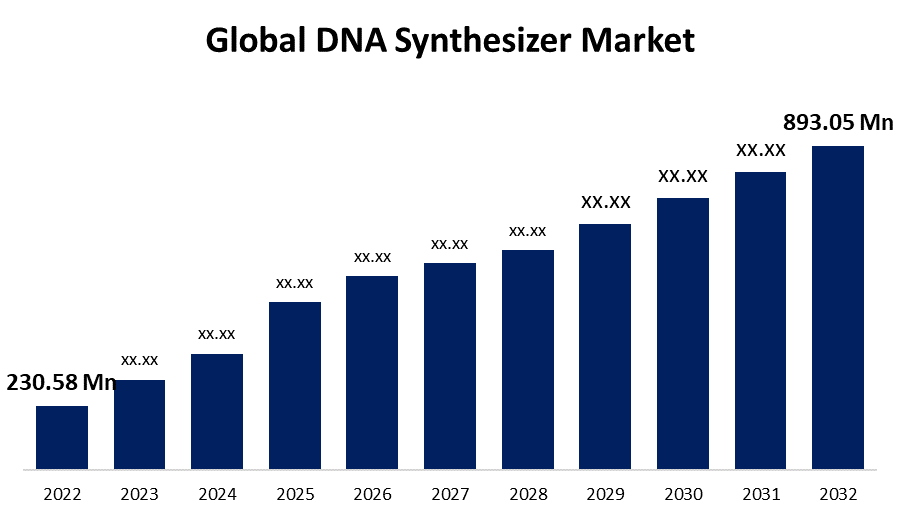 Get more details on this report -
Request Free Sample PDF
The Global DNA Synthesizer Market Size is expected to reach USD 893.05 Million by 2032, at a CAGR of 14.5% during the forecast period 2023 to 2032.
Market Overview
A DNA synthesizer is a highly advanced laboratory instrument used to artificially create strands of DNA molecules. It utilizes a process called solid-phase synthesis to build DNA sequences by chemically combining nucleotides in a specific order. The synthesizer typically consists of a computer-controlled platform with reagent reservoirs, a reaction chamber, and a set of programmable syringe pumps. The process begins with the attachment of a DNA molecule to a solid support, followed by a series of chemical reactions where nucleotides are added one by one, building the desired DNA sequence. Each nucleotide addition is carefully controlled and monitored by the synthesizer, ensuring accuracy and precision. DNA synthesizers have revolutionized the fields of genetics, genomics, and molecular biology, enabling scientists to create custom-designed DNA molecules for a wide range of applications, including research, diagnostics, and biotechnology.
Report Coverage
This research report categorizes the market for DNA synthesizer market based on various segments and regions and forecasts revenue growth and analyzes trends in each submarket. The report analyses the key growth drivers, opportunities, and challenges influencing the DNA synthesizer market. Recent market developments and competitive strategies such as expansion, product launch, and development, partnership, merger, and acquisition have been included to draw the competitive landscape in the market. The report strategically identifies and profiles the key market players and analyses their core competencies in each sub-segments of the DNA synthesizer market.
Global DNA Synthesizer Market Report Coverage
| Report Coverage | Details |
| --- | --- |
| Base Year: | 2022 |
| Market Size in 2022: | USD 230.58 Million |
| Forecast Period: | 2022-2032 |
| Forecast Period 2022-2032 CAGR: | 14.5% |
| 2032 Value Projection: | USD 893.05 Million |
| Historical Data for: | 2018-2021 |
| No. of Pages: | 200 |
| Tables, Charts & Figures: | 130 |
| Segments covered: | By Product, By Application, By End-User, By Region, and COVID-19 Impact Analysis |
| Companies Covered: | Danaher, Twist Bioscience, Kilobaser, LGC Limited, CSBio, K&A Labs GmbH, DNA Script, OligoMaker ApS, PolyGen GmbH, and Biolytic Lab Performance Inc. |
| Pitfalls & Challenges: | COVID-19 has the potential to impact the global market |
Get more details on this report -
Request Free Sample PDF
Driving Factors
The market is driven by the growing demand for synthetic DNA in various research and development activities, such as drug discovery, gene synthesis, and molecular diagnostics, is fueling market growth. Additionally, advancements in DNA synthesis technologies, including improved efficiency, accuracy, and scalability, are attracting researchers and biotech companies to invest in DNA synthesizers. The increasing adoption of personalized medicine and the need for custom-designed DNA molecules further contribute to market expansion. Moreover, the expanding field of synthetic biology, with applications in fields like agriculture, biofuels, and industrial enzymes, is driving the demand for DNA synthesizers. Furthermore, government initiatives and funding support for genomics research and synthetic biology projects are propelling the market's growth by encouraging innovation and technology development.
Restraining Factors
The DNA synthesizer market faces certain restraints that can hinder its growth. One major restraint is the high cost associated with DNA synthesis instruments and consumables, making them inaccessible for smaller research laboratories or academic institutions with limited budgets. Additionally, the complexity of operating DNA synthesizers and the requirement for skilled personnel can act as a barrier to adoption. Another challenge is the limited scalability of current DNA synthesis technologies, as the production of large-scale, high-quality DNA remains time-consuming and expensive. Furthermore, regulatory and ethical considerations surrounding the use of synthetic DNA in certain applications can pose challenges and restrict market growth.
Market Segmentation
In 2022, the automated DNA synthesizers segment accounted for around 46.8% market share
On the basis of the product, the global DNA synthesizer market is segmented into benchtop DNA synthesizers and automated DNA synthesizers. Automated DNA synthesizers have secured the largest market share in the DNA synthesizer market due to their numerous advantages and widespread adoption across various industries. These sophisticated instruments offer several benefits, such as increased efficiency, accuracy, and reproducibility, compared to manual synthesis methods. The automation of the DNA synthesis process significantly reduces human error and enhances productivity, making them highly sought after in research laboratories, pharmaceutical companies, and biotech firms. Automated DNA synthesizers allow for high-throughput synthesis, enabling the production of large quantities of DNA in a shorter time frame. This scalability is crucial for applications like next-generation sequencing, gene synthesis, and molecular diagnostics, where significant amounts of DNA are required. The ability to synthesize complex DNA sequences with precise control over nucleotide additions is another key advantage of automated synthesizers.
Moreover, automated synthesizers offer programmable features, allowing researchers to easily customize and modify DNA sequences for specific experimental purposes. They also provide efficient coupling chemistry and purification methods, resulting in higher quality synthesized DNA. The demand for automated DNA synthesizers is driven by the growing fields of genomics, synthetic biology, and personalized medicine. These synthesizers play a vital role in applications such as gene editing, DNA-based therapeutics, and the development of novel biomaterials. The ability to rapidly generate custom-designed DNA molecules for research, diagnostics, and biotechnological advancements has propelled the adoption of automated synthesizers. Furthermore, the integration of automation with other molecular biology techniques, such as PCR amplification and DNA sequencing, has facilitated streamlined workflows and improved overall efficiency in molecular biology laboratories. Overall, the advantages of automated DNA synthesizers, including increased productivity, scalability, precision, and customization capabilities, have positioned them as the market leader in the DNA synthesizer industry.
In 2022, the diagnostics segment dominated with more than 52.5% market share
Based on the application, the global DNA synthesizer market is segmented into research & development, diagnostics, and therapeutics. The diagnostics segment has captured the largest market share in the DNA synthesizer market due to its critical role in molecular diagnostics and genetic testing. DNA synthesizers play a pivotal role in the production of custom-designed DNA probes, primers, and probes used in various diagnostic applications. These applications include genetic testing for inherited diseases, infectious disease diagnostics, cancer genomics, and prenatal screening. The growing prevalence of genetic disorders and the increasing demand for personalized medicine have fueled the demand for DNA synthesizers in the diagnostics segment. The ability to precisely synthesize DNA sequences for specific target genes or genetic markers enables accurate and reliable diagnostic testing. Moreover, advancements in DNA sequencing technologies, such as next-generation sequencing, have driven the need for high-quality DNA libraries and templates. DNA synthesizers are instrumental in synthesizing the required DNA fragments or adaptors for these sequencing applications. The diagnostics segment also benefits from the increasing adoption of point-of-care and rapid diagnostic testing methods. DNA synthesizers enable the production of DNA-based probes and primers that are essential for quick and accurate diagnostic results at the point of care.
Additionally, the rising demand for companion diagnostics, which involve the identification of genetic markers to guide targeted therapies, has further boosted the utilization of DNA synthesizers in the diagnostics field. Overall, the diagnostics segment holds the largest market share in the DNA synthesizer market due to the indispensable role of DNA synthesis in molecular diagnostics, genetic testing, and personalized medicine. The ability to produce customized DNA sequences tailored to specific diagnostic applications is driving the growth of this segment.
Regional Segment Analysis of the DNA Synthesizer Market
North America (U.S., Canada, Mexico)
Europe (Germany, France, U.K., Italy, Spain, Rest of Europe)
Asia-Pacific (China, Japan, India, Rest of APAC)
South America (Brazil and the Rest of South America)
The Middle East and Africa (UAE, South Africa, Rest of MEA)
North America dominated the market with more than 38.5% revenue share in 2022.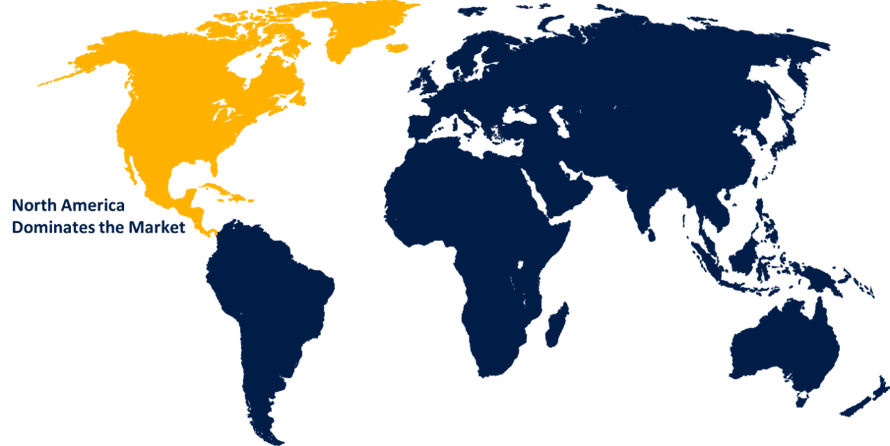 Get more details on this report -
Request Free Sample PDF
Based on region, North America emerges as the leading region in the DNA synthesizer market due to the presence of well-established pharmaceutical and biotechnology companies in countries like the United States and Canada fuels the demand for DNA synthesizers for drug discovery and development. These companies invest heavily in research and development, driving the adoption of advanced technologies like DNA synthesis. Additionally, North America has a robust academic and research infrastructure, with renowned universities and research institutions actively involved in genomics and molecular biology studies. The region also witnesses significant government funding and support for genomics research, fostering innovation in the field. Furthermore, the availability of skilled researchers, favorable regulatory environment, and strong market competition contribute to the dominance of North America in the DNA synthesizer market.
Recent Developments
In February 2023, Evonetix, a leading synthetic biology company, successfully raised $24 million in a funding round led by Foresite Capital. The round also saw participation from other notable investors including Morningside, DCVC, Molten Ventures, Cambridge Consultants, Providence, and Civilization Ventures. With this funding, Evonetix's total raised capital reaches $54 million, enabling the company to further advance its DNA synthesis platform and expand its innovative technologies in the field of genomics research and development.
In April 2022, DNA Script has introduced a ground-breaking program leveraging their new EDS technology. The program, called the early access program, encompasses the Base facility and the London Bio foundry. This initiative aims to provide researchers and innovators with early access to these advanced facilities for developing and exploring novel applications in DNA synthesis and biotechnology.
Competitive Analysis:
The report offers the appropriate analysis of the key organizations/companies involved within the global DNA synthesizer market along with a comparative evaluation primarily based on their product offering, business overviews, geographic presence, enterprise strategies, segment market share, and SWOT analysis. The report also provides an elaborative analysis focusing on the current news and developments of the companies, which includes product development, innovations, joint ventures, partnerships, mergers & acquisitions, strategic alliances, and others. This allows for the evaluation of the overall competition within the market.
List of Companies:
Danaher
Twist Bioscience
Kilobaser
LGC Limited
CSBio
K&A Labs GmbH
DNA Script
OligoMaker ApS
PolyGen GmbH
Biolytic Lab Performance Inc.
Key Target Audience
Market Players
Investors
End-Users
Government Authorities
Consulting and Research Firm
Venture Capitalists
Value-Added Resellers (VARs)
Market Segment
This study forecasts revenue at global, regional, and country levels from 2019 to 2032. Spherical Insights has segmented the global DNA synthesizer market based on the below-mentioned segments:
DNA Synthesizer Market, By Product
Benchtop DNA Synthesizers
Automated DNA Synthesizers
DNA Synthesizer Market, By Application
Research & Development
Diagnostics
Therapeutics
DNA Synthesizer Market, By End-User
Biotechnology companies
Academic & Research Organizations
Contract Research Organizations
DNA Synthesizer Market, Regional Analysis
North America
Europe

Germany
UK
France
Italy
Spain
Russia
Rest of Europe

Asia Pacific

China
Japan
India
South Korea
Australia
Rest of Asia Pacific

South America

Brazil
Argentina
Rest of South America

Middle East & Africa

UAE
Saudi Arabia
Qatar
South Africa
Rest of Middle East & Africa
Need help to buy this report?