Global Diamond Market Size, By Type (Natural, Synthetic), By Nature (Colorless, Colored), By Application (Jewelry & Ornaments, Industrial), By Distribution Channel (B2B, B2C), By Geographic Scope and Forecast, 2022-2032.
Industry: Advanced Materials
---
REPORT FORMAT

---
Global Diamond Market Insights Forecasts to 2032
The Diamond Market Size was valued at USD 98.73 Billion in 2022
The Market Size is Growing at a CAGR of 3.8% from 2022 to 2032
The Global Diamond Market Size is expected to reach USD 143.46 Billion by 2032
Asia Pacific is expected to grow the fastest during the forecast period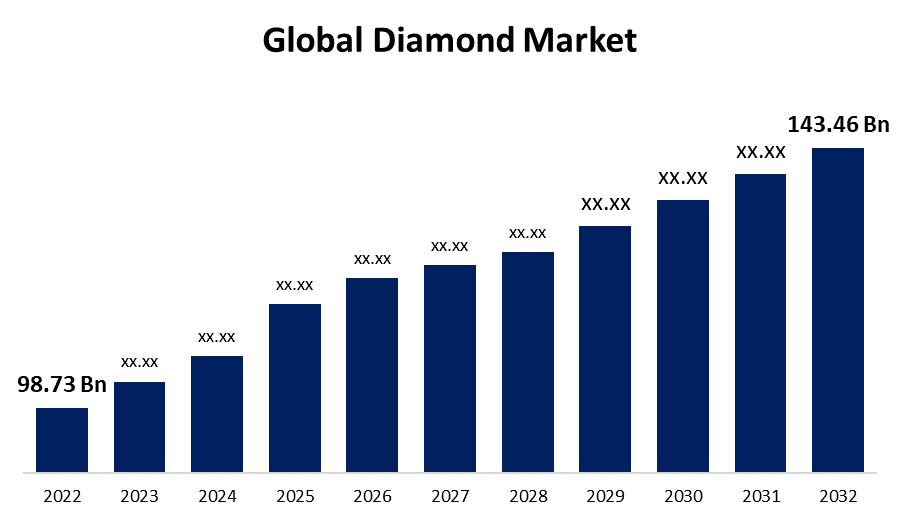 Get more details on this report -
Request Free Sample PDF
The Global Diamond Market Size is expected to reach USD 143.46 Billion by 2032, at a CAGR of 3.8% during the forecast period 2022 to 2032.
Diamonds, which are famous for their extraordinary hardness and brightness, have an enthralling origin legend. Carbon atoms form the crystalline structure that defines diamonds deep under the Earth's mantle under high heat and pressure. In the world of luxury, diamonds have retained their everlasting attraction. These precious stones are treasured all around the world, from engagement rings to extravagant necklaces, earrings, and bracelets. Their importance in luxury jewelry remains unabated, with cultural customs and fashion trends propelling demand. Diamonds are indispensable in industry due to their excellent hardness and thermal conductivity. They are used as cutting, grinding, and drilling tools in a variety of industries, including aerospace, healthcare, construction, and precision manufacturing. The industrial diamond market, which includes synthetic diamonds, is crucial in improving efficiency and precision. The diamond industry is internationally recognized, encompassing countries with diamond mines, cutting and processing centers, and thriving trading hubs. Russia, Botswana, Canada, and Australia are notable diamond-producing countries, with trading centers in Antwerp, Tel Aviv, Mumbai, and New York facilitating the transportation of rough and polished diamonds. The worldwide diamond market is increasingly emphasizing ethical and ecological practices. Initiatives such as the Kimberley Process Certification Scheme seek to eliminate the trade of conflict diamonds, while more transparency and ethical sourcing have emerged as prevailing movements. Consumers are becoming increasingly knowledgeable about the industry's origins and ethical standards, influencing their purchase decisions. Moreover, the market is expected to rise as emerging economies exhibit a growing desire for luxury products and merchandise.
Market Outlook
Diamond Market Price Analysis
The price patterns of the global diamond market are driven by an intricate combination of developments. These revered jewels' pricing is affected by their size, color, cut, clarity, and carat weight, also known as the "Four Cs." Market movements, supply and demand variations, and economic situations all play important roles. As buyers want diamonds with clear origins, ethical and sustainable sourcing has an impact on pricing. Price analysis is critical in ensuring that these valuable stones remain available to discerning purchasers while the industry's ideology of quality, ethics, and environmental responsibility is maintained.
Diamond Market Distribution Analysis
The complicated procedure of acquiring, sorting, and delivering these highly valuable stones to a global audience is covered by distribution analysis in the global diamond market. Diamond-producing countries, where extraction occurs, as well as cutting and processing centers, and global trading hubs, are key participants in the global diamond market. Efficient and secure logistics are critical to ensure diamonds reach their many destinations, which range from high-end jewelry retailers to industrial manufacturers. As ethical and sustainable practices gain traction, distribution analysis highlights the importance of maintaining transparent and responsible supply chains, ensuring that a diamond's journey from mine to market is characterized by integrity and quality.
Global Diamond Market Report Coverage
| Report Coverage | Details |
| --- | --- |
| Base Year: | 2022 |
| Market Size in 2022: | 98.73 Billion |
| Forecast Period: | 2022-2032 |
| Forecast Period 2022-2032 CAGR: | 3.8% |
| 2032 Value Projection: | 143.46 Billion |
| Historical Data for: | 2018-2022 |
| No. of Pages: | 200 |
| Tables, Charts & Figures: | 115 |
| Segments covered: | By Type, By Nature, By Application, By Distribution, By Geographic. |
| Companies Covered: | Petra Diamonds Limited, Rio Tinto, Trans Hex Group, Lucara Diamond, ALROSA, De Beers, Mountain Province Diamonds, Arctic Canadian Diamond Company, Gem Diamonds, Lucapa Diamond Company, Star Diamond Corp., Mittal Diamonds, Tsodilo Resources Limited, and Others. |
| Growth Drivers: | Rising luxury jewelry demand globally |
| Pitfalls & Challenges: | Covid-19 Empact,Challenges,Growth, Analysis, |
Get more details on this report -
Request Free Sample PDF
Market Dynamics
Diamond Market Dynamics
Rising luxury jewelry demand globally
The continuous and ever-growing need for diamonds in luxury jewelry, particularly in the bridal sector, is one of the key drivers of the global diamond market. Diamonds are prized as symbols of love, devotion, and social standing. They are commonly found in engagement rings, necklaces, earrings, and other jewelry. Diamonds are in high demand due to this ongoing tradition, which is backed by evolving fashion developments and cultural importance. The desire for diamond-studded jewelry serves as a firm foundation for the business, maintaining a steady flow of demand. Luxury companies, jewelry designers, and retail shops continue to meet this desire by offering a wide variety of diamond-encrusted pieces.
Restraints & Challenges
Increasing economic and geopolitical factors challenging the market growth.
The global diamond market is likely to be influenced by market fluctuations and geopolitical tensions. Diamond production is greatly impacted by the economic condition of the producing countries, and economic downturns can result in decreased output. In addition, geopolitical unrest in important diamond-producing locations can interrupt the supply chain and create uncertainty. Economic crises or political unrest in diamond-producing countries can disrupt supply and cause price volatility. These variables can cause market uncertainty, influencing both supply and demand. Diamond producers and merchants must navigate this complex geopolitical situation, which can have an impact on market stability and growth.
Regional Forecasts
North America Market Statistics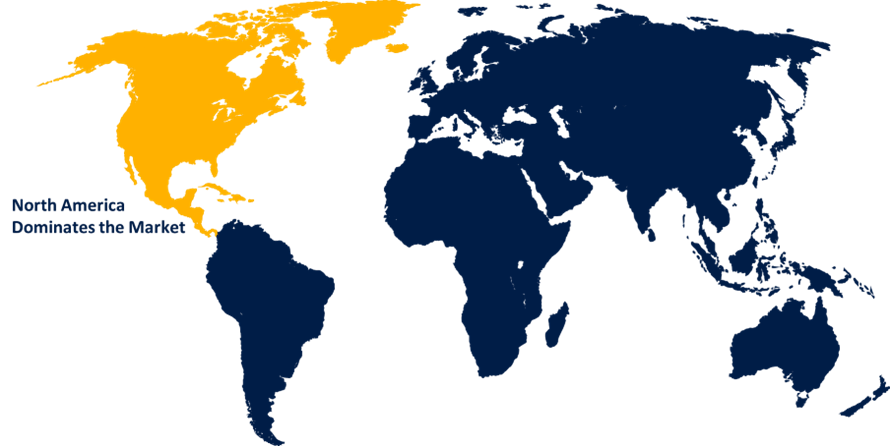 Get more details on this report -
Request Free Sample PDF
North America is anticipated to dominate the Diamond market from 2023 to 2032. North America, primarily the United States and Canada, is a significant market for diamonds. It is home to a robust jewelry industry, with a strong emphasis on engagement rings and high-end jewelry. Additionally, rising product demand for industrial applications is one of the major factors driving synthetic diamond adoption in this region. The United States has historically been the world's largest consumer of diamonds, primarily due to the strong demand for diamond jewelry, including engagement rings. Major diamond retailers and a well-established jewelry industry contribute to this dominant position.
Asia Pacific Market Statistics
Asia Pacific is witnessing the fastest market growth between 2023 to 2032. The Asia Pacific region, which includes countries like India, China, and Japan, is a vital player in the global diamond market. India is renowned for its expertise in diamond cutting and processing and is a major player in the diamond industry. China's rising middle class has led to increased diamond consumption, especially in the jewelry sector. This region is also a growing market for lab-grown diamonds. Thus, lab-grown diamonds have recently acquired popularity due to scientific improvements, more consumer awareness, and, most importantly, they are eco-friendly and cost-effective.
Segmentation Analysis
Insights by Type
The natural segment accounted for the largest market share over the forecast period 2023 to 2032. Natural diamonds form deep under the Earth's mantle over billions of years and have historically been the principal source of diamonds for a variety of applications, including jewelry and industrial uses. They are extremely rare and are mostly utilized in jewelry. Finding and refining them are both time-consuming and expensive in the jewelry industry. Despite the difficulties provided by cheaper lab-grown jewelry counterparts, natural diamonds retain their charm and are expected to continue in high demand over the projection period.
Insights by Application
The jewelry & ornaments segment accounted for the largest market share over the forecast period 2023 to 2032. Diamonds are in high demand due to their figurative value of jewelry and adornment among specific cultures. Diamonds are utilized in jewelry and ornaments because of their luster and durability. They are in more demand for formal and bridal attire. Additionally, rising disposable income, a growing Gen Z and Millennial population, and a growing consumer desire for investing in meaningful products have all contributed to a growth in diamond jewelry sales. Furthermore, there is a trend in fashion toward the acquisition of delicate diamond jewels. The originality and confidence afforded by bespoke diamond jewelry and accessories are also key industry drivers.
Insights by Distribution Channel
The B2C segment accounted for the largest market share over the forecast period 2023 to 2032. The B2C segment deals with the final selling of diamonds as jewelry, loose diamonds for industrial purposes, or dust. This section covers both retail and internet platforms. The ongoing demand for diamond bridal jewelry, celebration gifts, and diamond equipment has resulted in tremendous growth in the diamond market as a whole. Furthermore, the expanding presence of Internet sales platforms has improved revenue. The increasing presence of the new generation on internet platforms with significant purchasing power has influenced the diamond market's expansion.
Competitive Landscape
Major players in the market
Petra Diamonds Limited
Rio Tinto
Trans Hex Group
Lucara Diamond
ALROSA
De Beers
Mountain Province Diamonds
Arctic Canadian Diamond Company
Gem Diamonds
Lucapa Diamond Company
Star Diamond Corp.
Mittal Diamonds
Tsodilo Resources Limited
Recent Market Developments
On November 2023, Tree Line Capital Partners, LLC announced the formation of WD Advanced Materials, LLC ("WDAM" or the "Company") in collaboration with the management team. WDAM is a new organization that has been established following the transition from its predecessor gemstone manufacturing entity, WD Lab Grown Diamonds. It is focused on technical diamond applications. WDAM will use its existing production operations and technological skills to develop revolutionary, next-generation diamond applications for burgeoning scientific and industrial markets.
On July 2023, Burgundy Diamond Mines Limited has successfully completed the acquisition of Arctic Canadian Diamond Company Limited shares, which included the Ekati Diamond Mine in Canada's Northwest Territories. Burgundy is now in an excellent and exciting position to expand its innovative strategy and explore additional growth potential as a world-class end-to-end diamond firm, thanks to the successful purchase.
On May 2023, Blackstone Inc., one of the world's leading alternative asset management firms, announced the USD 535 million acquisition of the diamond grading firm 'International Gemological Institute' (IGI). The acquisition is a huge step forward in Blackstone's India development plans.
Market Segmentation
This study forecasts revenue at global, regional, and country levels from 2023 to 2032.
Diamond Market, Type Analysis
Diamond Market, Nature Analysis
Diamond Market, Application Analysis
Jewelry & Ornaments
Industrial
Diamond Market, Distribution Channel Analysis
Diamond Market, Regional Analysis
Germany
UK
France
Italy
Spain
Russia
Rest of Europe
China
Japan
India
South Korea
Australia
Rest of Asia Pacific
Brazil
Argentina
Colombia
UAE
Saudi Arabia
South Africa
Need help to buy this report?