Global Dental Laboratories Market Size, Share, and COVID-19 Impact Analysis, By Material (Metal-Ceramics, Traditional All-Ceramics, CAD/CAM Materials, Plastics, and Metals), By Equipment (3D Printing Systems, Integrated CAD/CAM systems, Casting Machines, Milling Equipment, Furnaces, Articulators, Dental Scanners, and Others), By Prosthetic Type (Bridges, Crowns, Veneers, Dentures, and Clear Aligners), By Region (North America, Europe, Asia-Pacific, Latin America, Middle East, and Africa), Analysis and Forecast 2022 – 2032
Industry: Healthcare
---
REPORT FORMAT

---
Global Dental Laboratories Market Insights Forecasts to 2032
The Global Dental Laboratories Market Size was valued at USD 32.65 Billion in 2022.
The Market is Growing at a CAGR of 5.6% from 2022 to 2032
The Worldwide Dental Laboratories Market Size is expected to reach USD 56.30 Billion by 2032
Asia-Pacific is expected to grow higher during the forecast period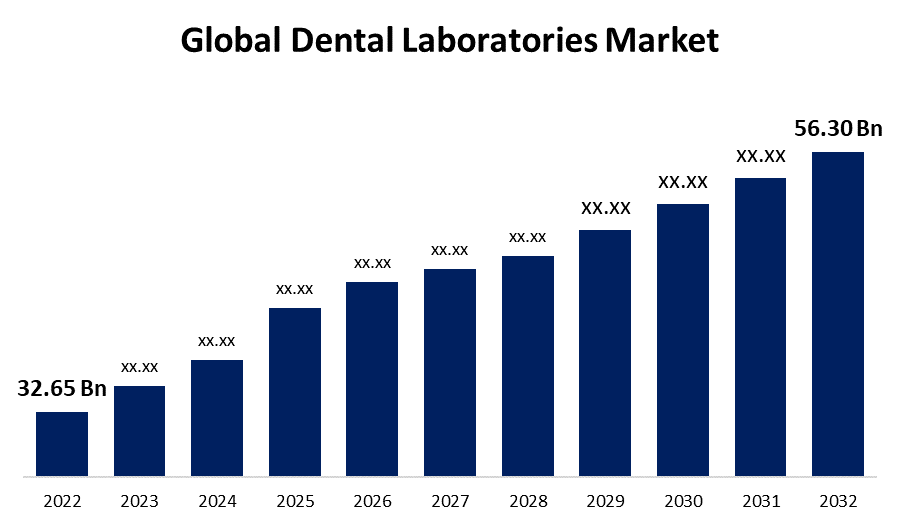 Get more details on this report -
Request Free Sample PDF
The Global Dental Laboratories Market Size is expected to reach USD 56.30 Billion by 2032, at a CAGR of 5.6% during the forecast period 2022 to 2032.
Market Overview
Dental laboratories play a crucial role in modern dentistry, serving as specialized facilities where skilled technicians create various dental prosthetics and appliances. These laboratories fabricate items like crowns, bridges, dentures, and orthodontic devices based on prescriptions from dentists or orthodontists. Employing a blend of artistry and cutting-edge technology, dental technicians meticulously craft these custom-made items to ensure proper fit, function, and aesthetics. Collaboration between dental professionals and laboratories is essential to achieve optimal results. With advancements in digital dentistry, CAD/CAM technology has transformed workflows, enabling precise digital designs and faster production. Dental laboratories contribute significantly to enhancing oral healthcare by producing high-quality dental restorations that restore smiles and improve overall oral well-being.
Report Coverage
This research report categorizes the market for dental laboratories market based on various segments and regions and forecasts revenue growth and analyzes trends in each submarket. The report analyses the key growth drivers, opportunities, and challenges influencing the dental laboratories market. Recent market developments and competitive strategies such as expansion, product launch, and development, partnership, merger, and acquisition have been included to draw the competitive landscape in the market. The report strategically identifies and profiles the key market players and analyses their core competencies in each sub-segments of the dental laboratories market.
Global Dental Laboratories Market Report Coverage
| Report Coverage | Details |
| --- | --- |
| Base Year: | 2022 |
| Market Size in 2022: | USD 32.65 Billion |
| Forecast Period: | 2022-2032 |
| Forecast Period 2022-2032 CAGR: | 5.6% |
| 2032 Value Projection: | USD 56.30 Billion |
| Historical Data for: | 2018-2021 |
| No. of Pages: | 200 |
| Tables, Charts & Figures: | 120 |
| Segments covered: | By Material, By Equipment, By Prosthetic Type, By Region and COVID-19 Impact Analysis. |
| Companies Covered: | Dentsply Sirona, Inc., Envista Holdings Corporation, GC Corporation, Mitsui Chemicals, Planmeca Group, BEGO GmbH & Co, KG, Schutz Dental GmbH, Nakanishi Inc., COLTENE Holding AG, Institut Straumann AG, 3D Systems, Roland DG Corporation, SHINING 3D, Zirkonzahn and other key vendors. |
| Pitfalls & Challenges: | COVID-19 Empact, Challenge, Future, Growth, & Analysis |
Get more details on this report -
Request Free Sample PDF
Driving Factors
The dental laboratories market is driven by a confluence of factors that collectively shape its growth trajectory, the rising global prevalence of oral health issues and dental conditions fuels the demand for dental prosthetics and appliances, propelling the market's expansion. Additionally, the aging population, particularly in developed countries, leads to an increased need for restorative and cosmetic dental procedures, boosting the demand for dental laboratory services. Technological advancements play a pivotal role as well. The integration of digital technologies such as CAD/CAM systems streamlines the production process, enhancing precision, efficiency, and customization. This not only accelerates the production of dental restorations but also improves the overall quality and fit of the prosthetics, driving market growth. Moreover, shifting patient preferences towards aesthetically pleasing dental solutions has led to a surge in demand for cosmetic dentistry, including veneers, whitening trays, and clear aligners. This trend further elevates the significance of dental laboratories in creating visually appealing dental products that cater to individual patient needs. Collaboration between dental professionals and laboratories is another critical driver. As dentists increasingly recognize the value of outsourcing complex prosthetic cases to specialized technicians, dental laboratories experience heightened demand for their expertise.
Furthermore, the growing awareness of the benefits of preventive dental care encourages early interventions, generating a steady need for orthodontic appliances and mouthguards. The globalized nature of the dental industry has also spurred market growth. The ease of transportation and communication enables dental professionals to collaborate with laboratories across borders, facilitating access to specialized skills and services. Overall, the dental laboratories market is fueled by demographic trends, technological progress, evolving patient preferences, professional collaboration, and global connectivity. These drivers collectively contribute to the market's expansion as it continues to evolve in response to the dynamic landscape of oral healthcare.
Restraining Factors
The dental laboratories market faces notable restraints that impact its growth trajectory. Economic fluctuations and healthcare budget constraints can lead to reduced patient spending on non-essential dental procedures, affecting the demand for laboratory services. Regulatory complexities and quality control challenges can hinder market expansion, particularly in regions with stringent compliance requirements. Additionally, the evolution of in-office milling and 3D printing technologies might encourage some dental professionals to produce restorations in-house, potentially reducing the volume of outsourced work. These restraints collectively influence the market's dynamics, necessitating adaptability and innovation within the dental laboratory sector.
Market Segmentation
In 2022, the metal-ceramics segment accounted for around 45.6% market share
On the basis of the material, the global dental laboratories market is segmented into metal-ceramics, traditional all-ceramics, CAD/CAM materials, plastics, and metals. The metal-ceramics segment has secured the largest market share in the dental laboratories sector due to its unique advantages. Metal-ceramic restorations offer a blend of strength and aesthetic appeal, making them a preferred choice for dental prosthetics like crowns and bridges. This segment's popularity can also be attributed to its long-standing presence in the field, established trust, and widespread use among dental professionals. Additionally, advancements in material science have led to improved metal-ceramic formulations, enhancing durability and biocompatibility. As a result, the metal-ceramics segment continues to dominate the market due to its reliability and versatility.
The milling equipment segment held the largest market with more than 32.6% revenue share in 2022
Based on the equipment, the global dental laboratories market is segmented into 3D printing systems, integrated CAD/CAM systems, casting machines, milling equipment, furnaces, articulators, dental scanners, and others. The dominance of the milling equipment segment in the dental laboratories market can be attributed to technological strides. Computer-aided design and manufacturing (CAD/CAM) systems integrated with milling devices offer precision, speed, and customization in fabricating dental prosthetics. This technology enhances the efficiency of dental laboratories, enabling faster production of accurate and patient-specific restorations. As demand for precise and aesthetically pleasing dental solutions grows, milling equipment remains pivotal, driving its largest market share by enabling dental professionals to create high-quality prosthetics with exceptional fit and visual appeal.
The crowns segment held the largest market with more than 36.7% revenue share in 2022
Based on the prosthetic type, the global dental laboratories market is segmented into bridges, crowns, veneers, dentures, and clear aligners. The dominance of the crowns segment in the dental laboratories market is due to its pivotal role in restorative dentistry. Crowns address a wide range of dental issues, from structural integrity to aesthetic enhancement. With advancements in materials like ceramics and metals, crowns offer durability and natural appearance. Moreover, their widespread use across age groups and dental conditions contributes to the segment's prominence. As the demand for functional and visually appealing dental solutions remains high, the crowns segment maintains its largest market share, driving overall market growth.
Regional Segment Analysis of the Dental Laboratories Market
North America (U.S., Canada, Mexico)
Europe (Germany, France, U.K., Italy, Spain, Rest of Europe)
Asia-Pacific (China, Japan, India, Rest of APAC)
South America (Brazil and the Rest of South America)
The Middle East and Africa (UAE, South Africa, Rest of MEA)
North America dominated the market with more than 34.8% revenue share in 2022.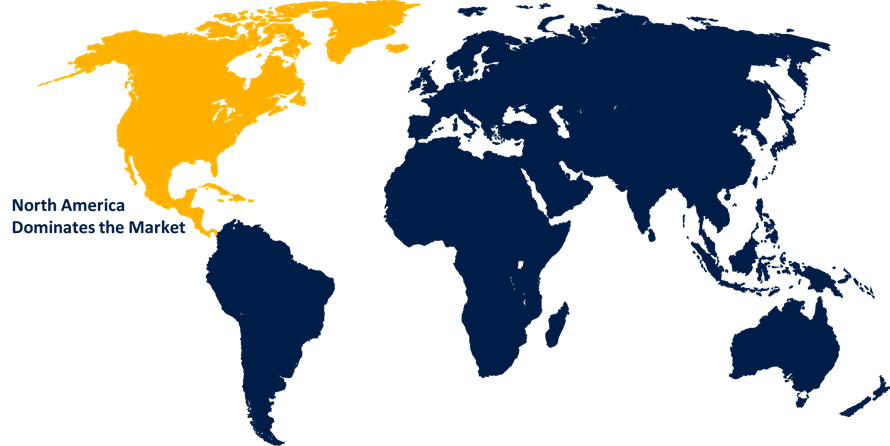 Get more details on this report -
Request Free Sample PDF
Based on region, North America has exhibited dominance by capturing a substantial revenue share. This region's prominence can be attributed to several factors, including advanced healthcare infrastructure, a high prevalence of dental disorders, and a robust dental insurance system. Moreover, technological innovation and the adoption of digital dentistry solutions have propelled the efficiency and precision of dental laboratory processes, further enhancing market growth. Additionally, a strong emphasis on aesthetics and cosmetic dentistry in North America has driven the demand for high-quality dental restorations, contributing to the region's significant revenue share in the global dental laboratories market.
Asia Pacific region is projected to experience the most substantial growth in the dental laboratories market over the forecast period. This projection is underpinned by several factors, including a burgeoning population, increasing disposable income, and expanding access to healthcare services. Rising awareness about oral health and a growing demand for aesthetic dental solutions are driving the need for advanced dental prosthetics and appliances. Additionally, the adoption of modern dental technologies is rapidly increasing across the region, further propelling the growth of dental laboratory services in Asia Pacific.
Recent Developments
In June 2021, Dentsply Sirona purchased Propel Orthodontics. This purchase is an important step in the company's aim to strengthen its position in the fast increasing clear aligner market. The purchased product lines are a fantastic complement for Byte and Sure Smile.
In March 2022, Ultradent Products has released a series of premium accessories for the VALO Grand curing lamps. The inclusion of six new lenses enables doctors to use their VALO Grand light in increasingly expressive ways to give patients with the best possible treatment.
Competitive Analysis:
The report offers the appropriate analysis of the key organizations/companies involved within the global dental laboratories market along with a comparative evaluation primarily based on their product offering, business overviews, geographic presence, enterprise strategies, segment market share, and SWOT analysis. The report also provides an elaborative analysis focusing on the current news and developments of the companies, which includes product development, innovations, joint ventures, partnerships, mergers & acquisitions, strategic alliances, and others. This allows for the evaluation of the overall competition within the market.
List of Companies:
Dentsply Sirona, Inc.
Envista Holdings Corporation
GC Corporation
Mitsui Chemicals
Planmeca Group
BEGO GmbH & Co, KG
Schutz Dental GmbH
Nakanishi Inc.
COLTENE Holding AG
Institut Straumann AG
3D Systems
Roland DG Corporation
SHINING 3D
Zirkonzahn
Key Target Audience
Market Players
Investors
End-Users
Government Authorities
Consulting and Research Firm
Venture Capitalists
Value-Added Resellers (VARs)
Market Segment
This study forecasts revenue at global, regional, and country levels from 2019 to 2032. Spherical Insights has segmented the global dental laboratories market based on the below-mentioned segments:
Dental Laboratories Market, By Material
Metal-Ceramics
Traditional All-Ceramics
CAD/CAM Materials
Plastics
Metals
Dental Laboratories Market, By Equipment
3D Printing Systems
Integrated CAD/CAM systems
Casting Machines
Milling Equipment
Furnaces
Articulators
Dental Scanners
Others
Dental Laboratories Market, By Prosthetic Type
Bridges
Crowns
Veneers
Dentures
Clear Aligners
Dental Laboratories Market, Regional Analysis
North America
Europe

Germany
UK
France
Italy
Spain
Russia
Rest of Europe

Asia Pacific

China
Japan
India
South Korea
Australia
Rest of Asia Pacific

South America

Brazil
Argentina
Rest of South America

Middle East & Africa

UAE
Saudi Arabia
Qatar
South Africa
Rest of Middle East & Africa
Need help to buy this report?