Global Decarbonisation Market Size, Share, and COVID-19 Impact Analysis, By Offering (Solutions, Services), By Deployment (On-Premises, Cloud), By End-User (Commercial, Transportation, Agriculture, Oil & Gas, Metal & Mining, Energy & Power, Manufacturing, Industrial, Commercial, Government, Others), and By Region (North America, Europe, Asia-Pacific, Latin America, Middle East, and Africa), Analysis and Forecast 2022 – 2032
Industry: Energy & Power
---
REPORT FORMAT

---
Global Decarbonisation Market Insights Forecast 2022 – 2032.
The Global Decarbonisation Market Size is estimated to reach USD Multi-Billion by 2032, growing at a CAGR of 14.27% from 2022 to 2032.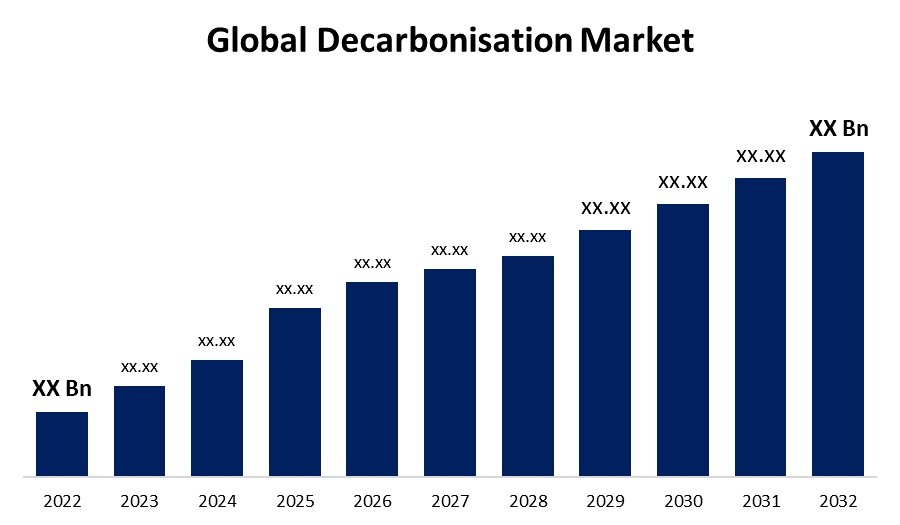 Get more details on this report -
Request Free Sample PDF
Decarbonisation is the process of lowering carbon dioxide emissions by using low-carbon energy sources, resulting in a decreased output of greenhouse gases into the environment. In general, this entails lowering CO2 emission per unit of electrical power generated. The decrease in the quantity of carbon dioxide produced by transportation and power generation is critical to meeting the government's global temperature targets.
Decarbonisation is only possible through an energy transition, which is a structural transformation that eliminates carbon from the generation of energy. This entails electrifying the commercial sector with clean, renewable energy sources that emit just what the environment can accept. The legislative and regulatory framework is critical for moving toward more efficient and emission-free energy transmission and end uses at the lowest feasible cost, supporting efficient decarbonisation. In the past few decades, Europe has taken the lead in the global energy transition, promoting a low-carbon economy through policies and laws, and regulations. This increased environmental drive was adopted in the European Climate Law of June 2021, which approved the commitment to carbon neutrality by 2050 (vs. the present 80-95% reduction target compared to 1990) and boosted the 2030 emissions reduction goal from 40% to 55%.
The major key players in the global decarbonisation market include Atos, Deloitte, EcoAct, Sphera, Black & Veatch, Carbon Trust, Sinai, RPS, Accenture, IES Ltd., Guidehouse, DNV, Schneider Electric, Infosys, Envirosoft, GE Digital, EY, Carbon Footprint Ltd, Trinity Consultants, Siemens, and among others. These key players are focusing on mergers and collaborations to expand their innovation spaces into new regions, pushing the solutions of decarbonisation platform.
For instance, on May 2023, RINA and Eni have agreed to collaborate on initiatives that will help to the energy transition and decarbonisation of their respective activities, notably maritime transport, where RINA and Eni may benefit from each other's expertise. The agreement specifically addresses the use of HVO (Hydrogenated Vegetable Oil) biofuel produced by Eni in its Venice and Gela bio-refineries, as well as other energy carriers such as "blue" or "green" hydrogen and ammonia derived from biogenic, renewable, or waste raw materials that do not compete with the food chain, in the naval sector. Eni and RINA will also consider conducting trials and pilot projects connected to on-board CO2 emissions collection in order to contribute to the naval sector's sustainability goals.
Global Decarbonisation Market Report Coverage
| Report Coverage | Details |
| --- | --- |
| Base Year: | 2022 |
| Market Size in 2022: | USD XX Billion |
| Forecast Period: | 2022-2032 |
| Forecast Period 2022-2032 CAGR: | 14.27% |
| 2032 Value Projection: | USD XX Billion |
| Historical Data for: | 2018-2021 |
| No. of Pages: | 200 |
| Tables, Charts & Figures: | 120 |
| Segments covered: | By Offering, By Deployment, By End-User, By Region. |
| Companies Covered: | Atos, Deloitte, EcoAct, Sphera, Black & Veatch, Carbon Trust, Sinai, RPS, Accenture, IES Ltd., Guidehouse, DNV, Schneider Electric, Infosys, Envirosoft, GE Digital, EY, Carbon Footprint Ltd, Trinity Consultants, Siemens, Accuvio, IBM, Enviance, Isometrix, Enablon, Salesforce, EnergyCap., Carbon Trust, and Dakota Software. |
| Pitfalls & Challenges: | COVID-19 Empact, Challenge, Future, Growth, & Analysis |
Get more details on this report -
Request Free Sample PDF
Driving Factors
In general, the increasing demand to decrease environmental duties while simultaneously decreasing long-term operational hazards is significantly driving corporations to deploy modern ecological safety solutions. With regard to staff safety and health, a number of government departments and organizations are implementing stringent rules and legislative compliance in a variety of business sectors. As a result, it will contribute to the global expansion of the decarbonisation market.
The global transportation system is predominantly powered by carbon-based fossil fuels such as diesel and petroleum, although increasing the usage of electric vehicles would increase the transportation sector's contribution to lowering carbon emissions. Furthermore, numerous companies are currently adjusting or speeding up pre-existing low-carbon hydrogen production plans in order to capitalize on mid-term development prospects created by legislative modifications. For example, Bosch, a German provider of powertrain and propulsion systems, has announced a $200 million investment in fuel cell stack production in its US site.
Increased industrial consumption of electricity and the push for more environmentally friendly energy solutions drive the worldwide decarbonisation market forward. Furthermore, rising industry use of modern innovations, industrialization and advancements in technology in manufacturing strategies, and higher market R&D activities all contribute to market expansion.
The decreased amount of carbon footprint is the subject of legislative and regulatory requirements from numerous governments and organizations all over the world. Organizations are being asked to lower their carbon footprints in order to meet environmental rules. This driver is expected to boost the global decarbonisation market throughout the period of forecasting. Furthermore, the current development in the decarbonisation market is a fundamental change to cloud-based computing and a digital economy, which provides an opportunity for enterprises to convert to electronic transactions, fueling the adoption of carbon footprint monitoring software that tracks the carbon emission profile.
Market Segmentation
By Offering Insights
The solutions segment is dominating the market with the largest revenue share over the forecast period.
On the basis of offering, the global decarbonisation market is segmented into the solutions and services. Among these, the solutions segment is dominating the market with the largest revenue share of 48.6% over the forecast period. This is due to how it aids in the development of business strategies based on the most recent scientific climatic knowledge and approaches from top technologies. Organizations can use such applications to understand the risks and possibilities associated with climate change, design strategic goals, educate targets, assess outcomes, develop the business case, and reach swift and well-informed conclusions. Additionally, the variables driving this segment's rapid expansion are simple deployment, faster response, and reliable data tracking for businesses of all sizes. Another advantage driving the adoption of decarbonisation solution is its accessibility as a result of an active distribution network.
By Deployment Insights
The cloud segment is witnessing significant CAGR growth over the forecast period.
On the basis of deployment, the global decarbonisation market is segmented into on-premises and cloud. Among these, the cloud segment is witnessing significant CAGR growth over the forecast period. Cloud infrastructure, commonly referred to as public cloud services, offers adaptable computational resources on request with pricing based on usage, which leads to considerable cost savings for commercial computing. Deploying decarbonisation software through the cloud is inexpensive, extremely flexible, and allows for easier implementation, upkeep, and upgrade. Furthermore, it provides perks such as reliability, information control, speed, and round-the-clock support, making it the choice of the majority of clients.
By End-User Insights
The manufacturing segment accounted for the largest revenue share of more than 57.2% over the forecast period.
On the basis of end-user, the global decarbonisation market is segmented into commercial, transportation, agriculture, oil & gas, metal & mining, energy & power, manufacturing, industrial, commercial, government, and others. Among these, the manufacturing segment is dominating the market with the largest revenue share of 43.2% over the forecast period. The manufacturing sector is regularly highlighted as one of the leading contributors to carbon emissions worldwide. A number of manufacturers have recognized the actuality of carbon emissions, while many continue to seek solutions to cut carbon emissions during the production process. The bulk of manufacturing enterprises that are implementing low-carbon strategies are undertaking this for reasons other than an environmental advantage; rather, they are motivated by an awareness of the dangers and other components associated with non-compliance. The requirement to reduce these risks and maintain compliance is projected to boost the market for decarbonisation during the projection period.
Regional Insights
North America dominates the market with the largest market share over the forecast period.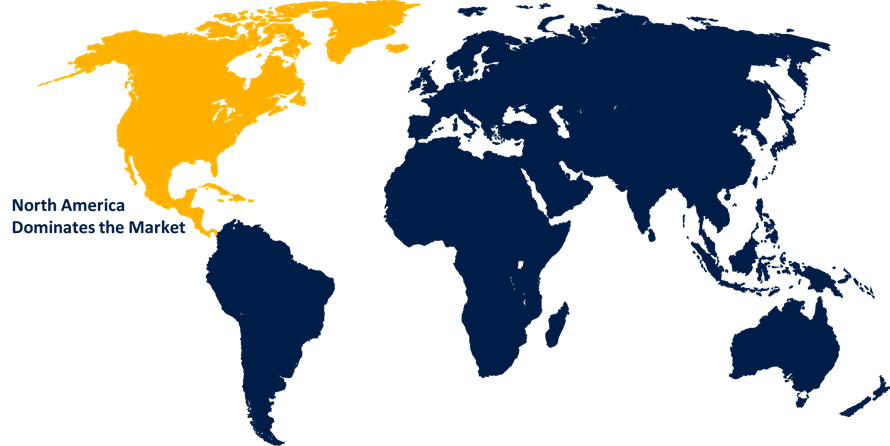 Get more details on this report -
Request Free Sample PDF
North America is dominating the market with more than 38.7% market share over the forecast period. The North American market continues to grow as a result of rising concerns about climate change in the United States and Canada. North America is expected to account for a significant share of the overall market throughout the forecast owing to large corporations' high investment in research and development (R&D), the presence of several information technologies (IT) companies, and stringent Environmental Protection Agency (EPA) rules, all of which contribute toward potential market growth. One of the primary reasons for domination is the presence of a large core target market in nations with advanced economies.
Asia Pacific, on the other hand, is predicted to develop the quickest over the forecast period, owing to rising awareness of environmental safety across various industrial sectors, especially within India, Japan, and China. Rising awareness and understanding amongst organizations involved in the development of sustainable information systems and technological solutions has driven industry growth.
List of Key Market Players
Atos
Deloitte
EcoAct
Sphera
Black & Veatch
Carbon Trust
Sinai
RPS
Accenture
IES Ltd.
Guidehouse
DNV
Schneider Electric
Infosys
Envirosoft
GE Digital
EY
Carbon Footprint Ltd
Trinity Consultants
Siemens
Accuvio
IBM
Enviance
Isometrix
Enablon
Salesforce
EnergyCap.
Carbon Trust
Dakota Software
Key Market Developments
On May 2023, APM Terminals Bahrain, the operator of Khalifa Bin Salman Port, has formally announced the commencement of a groundbreaking solar power project worth around BHD3.8 million (USD 10 million), which will make the port energy self-sufficient by the end of 2023. By completing this project, the terminal will lower its carbon emissions by 65% while also securing a reliable and sustainable source of electricity, effectively becoming Khalifa Bin Salman Port the region's first entirely self-sufficient seaport. By the end of the solar implementation project, APM Terminals Bahrain will have installed 20,000 solar photovoltaic panels capable of generating 18.5 Gigawatts of electricity per year.
On May 2023, Dassault Systemes and Envision Digital have established a collaboration to improve the Industrial Decarbonization performance of sustainable energy solutions in order to accelerate industrial decarbonization. The two companies will discuss how the interaction of their proprietary technologies – Envision Digital's EnOS digital decarbonization system and Dassault Systèmes' 3DEXPERIENCE platform – enables virtual twin experiences for large asset engineering, manufacturing, and operations across industries.
On May 2023, The United States Department of Energy (DOE) has announced the Clean Fuels & items Shot, a project aimed at significantly reducing greenhouse gas emissions (GHGs) from carbon-based fuels and everyday items. This project, the seventh DOE Energy Earthshot, intends to reduce carbon emissions from the fuel and chemical industries by employing more ecologically friendly carbon sources, with a minimum reduction in GHG emissions of 85% relative to fossil-based sources by 2035.
On February 2023, Enablon and Makersite launched a collaborative partnership to assist businesses in meeting ESG objectives. The two industry leaders will assist enterprises in meeting their Net Zero goals by decarbonizing supply chains. This includes data collection, modeling, reporting, planning, forecasting, and operational execution for all three Scopes of GHG emissions.
Market Segment
This study forecasts revenue at global, regional, and country levels from 2020 to 2032. Spherical Insights has segmented the Global Decarbonisation Market based on the below-mentioned segments:
Decarbonisation Market, Offering Analysis
Decarbonisation Market, Deployment Analysis
Decarbonisation Market, End-User Analysis
Commercial
Transportation
Agriculture
Oil & Gas
Metal & Mining
Energy & Power
Manufacturing
Industrial
Commercial
Government
Others
Decarbonisation Market, Regional Analysis
North America
Europe

Germany
Uk
France
Italy
Spain
Russia
Rest of Europe

Asia Pacific

China
Japan
India
South Korea
Australia
Rest of Asia Pacific

South America

Brazil
Argentina
Rest of South America

Middle East & Africa

UAE
Saudi Arabia
Qatar
South Africa
Rest of Middle East & Africa
Need help to buy this report?