Global Data Center Services Market Size, Share, and COVID-19 Impact Analysis, By Infrastructure (Servers, Storage, and Networking), By Organization Size (SMEs and Large Enterprises), By Vertical (Retail, BFSI, IT & Telecom, Healthcare, Manufacturing, and Others), By Region (North America, Europe, Asia-Pacific, Latin America, Middle East, and Africa), Analysis and Forecast 2022 – 2032)
Industry: Information & Technology
---
REPORT FORMAT

---
Global Data Center Services Market Insights Forecasts to 2032
The Data Center Services Market Size was valued at USD 73.82 Billion in 2022.
The Market is Growing at a CAGR of 22.6% from 2022 to 2032
The Worldwide Data Center Services Market Size is expected to reach USD 566.34 Billion by 2032
Asia-Pacific is expected To Growth the fastest during the forecast period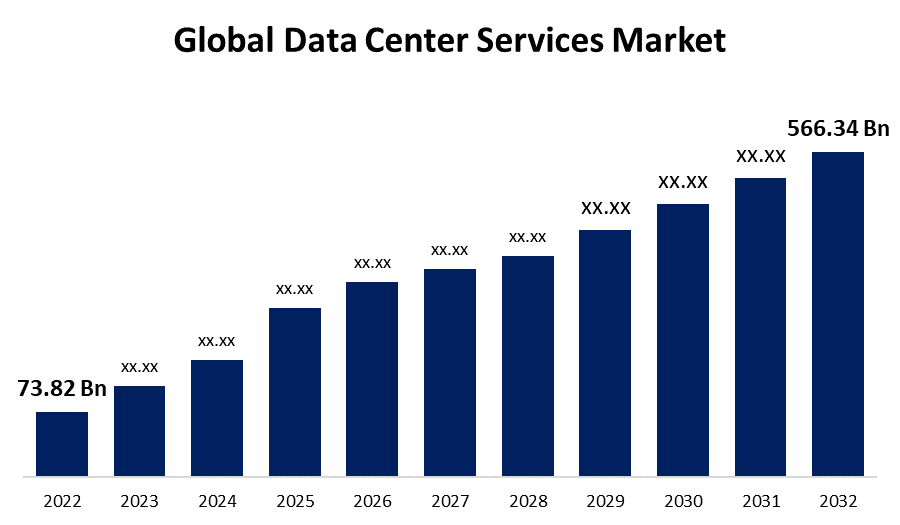 Get more details on this report -
Request Free Sample PDF
The Global Data Center Services Market Size is expected to reach USD 566.34 Billion by 2032, at a CAGR of 22.6% during the forecast period 2022 to 2032.
Market Overview
Data center services encompass a range of solutions that support the storage, processing, and management of data in a secure and reliable manner. These services are designed to meet the growing demands of businesses for scalable and efficient infrastructure. Data center services include colocation, where companies can host their servers in a professionally managed facility with robust connectivity and power redundancy. Additionally, there are managed services that provide comprehensive support for data center operations, including monitoring, maintenance, and troubleshooting. Cloud services, such as Infrastructure as a Service (IaaS) and Platform as a Service (PaaS), offer scalable computing resources and software platforms. Data backup and disaster recovery services ensure data resilience in the face of unexpected events.
Report Coverage
This research report categorizes the market for data center services market based on various segments and regions and forecasts revenue growth and analyzes trends in each submarket. The report analyses the key growth drivers, opportunities, and challenges influencing the data center services market. Recent market developments and competitive strategies such as expansion, product launch, and development, partnership, merger, and acquisition have been included to draw the competitive landscape in the market. The report strategically identifies and profiles the key market players and analyses their core competencies in each sub-segments of the data center services market.
Global Data Center Services Market Report Coverage
| Report Coverage | Details |
| --- | --- |
| Base Year: | 2022 |
| Market Size in 2022 : | USD 73.82 Billion |
| Forecast Period: | 2022-2032 |
| Forecast Period 2022-2032 CAGR: | 22.6% |
| 2032 Value Projection: | 566.34 Billion |
| Historical Data for: | 2018-2021 |
| No. of Pages: | 200 |
| Tables, Charts & Figures: | 120 |
| Segments covered: | By Infrastructure, By Organization, By Vertical, By Region |
| Companies Covered: | IBM Corporation, Microsoft Corporation, Hewlett Packard Enterprise Development LP, Dell Inc., Alibaba, AT & T, Cloudian, 365 Data Centers, Digital Reality, Cyxtera Technologies., Digital Ocean, LLC., Linode LLC.Equinix, Inc., Huawei, Amazon.com, Inc. |
| Pitfalls & Challenges: | COVID-19 Empact,Challenges |
Get more details on this report -
Request Free Sample PDF
Driving Factors
The data center services market is driven by several factors that contribute to its growth and expansion. First and foremost is the increasing demand for data storage and processing capabilities due to the exponential growth of digital data. Organizations require efficient and scalable infrastructure to handle the ever-increasing volume of data generated by various sources. Additionally, the shift towards cloud computing is a significant driver. Cloud-based data center services offer flexibility, scalability, and cost-effectiveness, attracting businesses to migrate their infrastructure to the cloud. The need for enhanced security and data protection is another driver. Data center services provide robust security measures, including physical security, network security, and data encryption, ensuring the confidentiality and integrity of sensitive information. Moreover, the rising trend of outsourcing IT infrastructure and operations drives the data center services market. Organizations prefer to focus on their core competencies and leverage specialized providers for managing their data centers, resulting in increased demand for colocation and managed services.
Restraining Factors
While the data center services market offers numerous opportunities, there are also several restraints that hinder its growth. One significant restraint is the high cost associated with establishing and maintaining data centers. Building and operating a data center requires substantial investments in infrastructure, power, cooling, and skilled personnel. Another restraint is the increasing concern over data privacy and compliance regulations. Organizations need to adhere to strict data protection regulations and ensure the security of sensitive information. Compliance with these regulations can be challenging and may impose additional costs and complexities on data center operations. Furthermore, the limited availability of skilled IT professionals poses a restraint. Data center services require expertise in areas like network management, security, and infrastructure maintenance. The shortage of qualified professionals can affect the quality and efficiency of service delivery.
Market Segmentation
In 2022, the servers segment accounted for around 62.7% market share
On the basis of infrastructure, the global data center services market is segmented into servers, storage, and networking. The servers segment is dominating with the largest market share in 2022, This can be attributed to several factors. Servers are the backbone of any data center infrastructure, serving as the primary computing resource for processing and managing data. As organizations generate and process ever-increasing volumes of data, the demand for high-performance servers capable of handling complex workloads has grown substantially. Moreover, the rise of cloud computing and the increasing adoption of virtualization technologies have further fueled the demand for servers within the data center services market. Cloud service providers and enterprises alike rely on servers to deliver scalable and on-demand computing resources to their customers. Additionally, the increasing need for efficient and cost-effective data center solutions has led to the adoption of advanced server technologies such as blade servers, rack servers, and modular servers, which provide high levels of performance and flexibility while optimizing space and power consumption. Overall, the importance of servers as a foundational element of data center infrastructure and the growing demand for advanced computing resources have propelled the servers segment to the forefront of the data center services market.
In 2022, the IT & telecom segment dominated with more than 21.4% market share
Based on industry vertical, the global data center services market is segmented into retail, BFSI, IT & telecom, healthcare, manufacturing, and others. Out of this, the IT & telecom segment is dominating the market with the largest market share in 2022, This can be attributed to several factors. First, the IT & telecom sector generates and processes enormous amounts of data, necessitating the use of robust and scalable data center solutions to support their operations. Moreover, the sector is characterized by rapid technological advancements and constantly evolving business requirements, leading to high demand for flexible and customizable data center services. Furthermore, the IT & telecom segment comprises a wide range of organizations, including cloud service providers, communication service providers, and enterprises, each with unique data center requirements. This diversity has driven the adoption of a wide range of data center services, from colocation and hosting to managed services and cloud solutions. Overall, the IT & telecom segment's critical role in the digital economy and its unique data center needs have made it the largest market segment in the data center services industry
Regional Segment Analysis of the Data Center Services Market
North America (U.S., Canada, Mexico)
Europe (Germany, France, U.K., Italy, Spain, Rest of Europe)
Asia-Pacific (China, Japan, India, Rest of APAC)
South America (Brazil and the Rest of South America)
The Middle East and Africa (UAE, South Africa, Rest of MEA)
North America dominated the market with more than 37.2% revenue share in 2022.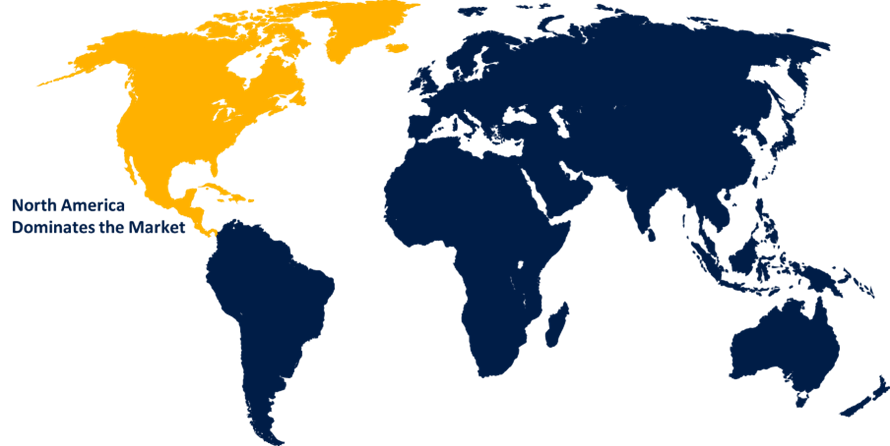 Get more details on this report -
Request Free Sample PDF
Based on region, North America has emerged as the dominant market for data center services, holding the largest market share. This can be attributed to various factors. North America boasts a highly developed IT infrastructure and a mature digital economy. The region houses numerous technology giants, financial institutions, and enterprises that generate massive volumes of data, driving the demand for data center services. North America has a strong focus on technological advancements and innovation. It serves as a hub for research and development in areas like cloud computing, artificial intelligence, and big data analytics. This stimulates the demand for advanced data center services to support these emerging technologies. Additionally, North America benefits from a favorable business environment, including a stable regulatory framework, robust connectivity, and reliable power infrastructure.
Recent Developments
In March 2022, Microsoft Corporation has unveiled its intentions to create a new data center region in Hyderabad, in addition to its existing data center regions in Mumbai, Pune, and Chennai, as part of its strategic expansion plans in India. This development aims to provide a diverse range of data solutions, cloud services, artificial intelligence capabilities, productivity tools, and advanced data security measures.
Competitive Analysis:
The report offers the appropriate analysis of the key organizations/companies involved within the global data center services market along with a comparative evaluation primarily based on their product offering, business overviews, geographic presence, enterprise strategies, segment market share, and SWOT analysis. The report also provides an elaborative analysis focusing on the current news and developments of the companies, which includes product development, innovations, joint ventures, partnerships, mergers & acquisitions, strategic alliances, and others. This allows for the evaluation of the overall competition within the market.
List of Companies:
IBM Corporation
Microsoft Corporation
Hewlett Packard Enterprise Development LP
Dell Inc.
Alibaba
AT & T
Cloudian
365 Data Centers
Digital Reality
Cyxtera Technologies.
Digital Ocean, LLC.
Linode LLC.
Equinix, Inc.
Huawei
Amazon.com, Inc.
Key Target Audience
Market Players
Investors
End-Users
Government Authorities
Consulting and Research Firm
Venture Capitalists
Value-Added Resellers (VARs)
Market Segment
This study forecasts revenue at global, regional, and country levels from 2019 to 2032. Spherical Insights has segmented the global data center services market based on the below-mentioned segments:
Data Center Services Market, By Infrastructure
Servers
Storage
Networking
Data Center Services Market, By Organization Size
Data Center Services Market, By Vertical
Retail
BFSI
IT & Telecom
Healthcare
Manufacturing
Others
Data Center Services Market, Regional Analysis
North America
Europe

Germany
UK
France
Italy
Spain
Russia
Rest of Europe

Asia Pacific

China
Japan
India
South Korea
Australia
Rest of Asia Pacific

South America

Brazil
Argentina
Rest of South America

Middle East & Africa

UAE
Saudi Arabia
Qatar
South Africa
Rest of Middle East & Africa
Need help to buy this report?