Global Data Center Equipment Market Size, Share & Trends, COVID-19 Impact Analysis Report, By Product (Servers, Storage Devices, Power Distribution Systems & Others); By Vertical (IT & Telecommunication, Manufacturing, Government, Healthcare, Retail, Banking & finance, Media & entertainment & Others; By Region (North America, Europe, Asia-Pacific, Latin America, Middle East, and Africa) – Global Insights, Growth, Size, Comparative Analysis, Trends and Forecast, 2021-2030
Industry: Information & Technology
---
REPORT FORMAT

---
INDUSTRY TRENDS
The Global Data Center Equipment Market size was estimated at over USD 51.91 billion in 2021. It's forecast to maintain a compound annual growth rate (CAGR) of 16% over the analysis period from 2022 to 2030, reaching USD 120 billion by the end of it.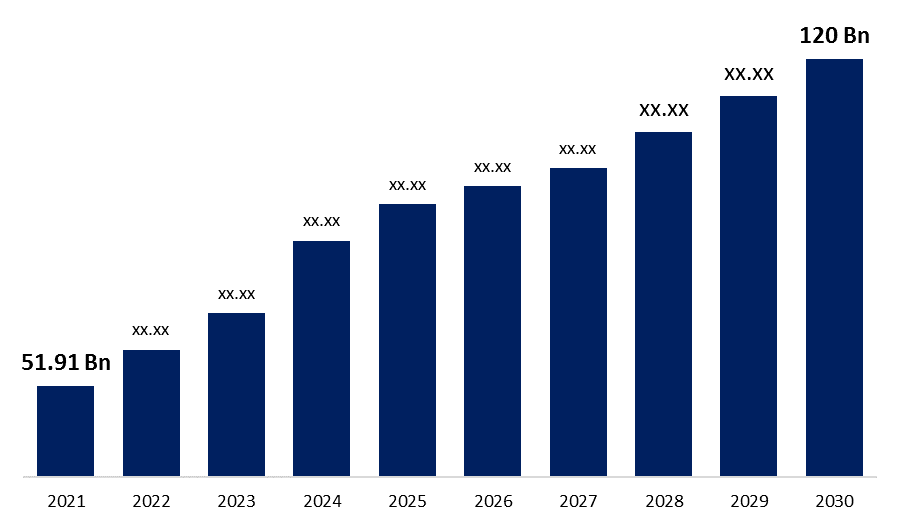 Get more details on this report -
Request Free Sample PDF
The development of next-generation data Center networks as a result of the convergence of video, mobile services, and cloud technologies is expected to drive market expansion throughout the forecast period. The data Center is predicted to be transformed by technological developments in the business model, thanks to cloud services, to provide pooled and automated services for data efficiency. Data Center equipment market growth is predicted to be fueled by the increasing use of different operating systems running on virtual machines, resulting in the sharing of hardware resources. Furthermore, advancements in virtualization technology are expected to help to market growth by lowering costs, increasing hardware utilization efficiency, improving business continuity, increasing IT productivity, and improving responsiveness. Furthermore, data Center demands are driving up the demand for more powerful switches and components.

The market is expected to be revitalised by emerging trends such as automated eco-friendly data Centers. Green data Centers are environmentally friendly, allowing for optimal power usage and a reduction in environmental impact while maintaining business operations. The COVID-19 pandemic not only dealt an unparalleled blow to world health and the economy, but it also caused massive disruptions in most industrial sectors. Governments around the world imposed strict lockdown rules, which resulted in the closure of manufacturing operations and disruption of supply networks, which had a devastating impact on trade. However, the industry saw a mix of positive and bad effects in the lockout and halted enterprise initiatives, such as data Center consolidation, caused by online expanding services. Physically transferring servers became more difficult as a result of the epidemic, as did the abrupt closing of buildings and the opening of new ones. With the alleged problems in physical activities, data Center building as well as mergers and acquisitions that were approved in the early days of the lockdown are now likely to decelerate. As a result, data Centers, like other businesses in the IT sector, rely on strong government assistance to keep up with demand for services and personnel.

Global Data Center Equipment Market Report Coverage
| Report Coverage | Details |
| --- | --- |
| Base Year: | 2021 |
| Market Size in 2021: | USD 51.91 Billion |
| Forecast Period: | 2021 - 2030 |
| Forecast Period 2021 - 2030 CAGR: | 16% |
| 2030 Value Projection: | USD 120 Billion |
| Historical Data for: | 2017 - 2020 |
| No. of Pages: | 190 |
| Tables, Charts & Figures: | 108 |
| Segments covered: | COVID-19 Impact Analysis Report, By Product, By Vertical, By Region |
| Companies Covered: | Huawei Technologies Co., Ltd Cisco Systems Inc, Nokia Corporation Avaya Inc., Dell Inc., Juniper Networks, F5 NetApp Inc., EMC Corporation, Hewlett Packard Co, IBM Corporation, Oracle Corporation, Fujitsu Corporation, QNAP Systems Inc |
Get more details on this report -
Request Free Sample PDF
PRODUCT OUTLOOK
The server segment is expected to dominate the market share in 2020 of global data Center equipment market owing to the demand for data to be available to computers in data Centers is growing. They serve as a storage site and provide centralized information storage and processing to help businesses run more efficiently and smoothly.

VERTICAL OUTLOOK
The IT & telecommunications segment is expected to dominate the market share in 2020 of global data Center equipment market owing to the Because of the growing need for internet-enabled services, telecommunications is the most common application that will propel the data Center equipment market forward. The growing use of online banking and electronic stock trading has underlined the importance of maintaining integrity, high standards, and security when dealing with huge amounts of data. Another factor driving market demand is the growing need for data storage and management in the healthcare industry to handle electronic medical records. By the conclusion of the predicted period, the number of devices will have surpassed a billion.

REGIONAL OUTLOOK
North America dominated the global market owing to the because of rising capital income in both developed and developing countries, North America accounts for the largest proportion of the market. Increased technology advancements and a growing telecommunications industry. The advent of various business operations and data creation applications, such as e-discovery, growing use of cloud services, and server virtualization, will significantly contribute to regional growth. greater usage of online banking and electronic stock trading, as well as a shift to electronic medical records for healthcare, which will result in increased data storage and management requirements. Because of the rise of applications such as dependence, e-discovery, and server virtualization for business operations and data generation, North America is likely to be the leading regional segment.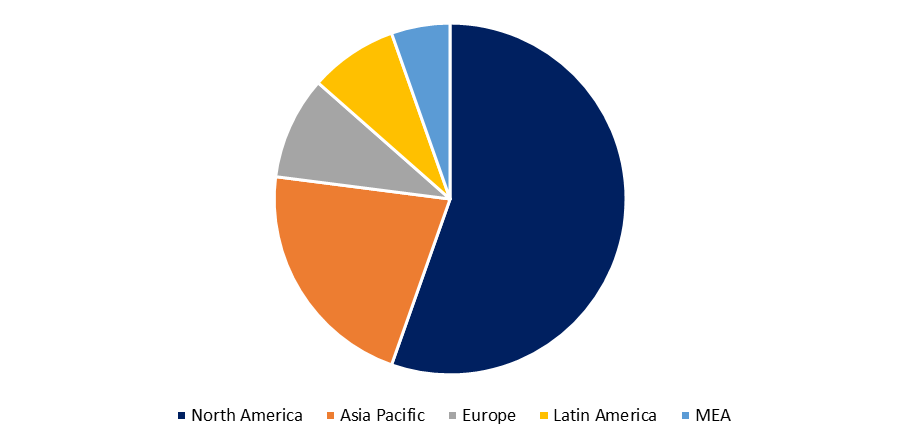 Get more details on this report -
Request Free Sample PDF
Asia Pacific is anticipated to emerge as the fastest-growing region over the forecast period. Owing to the demand for portable electronics and other smart wearable devices is on the rise. Data Center equipment are widely used in portable electronic devices such as tablets, smartphones, laptops, smart pens, and portable gaming consoles, among others. In addition, data Center equipment is used in wearable smart gadgets and watches to improve the entire user experience. The global data Center equipment market is driven by an increase in the number of portable electronic devices and smart wearables.

KEY COMPANIES & RECENT DEVELOPMENTS
Partnerships, strategic mergers, and acquisitions are expected to be the most successful strategies for industry participants to get speedy access to growing markets while also improving technological capabilities. For example, in September 2020, NEC Corp., made a strategic move by collaborating with NTT Communications, to focus on a data Center cooling system that uses less energy, with the help of R1224yd, a new low-pressure refrigerant.

In addition, product differentiation and developments, as well as service expansion, are projected to help organizations thrive in the market. For instance, in July 2019, Cisco Systems paid USD 2.6 billion in cash for Acacia Communications, an optical component manufacturer, in order to broaden its product offering for data Center operators and telecoms.

MARKET SEGMENTATION OF GLOBAL DATA CENTER EQUIPMENT MARKET
By Product
Servers
Storage Devices
Power Distribution Systems
Others
By Vertical
IT & Telecommunication
Manufacturing
Government
Healthcare
Retail
Banking & finance
Media & entertainment
Others
Key Players
Huawei Technologies Co. Ltd
Cisco Systems Inc
Nokia Corporation
Avaya Inc.
Dell Inc.
Juniper Networks
F5
NetApp Inc.
EMC Corporation
Hewlett Packard Co
IBM Corporation
Oracle Corporation
Fujitsu Corporation
QNAP Systems Inc
Need help to buy this report?