Global Contactless Payment Market Size, Share, and COVID-19 Impact Analysis, By Type (Smartphone-Based Payments, Card Based Payments, Others), By Application (Retail, Transportation, Healthcare, Hospitality, Others), By Technology (Radio Frequency Identification (RFID), Near Field Communication, Host Card Emulation, Others) and By Region (North America, Europe, Asia-Pacific, Latin America, Middle East, and Africa), Analysis and Forecast 2022 – 2032
Industry: Banking & Financial
---
REPORT FORMAT

---
Global Contactless Payment Market Insights Forecasts to 2032
The Global Contactless Payment Market Size was valued at USD 38.55 Billion in 2022.
The Market Size is Growing at a CAGR of 19.71% from 2022 to 2032
The Worldwide Contactless Payment Market Size is expected to reach USD 162.56 Billion by 2032
Europe is expected to Grow the fastest during the forecast period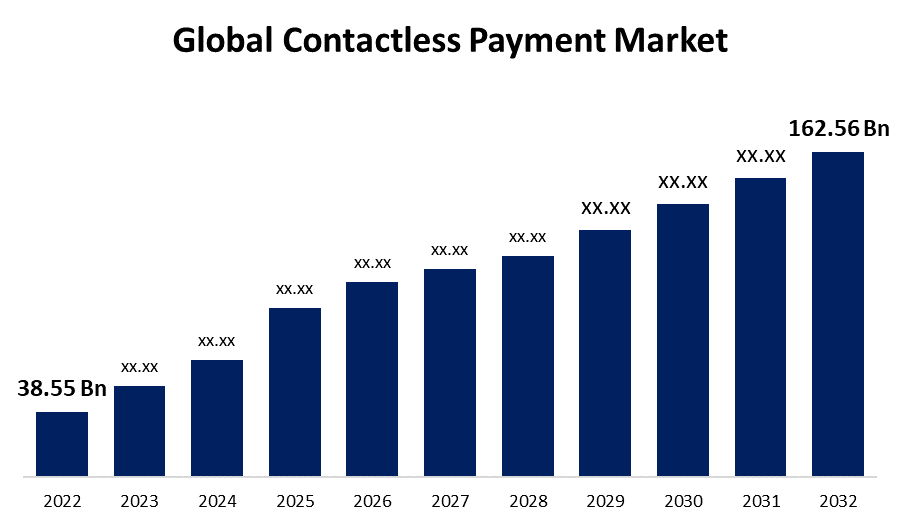 Get more details on this report -
Request Free Sample PDF
The Global Contactless Payment Market Size is expected to reach USD 162.56 Billion by 2030, at a CAGR of 19.71% during the forecast period 2022 to 2032. Using a debit card, credit card, QR (quick response) code, smart card, digital wallet, or near-field communication (NFC) is known as contactless payment. Users can complete quick purchases using contactless payments by simply inputting their special PIN. Transactions using contactless payments are frequently done in the BFSI, retail, IT & telecom, transit, hotel, and government sectors, among others. Fast and immediate money transfers are made possible by contactless payments. The smartcards or NFC cards can be pre-paid and used for purchases. In addition, contactless payments allow for payments to be made directly between two bank accounts using digital wallets and QR codes, among other methods. The acceptance of contactless payment is growing along with the number of payment methods. The expansion is related to the expanding use of digital payment services, which are intended to facilitate client payments more quickly. Contactless payments include innovative hardware, cutting-edge software, and smart services, all of which improve traditional payment methods and result in intelligent transactions. In addition, card issuers are gradually integrating contactless payment card systems all around the world, which is helping the market, expand. The prediction for the contactless payment market focuses on development possibilities, challenges, and trends. To comprehend the impact of numerous aspects such as supplier bargaining power, competitor competitive intensity, the risk of fresh entrants, the risk of substitutes, and buyer bargaining power on the prognosis of the contactless payment market, the study provides porter's five forces analysis.
Global Contactless Payment Market Report Coverage
| Report Coverage | Details |
| --- | --- |
| Base Year: | 2022 |
| Market Size in 2022: | USD 38.55 Billion |
| Forecast Period: | 2022-2032 |
| Forecast Period 2022-2032 CAGR: | 19.71% |
| 2032 Value Projection: | USD 162.56 Billion |
| Historical Data for: | 2018-2021 |
| No. of Pages: | 200 |
| Tables, Charts & Figures: | 110 |
| Segments covered: | By Type, By Application, By Technology, By Region and COVID-19 Impact Analysis. |
| Companies Covered: | MasterCard, Thales, Visa Inc., PayU, Amazon.com, Inc, Giesecke & Devrient GmbH, Apple Inc, PayPal Holdings Inc, American Express Company, Alibaba.com, VeriFone, and other key vendors. |
| Pitfalls & Challenges: | COVID-19 Empact, Challenge, Future, Growth, & Analysis |
Get more details on this report -
Request Free Sample PDF
Driving Factors
Customers may now make purchases more quickly and easily with contactless payments, especially for smaller items. Instead of carrying cash or painstakingly entering their PIN code, customers choose to tap their card or mobile device. Because contactless payments employ cutting-edge encryption technology to protect private financial information, they are typically safer than other payment methods. Customers benefit from this because it helps lower the chance of fraud and other security issues. Businesses are increasingly embracing contactless payment solutions to keep ahead of this trend as the use of smartphones for making payments increases. To hasten the adoption of this technology, numerous credit card issuers have also begun producing contactless cards. The extra time that these transactions require is one of the main issues with the EMV chip technology. Customers benefit from contactless payments because they save hassle and improve the shopping experience. The percentage of transactions completed during peak hours has a direct impact on the benefits of lower transaction times. Simply put a shortened line means that multiple clients have been attended to. In the retail, BFSI, hotel, and transportation industries as well as in the transportation industry as whole, contactless payment technologies like NFC, HCE, and RFID offer faster transactions with touch-and-go payments leading to faster consumer throughput and helping to minimize lineups. The rise in income will be caused directly by the improved throughput. In addition, contactless payment systems are becoming more popular in the payment sector. The demand for contactless payments is anticipated to rise as a result of the use of methods like Omni channel (personalized user experience), EMV (Europay, MasterCard, and Visa), loyalty offers on payments, and cardholder verification method (CDCVM) to confirm user identity in the payment industries' efforts to protect users from fraud and provide an effortless service. All of these features increase security for the customer or organization, provide a cashless transaction experience, improve expenditure management, and enable spending-based reporting, all of which are expected to spur market growth.
Restraining Factors
When compared to other types of readers, NFC-enabled devices are rather pricey. An industry that is prepared to invest in new readers or POS terminals that support contactless technology will have to fork over a sizable sum of money to adopt, buy, and maintain connected devices and other equipment. Smaller businesses may find it challenging to maintain their current turnover and increase revenues while implementing the technology, even though large and well-established organizations have effectively embraced this technology. For the concerned organization, installing the gear and software and engaging specialists to maintain it could result in skyrocketing costs.
Market Segmentation
By Type Insights
The smartphone-based payments segment dominates the market with the largest revenue share over the forecast period.
Based on type, the global contactless payment market is segmented into smart phone-based payments and card-based payments. Among these, the smart phone-based payments segment is dominating the market with the largest revenue share of 30-40% over the forecast period. Young people throughout the world are increasingly using smartphones to make payments, which are expected to open up new prospects for the market. Smartphone use has expanded as a result of the ability to make contactless payments using digital wallets on smartphones for routine chores and activities. In addition, wearable developments like payment bands and payment rings for contactless payments are anticipated to fuel the segment's expansion. During the projected period, the market for card-based payments is anticipated to rise significantly. Growth in the market is anticipated to be fueled by the increasing use of contactless cards, such as credit and debit cards, for making payments in industries like BSFI, retail, transportation, hospitality, and the government. Additionally, contactless cards are increasingly being accepted by merchants all around the world. Additionally, merchant outlets are concentrating on minimizing end-user lines by enabling card payments for speedy transactions.
By Application Insights
The retail segment is witnessing significant CAGR growth over the forecast period.
Based on the application, the global contactless payment market is segmented into retail, transportation, healthcare, and hospitality. Among these, the retail segment is witnessing significant CAGR growth over the forecast period. In 2021, the retail sector led the market and accounted for about 59.0% of worldwide revenue. The expansion of this market segment can be ascribed to a surge in "tap-and-go" transactions globally. To expand their market share, retailers are utilizing a wide range of cutting-edge technology, including social networks, cloud computing, and digital storefronts. Additionally, shops are aware of the advantages of contactless payments, such as shorter transaction times, higher revenue, and more effective operations. The industry segment for hospitality is anticipated to have the highest CAGR during the projection period. Additionally, contactless payment is spreading like wildfire throughout the hospitality sector. Businesses in the hospitality industry have begun implementing some of the latest technology to provide their customers with an improved user experience. Self-service kiosks, which let clients pay for products without interacting with hotel staff, are now being used by the hospitality industry. Additionally, hotels and motels are utilizing payment solutions because of the many advantages they provide, including high customer satisfaction and quick, secure transactions.
By Technology Insights
The Radio Frequency Identification (RFID), segment is expected to hold the largest share of the Global Contactless Payment Market during the forecast period.
Based on the technology, the global contactless payment market is classified into radio Frequency Identification (RFID), Near Field Communication, and Host Card Emulation. Among these, the radio frequency identification (RFID), segment is expected to hold the largest share of the global contactless payment market during the forecast period. Due to their constant fear of fraud, customers are mostly worried about the security of contactless payments. Businesses are making an effort to address these problems by offering secure payment methods that are validated by passcodes.
Regional Insights
North America dominates the market with the largest market share over the forecast period.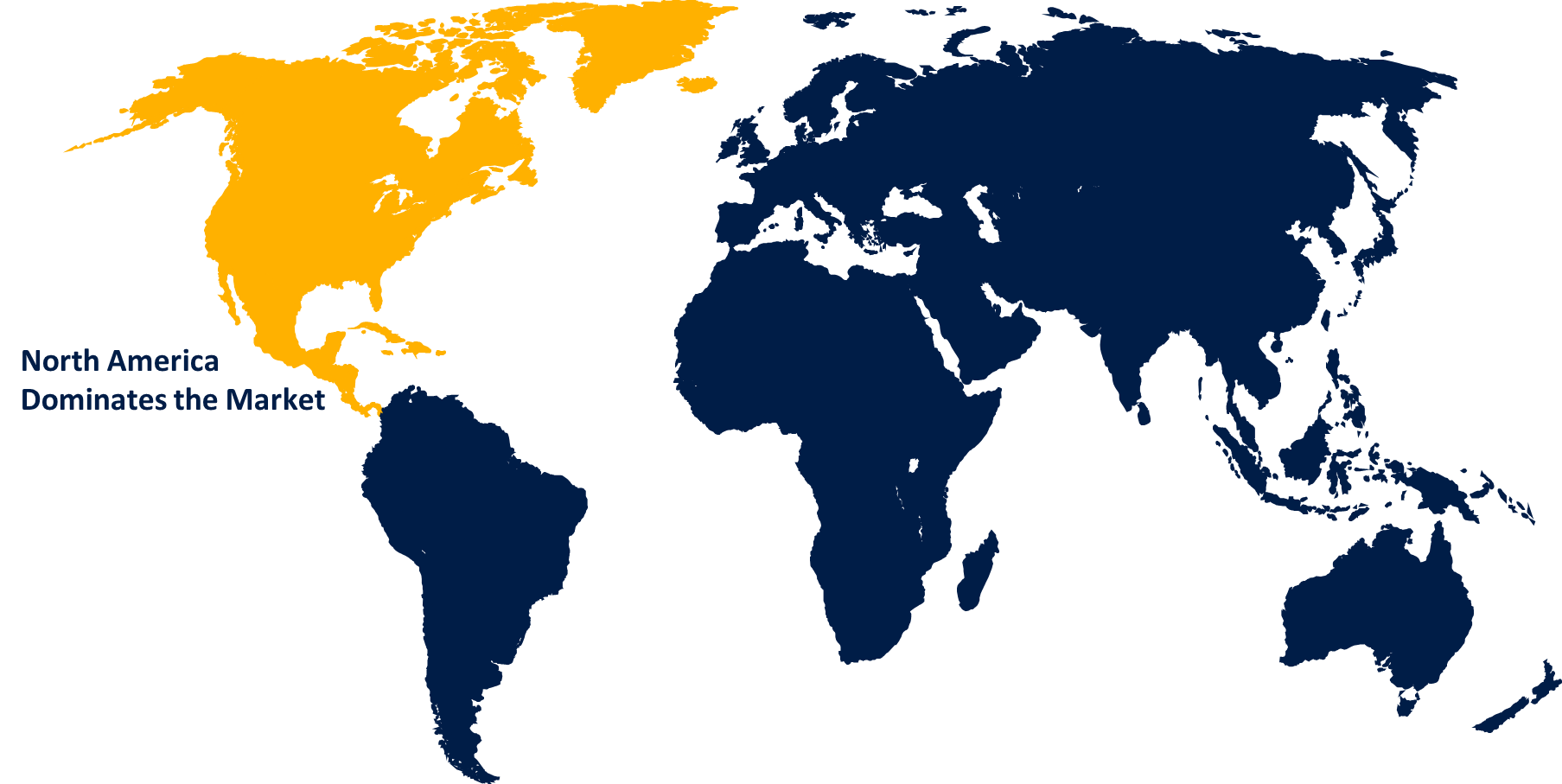 Get more details on this report -
Request Free Sample PDF
North America is dominating the market with more than 30% market share over the forecast period. Aggressive investments are being made in the development of technologically cutting-edge contactless payment technologies, like NFCs and RFIDs, across North America. Additionally, it is anticipated that the incumbents of the contactless payment service providers in the region will demand advanced hardware and software solutions as a result of increasing demand for digitization, the Internet of Things (IoT), and big data, which is positive for the development of the regional market.
Europe, on the contrary, is expected to grow the fastest during the forecast period. As customers swiftly and easily incorporate this comparatively new payment mode into their daily routines, wearable gadgets for payments are continuing to take off in Europe. For instance, a smart watch, bracelet, or other wearable device with near-field communication (NFC) capabilities. 'Active' and 'passive' wearables are both real. A PIN code must be entered on the payment terminal for a passive wearable, such as a ring, to approve the transaction (much like with a conventional card). Active wearables, such as a smart watch, allow the PIN to be input on the device itself, enabling one-tap payment.
Asia-Pacific market is expected to register a substantial CAGR growth rate during the forecast period. During the projection period, Asia Pacific is anticipated to become the regional market with the fastest rate of growth. The Asia Pacific contactless payment market has a lot of potential due to the presence and concentration of well-known mobile wallet providers like Alipay, Paytm, PhonePe, and Google Pay. Additionally, the development of mobile wallets in various retail applications and strong economic conditions generate more expansion chances, which in turn spurs the growth of the Asia Pacific market.
List of Key Market Players
MasterCard
Thales
Visa Inc.
PayU
Amazon.com, Inc
Giesecke & Devrient GmbH
Apple Inc
PayPal Holdings Inc
American Express Company
Alibaba.com
VeriFone
Key Market Developments
On July 2023- PayPal announced the introduction of Tap to Pay technology for Venmo and PayPal Zettle businesses in the United States. Small businesses can now accept contactless payments—including cards and digital wallets—directly on their mobile devices without the need for additional hardware or upfront costs
In August 2022- The Bank of New Zealand (BNZ)- A mobile app for shops and merchants called BNZ Pay was released by the Bank of New Zealand (BNZ), turning an Android device into a contactless payment terminal. Retailers who settle into a BNZ account can use BNZ Pay without incurring any monthly fees until January 2024 thanks to a partnership between BNZ and Quest Payment Systems and Visa.
In September 2021- PayPal, Inc. developed new all-in-one software named PayPal app in September 2021, which delivers improved banking services to its consumers. To improve the client experience, the new PayPal app provides a single dashboard for all users' accounts, a wallet page to handle payment methods, and other banking features.
Market Segment
This study forecasts revenue at global, regional, and country levels from 2022 to 2030. Spherical Insights has segmented the Global Contactless Payment Market based on the below-mentioned segments:
Contactless Payment Market, Type Analysis
Smartphone-Based Payments
Card Based Payments
Others
Contactless Payment Market, Application Analysis
Retail
Transportation
Healthcare
Hospitality
Others
Contactless Payment, Technology Analysis
Radio Frequency Identification (RFID)
Near Field Communication
Host Card Emulation
Others
Contactless Payment Market, Regional Analysis
North America
Europe

Germany
Uk
France
Italy
Spain
Russia
Rest of Europe

Asia Pacific

China
Japan
India
South Korea
Australia
Rest of Asia Pacific

South America

Brazil
Argentina
Rest of South America

Middle East & Africa

UAE
Saudi Arabia
Qatar
South Africa
Rest of the Middle East & Africa
Need help to buy this report?