Global Cognitive Robotics Market Size, Share, and COVID-19 Impact Analysis, By Learning Type (Motor Babble, Imitation, and Knowledge Acquisition), By End-Use Industry (Automotive, Aerospace & Defense, Healthcare, Consumer Electronics, Commercial, and Others), By Region (North America, Europe, Asia-Pacific, Latin America, Middle East, and Africa), Analysis and Forecast 2022 – 2032
Industry: Semiconductors & Electronics
---
REPORT FORMAT

---
Global Cognitive Robotics Market Insights Forecasts to 2032
The Cognitive Robotics Market Size was valued at USD 4.73 Billion in 2022.
The Market is Growing at a CAGR of 18.6% from 2023 to 2032.
The Worldwide Cognitive Robotics Market Size is expected to reach USD 26.04 Billion by 2032.
Europe is expected To Grow the fastest during the forecast period.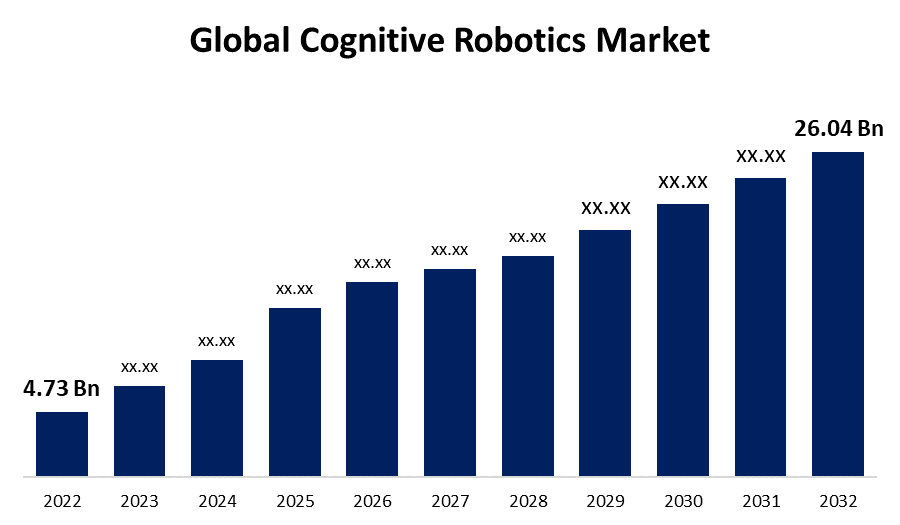 Get more details on this report -
Request Free Sample PDF
The Global Cognitive Robotics Market is expected to reach USD 26.04 Billion by 2032, at a CAGR of 18.6% during the forecast period 2023 to 2032.
Market Overview
Cognitive robotics is a field that combines robotics and artificial intelligence to create machines that can perform complex tasks by mimicking human cognitive abilities. These machines can sense and analyze data from the environment, recognize patterns, and adapt their behavior to changing situations. Cognitive robotics has applications in various fields, including healthcare, manufacturing, and transportation, and aims to create robots that can interact with humans in a more natural and intuitive way. This opens up new possibilities for collaboration between humans and machines, ultimately leading to the development of intelligent and autonomous systems that can benefit society in a variety of ways.
Report Coverage
This research report categorizes the market for cognitive robotics market based on various segments and regions and forecasts revenue growth and analyzes trends in each submarket. The report analyses the key growth drivers, opportunities, and challenges influencing the cognitive robotics market. Recent market developments and competitive strategies such as expansion, product launch, and development, partnership, merger, and acquisition have been included to draw the competitive landscape in the market. The report strategically identifies and profiles the key market players and analyses their core competencies in each sub-segments of the cognitive robotics market.
Global Cognitive Robotics Market Report Coverage
| Report Coverage | Details |
| --- | --- |
| Base Year: | 2022 |
| Market Size in 2022: | USD 4.73 Billion |
| Forecast Period: | 2022-2032 |
| Forecast Period 2022-2032 CAGR: | 18.6% |
| 2032 Value Projection: | USD 26.04 Billion |
| Historical Data for: | 2019-2021 |
| No. of Pages: | 200 |
| Tables, Charts & Figures: | 130 |
| Segments covered: | By Learning Type, By End-Use Industry, By Region, and COVID-19 Impact Analysis |
| Companies Covered: | IBM Corporation, ABB Ltd., CognitiveScale Inc.,  Kuka AG, Blue River Technology, Intel Corporation, Omron Adept Technologies, Nvidia Corporation,  Hanson Robotics Limited, Microsoft Corporation, Rethink Robotics, Universal Robots, Vicarious Inc., Google LLC, CloudMinds Technology Inc., SoftBank Robotics, Boston Dynamics, Robotics Plus Ltd., Neura Robotics, Carbon Robotics. |
| Pitfalls & Challenges: | COVID-19 Empact, Challenge, Future, Growth, & Analysis |
Get more details on this report -
Request Free Sample PDF
Driving Factors
The cognitive robotics market is driven by various factors such as advancements in artificial intelligence and robotics technologies, growing demand for automation and industrial robotics, increasing adoption of cognitive robots in healthcare, and the need for efficient and cost-effective solutions. Additionally, the rising demand for personalized and interactive robots, increasing investments in research and development activities, and the emergence of cloud-based robotics are also driving the market growth. Moreover, the integration of cognitive robots with the Internet of Things (IoT) and other emerging technologies, such as machine learning and natural language processing, is further boosting the adoption of Cognitive Robotics solutions across various industries.
Restraining Factors
There are several restraints that may hinder its growth. These include concerns over data privacy and security, high initial investment costs, and the lack of skilled personnel to develop and maintain these advanced technologies. Additionally, the ethical and moral implications of using cognitive robots in certain industries, such as healthcare, may also limit their adoption. Moreover, the complexity of these systems and the need for continuous upgrades and maintenance may pose challenges for small and medium-sized enterprises, further restraining market growth.
Market Segmentation
In 2022, the motor babbling segment accounted for around 42.3% market share
On the basis of learning type, the global cognitive robotics market is segmented into motor babble, imitation, and knowledge acquisition. The motor babbling segment is dominating with the largest market share in 2022. Motor babble is a technique used in cognitive robotics to generate output patterns based on complex motor movements. This method has proven to be effective in providing accurate responses to normal queries, making it the dominant player in the cognitive robotics market. By correlating motor movements with feedback, motor babble can create patterns that can be used to control robotic systems. Additionally, this technique can be used to develop intelligent algorithms that can be applied to various industries, such as manufacturing, healthcare, and entertainment, leading to its widespread adoption and market success.
In 2022, the automotive segment dominated with more than 29.5% market share
Based on the end-use industry, the global cognitive robotics market is segmented into automotive, aerospace & defense, healthcare, consumer electronics, commercial, and others. Out of this, the automotive segment is dominating with the largest market share in 2022. This can be attributed to the increasing demand for autonomous and semi-autonomous vehicles, which require advanced cognitive robotics solutions to operate. Additionally, the integration of cognitive robots in the manufacturing process is enhancing efficiency, reducing production costs, and improving product quality. Moreover, the growing use of cognitive robotics in automotive design and engineering is also boosting market growth. Furthermore, the rising focus on enhancing the overall driving experience and ensuring passenger safety is driving the adoption of cognitive robotics solutions in the automotive industry.
Regional Segment Analysis of the Cognitive Robotics Market
North America (U.S., Canada, Mexico)
Europe (Germany, France, U.K., Italy, Spain, Rest of Europe)
Asia-Pacific (China, Japan, India, Rest of APAC)
South America (Brazil and the Rest of South America)
The Middle East and Africa (UAE, South Africa, Rest of MEA)
North America dominated the market with more than 43.5% revenue share in 2022.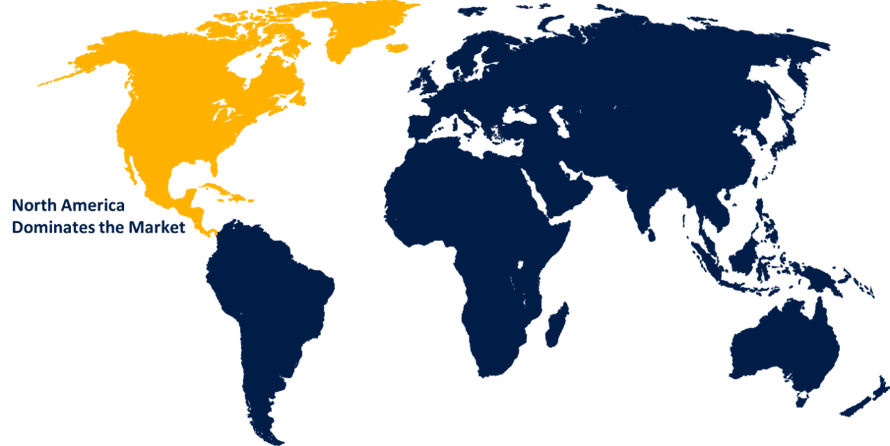 Get more details on this report -
Request Free Sample PDF
Based on region, North America dominates the cognitive robotics market due to several factors. The region has a highly developed infrastructure, a skilled workforce, and a strong presence of major players in the robotics and artificial intelligence industries. Moreover, the region is home to several leading research institutions and universities, which are focused on developing innovative cognitive robotics technologies. Additionally, the growing adoption of automation and industrial robotics across various industries in the region is driving the demand for cognitive robotics solutions. Furthermore, the high level of investment in research and development activities, and the increasing focus on enhancing the performance of cognitive robots, are also boosting the market growth in this region.
Competitive Analysis:
The report offers the appropriate analysis of the key organizations/companies involved within the global cognitive robotics market along with a comparative evaluation primarily based on their product offering, business overviews, geographic presence, enterprise strategies, segment market share, and SWOT analysis. The report also provides an elaborative analysis focusing on the current news and developments of the companies, which includes product development, innovations, joint ventures, partnerships, mergers & acquisitions, strategic alliances, and others. This allows for the evaluation of the overall competition within the market.
List of Companies:
IBM Corporation
ABB Ltd.
CognitiveScale Inc.
Kuka AG
Blue River Technology
Intel Corporation
Omron Adept Technologies
Nvidia Corporation
Hanson Robotics Limited
Microsoft Corporation
Rethink Robotics
Universal Robots
Vicarious Inc.
Google LLC
CloudMinds Technology Inc.
SoftBank Robotics
Boston Dynamics
Robotics Plus Ltd.
Neura Robotics
Carbon Robotics.
Key Target Audience
Market Players
Investors
End-Users
Government Authorities
Consulting and Research Firm
Venture Capitalists
Value-Added Resellers (VARs)
Recent Developments
In July 2022, Premier Tech Systems & Automation launched the RPL SERIES robotic palletizer solution, a make-in-India product that caters to a variety of palletizing needs. The robotic cells are highly efficient and feature an in-house manufactured gripper that can meet the diverse palletization requirements of modern packaging installations. With the capability to handle multi-pick-up configurations, the company's robots can palletize up to 1,800 bags per hour. Furthermore, the heavy-duty robotic cell can collect bags, bales, or containers from several incoming product lines and can be customized to fit in tight spaces for palletizing incoming products.
Market Segment
This study forecasts revenue at global, regional, and country levels from 2019 to 2032. Spherical Insights has segmented the global cognitive robotics market based on the below-mentioned segments:
Cognitive Robotics Market, By Learning Type
Motor Babble
Imitation
Knowledge Acquisition
Cognitive Robotics Market, By End-Use Industry
Automotive
Aerospace & Defense
Healthcare
Consumer Electronics
Commercial
Others
Cognitive Robotics Market, Regional Analysis
North America
Europe

Germany
Uk
France
Italy
Spain
Russia
Rest of Europe

Asia Pacific

China
Japan
India
South Korea
Australia
Rest of Asia Pacific

South America

Brazil
Argentina
Rest of South America

Middle East & Africa

UAE
Saudi Arabia
Qatar
South Africa
Rest of Middle East & Africa
Need help to buy this report?