Global Clinical Trials Market Size, Share, and COVID-19 Impact Analysis, By Phase (Phase 0, Phase I, Phase II, Phase III, Phase IV), By Indication, By Therapy, By Service Type, By Application (Vaccine, Cell & Gene Therapy, Small Molecules, Other Applications), and By Region (North America, Europe, Asia-Pacific, Latin America, Middle East, and Africa), Analysis and Forecast 2022 – 2032
Industry: Healthcare
---
REPORT FORMAT

---
The Global Clinical Trials Market Size is expected to reach USD 93.42 billion by 2032, at a CAGR of 6.4% during the forecast period 2022 to 2032. The growing number of clinical trials, as well as significant investment in pharmaceutical R&D, are some of the primary factors propelling the clinical trials market. Furthermore, this market is predicted to expand as a result of factors such as clinical studies expanding their reach, inclined technological advancements, and a corresponding rise in the dire straits for CROs performing research operations.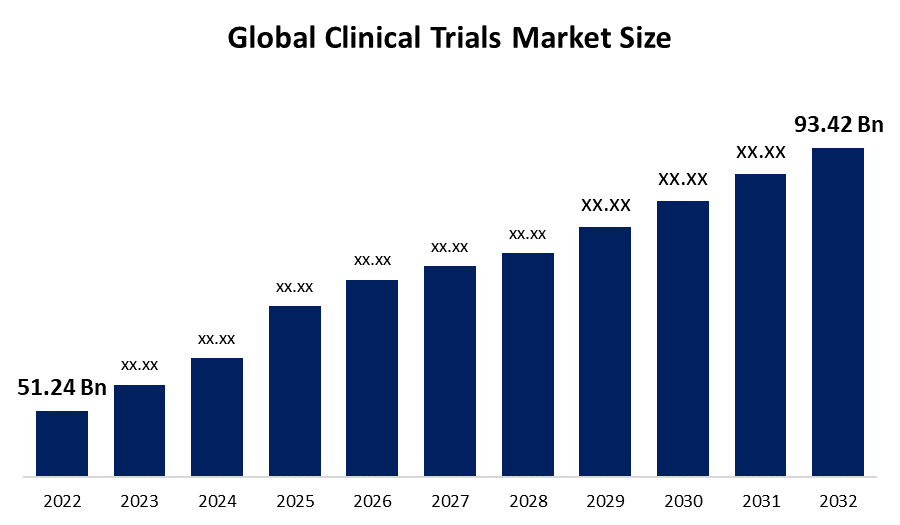 Get more details on this report -
Request Free Sample PDF
Clinical trials are a form of research in which new tests and treatments are studied and the impact they have on human health outcomes are evaluated. Participants in clinical trials volunteer to test medical techniques such as medications, cells, and other biological products, surgical operations, radiological procedures, equipment, behavioral treatments, and preventative care. Clinical trials provide data pertaining to dosage, safety, and efficacy. Clinical trials can cost billions of dollars for each approved medical practice. A government organization or a pharmaceutical, biotechnology, or medical device firm generally sponsors clinical trials. However, just 10% of all medications that begin in human clinical trials become licensed drugs.
Testing medical treatments has two goals: to understand whether they function well enough (called "efficacy" or "effectiveness") and to determine whether they are safe enough (called "safety"). Throughout the clinical trial, investigators select participants with the specified features, administer the treatment(s), and gather medical information on each participant for a set duration of timeframe. These data include vital signs, the concentration of the research drug in the blood or tissues, changes in symptoms, and whether the disease addressed by the study medicine improves or worsens.
The major players in the global clinical trials market include IQVIA, LabCorp, Charles River Laboratories, WuXi AppTec, Syneos Health, PPD, Inc., ICON Plc, and others. These firms primarily concentrate on R&D activities which include developing new and novel clinical trials to address the ever-evolving demands of the healthcare and pharmaceutical industries. They also establish collaborative partnerships and interact to broaden their market exposure and product portfolio. For instance, IQVIA partnered with argenx SE in March 2022 to research additional treatment areas for VYVGART to successfully manage generalized myasthenia gravis in adult patients with specific antibody receptors.
Global Clinical Trials Market Report Coverage
| Report Coverage | Details |
| --- | --- |
| Base Year: | 2022 |
| Market Size in 2022: | USD 51.24 billion |
| Forecast Period: | 2022 - 2032 |
| Forecast Period 2022 - 2032 CAGR: | 6.4% |
| 2032 Value Projection: | USD 93.42 billion |
| No. of Pages: | 215 |
| Tables, Charts & Figures: | 124 |
| Segments covered: | By Phase, By Indication, By Therapy, By Service Type, By Application, By Region |
| Companies Covered: | Charles River Laboratory, ICON Plc, Wuxi AppTec Inc, SGS SA, Chiltern International Ltd, Eli Lilly and Company, Omnicare, Kendle, LabCorp, IQVIA, Novo Nordisk A/S, Pfizer, Clinipace, Syneos Health, PAREXEL International Corporation, Pharmaceutical Product Development, LLC, The Emmes Company, LLC |
Get more details on this report -
Request Free Sample PDF
Driving Factors
The growing demand to develop novel drug products to treat long-term illnesses such as cancer, respiratory problems, heart disease, Type 2 diabetes, and others is putting enormous demands on the healthcare system. The majority of pharmaceutical, biopharmaceutical, and healthcare device organizations continue to make significant investments in the development of innovative therapies and technologies. Furthermore, laboratories attempt to improve both the efficiency and performance of their equipment. As a result of major player's development initiatives, UHPLC, and ultra-fast mass spectrometers are more reliable, quicker, and sensitive.
The pharmaceutical industry's R&D-intensive structure drives corporations to delegate clinical trials in order to accelerate the market introduction of treatments. The rapid rise in the overall number of clinical trials worldwide is likely to fuel demand for clinical trial services and, as a result, accelerate market expansion. Furthermore, the incorporation of algorithms based on artificial intelligence (AI) and machine learning (ML) enhances the identification of drug efficiency and success rates during the early phases of drug creation. Artificial intelligence (AI) systems are able to absorb and analyze massive amounts of data and uncover possible medication candidates in a remarkably short period. These benefits have driven numerous pharmaceutical and biotechnology businesses to make use of artificial intelligence technology for drug discovery.
Market Segmentation
By Phase Insights
The Phase III segment is dominating the market with the largest revenue share over the forecast period.
On the basis of phase, the global clinical trials market is segmented into Phase 0, Phase I, Phase II, Phase III, and Phase IV. Owing to the high costs involved with Phase III trials being the most expensive and including many subjects, the Phase III category is dominating the market with an overall revenue share of 48.6% throughout the projection period. likewise, Phase III necessitates a larger number of patients and, in many cases, a longer treatment term. Furthermore, Phase III clinical trials are becoming more prevalent in order to demonstrate novel medication combinations benefits and comparability to the norm of treatment. As a result, increased demand for phase III clinical studies, which are not hazardous while providing effective therapy for the desired actions, will contribute to the clinical trials market growth.
By Indication Insights
The autoimmune & inflammation segment is witnessing significant CAGR growth over the forecast period.
On the basis of indication, the global clinical trials Market is segmented into obesity, cardiovascular, diabetes, oncology, pain management, CNS condition, autoimmune, inflammation, and others. Among these, the autoimmune & inflammation sector is expected to increase at a substantial CAGR during the projected period, owing to a significant number of clinical trials on autoimmune/inflammation conducted globally. The autoimmune & inflammation are sub-segmented as rheumatoid arthritis, multiple sclerosis, osteoarthritis, irritable bowel syndrome (IBS), and others. The beneficial characteristics of interventional studies, such as the reduction of confounding effects, the prevention of bias in selection to exposure groups, and the efficient identification of small to moderate clinically significant effects, can also be linked to the expansion. Furthermore, on clinicaltrails.gov, there are nearly 7,000 interventional trials connected to autoimmune and inflammation.
By Therapy Insights
The oncology segment is witnessing the highest growth rate over the forecast period.
On the basis of therapy, the global clinical trials market is segmented into oncology, infectious diseases, cardiology, neurology, women's health, genetic diseases, immunology, and others. Among these, the oncology segment is witnessing the highest growth rate over the forecast period. The oncology segment is further sub-segmented as blood cancer, solid tumors, and others. The number of oncology treatments in development has grown over the years due to a rise in clinical trials and increased R&D expenditure by pharmaceutical corporations on oncology-based drugs.
By Application Insights
The vaccines segment accounted for the largest revenue share of more than 57.2% over the forecast period.
On the basis of application, the global clinical trials market is segmented into vaccines, cell & gene therapy, small molecules, and others. Among these, the vaccines segment is dominating the market with the largest revenue share of 57.2% over the forecast period. Because the number of people recruited in vaccine clinical trials has been increasing over time, and because the number of participants is connected to price, clinical trial expenses may help explain the observed growth in public- and private-sector vaccination pricing. Furthermore, companies are leveraging their knowledge of COVID-19 vaccine studies to contribute to successful COVID-19 vaccine marketing. As of January 2022, around 194 COVID-19 vaccine candidates were in pre-clinical development, with 138 in clinical development. This has contributed to the fastest growth in the industry.
Regional Insights
North America dominates the market with the largest market share over the forecast period.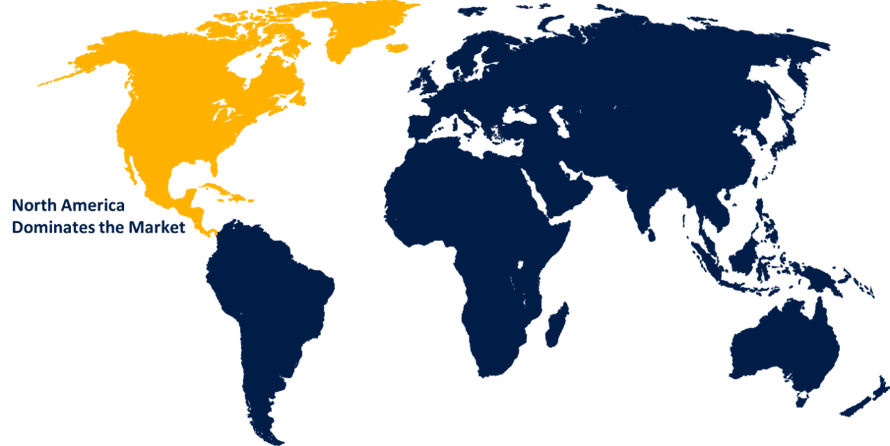 Get more details on this report -
Request Free Sample PDF
North America is dominating the market with more than 53.7% market share over the forecast period. This expansion has been ascribed to increased funding for research and development and greater utilization of innovative technology in clinical trials in this region. Furthermore, North America's high position in the clinical trials market is due to rapid expansion in the biologic and biosimilar markets, as well as increased investments in developing clinical research. In addition, North America has the world's major pharmaceutical market, with numerous global pharmaceutical and medical device huge corporations headquartered there as well including Pfizer, Inc., AbbVie, Inc., Abbott Laboratories, and Johnson & Johnson. likewise, advantageous government assistance for clinical studies in the US market is expected to stimulate demand for the clinical trials market in the region over the forecast period.
Asia Pacific, on the contrary, is expected to grow the fastest during the forecast period. This is due to the readily accessible large patient pool, which allows for easier recruiting for clinical trials. "Novotech," Asia Pacific's largest and most experienced biotech CRO, has observed a surge of requests from biotechnology sponsors for studies due to their high quality and speedy turnaround.
List of Key Market Players
Charles River Laboratory
ICON Plc
Wuxi AppTec Inc
SGS SA
Chiltern International Ltd
Eli Lilly and Company
Omnicare
Kendle
LabCorp
IQVIA
Novo Nordisk A/S
Pfizer
Clinipace
Syneos Health
PAREXEL International Corporation
Pharmaceutical Product Development, LLC
The Emmes Company, LLC
Key Market Developments
On May 2023, Thermo Fisher Scientific's, Pharmaceutical Product Development, LLC clinical research business has been recognized for excellence in the 2023 CRO Leadership Awards, which name industry leaders based on a survey of pharmaceutical and biotech professionals conducted for Clinical Leader and Life Science Leader magazines.
On July 2022, Labcorp announced a strategic agreement with the MD Anderson Cancer Center Foundation Spain, a non-profit organization whose goals are to defeat cancer and increase access to early-phase oncology clinical trials. This agreement will prioritize and conduct oncology clinical studies overseen by Labcorp Drug Development at MD Anderson Cancer Center Foundation Spain, offering a new approach for future trials.
On June 2022, WuXi Advanced Therapies and Wugen Inc. established a collaboration to manufacture Wugen's WU-NK-101, a new immunotherapy that uses memory natural killer (NK) cells to treat cancer. WuXi ATU will provide manufacturing and testing services for WU-NK-101, allowing this revolutionary cell therapy product to be delivered to cancer patients.
On May 2022, Thermo Fisher Scientific's, Pharmaceutical Product Development clinical research business announced the formation of the PPD DCT Network to assist global investigators and research locations engaging in decentralized clinical trials (DCTs) for pharmaceutical and biotech customers.
Market Segment
This study forecasts revenue at global, regional, and country levels from 2020 to 2032. Spherical Insights has segmented the Global Clinical Trials Market based on the below-mentioned segments:
Clinical Trials Market, By Phase Analysis
Phase 0
Phase I
Phase II
Phase III
Phase IV
Clinical Trials Market, By Indication Analysis
Obesity
Cardiovascular
Diabetes
Oncology
Pain Management
CNS Condition
Autoimmune
Inflammation
Others
Clinical Trials Market, By Therapy Analysis
Oncology
Infectious Diseases
Cardiology
Neurology
Women's Health
Genetic Diseases
Immunology
Others
Clinical Trials Market, By Service Type Analysis
Protocol Designing
Site Identification
Patient Recruitment
Laboratory Services
Analytical Testing Services
Clinical Trial Supply & Logistic Services
Bioanalytical Testing Services
Clinical Trial Data Management Services
Medical Device Testing Services
Others
Clinical Trials Market, By Application Analysis
Vaccine
Cell & Gene Therapy
Small Molecules
Others
Clinical Trials Market, Regional Analysis
North America
Europe

Germany
Uk
France
Italy
Spain
Russia
Rest of Europe

Asia Pacific

China
Japan
India
South Korea
Australia
Rest of Asia Pacific

South America

Brazil
Argentina
Rest of South America

Middle East & Africa

UAE
Saudi Arabia
Qatar
South Africa
Rest of Middle East & Africa
Need help to buy this report?