Global Cell Culture Market Size, Share, and COVID-19 Impact Analysis, By Product (Consumables and Instruments), By Application (Biopharmaceutical Production, Drug Development, Diagnostics, Tissue Culture & Engineering, Cell & Gene Therapy, Toxicity Testing, and Others), By Region (North America, Europe, Asia-Pacific, Latin America, Middle East, and Africa), Analysis and Forecast 2023 – 2032
Industry: Healthcare
---
REPORT FORMAT

---
Global Cell Culture Market Insights Forecasts to 2032
The Cell Culture Market Size was valued at USD 15.65 Billion in 2022.
The Market is Growing at a CAGR of 10.7% from 2022 to 2032
The Worldwide Cell Culture Market Size is expected to reach USD 43.25 Billion by 2032
Asia-Pacific is expected to Grow fastest during the forecast period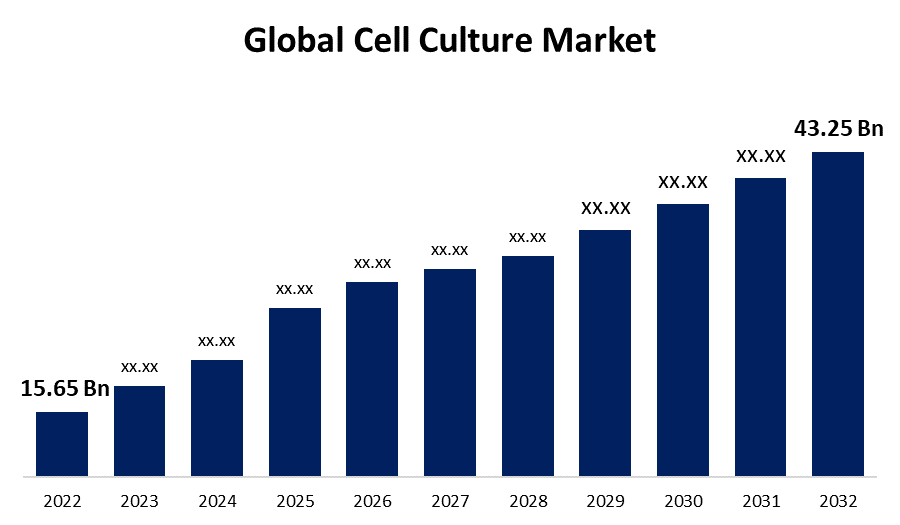 Get more details on this report -
Request Free Sample PDF
The Global Cell Culture Market Size is expected to reach USD 43.25 Billion by 2032, at a CAGR of 10.7% during the forecast period 2022 to 2032.
Market Overview
Cell culture is a fundamental technique in biomedical research and biotechnology that involves the growth and maintenance of cells outside their natural environment, typically within a controlled laboratory setting. This powerful tool allows scientists to study and manipulate cells in a highly controlled and reproducible manner, providing insights into cell biology, disease mechanisms, drug development, and tissue engineering. Cells from various sources, including animal tissues, primary human cells, or established cell lines, can be cultured in specially designed incubators with carefully controlled conditions such as temperature, humidity, and nutrient supply. Researchers use a variety of culture media and techniques to support cell growth and proliferation. Cell culture is essential for experiments ranging from basic cell biology studies to advanced applications like vaccine production, gene therapy, and regenerative medicine, making it a cornerstone of modern life sciences research.
Report Coverage
This research report categorizes the market for cell culture market based on various segments and regions and forecasts revenue growth and analyzes trends in each submarket. The report analyses the key growth drivers, opportunities, and challenges influencing the cell culture market. Recent market developments and competitive strategies such as expansion, product launch, and development, partnership, merger, and acquisition have been included to draw the competitive landscape in the market. The report strategically identifies and profiles the key market players and analyses their core competencies in each sub-segments of the cell culture market.
Global Cell Culture Market Report Coverage
| Report Coverage | Details |
| --- | --- |
| Base Year: | 2022 |
| Market Size in 2022: | USD 15.65 Billion |
| Forecast Period: | 2022-2032 |
| Forecast Period 2022-2032 CAGR: | 10.7% |
| 2032 Value Projection: | USD 43.25 Billion |
| Historical Data for: | 2018-2021 |
| No. of Pages: | 200 |
| Tables, Charts & Figures: | 100 |
| Segments covered: | By Product, By Application, By Region and COVID-19 Impact Analysis |
| Companies Covered: | Sartorius AG, Danaher, Merck KGaA, Thermo Fisher Scientific, Inc., Corning Inc., Avantor, Inc., BD, Eppendorf SE, Bio-Techne, PromoCell GmbH, and Other Key Players |
| Pitfalls & Challenges: | COVID-19 Empact,Challenges, Future, Growth, & Analysis |
Get more details on this report -
Request Free Sample PDF
Driving Factors
The cell culture market is experiencing robust growth driven by a convergence of factors that collectively underscore its pivotal role in various fields of biomedical research, pharmaceuticals, and biotechnology, The ever-expanding scope of drug discovery and development initiatives necessitates extensive in vitro testing of potential drug candidates. This drives the demand for cell culture as it enables the study of cellular responses to new compounds and facilitates the identification of lead molecules. The rapid advancements in biotechnology and regenerative medicine have fueled the need for cell-based therapies and tissue engineering, spurring investment in cell culture technologies. Additionally, the surge in personalized medicine and precision oncology relies heavily on patient-specific cell cultures for treatment optimization, further propelling the market growth. Moreover, the increasing prevalence of chronic diseases like cancer, diabetes, and autoimmune disorders has intensified the demand for cell-based disease modeling and drug screening platforms. Cell culture systems play a pivotal role in understanding disease mechanisms, identifying potential therapeutic targets, and testing novel treatments, driving their adoption in both academic and industrial research settings. Furthermore, the burgeoning interest in biopharmaceuticals, including monoclonal antibodies and recombinant proteins, relies on large-scale cell culture processes for their production. This is driven by the need to meet the global demand for biologics and biosimilars, resulting in substantial investments in bioprocessing technologies and cell culture infrastructure. The COVID-19 pandemic has also catalyzed growth in the cell culture market, with increased research into the virus and vaccine development. The growth in the cell culture market is further bolstered by advancements in cell culture techniques and technologies, such as 3D cell culture, organoids, and microfluidic systems, which offer more physiologically relevant models for research and drug testing. Moreover, the trend towards automation and robotics in cell culture processes enhances efficiency and reproducibility, making cell culture more accessible to a broader range of researchers
Restraining Factors
Despite its growth prospects, the cell culture market faces several significant restraints, the high cost associated with cell culture equipment, reagents, and skilled labor can be prohibitive, especially for smaller research institutions and laboratories. Additionally, the complexities of maintaining cell lines, risk of contamination, and variability in cell behavior can lead to challenges in reproducibility and data reliability. Ethical concerns surrounding the use of animal-derived cell lines and the need for more sustainable, serum-free culture alternatives also present hurdles. Moreover, regulatory requirements for the production of cell-based therapies and biopharmaceuticals can be stringent, leading to delays and increased development costs. Finally, the market is susceptible to disruptions from unforeseen events like the COVID-19 pandemic, which can impact research budgets and supply chains, further restraining its growth.
Market Segmentation
In 2022, the consumables segment accounted for around 52.6% market share
On the basis of the product, the global cell culture market is segmented into consumables and instruments. The consumables segment commands the largest market share in the cell culture industry due to its essential role in sustaining cell culture operations. Consumables encompass a wide range of products, including cell culture media, sera, reagents, and disposables like culture dishes and flasks. These items are indispensable for maintaining cell viability, growth, and experimental reproducibility. With the continuous demand for cell culture across various applications, such as drug development, disease modeling, and biomanufacturing, the consumption of these essential materials remains consistently high. Additionally, the need for specialized, high-quality consumables that meet rigorous regulatory standards further reinforces their dominant market position.
The diagnostics segment is expected to grow at a CAGR of around 10.8% during the forecast period
Based on the application, the global cell culture market is segmented into biopharmaceutical production, drug development, diagnostics, tissue culture & engineering, cell & gene therapy, toxicity testing, and others. The diagnostics segment is poised for rapid growth during the forecast period in the cell culture market due to advances in cell culture techniques have enabled the development of more accurate and sophisticated diagnostic assays. These assays are vital for early disease detection, personalized medicine, and monitoring treatment efficacy, driving increased adoption. The rising incidence of chronic diseases worldwide necessitates advanced diagnostic tools, and cell culture-based assays play a pivotal role in understanding disease mechanisms and testing potential therapeutics. Moreover, the growing emphasis on precision medicine and biomarker discovery further fuels the demand for diagnostics employing cell culture, making it one of the fastest-growing segments in the market.
Regional Segment Analysis of the Cell Culture Market
North America (U.S., Canada, Mexico)
Europe (Germany, France, U.K., Italy, Spain, Rest of Europe)
Asia-Pacific (China, Japan, India, Rest of APAC)
South America (Brazil and the Rest of South America)
The Middle East and Africa (UAE, South Africa, Rest of MEA)
North America dominated the market with more than 38.2% revenue share in 2022.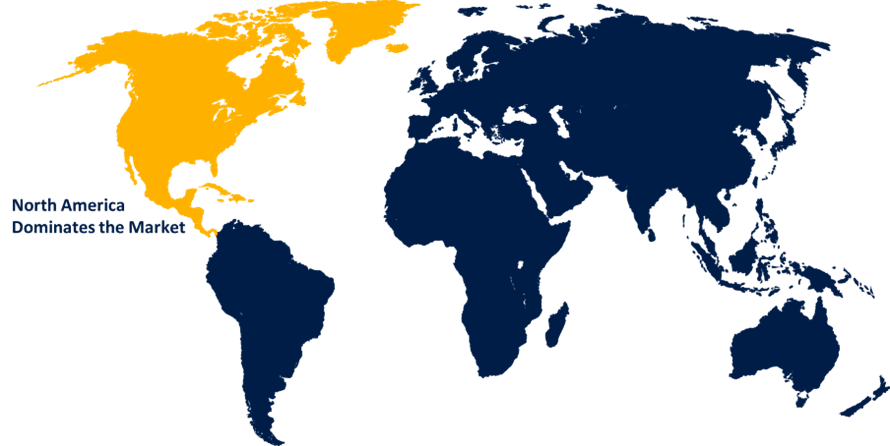 Get more details on this report -
Request Free Sample PDF
Based on region, North America dominates the cell culture market, holding the largest market share due to a robust biopharmaceutical industry, with numerous pharmaceutical and biotechnology companies engaged in drug discovery, development, and production. Additionally, North America has a well-established research ecosystem, including leading academic institutions and government-funded research initiatives. Access to advanced technologies, a highly skilled workforce, and a favorable regulatory environment further contribute to its dominance. The region's commitment to innovation and significant investments in healthcare and life sciences sectors continue to drive the growth of the cell culture market in North America.
Asia Pacific region is positioned as the fastest-growing market for cell culture due to the booming biopharmaceutical industry, particularly in countries like China, India, and South Korea, is driving the demand for cell culture technologies to support drug development and biologics manufacturing. The growing focus on healthcare infrastructure development, research funding, and collaborations with global pharmaceutical companies are fostering a conducive environment for cell culture expansion. Additionally, the presence of a vast and cost-effective labor force, coupled with a rising prevalence of chronic diseases, is propelling the need for cell-based research and therapies, further accelerating market growth in the Asia Pacific region.
Recent Developments
In June 2022, Evonik introduced the cQrex cell culture component portfolio to improve efficiency and productivity in bioprocesses for manufacturing monoclonal antibodies, vaccines, viral vectors, and therapeutic cells.
In August 2022, Thermo Fisher Scientific expanded its dry powder media manufacturing plant in New York to meet the global demand for media products used in the production of COVID-19 vaccines and other biologics.
Competitive Analysis:
The report offers the appropriate analysis of the key organizations/companies involved within the global cell culture market along with a comparative evaluation primarily based on their product offering, business overviews, geographic presence, enterprise strategies, segment market share, and SWOT analysis. The report also provides an elaborative analysis focusing on the current news and developments of the companies, which includes product development, innovations, joint ventures, partnerships, mergers & acquisitions, strategic alliances, and others. This allows for the evaluation of the overall competition within the market.
List of Companies:
Sartorius AG
Danaher
Merck KGaA
Thermo Fisher Scientific, Inc.
Corning Inc.
Avantor, Inc.
BD
Eppendorf SE
Bio-Techne
PromoCell GmbH
Key Target Audience
Market Players
Investors
End-Users
Government Authorities
Consulting and Research Firm
Venture Capitalists
Value-Added Resellers (VARs)
Market Segment
This study forecasts revenue at global, regional, and country levels from 2019 to 2032. Spherical Insights has segmented the global cell culture market based on the below-mentioned segments:
Cell Culture Market, By Product
Cell Culture Market, By Application
Biopharmaceutical Production
Drug Development
Diagnostics
Tissue Culture & Engineering
Cell & Gene Therapy
Toxicity Testing
Others
Cell Culture Market, Regional Analysis
North America
Europe

Germany
UK
France
Italy
Spain
Russia
Rest of Europe

Asia Pacific

China
Japan
India
South Korea
Australia
Rest of Asia Pacific

South America

Brazil
Argentina
Rest of South America

Middle East & Africa

UAE
Saudi Arabia
Qatar
South Africa
Rest of Middle East & Africa
Need help to buy this report?