Global Bronchoscopy Market Size, Share, and COVID-19 Impact Analysis, By Product (Endoscopy, Visualization & Documentation System, Accessories, and Others), By Usability (Reusable Equipment and Disposable Equipment), By Application (Bronchial Diagnosis and Bronchial Treatment ), By End User (Hospitals & Ambulatory Surgical Centers, Clinics, and Others), By Region (North America, Europe, Asia-Pacific, Latin America, Middle East, and Africa), Analysis and Forecast 2022 – 2032
Industry: Healthcare
---
REPORT FORMAT

---
Global Bronchoscopy Market Insights Forecasts to 2032
The Global Bronchoscopy Market Size was valued at USD 2.95 Billion in 2022.
The Market Size is Growing at a CAGR of 6.8% from 2022 to 2032
The Worldwide Bronchoscopy Market Size is expected to reach USD 5.70 Billion by 2032
Asia-Pacific is expected to Grow fastest during the forecast period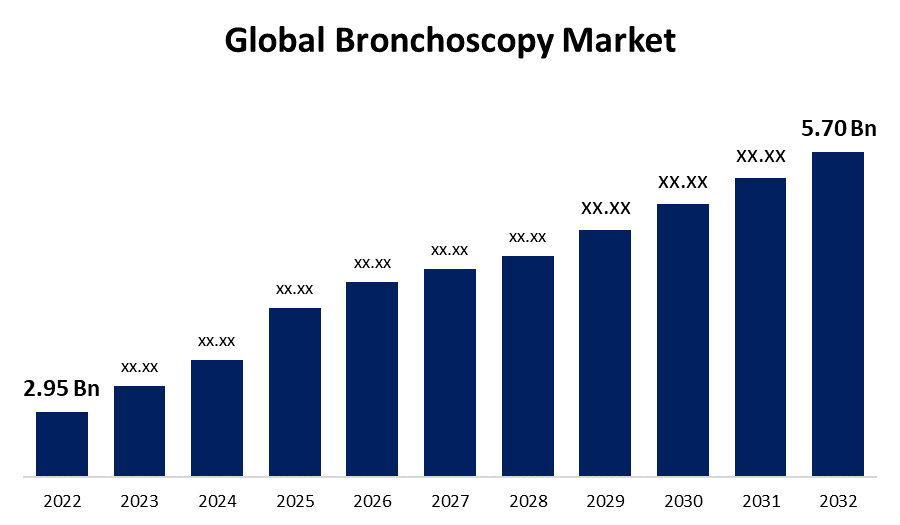 Get more details on this report -
Request Free Sample PDF
The Global Bronchoscopy Market Size is expected to reach USD 5.70 Billion by 2032, at a CAGR of 6.8% during the forecast period 2022 to 2032.
Market Overview
Bronchoscopy is a minimally invasive medical procedure used to visualize the airways and diagnose respiratory conditions. During the procedure, a flexible bronchoscope is inserted through the nose or mouth and guided into the trachea and bronchi. This device enables physicians to examine the lung passages in real-time, allowing for the identification of abnormalities, such as tumors, infections, or inflammation. Moreover, bronchoscopy permits the collection of tissue samples for further analysis, aiding in the diagnosis of lung diseases and guiding treatment plans. It is commonly employed to investigate persistent coughs, unexplained lung infections, and lung cancer staging. As a safe and effective diagnostic tool, bronchoscopy plays a vital role in improving respiratory health outcomes and enhancing patient care.
Report Coverage
This research report categorizes the market for bronchoscopy market based on various segments and regions and forecasts revenue growth and analyzes trends in each submarket. The report analyses the key growth drivers, opportunities, and challenges influencing the bronchoscopy market. Recent market developments and competitive strategies such as expansion, product launch, and development, partnership, merger, and acquisition have been included to draw the competitive landscape in the market. The report strategically identifies and profiles the key market players and analyses their core competencies in each sub-segments of the bronchoscopy market.
Global Bronchoscopy Market Report Coverage
| Report Coverage | Details |
| --- | --- |
| Base Year: | 2022 |
| Market Size in 2022 : | USD 2.95 Billion |
| Forecast Period: | 2022-2032 |
| Forecast Period 2022-2032 CAGR: | 6.8% |
| 2032 Value Projection: | USD 5.70 Billion |
| Historical Data for: | 2018-2021 |
| No. of Pages: | 200 |
| Tables, Charts & Figures: | 120 |
| Segments covered: | By Product, By Usability, By Application, By End User, By Region |
| Companies Covered: | Medtronic, Richard wolf GmbH, Ambu A/S, Boston Scientific Corporation, Broncus Medical Inc., Fujifilm Holdings Corporation, Karl Storz GmbH, Lymol Medical, Novatech SA, Olympus Corporation, Pentax Medical, Teleflex Inc. And other key venders |
| Pitfalls & Challenges: | COVID-19 Empact,Challenges, Future, Growth, & Analysis |
Get more details on this report -
Request Free Sample PDF
Driving Factors
The bronchoscopy market is driven by several key factors that contribute to its growth and demand in the healthcare industry, the rising prevalence of respiratory disorders, such as chronic obstructive pulmonary disease (COPD), lung cancer, and tuberculosis, is a major driver. As the global population ages and environmental factors worsen, the incidence of these conditions increases, prompting an augmented need for accurate and early diagnostic methods like bronchoscopy. The advancements in medical technology have significantly improved bronchoscopy procedures, making them more precise, efficient, and safer. Innovations in imaging techniques, such as the development of high-definition bronchoscopes and navigation systems, enable better visualization and enhanced diagnosis of respiratory diseases, fueling the demand for these procedures. Moreover, increased awareness among both healthcare providers and patients regarding the benefits of early disease detection and minimally invasive techniques has positively impacted market growth. Early detection through bronchoscopy can lead to improved patient outcomes and reduced healthcare costs associated with managing advanced-stage diseases. Additionally, a growing emphasis on personalized medicine and targeted therapies has driven the demand for precise tissue sampling, which bronchoscopy facilitates. The ability to obtain biopsy samples through bronchoscopy allows for accurate diagnosis and aids in tailoring treatments specific to individual patients, further boosting its adoption. Furthermore, the increasing investments by governments and private companies in healthcare infrastructure and research contribute to the expansion of the bronchoscopy market. These investments support the development of novel bronchoscopy technologies, making the procedure more accessible and affordable for healthcare facilities worldwide. Overall, the combination of rising respiratory disorders, technological advancements, awareness about early disease detection, demand for personalized medicine, and supportive investments collectively propel the growth of the bronchoscopy market in the healthcare sector.
Restraining Factors
The bronchoscopy market is the potential for complications and risks associated with the procedure. While bronchoscopy is generally considered safe, there are inherent risks, including bleeding, infection, and respiratory complications. These risks may deter some patients from undergoing the procedure, especially those with existing health issues or frail conditions. Additionally, the requirement for conscious sedation or anesthesia during bronchoscopy can pose challenges for certain patient groups, leading to reluctance or contraindications for the procedure. Moreover, the high cost of bronchoscopy equipment and the lack of access to advanced facilities in certain regions may limit its widespread adoption, affecting market growth in those areas.
Market Segmentation
In 2022, the endoscopy segment accounted for around 40.5% market share
On the basis of the product, the global bronchoscopy market is segmented into endoscopy, visualization & documentation system, accessories, and others. The endoscopy segment held the largest market share in the bronchoscopy market due to its wide range of applications and advantages. Endoscopy procedures offer minimally invasive access to various body organs and cavities, including the respiratory system, allowing for accurate diagnosis and treatment without the need for extensive surgeries. As a result, endoscopy has gained popularity among healthcare professionals and patients alike. Additionally, advancements in endoscopic technology, such as high-definition imaging and improved maneuverability, have further boosted its demand and contributed to its dominant position in the bronchoscopy market.
The disposable equipment segment is expected to grow at a higher CAGR of around 7.1% during the forecast period
Based on usability, the global bronchoscopy market is segmented into reusable equipment and disposable equipment. The disposable equipment segment is anticipated to experience higher growth during the forecast period in the bronchoscopy market due to the increasing emphasis on infection control and patient safety has led to a preference for single-use, disposable bronchoscopy tools over reusable ones. Disposable equipment minimizes the risk of cross-contamination and infection transmission, making them a preferred choice in healthcare settings. The advancements in material technology have improved the quality and cost-effectiveness of disposable instruments, further driving their adoption.
The bronchial diagnosis segment had the largest market over the current year
Based on the application, the global bronchoscopy market is segmented into bronchial diagnosis and bronchial treatment. The bronchial diagnosis segment held the largest market share in the bronchoscopy market due to its crucial role in diagnosing various respiratory conditions. It allows direct visualization of the bronchial passages, facilitating the identification of abnormalities like tumors, infections, and inflammation. This precise diagnosis aids in determining the appropriate treatment plan, guiding therapeutic interventions and improving patient outcomes. As bronchial diagnosis remains a primary focus in respiratory healthcare, its high demand has contributed significantly to its dominant position in the bronchoscopy market.
The hospitals segment held the largest market over the forecast period
Based on the end-user, the global bronchoscopy market is segmented into hospitals & ambulatory surgical centers, clinics, and others. The hospitals segment held the largest market share in the bronchoscopy market due to several key factors. Hospitals are the primary healthcare facilities where a significant number of bronchoscopy procedures are performed. They have well-established infrastructure, skilled medical professionals, and access to advanced bronchoscopy equipment, making them the preferred choice for diagnosing and treating respiratory conditions. Additionally, hospitals often cater to a diverse patient population, including those with complex respiratory diseases, leading to a higher demand for bronchoscopy services, contributing to their dominant position in the market.
Regional Segment Analysis of the Bronchoscopy Market
North America (U.S., Canada, Mexico)
Europe (Germany, France, U.K., Italy, Spain, Rest of Europe)
Asia-Pacific (China, Japan, India, Rest of APAC)
South America (Brazil and the Rest of South America)
The Middle East and Africa (UAE, South Africa, Rest of MEA)
North America dominated the market with more than 38.4% revenue share in 2022.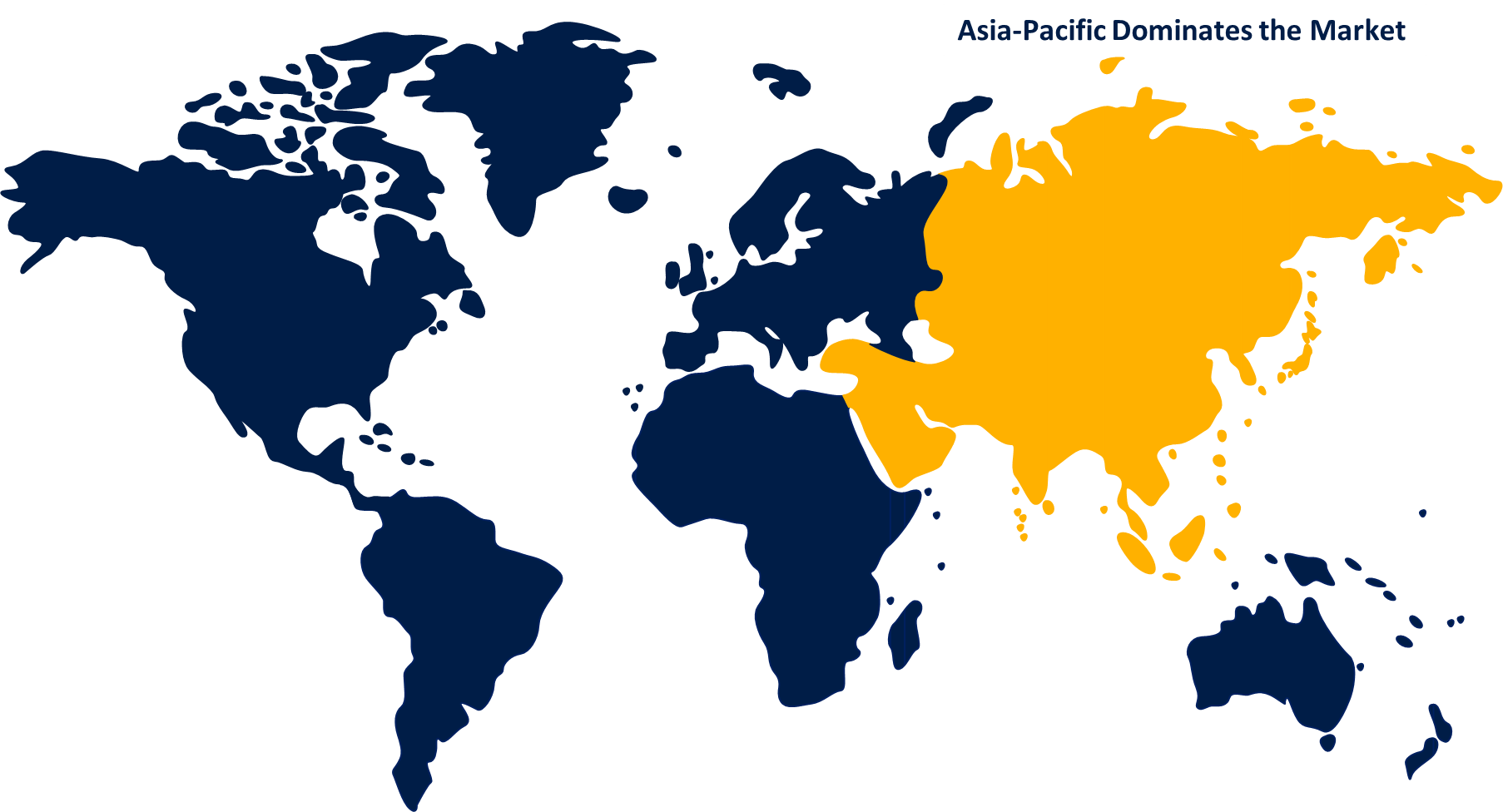 Get more details on this report -
Request Free Sample PDF
Based on region, North America dominates the bronchoscopy market due to advanced healthcare infrastructure, coupled with significant investments in medical research and technology, which has led to the development and adoption of state-of-the-art bronchoscopy equipment and techniques. Additionally, the high prevalence of respiratory diseases, such as COPD and lung cancer, in North America drives the demand for accurate diagnostic tools like bronchoscopy. Moreover, a well-established healthcare system and increasing awareness among healthcare professionals and patients about the benefits of early disease detection further contribute to North America's leadership in the bronchoscopy market.
Asia-Pacific is projected to experience the fastest growth in the bronchoscopy market during the forecast period. This can be attributed to including a rapidly expanding population, increasing urbanization, and improving healthcare infrastructure in the region. Moreover, the rising prevalence of respiratory diseases and the growing awareness about the importance of early diagnosis and treatment are driving the demand for advanced medical technologies like bronchoscopy in Asia-Pacific.
Recent Developments
In May 2022, Premier, Inc. granted Olympus a group buying agreement in the Single-Use Visualisation Devices category for their single-use bronchoscope range. The Olympus single-use bronchoscope portfolio consists of five premium H-SteriScope single-use bronchoscopes that are used in conjunction with Olympus' leading re-usable bronchoscope range.
In July 2022, Ambu Inc. announced that the Ambu aScopeTM 5 Broncho, a series of single-use, sterile bronchoscopes, has been granted 510(k) regulatory approval by the US Food and Drug Administration (FDA).
Competitive Analysis:
The report offers the appropriate analysis of the key organizations/companies involved within the global bronchoscopy market along with a comparative evaluation primarily based on their product offering, business overviews, geographic presence, enterprise strategies, segment market share, and SWOT analysis. The report also provides an elaborative analysis focusing on the current news and developments of the companies, which includes product development, innovations, joint ventures, partnerships, mergers & acquisitions, strategic alliances, and others. This allows for the evaluation of the overall competition within the market.
List of Companies:
Medtronic
Richard wolf GmbH
Ambu A/S
Boston Scientific Corporation
Broncus Medical Inc.
Fujifilm Holdings Corporation
Karl Storz GmbH
Lymol Medical
Novatech SA
Olympus Corporation
Pentax Medical
Teleflex Inc.
Key Target Audience
Market Players
Investors
End-Users
Government Authorities
Consulting and Research Firm
Venture Capitalists
Value-Added Resellers (VARs)
Market Segment
This study forecasts revenue at global, regional, and country levels from 2019 to 2032. Spherical Insights has segmented the global bronchoscopy market based on the below-mentioned segments:
Bronchoscopy Market, By Product
Endoscopy
Visualization & Documentation System
Accessories
Others
Bronchoscopy Market, By Usability
Reusable Equipment
Disposable Equipment
Bronchoscopy Market, By Application
Bronchial Diagnosis
Bronchial Treatment
Bronchoscopy Market, By End-User
Hospitals & Ambulatory Surgical Centers
Clinics
Others
Bronchoscopy Market, Regional Analysis
North America
Europe

Germany
UK
France
Italy
Spain
Russia
Rest of Europe

Asia Pacific

China
Japan
India
South Korea
Australia
Rest of Asia Pacific

South America

Brazil
Argentina
Rest of South America

Middle East & Africa

UAE
Saudi Arabia
Qatar
South Africa
Rest of Middle East & Africa
Need help to buy this report?