Global Bookbinding Materials Market Size By Binding Type (Mechanically Bonded, Adhesive Bonded), By Material Type (Paper Cover Materials, Leather, Adhesives, Cloth/Fabric/Spine Reinforcing Materials, Cover Boards, and Others), By Geographic Scope And Forecast to 2022 – 2032.
Industry: Advanced Materials
---
REPORT FORMAT

---
Global Bookbinding Materials Market Insights Forecasts to 2032
The Bookbinding Materials Market was valued at USD 8.1 Billion in 2022.
The Market is growing at a CAGR of 2.2% from 2022 to 2032.
The Global Bookbinding Materials Market is expected to reach USD 10.1 Billion by 2032.
Asia Pacific is expected to grow the fastest during the forecast period.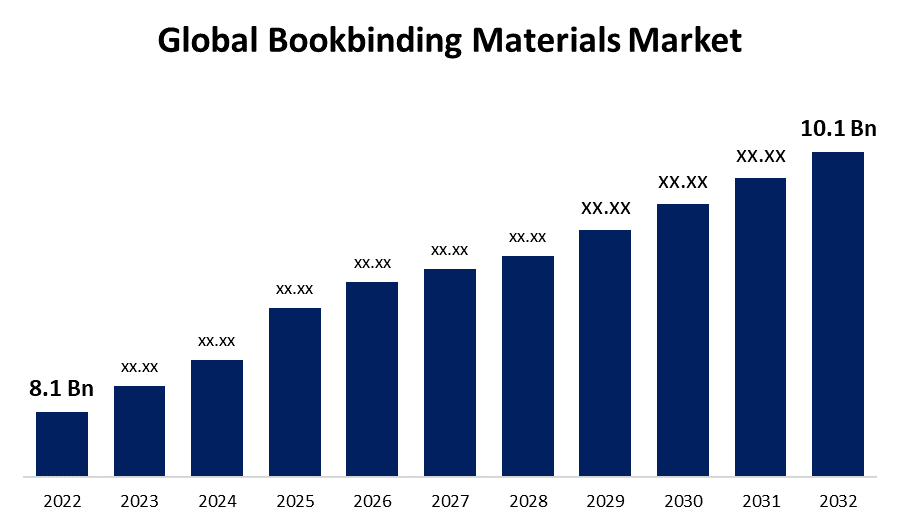 Get more details on this report -
Request Free Sample PDF
The Global Bookbinding Materials Market is expected to reach USD 10.1 Billion by 2032, at a CAGR of 2.2% during the forecast period 2022 to 2032.
The Global Bookbinding Materials Market is an essential and evolving sector of the publishing and printing industry. It includes a wide range of materials and supplies used to bind printed materials such as books, magazines, brochures, and more. This market is critical to the durability, aesthetics, and functionality of printed materials, making it an essential component of the publishing and packaging value chain. The growth of the Global Bookbinding Materials Market is closely tied to the performance of the publishing industry, which has undergone significant transformations in recent years due to digitalization and changing consumer preferences. However, printed books continue to hold a significant share of the market, creating a steady demand for bookbinding materials such as bookbinding cloth, adhesives, paper, and decorative elements like foils and embossing tools. Environmental concerns and sustainable practices are also influencing the market. Customers increasingly seek eco-friendly and recyclable bookbinding materials. This has prompted many manufacturers to develop and offer more sustainable options, thus aligning with global sustainability goals.
Global Bookbinding Materials Market Report Coverage
| Report Coverage | Details |
| --- | --- |
| Base Year: | 2022 |
| Market Size in 2022: | USD 8.1 Bn |
| Forecast Period: | 2022 – 2032 |
| Forecast Period 2022 – 2032 CAGR: | 2.2% |
| 022 – 2032 Value Projection: | USD 10.1 Bn |
| Historical Data for: | 2020-2021 |
| No. of Pages: | 200 |
| Tables, Charts & Figures: | 150 |
| Segments covered: | By Binding Type, By Material Type, By Geographic Scope. |
| Companies Covered: | Henkel AG, H.B. Fuller, Arkema, The Dow Chemical Company, UPM Global, Sika AG, Jowat SE, Exxon Mobil Corporation, Sanyhot Adhesivos S.A., Embagrap SA, Bostik, Franklin International and Others. |
| Pitfalls & Challenges: | COVID-19 Empact, Challenge, Future, Growth, & Analysis |
Get more details on this report -
Request Free Sample PDF
Market Outlook
Bookbinding Materials Market Price Analysis
The price analysis of the Global Bookbinding Materials Market reveals a dynamic landscape influenced by a variety of factors. Prices are heavily influenced by raw material costs, production efficiency, and market demand. Price fluctuations in paper and adhesive can have a direct impact on bookbinding material costs. Furthermore, the market is becoming more environmentally conscious, with higher prices for sustainable and eco-friendly materials. Price disparities are also influenced by regional differences in labor and manufacturing costs. Price analysis is a critical tool for both suppliers and consumers to navigate this ever-changing market and make informed decisions as the industry adapts to technological advancements and shifts in consumer preferences.
Bookbinding Materials Market Distribution Analysis
The Global Bookbinding Materials Market distribution analysis highlights the complexities of getting bookbinding materials into the hands of publishers, printers, and end-users. This market is supported by a diverse network of distributors, wholesalers, and retailers, each of which plays a distinct role in the supply chain. The distribution process differs depending on region and product segment, with online channels gaining prominence. Given the printing industry's just-in-time requirements, efficient and timely material delivery is critical. Distribution analysis considers logistics, warehousing, and the use of e-commerce platforms, all of which are important factors in ensuring the accessibility and availability of bookbinding materials worldwide.
Market Dynamics
Bookbinding Materials Market Dynamics
Physical books are becoming increasingly popular
Despite the growing popularity of digital reading platforms, the bookbinding materials market is experiencing a significant surge due to rising demand for physical books. This renaissance has been fueled in large part by a renewed appreciation for the tactile and immersive experience provided by physical books, which has resulted in a sustained demand for high-quality and visually appealing printed publications. As readers continue to value the unique sensory engagement that physical books provide, the need for long-lasting and aesthetically pleasing bookbinding materials has become critical.
Restraints & Challenges
The availability of online educational resources
Due to the increasing availability of online educational resources, the bookbinding materials market may face potential constraints. As digital platforms become more convenient and accessible for accessing educational materials, demand for traditional printed books and related bookbinding materials may decrease. The ease of online access to a wide range of educational content, such as e-books, digital journals, and interactive learning modules, has shifted students' and educators' preferences toward digital resources.
Regional Forecasts
North America Market Statistics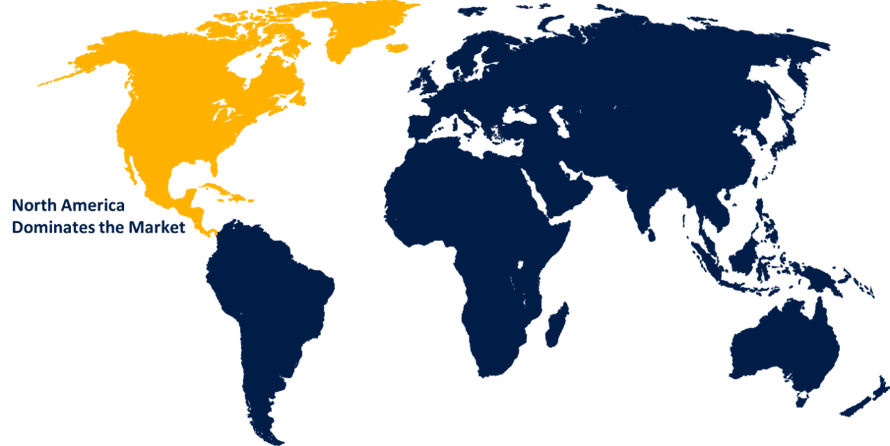 Get more details on this report -
Request Free Sample PDF
North America is anticipated to dominate the Bookbinding Materials Market from 2023 to 2032. The transition to digital media, which has changed consumer reading preferences and habits, has had an impact on the publishing industry. However, print continues to play an important role in the North American industry, and bookbinding adhesives remain in high demand. Because of the early adoption of advanced technology and the increasing prevalence of various types of hot melt adhesives due to their ability to provide high thermal stability and a smooth finish at a very competitive cost. Due to the rapid growth of many end-use industries in the country, the United States is the major and prominent manufacturer and consumer of bookbinding adhesives.
Asia Pacific Market Statistics
Asia Pacific is witnessing the fastest market growth between 2023 to 2032. The region's thriving publishing industry, fueled by a growing emphasis on literacy and educational development, has resulted in a high demand for high-quality books and printed materials. This surge in demand has increased the demand for long-lasting and visually appealing bookbinding materials to support the thriving publishing industry. Rapid industrialization and an expanding manufacturing base, particularly in textiles, packaging, and electronics, have resulted in an increase in demand for specialized adhesives, coatings, and binding materials. This has significantly accelerated the region's growth in the bookbinding materials market.
Segmentation Analysis
Insights by Binding Type
The adhesive bonded segment accounted for a significant share of the forecast period 2023 to 2032. A rapid increase in the number of bookbinding adhesive applications from a wide range of applications such as hardcover & softcover books, print on demand, and magazines & catalogs, among many others, as well as the growing prevalence of improved adhesives, are key factors influencing market growth.
Insights by Material Type
The paper cover materials segment accounted for a significant market share over the forecast period 2023 to 2032. The growing emphasis on sustainability and environmental friendliness has resulted in a growing preference for paper-based materials over synthetic alternatives, driving demand for paper cover materials. Paper manufacturing technology advancements have resulted in the production of high-quality and visually appealing paper covers that rival the aesthetics of traditional materials while being more environmentally sustainable. Furthermore, the versatility of paper cover materials allows for a wide range of customization options, such as different textures, finishes, and printing techniques, to meet a wide range of consumer preferences and design requirements.
Recent Market Developments
In July 2022, Arkema acquired Permoseal (South Africa), an established manufacturer of adhesive solutions for DIY, packaging, and construction. Permoseal's brand complements Bostik's offerings in the country. This acquisition boosted its presence in South Africa's and Sub-Saharan Africa's dynamic industrial, construction, and DIY markets.
Competitive Landscape
Major players in the market
Henkel AG
H.B. Fuller
Arkema
The Dow Chemical Company
UPM Global
Sika AG
Jowat SE
Exxon Mobil Corporation
Sanyhot Adhesivos S.A.
Embagrap SA
Bostik
Franklin International
Others
Market Segmentation
This study forecasts revenue at global, regional, and country levels from 2023 to 2032.
Bookbinding Materials Market, Binding Type Analysis
Mechanically Bonded
Adhesive Bonded
Bookbinding Materials Market, Material Type Analysis
Paper Cover Materials
Leather
Adhesives
Cloth/Fabric/Spine Reinforcing Materials
Cover Boards
Others
Bookbinding Materials Market, Regional Analysis
North America
Europe
Germany
Uk
France
Italy
Spain
Russia
Rest of Europe
Asia Pacific
China
Japan
India
South Korea
Australia
South America
Brazil
Argentina
Colombia
Middle East & Africa
UAE
Saudi Arabia
South Africa
Need help to buy this report?