Global Blockchain AI Market Size, Share & Trends, COVID-19 Impact Analysis Report, By Component (Platform/Tools, and Services), By Deployment (On-premises, and Cloud), By Technology (ML, NLP, Context-Aware Computing, And Computer Vision), By Application (Smart Contracts, Payment & Settlement, Data Security, Data Sharing/Communication, Asset Tracking & Management, Logistics & Supply Chain Management, And Business Process Optimization), and By Region (North America, Europe, Asia-Pacific, Latin America, Middle East, and Africa), Analysis and Forecast 2021 – 2030
Industry: Information & Technology
---
REPORT FORMAT

---
BLOCKCHAIN AI MARKET: OVERVIEW
The Blockchain AI Market was valued at USD 230.10 Million in 2021, the market is projected to grow USD 980.70 Million in 2030, at a CAGR of 24.06%. The global blockchain AI market is one unique market it is one highly emerging technology market in terms of market size, and facing rapid change in technology development. Furthermore, the blockchain AI market is continuing to evolve. In terms of technology machine learning and computer vision at its heart. These two types of blockchain AI technology are having highest growth potential in coming years. The sudden advent of the coronavirus pandemic has drastically boosted the demand of blockchain AI in rapid manner, and because of those many new market entrants are entering in this market to capture growing need of enhancing customer experience on applications such as financial security, supply chain logistics.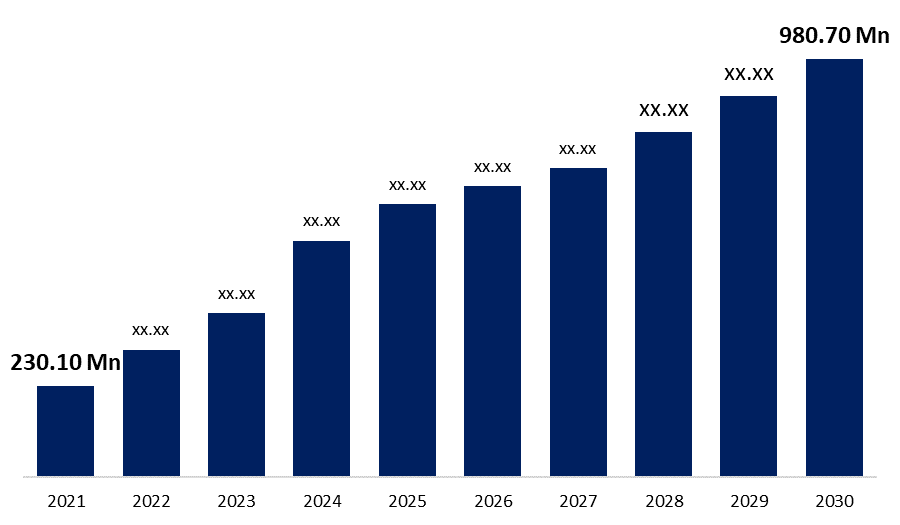 Get more details on this report -
Request Free Sample PDF
COVID-19 ANALYSIS
The Blockchain can be used for tracking public health data surveillance, mainly for infectious disease outbreaks such as COVID-19. With improved blockchain transparency, it will result in more correct reporting as well as efficient responses. Blockchain can help improve treatments swiftly as it would allow for quick processing of data, thus allowing early recognition of symptoms before they spread to the level of epidemics. There has been a concern that the millions of dollars being donated for the public are not being put to use where needed.

BLOCKCHAIN AI MARKET: TREND
Huge Growth Attributed from the BFSI Verticals
The banking, financial services, and insurance segment are heavily focusing on significant technologies, that help them in securing transactions for customers. Additionally, the technology shift from centralized infrastructure management to the distributed ecosystem is paving the way for new business models in payments, internet banking, and financial transaction technologies by focusing on the power of both artificial intelligence and blockchain solutions.

Today, Blockchain AI also helps in solving different financial issues as a standalone solution, but they help in improving many business processes in the financial industry to make them smarter and perform more efficiently. Accordingly, the banking industry registers the highest growth rate during the forecast period.

BLOCKCHAIN AI MARKET: DRIVERS
Blockchain AI Technologies Enable Blockchain AI Drive Market Growth
Blockchain AI defines as a process of using data to obtain quantifiable economic benefits. Internal or indirect methods include using data to make measurable business performance improvements and inform decisions. Data monetization would make both artificial intelligence and advanced blockchain easily accessible to small size companies. Because artificial intelligence is technology is costly for organizations, especially those that do not own data sets. Because of that data monetization is driving huge growth demand for small-size businesses. A decentralized market would create space for such companies in other cases it is too expensive. Thus, Blockchain AI is the ultimate enabler of data monetization, which is predictable to be one of the major driving factors for the blockchain AI industry.

Global Blockchain AI Market Report Coverage
| Report Coverage | Details |
| --- | --- |
| Base Year: | 2021 |
| Market Size in 2021: | USD 230.10 Million |
| Forecast Period: | 2021-2030 |
| Forecast Period 2021-2030 CAGR: | 24.06%. |
| 2030 Value Projection: | USD 980.70 Million |
| Historical Data for: | 2017-2020 |
| No. of Pages: | 210 |
| Tables, Charts & Figures: | 123 |
| Segments covered: | By Component, By Technology, By Application, By Region, COVID-19 Impact Analysis Report |
| Companies Covered: | Cyware, NeuroChain Tech, SingularityNET, Core Scientific, Inc, etObjex, Fetch.ai, Chainhaus, Inc, Hannah Systems, BrustIQ, VYTALYX, Gainfy Healthcare Network, AlphaNetworks, |
| Growth Drivers: | 1)Blockchain AI Technologies Enable Blockchain AI Drive Market Growth 2) Systems Complexities Hamper Market Growth |
| Pitfalls & Challenges: | COVID-19 has the potential to impact the global market |
Get more details on this report -
Request Free Sample PDF
BLOCKCHAIN AI MARKET: RESTRAIN
Systems Complexities Hamper Market Growth
AI systems are generally cloud-based and need expansive bandwidth which is needed for powering the system. Occasionally, operators also required specialized hardware to access these artificial intelligence capabilities and the cost of this AI-specific hardware can involve a huge initial investment organization. These are some major market entrants' barriers faced by the new market entrants.

BLOCKCHAIN AI MARKET: SEGMENTATION
The Global Blockchain AI market is segmented based on components, technology, deployment, application and region. Based on components the market is bifurcated as platform/tools, and services. Based on the technology the market is further classified based on ML, NLP, context-aware computing, and computer vision. Based on deployment the market is segregated as cloud-based, and on-premises. Based on application the market is segmented into smart contracts, payment and settlement, data security, data sharing/communication, asset tracking and management, logistics and supply chain management, and business process optimization. Based on the Region the market is characterized into the North America, Europe, Asia-Pacific, Latin America, and the Middle East and Africa.

BLOCKCHAIN AI MARKET: COMPETITIVE LANDSCAPE
The companies operating in this industry are focusing more on efficient growth, improvement of operational efficiency and productivity, achieving high safety standards, and focus on maintaining sustainable development. The market-leading players are focusing on securing a leading position in this industry. These players are heavily focusing on the opportunity to strengthen their competitive advantage. To meet a top market share in this industry, and developing socially responsible business market players is identifying various strategic pillars including mergers & acquisitions, new product launch, product enhancement, and others.

SEGMENTATION: BY REGION
Based on the Region, the Global Blockchain AI Market is categorized into North America, Europe, Asia-Pacific, Latin America, the Middle East and Africa.

The Asia Pacific region is anticipated to grow over the next few years of global Blockchain AI Market due to the rapid adoption of new technologies and is expected to have the highest CAGR in the global Blockchain AI market during the forecast period. APAC includes major economies such as China, Japan, and Singapore, all of which are expected to experience rapid growth in the Blockchain AI market. Financial institutions, healthcare & life sciences, telecom & IT, manufacturing, automotive, media, and entertainment are expected to adopt Blockchain AI solutions at the fastest rate in the region. Companies in APAC would benefit from flexible economic conditions, industrialization-driven policies, political transformation, and the growing digitalization, which is expected to have a significant impact on the business community.

Get more details on this report -
Request Free Sample PDF
BLOCKCHAIN AI MARKET: KEY PLAYERS
Cyware
NeuroChain Tech
SingularityNET
Core Scientific, Inc.
etObjex
Fetch.ai
Chainhaus, Inc.
Hannah Systems
BrustIQ
VYTALYX
Gainfy Healthcare Network
AlphaNetworks
Others
BLOCKCHAIN AI MARKET: RECENT DEVELOPMENT
November 2020- Verida Credit collaborated with CareProtocol, an AI health start-up, to launch the IKIGAI Network, a decentralized OpenHealth data ecosystem powered by AI and blockchain technology.
September 2019- Zensar Technologies Limited has launched blockchain-based contract management solutions for various enterprises, including DICES (Distributed Intelligent Contract Enforcement System) and ZenConfluence. To extract important clauses in smart contracts, both solutions use a combination of NLP and a transpiler. The goal is to assist end-users in quickly and efficiently enforcing and tracking contractual goals without manual intervention.
BLOCKCHAIN AI MARKET: REPORT OVERVIEW
The scope of the report includes a detailed study of regional markets for Global Blockchain AI Market. The Global Blockchain AI Market is segmented by components, technology, deployment, application and region. It reveals the market situation and future forecast. The study also covers the significant data presented with the help of graphs and tables. The report covers information regarding the competitive outlook including the market share and company profiles of the key participants operating in the Global Blockchain AI Market.

Need help to buy this report?