Global Biofertilizers Market Size, Share, and COVID-19 Impact Analysis, By Microorganism (Rhizobium, Azotobacter, Azospirillum, Blue-Green Algae, Phosphate Solubilizing Bacteria, Mycorrhiza, Other Microorganisms), By Application (Soil Treatment, Seed Treatment, Others), By Type (Nitrogen fixing Biofertilizers, Phosphate Solubilizing and Mobilizing Biofertilizers, Potash Solubilizing and Mobilizing Biofertilizers,Others),By Crop Type (Cereals, Pulses & Oilseeds, Fruits & Vegetables, Others), By Form (Dry and Liquid),By Region (North America, Europe, Asia-Pacific, Latin America, Middle East, and Africa), Analysis and Forecast 2021 – 2030
Industry: Agriculture
---
REPORT FORMAT

---
Global Biofertilizers Market Size Insights Forecasts to 2030
The Biofertilizers Market Size was valued at USD 1.88 Billion in 2021.
The Market is growing at a CAGR of 11.87 % from 2022 to 2030
The Worldwide Biofertilizers Market Size is expected to reach USD 4.63 Billion by 2030
Asia Pacific is expected to grow the fastest during the forecast period
Get more details on this report -
Request Free Sample PDF
The Global Biofertilizers Market Size is expected to reach USD 4.63 Billion by 2030, at a CAGR of 11.87% during the forecast period 2022 to 2030. The biofertilizers market is expected to grow significantly in the forecasting period, driven by the increasing demand for sustainable and eco-friendly farming practices and also a growing awareness among farmers about the benefits of using biofertilizers instead of chemical fertilizers is driving the demand for biofertilizers globally.
Market Overview
The Biofertilizer Market is estimated to witness continuous growth in the coming years due to the rising demand for fertilizers compatible with sustainable and organic farming and agriculture practices. These fertilizers are an economical and eco-friendly option for crop production, this helps to increase the adoption across the globe. Improvement in soil fertility, increase in nutrient absorption by plants, and low risk to human health associated with biofertilizers, are some of the key factors driving the global biofertilizers market growth. A biofertilizer contains living microorganisms which are applied to seeds, soil, and plant surface, colonize the rhizosphere or the inside of the plant, and promote growth by increasing the supply of primary nutrients to the host plant. Increased demand for organic products leads to increased demand for biofertilizers.
Report Coverage
This research report categorizes the market for global biofertilizers based on various segments and regions and forecasts revenue growth and analyzes trends in each submarket. The report analyses the key growth drivers, opportunities, and challenges influencing the biofertilizers market. Recent market developments and competitive strategies such as expansion, product launch, and development, partnership, merger, and acquisition have been included to draw the competitive landscape in the market. The report strategically identifies and profiles the key market players and analyses their core competencies in each sub-segment of the biofertilizers market.
Global Biofertilizers Market Report Coverage
| Report Coverage | Details |
| --- | --- |
| Base Year: | 2021 |
| Market Size in 2021: | USD 1.88 Billion |
| Forecast Period: | 2021-2030 |
| Forecast Period 2021-2030 CAGR: | 11.87 % |
| 2030 Value Projection: | USD 4.63 Billion |
| Historical Data for: | 2017-2020 |
| No. of Pages: | 190 |
| Tables, Charts & Figures: | 130 |
| Segments covered: | By Microorganism, By Application, By Crop Type, By Form, By Region, and COVID-19 Impact Analysis |
| Companies Covered: | Lallemand Inc., Novozymes A/S, National Fertilizers Limited, IPL Biologicals, American Vanguard Corporation, Gujarat State Fertilizers & Chemical Ltd., Symborg, Criyagen, UPL Limited, Kiwa Bio-Tech , Nutramax Laboratories Inc., Manidharma Biotech Pvt Ltd, Biomax Naturals, Rizobacter Argentina S.A., Bioceres S.A., BioWorks Inc., SOM PHYTOPHARMA (INDIA) LIMITED |
| Pitfalls & Challenges: | COVID-19 has the potential to impact the global market |
Get more details on this report -
Request Free Sample PDF
Driving Factors
The increase in the usage of biofertilizers in cereals and grains leads to a boost in the market of biofertilizers across the globe. The usage of biofertilizers is dominant in the cereals & grains application segment. Demand for organic cereals is increasing in developed and developing economies due to the health benefits offered by organic cereals. The use of biofertilizers in cereals & grains dominates the market with a profitable share in terms of application.
The main factor is an increase in awareness about the harmful effects of chemical fertilizers on the environment is a prime factor boosting the global market. Governmental support is also the main factor to boost the market because the overuse of chemical fertilizers and their potential ill effects on human health has encouraged the promotion of biofertilizers. Governments across several dominant countries are providing various plans, schemes, and other initiatives to encourage the adoption of bio-based fertilizers among farmers. Governments have authorized comprehensive economic recovery plans that included new liquidity, agricultural and food industry subsidies, and tax flexibility which are predicted to positively impact product growth.
Restraining Factors
The production cost of biofertilizers is high as compared to conventional fertilizers because they require specific machinery and equipment for their production. Biofertilizers include live microbial cells with a short shelf life, and their storage and shipping require extra care and precaution which leads to rising the product's cost. Biofertilizers provide lower nutrient density than conventional fertilizers.Thus more products are used for the same effect. This factor is projected to restrain the market growth during the predicted years.
Market Segmentation
The global biofertilizers market share is classified into the microorganism, application, type, crop type, and form.
On the basis of Microorganism: Based on the microorganism, the global biofertilizers market is segmented into rhizobium, azotobacter, azospirillum, blue-green algae, phosphate solubilizing bacteria, mycorrhiza, other microorganisms. Among these, the rhizobium segment is dominating the market during the forecasted time period. Rhizobium is the leading type of microorganism used in agriculture due to its huge importance in providing the major nitrogen source in the soil. Rhizobium is an excellent nitrogen-fixing agent, the rhizobium exerts plant growth-promoting traits and supports the inorganic phosphate. Its application is also increasing due to its ability to ensure success in achieving crop productivity and cutting the need for synthetic fertilizers that are expensive and harmful to the environment.
On the basis of Application: Based on the application, the global biofertilizers market is segmented into soil treatment, seed treatment, and others. Seed treatment application dominated the market with the highest market share over the forecast periodwith its wide usage in administering biofertilizers. The high market share of this segment is attributed to the several advantages of seed treatment in biofertilizers, such as increasing seed germination and decreased incidence of foot and root rot. The reason behind the growth of seed treatment is the increasing use of biofertilizers in seed treatment of cereals like rice, wheat, maize, and sorghum and oilseeds such as sunflower, groundnut, and soybean are driving the biofertilizers market.
On the basis of Type: On the basis of type, the global biofertilizers market is differentiated into nitrogen fixing biofertilizers, phosphate solubilizing and mobilizing biofertilizers, potash solubilizing and mobilizing biofertilizers, and others. Nitrogen-fixing biofertilizers dominated the market, owing to the growth in the agriculture sector, farmers have widely made use of nitrogen-fixing and phosphate solubilizing biological fertilizers to produce high demand crops such as rice, wheat, oilseeds, and others. Nitrogen is used to correct the nitrogen level in the soil hence, they support the growth of the crop. Phosphate solubilizers are also witnessing significant market growth. The demand for phosphate solubilizers is predicted to grow due to their potential to improve crop quality and yield.
On the basis of Crop Type: Based on the crop type, the global biofertilizers market is classified into Cereals, Pulses & Oilseeds, Fruits & Vegetables, and Others. The cereals and grains segment held the largest volume share compared to other crop types. Cereals and grains production demand a considerable quantity of biofertilizer for healthy development. Potential health benefits require a high demand for organic cereals in both developed as well as developing economies to boost the market growth of organic Cereals.
On the basis of Form: Based on the form, the global biofertilizers market is segmented into dry and liquid. Due to increased usage in agriculture and farmers' growing acceptance of their longer shelf lives, the liquid category is expected to rise faster during the upcoming years. The reason behind the growth is they have a long shelf life, farmers can buy them in large quantities with a limited budget and store them for one or two years, which boosts their profit margin. Liquid biofertilizers can be utilized in organic farming and drip irrigation and used in modern agriculture, including soilless farming systems like fertigation and hydroponics.
Regional Segment Analysis of the Biofertilizers Market
North America (U.S., Canada, Mexico)
Europe (Germany, France, U.K., Italy, Spain, Rest of Europe)
Asia-Pacific (China, Japan, India, Rest of APAC)
South America (Brazil and the Rest of South America)
The Middle East and Africa (UAE, South Africa, Rest of MEA)
North America holds the largest market share over the forecast period.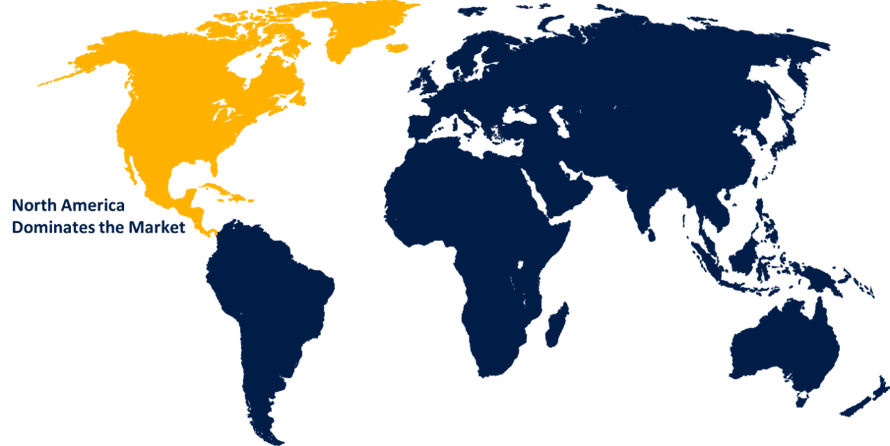 Get more details on this report -
Request Free Sample PDF
The North American market is projected to dominate the market due to the increase in demand for organic products, the increase in acceptance of biofertilizers among farmers, and the high adoption of developed irrigation systems, such as drip & sprinkler irrigation for fertigation. A stringent regulatory environment and the growing awareness in farmers to use biofertilizer products have contributed to market growth. The biofertilizer market in North America is expanding considerably due to the growing number of organic farms in leading economies such as the U.S., Canada, and Mexico. Mexico is projected to witness an increase in demand for biofertilizers as major agricultural products are exported to other countries.
Asia-Pacific will expect to grow in the predicted period because of the prevalence of various manufacturers in the region. The Asia Pacific region is a hub for the majority of the agrarian economies including India, Thailand, Japan, South Korea, Philippines, and others which are shifting their paradigm towards a more sustainable form of agriculture. Increasing R&D on biofertilizers and various schemes launched by governments to promote organic farming, and organic products thereby boosting the market growth.
Competitive Analysis:
The report offers the appropriate analysis of the key organizations/companies involved within the global biofertilizers market along with a comparative evaluation primarily based on their product offering, business overviews, geographic presence, enterprise strategies, segment market share, and SWOT analysis. The report also provides an elaborative analysis focusing on the current news and developments of the companies, which includes product development, innovations, joint ventures, partnerships, mergers & acquisitions, strategic alliances, and others. This allows for the evaluation of the overall competition within the market.
List of Key Companies
Lallemand Inc.
Novozymes A/S
National Fertilizers Limited
IPL Biologicals
American Vanguard Corporation
Gujarat State Fertilizers & Chemical Ltd.
Symborg
Criyagen
UPL Limited
Kiwa Bio-Tech
Nutramax Laboratories Inc.
Manidharma Biotech Pvt Ltd
Biomax Naturals
Rizobacter Argentina S.A.
Bioceres S.A.
BioWorks Inc.
SOM PHYTOPHARMA (INDIA) LIMITED
Key Target Audience
Market Players
Investors
End-users
Government Authorities
Consulting And Research Firm
Venture capitalists
Value-Added Resellers (VARs)
Recent Developments
In September 2021, Novozymes A/S launched five biological solutions, including inoculants to address key challenges for North American growers and establish a new sales team to serve customers directly in the U.S. The new products include inoculants that deal with nutritional efficiency issues, and nitrogen fixation.
In February 2021, Symborg recently started a new headquarters in Brazil to increase the market penetration of Symborg's products in the Brazilian agricultural sector.
In March 2020, Kiwa Bio-Tech announced an agreement with Huaxialitai Co., Ltd., a China state-owned enterprise that has a fertilizer market channel throughout China. Under the terms of the agreement, Huaxialitai would start to sell Kiwa's fertilizer products.
In September 2022, Rizobacter Argentina SA mergedBioceres Crop Solutions with Marrone Bio Innovations for developing sustainable crop solutions globally.
Market Segment
This study forecasts revenue at global, regional, and country levels from 2021 to 2030. Spherical Insights has segmented the global biofertilizers market based on the below-mentioned segments:
Global Biofertilizers Market, By Microorganism
Rhizobium
Azotobacter
Azospirillum
Blue-Green Algae
Phosphate Solubilizing Bacteria
Mycorrhiza
Others
Global Biofertilizers Market, By Application
Soil Treatment
Seed Treatment
Others
Global Biofertilizers Market, By Type
Nitrogen fixing Biofertilizers
Phosphate Solubilizing and Mobilizing Biofertilizers
Potash Solubilizing and Mobilizing Biofertilizers
Others
Global Biofertilizers Market, By Crop Type
Cereals
Pulses & Oilseeds
Fruits & Vegetables
Others
Global Biofertilizers Market, By Form
Global Biofertilizers Market, Regional Analysis
North America
Europe

Germany
Uk
France
Italy
Spain
Russia
Rest of Europe

Asia Pacific

China
Japan
India
South Korea
Australia
Rest of Asia Pacific

South America

Brazil
Argentina
Rest of South America

Middle East & Africa

UAE
Saudi Arabia
Qatar
South Africa
Rest of Middle East & Africa
Need help to buy this report?