Global Bearings Market Size, Share, and COVID-19 Impact Analysis, By Product (Ball Bearings, Roller Bearings, Plain Bearings, and Others), By Application (Automotive, Agriculture, Electrical, Mining & Construction, Railway & Aerospace, Automotive Aftermarket, and Others), By Region (North America, Europe, Asia-Pacific, Latin America, Middle East, and Africa), Analysis and Forecast 2022 – 2032.
Industry: Semiconductors & Electronics
---
REPORT FORMAT

---
Global Bearings Market Size Insights Forecasts to 2032
The Bearings Market Size was valued at USD 106.68 Billion in 2022.
The Market is Growing at a CAGR of 9.5% from 2023 to 2032
The Worldwide Bearings Market is expected to reach USD 261.90 Billion by 2032
Europe is expected to Grow significant during the forecast period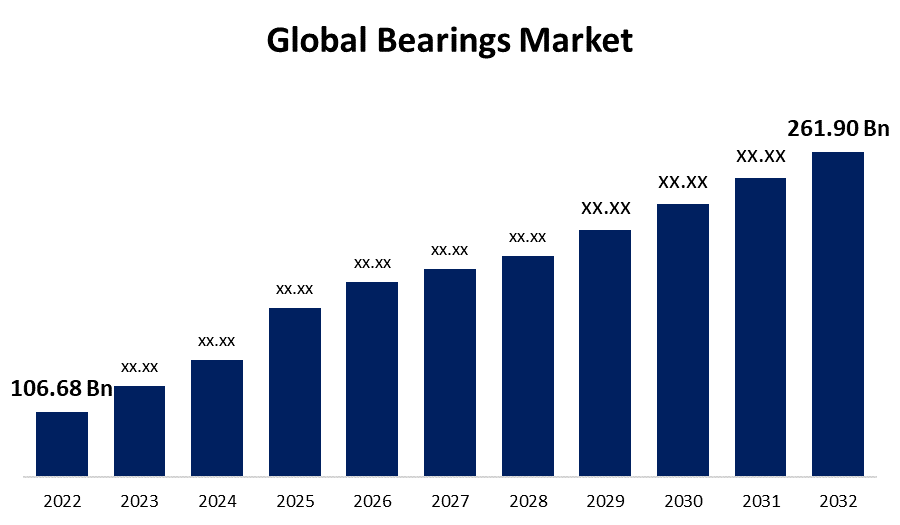 Get more details on this report -
Request Free Sample PDF
The global bearings market is expected to reach USD 290.61 Billion by 2032, at a CAGR of 9.5% during the forecast period 2023 to 2032.
Market Overview
Bearings are essential mechanical components used in a wide range of applications to facilitate relative motion between two parts while reducing friction and supporting loads. They come in various types, including ball bearings, roller bearings, and plain bearings, each designed to accommodate different load capacities and motion requirements. Ball bearings consist of rolling elements (balls) housed in an inner and outer race, enabling smooth rotation and low friction in applications like automotive wheels and electric motors. Roller bearings, on the other hand, use cylindrical or tapered rollers for enhanced load-carrying capabilities, making them suitable for heavy machinery and conveyor systems. Plain bearings, also known as bushings or sleeve bearings, provide low-friction support in sliding or rotational movements, commonly found in machinery parts like crankshafts and hinges. Bearings play a vital role in the efficiency, durability, and reliability of countless mechanical systems across industries.
Report Coverage
This research report categorizes the market for bearings market based on various segments and regions and forecasts revenue Growth and analyzes trends in each submarket. The report analyses the key Growth drivers, opportunities, and challenges influencing the bearings market. Recent market developments and competitive strategies such as expansion, product launch, and development, partnership, merger, and acquisition have been included to draw the competitive landscape in the market. The report strategically identifies and profiles the key market players and analyses their core competencies in each sub-segments of the bearings market.
Global Bearings Market Report Coverage
| Report Coverage | Details |
| --- | --- |
| Base Year: | 2022 |
| Market Size in 2022: | USD 105.68 Billion |
| Forecast Period: | 2022-2032 |
| Forecast Period 2022-2032 CAGR: | 9.5% |
| 2032 Value Projection: | 290.61 Billion |
| Historical Data for: | 2019-2021 |
| No. of Pages: | 200 |
| Tables, Charts & Figures: | 110 |
| Segments covered: | By Product, By Application, By Region and COVID-19 Impact. |
| Companies Covered: | Brammer PLC, Harbin Bearing Manufacturing Co., Ltd., HKT Bearings Ltd., JTEKT Corporation, NBI Bearings Europe, NSK Global, NTN Corporation, RBC Bearings Inc., Rexnord Corporation, RHP Bearings, Schaeffler Group, SKF Corporation, The Timken Company, and other key vendors. |
| Pitfalls & Challenges: | COVID-19 Empact, Challenge, Future, Growth & Analysis. |
Get more details on this report -
Request Free Sample PDF
Driving Factors
The bearings market is influenced by a myriad of drivers that collectively shape its dynamics and Growth prospects. One of the primary drivers is the global industrialization and urbanization trends. As economies expand and urban areas Grow, there is an increasing demand for machinery and equipment across various sectors such as manufacturing, construction, and transportation. Bearings are integral components in these machines, ensuring smooth and efficient operation. Moreover, the automotive industry is a significant driver of the bearings market. As the automotive sector continues to innovate with electric and autonomous vehicles, the demand for specialized bearings that can withstand high speeds and varying loads is on the rise. Technological advancements also play a crucial role in driving the bearings market. Innovations in materials, lubrication technologies, and manufacturing processes lead to bearings that are more durable, efficient, and capable of handling increasingly demanding applications. Environmental concerns and regulations are another driver, with a Growing emphasis on reducing energy consumption and emissions in machinery and vehicles. Bearings designed for high efficiency contribute to achieving these goals. The aftermarket for bearings is influenced by equipment maintenance needs. Bearings wear out over time, necessitating replacements, and as industries focus on minimizing downtime and extending the lifespan of machinery, the aftermarket for bearings continues to thrive. Furthermore, globalization and international trade have expanded the reach of bearing manufacturers, allowing them to tap into emerging markets with Growing industrial sectors. The bearings market is also impacted by the development of niche applications in sectors like aerospace, renewable energy, and medical devices, where precision and reliability are paramount. The bearings market is influenced by mergers, acquisitions, and strategic partnerships among industry players, which can reshape market dynamics, increase competition, and drive innovation. In sum, the bearings market is driven by the interplay of industrialization, technological advancements, environmental concerns, maintenance requirements, niche applications, globalization, and industry dynamics, making it a dynamic and vital component of the broader industrial landscape.
Restraining Factors
The bearings market faces several restraints that impact its Growth, intense competition among manufacturers can lead to pricing pressures, affecting profit margins. The market is susceptible to economic fluctuations and cyclical industries, as demand for bearings closely correlates with industrial production and capital expenditures. Additionally, the shift towards digitization and IoT solutions in machinery may reduce the need for certain types of bearings, impacting traditional market segments. Environmental concerns and regulations can also pose challenges, as bearing materials and manufacturing processes need to comply with stricter standards. The counterfeiting and product quality issues can erode customer trust, affecting market stability and Growth.
Market Segmentation
In 2022, the roller bearings segment accounted for around 44.2% market share
On the basis of the product, the global bearings market is segmented into ball bearings, roller bearings, plain bearings, and others. The roller bearings segment's dominance in the market can be attributed to its versatility and ability to handle a wide range of applications. Roller bearings, which include cylindrical, tapered, and spherical variants, excel at supporting heavy radial and axial loads, making them vital components in industries like construction, mining, and manufacturing. Their durability and high load-carrying capacity make them ideal for demanding conditions, contributing to their widespread use. Moreover, advancements in roller bearing design and materials have further expanded their application scope. As industries continue to rely on heavy machinery, the roller bearings segment maintains its position as a revenue leader in the bearings market.
The automotive segment held the largest market with more than 47.5% revenue share in 2022
Based on the application, the global bearings market is segmented into automotive, agriculture, electrical, mining & construction, railway & aerospace, automotive aftermarket, and others. The dominance of the automotive segment in the bearings market can be attributed to its sheer scale and continuous demand for various types of bearings. Bearings are essential components in vehicles, serving critical functions in engines, transmissions, wheels, and various other systems. With the global automotive industry witnessing consistent Growth, including the development of electric and autonomous vehicles, the demand for specialized bearings designed to meet stringent performance and efficiency requirements remains high. Furthermore, automotive manufacturers increasingly emphasize reliability and durability, driving the need for advanced bearings. Consequently, the automotive sector's substantial market share reflects its pivotal role in driving the bearings industry forward.
Regional Segment Analysis of the Bearings Market
North America (U.S., Canada, Mexico)
Europe (Germany, France, U.K., Italy, Spain, Rest of Europe)
Asia-Pacific (China, Japan, India, Rest of APAC)
South America (Brazil and the Rest of South America)
The Middle East and Africa (UAE, South Africa, Rest of MEA)
Asia-Pacific dominated the market with more than 38.5% revenue share in 2022.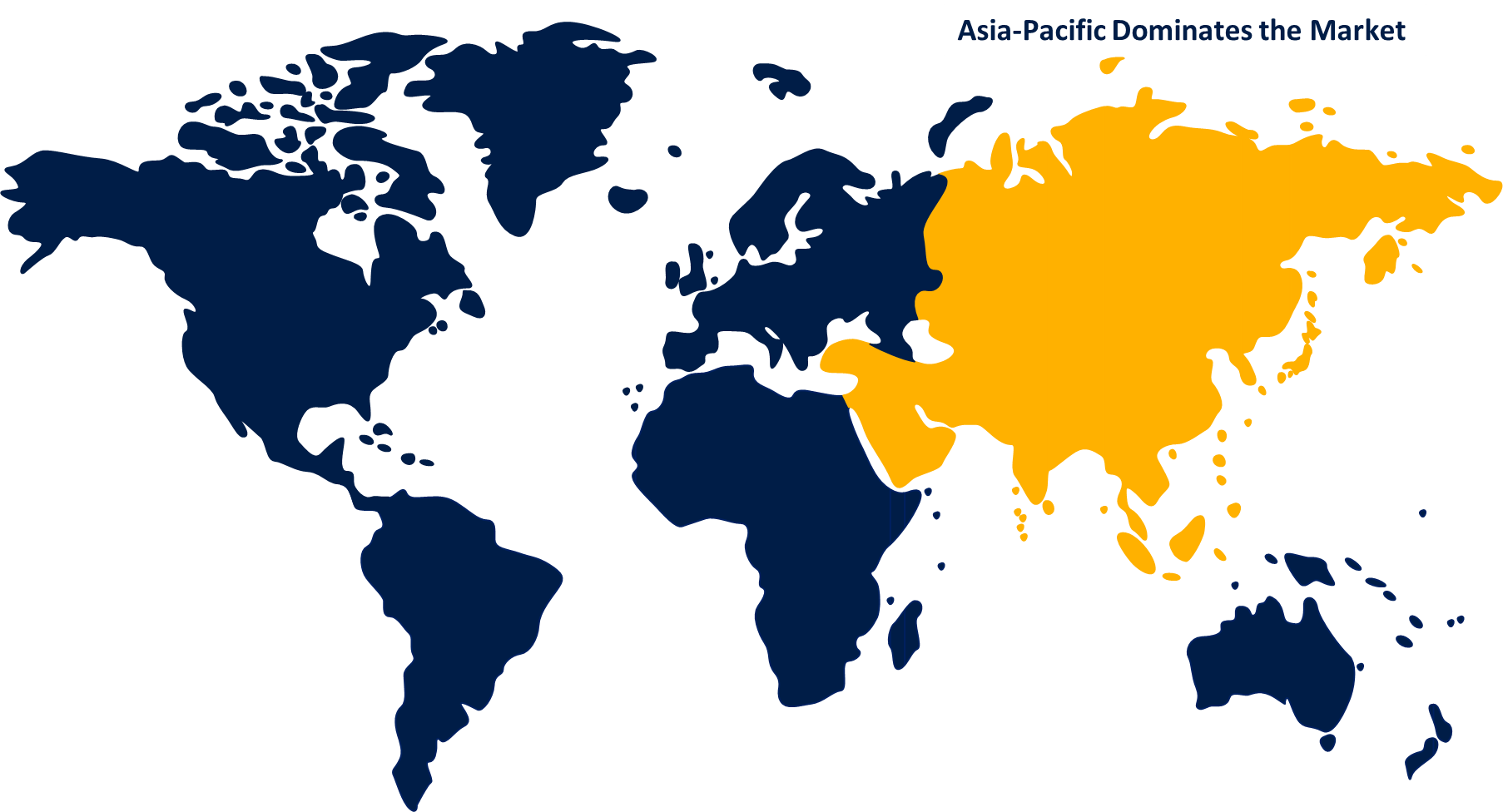 Get more details on this report -
Request Free Sample PDF
Based on region, Asia Pacific's dominance in the bearings market is attributed to robust industrialization, driven by countries like China and India, has led to substantial demand for bearings in manufacturing, automotive, and infrastructure development. Additionally, the burgeoning automotive industry, rapid urbanization, and increased construction activities have further boosted the market. Lower production costs, skilled labor availability, and a strong manufacturing base also make Asia Pacific an attractive hub for bearing production. The region benefits from Growing export opportunities, contributing to its substantial revenue share and continued market leadership.
Europe's bearings market is poised for favorable Growth in the forecast period due to the region's emphasis on sustainability and stringent regulations are driving demand for high-efficiency bearings, especially in the automotive and industrial sectors, aligning with the global push for greener technologies. The ongoing advancements in manufacturing processes and materials are enabling European manufacturers to produce innovative, high-quality bearings, enhancing their competitive edge. Additionally, Europe's well-established automotive and industrial base, coupled with a focus on technological innovation, positions it for steady market expansion in the coming years.
Recent Developments
In February 2023, Timken, a top producer of sophisticated industrial motion tools and bearings, acquired American Roller Bearing Co. (ARB), a North Carolina-based manufacturer of contemporary bearings. Products from ARB are now part of Timken's industry-leading selection of industrial bearing solutions. ARB, which has a sizable customer base and a robust aftermarket in the United States, saw sales of USD 30 million in 2022.
In November 2022, NSK Ltd. developed QuickStopBearing for air turbine hand pieces, a type of dental instrument used by dentists all over the world. The innovative QuickStopBearing from NSK improves the security and efficacy of air-driven dental instruments.
In June 2021, JTEKT Corporation created ball bearings with high muck water-resistance sealing for agricultural machines. With such developments, these machines can now function in tough working settings.
Competitive Analysis:
The report offers the appropriate analysis of the key organizations/companies involved within the global bearings market along with a comparative evaluation primarily based on their product offering, business overviews, geographic presence, enterprise strategies, segment market share, and SWOT analysis. The report also provides an elaborative analysis focusing on the current news and developments of the companies, which includes product development, innovations, joint ventures, partnerships, mergers & acquisitions, strategic alliances, and others. This allows for the evaluation of the overall competition within the market.
List of Companies:
Brammer PLC
Harbin Bearing Manufacturing Co., Ltd.
HKT Bearings Ltd.
JTEKT Corporation
NBI Bearings Europe
NSK Global
NTN Corporation
RBC Bearings Inc.
Rexnord Corporation
RHP Bearings
Schaeffler Group
SKF Corporation
The Timken Company
Key Target Audience
Market Players
Investors
End-Users
Government Authorities
Consulting and Research Firm
Venture Capitalists
Value-Added Resellers (VARs)
Market Segment
This study forecasts revenue at global, regional, and country levels from 2019 to 2032. Spherical Insights has segmented the global bearings market based on the below-mentioned segments:
Bearings Market, By Product
Ball Bearings
Roller Bearings
Plain Bearings
Others
Bearings Market, By Application
Automotive
Agriculture
Electrical
Mining & Construction
Railway & Aerospace
Automotive Aftermarket
Others
Bearings Market, Regional Analysis
North America
Europe

Germany
UK
France
Italy
Spain
Russia
Rest of Europe

Asia Pacific

China
Japan
India
South Korea
Australia
Rest of Asia Pacific

South America

Brazil
Argentina
Rest of South America

Middle East & Africa

UAE
Saudi Arabia
Qatar
South Africa
Rest of Middle East & Africa
Need help to buy this report?