Global Automotive Antenna Market Size, Share, By Vehicle (Light Duty Vehicle and Commercial Vehicle), Frequency (High, Very High, and Ultra-High), Component (Transceivers, ECU, and Others), Electric Vehicle (BEV, HEV, and PHEV), and By Region (North America, Europe, Asia-Pacific, Latin America, Middle East, and Africa), Analysis and Forecast 2021 – 2030
Industry: Automotive & Transportation
---
REPORT FORMAT

---
Worldwide Automotive Antenna Market Insights & Statistics:
The Global Automotive Antenna Market Size was valued at US$ 8.2 Bn in 2021
The Worldwide Automotive Antenna Market Share is estimated to grow at a CAGR of 4.05% from 2022 to 2030
The Worldwide Automotive Antenna Market Size is expected to reach US$ 12.2 Bn by the end of 2030
With a CAGR of 7.4% and 5.9%, respectively, South America and Asia-Pacific are the two fastest-growing regions for automobile antennas.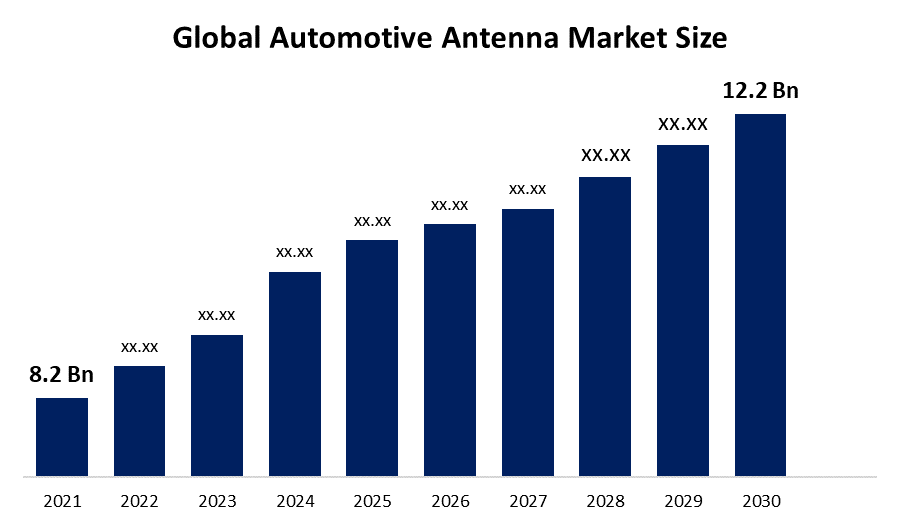 Get more details on this report -
Request Free Sample PDF
The Global Automotive Antenna Market Size was stated to be at USD 4185.30 million in 2021 and is expected to be valued at USD 7253.13 million by the year 2030 at a CAGR of 6.30%
Market Overview
Automotive antennas have gotten excellent feedback from both end-users and manufacturers over the past few years, which gave the market the much-needed boost it needed to reach the point where companies are prepared to seize the chance to corner a portion of the global automotive market.
The development of intelligent automobile antennas improved the transmission and reception of high-frequency signals and eliminated interruptions caused by the lack of strong communication infrastructure in emerging economies.
Leading worldwide automakers like Siemens, ABB, and Fuji Electric have already begun to create cutting-edge smart automotive antennas that will meet the demands of high-frequency transmission.
Global Automotive Antenna Market Drivers:
The emergence of Smart Antennas
Automotive antennas are used by car owners for a variety of things, including communication, navigation, entertainment, etc. In India, shark-blade antennae are offered even on section-level automobiles for the aforementioned uses. Numerous studies are being conducted simultaneously to create car antennas for improved signal transmission.
One of the hottest subjects in the automotive sector is fleet management, which enables several vehicles to communicate over a single channel. To do this, connected vehicles have created enhanced cellular channels that allow for continuous communication with better signals. Because they transmit high-frequency signals, smart automotive antennas are popular in the automotive industry. These antennae are one of the most important components of the car when it comes to fleet management.
Such smart antennas can carry out necessary functions like navigation, live streaming, communication, etc. even in a passenger car. This is the point at which the demand for smart automotive antennas skyrocketed in the automobile sector. It gained notoriety after being integrated with IoT devices and intelligent AI aid.
Upsurge in Cellular Applications in Connected Cars a major driving element
The term "connected vehicles" refers to automobiles that have an Internet connection, are connected to IoT devices, and have artificial intelligence (AI) support. The fact that data and information can be transferred is the main advantage of such connected automobiles. It is possible for the information to be transmitted from a vehicle to infrastructure, another vehicle, the cloud, or pedestrians. With the expansion of cellular applications in contemporary vehicles, there is an increasing demand for linked auto technology.
The creation of smart antennas and the emergence of cellular apps utilised in connected cars, which present a wide range of scaling prospects for companies and private organisations, are the two main market drivers out of the entire market deliverables.
Global Automotive Antenna Market Restraints:
Lack of Infrastructure for Smart Automotive Antennas
Utilizing such high-end automobile antennas necessitates a strong communication channel with an effective technological foundation that can meet infotainment and communication needs through improved signal communication, even in remote locations. Although the general functionality of automobile antennas is hampered by the absence of such tightly integrated communication networks, this leads to transmission losses and communication failures. The car antenna market will face challenges as a result of this infrastructural gap. However, the world's top nations are building a strong communication infrastructure to offer efficient data and information transfer through automobile antennas that might meet the demands of the coming generation.
Opportunities in the Global Automotive Antenna Market:
Widescale Technological Advances in the Automotive Antenna Market create ample opportunities
Given the cutting-edge technologies that employ radars in the automotive sector and the growing popularity of autonomous driving, the automotive antenna market presents a lucrative opportunity for growth. The identification of objects and their trajectories are redefined with the use of radar in the automotive industry. Innovative solutions to enhance radar capability have been developed by numerous businesses in recent years. A few notable innovations include the use of the 4D radar, the creation of advanced antennas using meta-materials, geographic detection, etc.
Moreover, the shark fin is an optimized circuit board that can pick up DARS, GPS, and SDARS signals and is included with the antennas. The most recent generation of automobile antennas may stream services with cutting-edge technology and built-in communication channels. Glass-mounted antennas that can enhance the capabilities of streaming services and television are other notable antenna advances. Spoiler-mounted antennas incorporate microelectronic radio and antennas while maximizing the mounting area.
It is obvious that the industry is providing a wide range of prospects for vendors and manufacturers that are functioning or willing to engage in the automotive antenna market given all these technological breakthroughs in the field of car antennas.
Automotive Antenna Market Challenges:
The Emergence of 5G Technology Poses Transmission Challenges
Technology-advanced antennas have replaced conventional antennas due to the ongoing need for an integrated communication infrastructure to address signal transmission and reception issues. The vehicle antenna market is predicted to change due to the 5G wireless communication's more effective signal transmission and reception. However, 5G technology offers a broad operating frequency of 6-100 GHz, where cable transmission has a large likelihood of signal loss.
Another problem is the constantly changing weather, which can shorten the antenna's operational lifespan and impair overall performance. Additionally, a wider frequency range increases the likelihood of radio field attenuation, which compels the signal to be received at a closer range. Reports and the Ericson study claim that 15% of the world's population began using 5G technology in 2020 and that by the end of 2023, there would be 500 million 5G subscriptions worldwide.
Segmental Analysis:
The global automotive antenna market is classified into product type and application.
Automobile antennas can be classified into three categories: fin type, rod type, and screen and film type. With a revenue of USD 312.05 million in 2021 and an anticipated increase to USD 569.84 million with a CAGR of 6.92%, screen and film-type antennas account for the lion's share of the sales of automobile antennas. The easiest-to-mount fin type, which resembles a shark fin, can receive AM/FM, 4G LTE, GPS, and satellite routes. AM/FM reception is achieved using rod-type antennae positioned on top of the vehicle.
In both passenger and commercial cars, automotive antennas are used. In spite of the Covid-19 pandemic, the passenger vehicle segment of the automobile antenna market is growing at an exceptional rate, accounting for USD 290.47 million in 2021 and projected to grow to USD 522.45 million with a CAGR of 6.74%. This is because around 53 million passenger cars were sold in the year 2020. A component that receives and sends information via signals is the automobile antenna on a passenger car. Some manufacturers of passenger cars mount these antennas on the roof of the vehicle, and other OEMs install them in the plastic spoiler because it allows for flawless signal reception.
Automotive antennas can transmit signals for geolocation, traffic updates, and data interchange in the fleet transportation system when paired with commercial cars. OEMs attach antennas on both mirrors to ensure a smooth transmission and data gathering during the fleet movement, overcoming any unintentional dangers and transmission loss.
Regional Analysis:
North America, Asia-Pacific, Europe, South America, the Middle East and Africa make up the five geographic segments that make up the worldwide automotive antenna market. With a CAGR of 7.4% and 5.9%, respectively, South America and Asia-Pacific are the two fastest-growing regions for automobile antennas.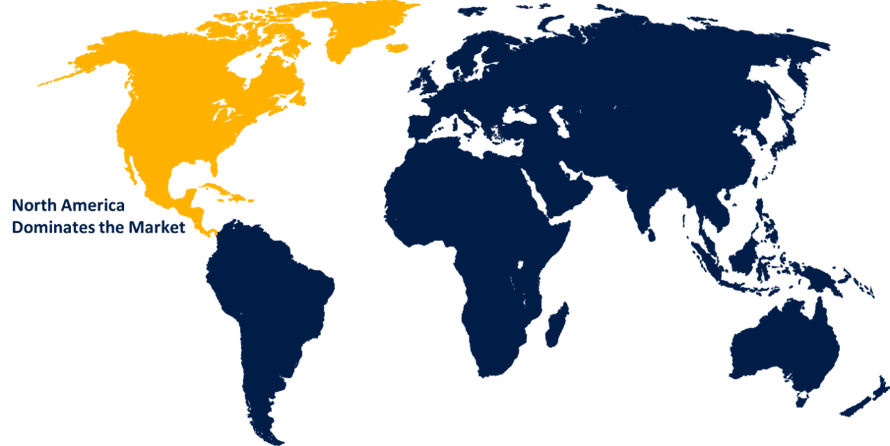 Get more details on this report -
Request Free Sample PDF
The South American area, which consists of Central South America and the Caribbean, has remarkable sales of these automotive antennas, contributing USD 175.78 million in 2021 and forecast to reach USD 334.20 million with a CAGR of 7.4% in 2030. Low-interest rates and growing consumer confidence are mostly to blame for the surge in passenger car sales in the area, which makes the automotive antenna industry a money maker.
The second-largest region in the automotive antenna market in Asia-Pacific, with perfect sales of USD 1944.21 million in 2021 and projected growth of USD 3256.90 million with a CAGR of 5.9% in 2030. One of the fastest-growing economies in the world is that of China and India, and the development of India as South Asia's automotive hub presents a lucrative sales potential.
Competitive Analysis
The Key competitors in the Automotive Antenna market are Kathrein Solutions GMBH, Harada Industry Co. Ltd, laird Connectivity, Yokogawa Electric Corporation, Fiam Energy Technology, Continental AG, and STMicroelectronics, among others.
Recent Developments by Key Players –
• In March 2021, Kathrein Solutions introduced a new item, the RRU 1400 reader, which was added to the IoT line-up of the business. The RRU 1400 makes it simple to employ IoT applications that require great performance and reliability.
• In December 2020, one of the top distributors and service providers of IoT devices, Cal-Chip Connected devices, and Laird Connectivity announced their partnership.
• To further their IoT applications, STMicroelectronics inked an M&A Agreement in July 2020 to purchase the entire share capital of BeSpoon and the IoT connection assets of Riot Micro.
• In order to concentrate on creating and implementing advanced driver assistance systems (ADAS), Continental AG expanded its activities to three European nations, namely England, Germany, and Italy, in March 2021.
Market Segmentation
By Product Type
Fin Type
Rod Type
Screen and Film Type
By Application
Passenger Vehicles
Commercial Vehicles
Regions covered
North America
Europe
Asia-Pacific
South America
The Middle East and Africa
Need help to buy this report?