Global Automotive Ambient Lighting Market Size, Share & Trends, Covid-19 Impact Analysis Report, By Application (Dashboard, Footwell, Doors), By Vehicle Type (Conventional Cars, Green Cars), By Region (North America, Europe, Asia Pacific, Middle East & Africa, South America) Industry Analysis Report, Regional Outlook, Growth Potential, Price Trends, Competitive Market Share & Forecast, 2021 – 2030
Industry: Automotive & Transportation
---
REPORT FORMAT

---
The Global Automotive Ambient Lighting Market size was valued at USD 62.01 Billion in 2021 the market is projected to grow USD 129.69 Billion in 2030, at a CAGR of 10.42% from 2021 to 2030.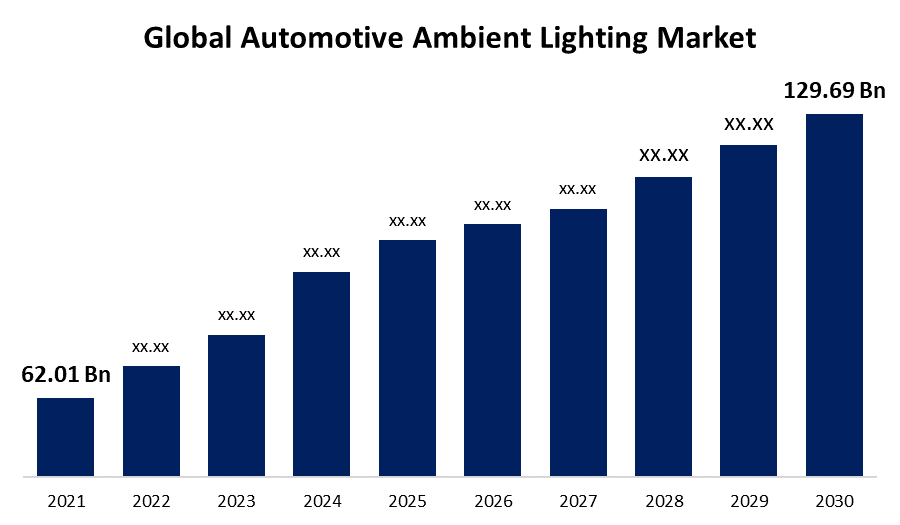 Get more details on this report -
Request Free Sample PDF
Increased sales of luxury vehicles, better automotive industry improvements, and rising demand for LEDs in automobiles are all factors contributing to market growth. Ambient lighting makes a car more appealing and contributes to an inexpensively elegant interior. Automotive ambient lighting also provides greater driver comfort, convenience, and safety. Additionally, it provides improved visual comfort for a driver to recognise the instrument panel and dashboard while driving at night. Additionally, it illuminates the passenger area to make it easier for people to read at night.
One of the major elements driving the market's growth is worries about the safety of drivers and passengers against accidents when driving at night. Additionally, interior ambient lighting contributes to creating a mood-, behavior-, and brand-focused environment in a dark automobile interior.
The need for ambient lighting in the automotive sector is also being fueled by rising knowledge of energy-efficient lighting systems, a preference for comfort and safety features, an increase in sales of ultra-luxury vehicles, and developments in interior lighting technology for automobiles. The industry is also anticipated to grow as high-end and middle-segment car sales increase.
Driving Factors
The primary driver of market expansion is the rise in sales of ultra-luxury vehicles, which is caused by rising disposable income among the populace. Another aspect contributing to the market's upward trend is the public's growing awareness of vehicle security and safety. A few other factors driving market expansion include the rising demand for conventional and environmentally friendly cars, as well as the use of LED lights in automobiles. However, the high cost connected with it is anticipated to impede market expansion.
Since consumers are gravitating toward intelligent vehicles with reduced environmental impact, the automobile industry as a whole has seen many breakthroughs in recent years, including the development of electrical and autonomous vehicles.
Global Automotive Ambient Lighting Market Report Coverage
| Report Coverage | Details |
| --- | --- |
| Base Year: | 2021 |
| Market Size in 2021: | USD 62.01 Billion |
| Forecast Period: | 2021-2030 |
| Forecast Period 2021-2030 CAGR: | 10.42% |
| 2030 Value Projection: | USD 129.69 Billion |
| Historical Data for: | 2017 - 2020 |
| No. of Pages: | 199 |
| Tables, Charts & Figures: | 143 |
| Segments covered: | By Application, By Vehicle Type, By Region |
| Companies Covered: | ederal-Mogul LLC, Grupo Antolin, OSRAM Licht AG, HELLA KGaA Hueck & Co., Koito Manufacturing Co., Ltd., Robert Bosch GmbH, General Electric, Valeo S.A., Dräxlmaier Group, Stanley Electric Co., Ltd. |
| Pitfalls & Challenges: | COVID-19 has the potential to impact the market |
Get more details on this report -
Request Free Sample PDF
Restraining Factors
The market's growth throughout the forecast period would be constrained by high OE integration costs. Additional elements like fluctuating raw material prices and component availability would raise related costs even further, making it more relevant to premium vehicles. The need for more room and rising energy costs are two issues that manufacturers must deal with. Utilizing LED technology has advantages including compactness, increased longevity, and low power usage. However, there are several drawbacks to LED technology, including limited light output (per LED) and restricted beam angles. These elements encourage manufacturers to series-connect LEDs to create an ambient lighting system that meets specifications. Costs go up as a result, and there is more demand for space.
Automotive Ambient Lighting Market Trends
Automotive ambient lighting is primarily used in luxury vehicles since it enhances the interior atmosphere, the sense of space, and the comfort of the passengers. The demand for innovative technology based on luxury cars has grown as a result of shifting lifestyles and income levels, fueling industry expansion. The demand for automotive interior ambient lighting has been driven by the increased adoption of LED lighting in the C&D segment cars as a result of the significant shift in preferences toward customization with distinctive features.
The usage of energy-efficient lighting systems is becoming more popular, and this has increased their market prominence. This made it easier for people to buy green cars, which is a major factor in the expansion of the automotive sector. Additionally, it benefits drivers and passengers by lowering the number of accidents on the road and improving safety, particularly at night. This is yet another important element that will likely contribute to the market's expansion throughout the coming years.
The market can rise as a result of the adoption of cutting-edge technology in the automotive industry in developing nations like India, China, and Japan. This segment has many potential to grow during the projection period due to rising customer investments and R&D innovation.
The price of the LED lights built into cars and the use of cutting-edge technology are two elements that have an impact on the expansion of automotive interior ambient lighting. Additionally, it is projected that throughout the forecast period, the market expansion will be hampered by the high cost of interior lighting system integration.
Manufacturers in the market face a problem as a result of growing space occupancy and energy usage. Other major issues cited by manufacturing companies in this sector are rising raw material prices and a shortage of readily available components or parts.
Segmentation
The global automotive ambient lighting market is segmented into application, vehicle type, and Region.
Global Automotive Ambient Lighting Market, By Application
Due to an increase in sales of ultra-luxury vehicles, the dashboard sector is anticipated to see the greatest CAGR in the automotive ambient lighting market over the course of the forecast period. Ambient lighting in cars makes it easier to see and recognise the buttons and controls on the instrument panel and dashboard. As a result, driving at night will no longer require manually feeding settings. Additionally, it lessens tension, vertigo, and eye strain while increasing attentiveness.
Global Automotive Ambient Lighting Market, By Vehicle Type
The automobile interior ambient lighting industry is divided into conventional vehicles and green cars based on the kind of vehicle. The term "conventional cars" refers to motor vehicles that are built primarily for the purpose of transporting people and have more than five seats, such as vans, luxury vehicles, SUVs, and sedans. The conventional automobiles sector, which accounted for the majority of revenue share in 2020, is anticipated to grow at a CAGR of roughly 7.0% over the projected period.
Battery Electric Vehicles (BEVs) and Plug-in Hybrid Electric Vehicles are examples of green automobiles (PHEVs). BEVs don't have internal combustion engines; instead, they utilise the chemical energy contained in rechargeable battery packs. They are also eco-friendly and simple to maintain. A gasoline or diesel engine, an electric motor, and a sizable rechargeable battery are all combined in PHEVs. They travel farther distances, use electricity for operation, and contribute to fuel expense savings. Due to the aforementioned advantages as well as the implementation of strict rules and requirements for the protection of the environment against greenhouse gases, there is an increase in demand for and sales of green automobiles. Over the projection period, the green car segment is anticipated to display a greater CAGR than conventional cars.
Global Automotive Ambient Lighting Market, By Region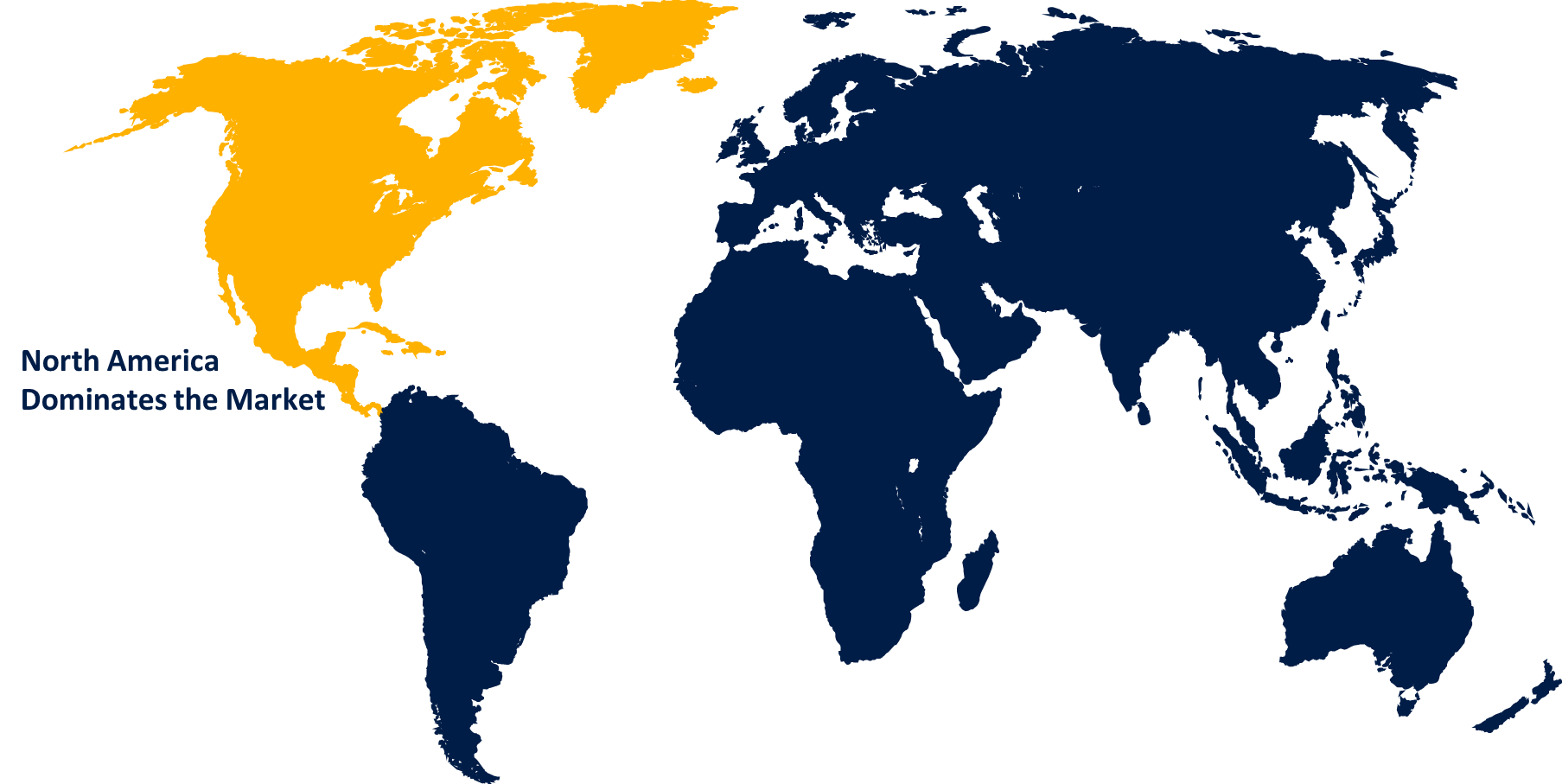 Get more details on this report -
Request Free Sample PDF
Due to factors including increased disposable income and rising new vehicle registrations, the North American area is anticipated to dominate the global industry. In terms of revenue, Europe is the second-best performing area. As the region with the biggest automobile sales over the forecast period, the Asia Pacific area is anticipated to develop at the fastest CAGR. Due to the rising demand for passenger automobiles, nations including China, Japan, India, and Indonesia are anticipated to make substantial contributions to the Asia-Pacific region.
Recent Developments in Global Automotive Ambient Lighting Market
June 2021: Hyundai Mobis introduced their "lighting grille" technology, which takes the form of an integrated LED lighting feature that illuminates the entire front grill of a car. Many different circumstances can be carried out by it, including autonomous driving mode, EV charging mode, sound beat display, welcome light function, and emergency warning light display.
December 2020: The first items in the new Ostune LED family, which includes two white LEDs with a broad colour temperature range, were unveiled by Osram Opto Semiconductors. The new LEDs offer light variations ranging from blue cold white to reddish warm white for ambient lighting in autos.
List of Key Companies
ederal-Mogul LLC
Grupo Antolin
OSRAM Licht AG
HELLA KGaA Hueck & Co.
Koito Manufacturing Co., Ltd.
Robert Bosch GmbH
General Electric
Valeo S.A.
Dräxlmaier Group
Stanley Electric Co., Ltd.
Segmentation
By Application
By Vehicle Type
Conventional Cars
Green Cars
By Region
North America
North America, by Country
North America, by Application
North America, by Vehicle Type
Europe
Europe, by Country

Germany
Russia
U.K.
France
Italy
Spain
The Netherlands
Rest of Europe

Europe, by Application
Europe, by Vehicle Type
Asia Pacific
Asia Pacific, by Country

China
India
Japan
South Korea
Australia
Indonesia
Rest of Asia Pacific

Asia Pacific, by Application
Asia Pacific, by Vehicle Type
Middle East & Africa
Middle East & Africa, by Country

UAE
Saudi Arabia
Qatar
South Africa
Rest of Middle East & Africa

Middle East & Africa, by Component
Middle East & Africa, by Vehicle Type
South America
South America, by Country

Brazil
Argentina
Colombia
Rest of South America

South America, by Application
South America, by Vehicle Type
Need help to buy this report?