Global Automotive Airbags Market Size By Position (Frontal, Side, Side Curtain, Knee), By Fabric (Coated, Non-coated), By Vehicle (Passenger Vehicles, Commercial Vehicles), By Distribution Channel (OEM, Aftermarket), Industry Analysis Report, Regional Outlook, Growth Potential, Price Trends, Competitive Market Share & Forecast, 2020 – 2030
Industry: Automotive & Transportation
---
REPORT FORMAT

---
The Global Automotive Airbags Market Size was valued at USD 59.5 billion in 2021 and is expected to reach at a CAGR of 5.1% from 2021 to 2030. The market will grow as more people use airbags and as new designs and technologies for airbags are developed. The market for automotive airbags is being driven by a number of advancements in vehicle passive safety systems as well as increased desire for safer, more effective, and convenient driving experiences. The market has grown as a result of ongoing efforts made by top companies to provide cutting-edge airbag and seatbelt technologies.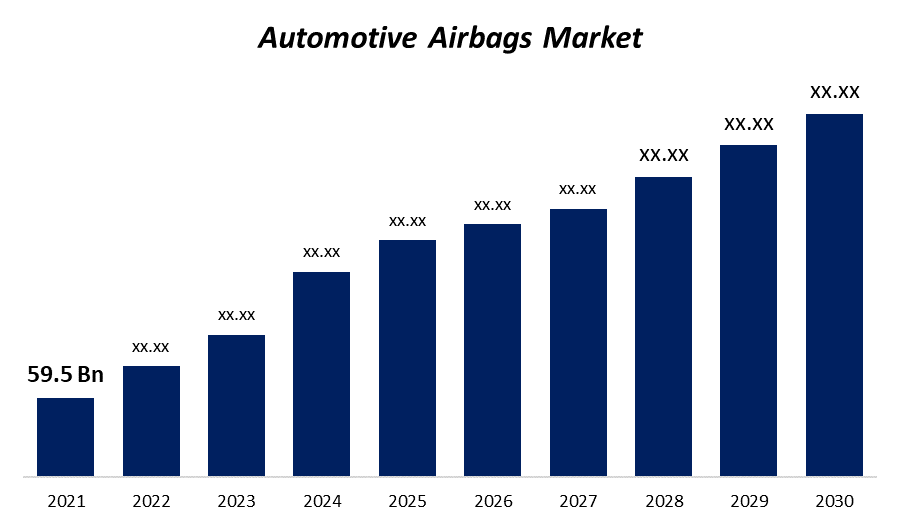 Get more details on this report -
Request Free Sample PDF
The global automotive airbags market is predicted to be driven by government initiatives such as the funding of numerous projects to improve passenger safety. For instance, automakers collaborate to coordinate bids for EU-funded research through the European Council for Automotive R&D, or EUCAR. In order to provide better safety technologies for autos, the European Commission financed the airbag valve technology, including customised safety airbags (I-Valve) project in 2017. In accordance with vehicle speed, passenger height and position, and the point of impact, the valve modulates the intensity of airbag deployment.
Driving Factors
Global population growth and increased transportation activity are both predicted to increase demand for autos. Real disposable income and the gross domestic product (GDP) have been greatly boosted by the steadily rising employment, corporate investment, and industrial productivity. The sale of passenger cars and commercial vehicles for the movement of people and commodities has increased due to the rise in per capita income and expanding industrialisation.
Leading businesses' ongoing efforts to roll out cutting-edge airbag and seatbelt innovations have contributed to market expansion. Original Equipment Manufacturers (OEMs) and suppliers have been working to develop cutting-edge products over the past few years. Many of them have had moderate success differentiating their products from those of their rivals. Additionally, they can be put into action as soon as 40 milliseconds after a crash. Another factor boosting market expansion is the installation of strict rules by governments around the world to promote road safety.
Increased consumer awareness of the value of installing passive safety equipment, like as airbags and seatbelts, is also expected to support market growth. To ensure increased road safety, governments, particularly in developing nations like China and India, often change existing laws and enact new ones.
Restraining Factors
The expansion of the market may be hampered by factors including the creation of counterfeit goods, which constitute a serious danger to the sales, revenues, and brand reputation of important companies.
Consumer safety awareness, disposable income, and the number of traffic accidents have all steadily increased. This fuels the demand for automobile airbags worldwide. High maintenance and operating costs, high replacement costs, and fluctuations in component pricing are all restraining the growth of the global automotive airbags market. This is particularly true of the market for automotive airbags. The worldwide automotive airbags market, however, is experiencing profitable growth due to the expansion of the automobile sector and strict regulatory rules for passenger safety.
Covid 19 Impact
The automotive industry has been severely disrupted by the COVID-19 epidemic. A decrease in sales volume and the suspension of manufacturing facilities are the results. In 2020, a fall in the market for both commercial and passenger automobiles is anticipated. Given that car production is directly correlated with the automotive airbags industry, this anticipated drop will be detrimental to the automotive airbags market. The development of automotive airbags will be hampered by a likely reduction in the R&D funding.
Global Automotive Airbags Market Report Coverage
| Report Coverage | Details |
| --- | --- |
| Base Year: | 2021 |
| Market Size in 2021: | $59.5 billion |
| Forecast Period: | 2021-2030 |
| Forecast Period 2021-2030 CAGR: | 5.1% |
| Historical Data for: | 2017-2020 |
| No. of Pages: | 226 |
| Tables, Charts & Figures: | 118 |
| Segments covered: | By Position, By Fabric, By Vehicle, By Distribution Channel, By Region, |
| Companies Covered: | ZF Friedrichshafen AG, Aptiv PLC, Autoliv Inc, Robert Bosch, Takata Corporation, DENSO Corporation, Continental AG, Ningbo Joyson Electronic Corp, Hyundai Mobis, Toshiba Corporation |
| Pitfalls & Challenges: | COVID-19 has the potential to impact the global market |
Get more details on this report -
Request Free Sample PDF
Segmentation
The global automotive airbags market is segmented into Position, Fabric, Vehicle, Distribution Channel, and Region.
Global Automotive Airbags Market, By Position
The global adoption of frontal airbag systems for driver safety by regulatory authorities is expected to fuel the predicted 5.5% growth of the frontal automobile airbags market through 2026. In addition, automakers are introducing car models with dual front airbags, which protect the driver and front-seat passenger.
Global Automotive Airbags Market, By Fabric
Due to the system's improved thermal characteristics, the coated fabric airbag segment holds the majority of the market share. When an accident occurs, the airbags inflate with a much larger volume of air to provide more protection. Passengers may be at greater danger of burning as a result of this circumstance. Additionally, the airbag fabric must be able to endure this heat without tearing. Due to their strong thermal resistance capabilities, thin coatings made of silicone and neoprene will shield fabric from heat.
Global Automotive Airbags Market, By Vehicle
Due to the fact that airbags are now a standard installation in the majority of passenger vehicles, the passenger vehicle segment generated about USD 49 million in income. The adoption of passenger vehicles is being supported by rising disposable income and the availability of simpler financing options. The performance of vehicle safety has been improved by a number of initiatives by the vehicle makers. Dual airbags are a typical feature in the latest vehicle models offered by the manufacturers.
Global Automotive Airbags Market, By Distribution Channel
The dominance of the OEMs in the global market share is due to expanding vehicle production and awareness of vehicle safety. To raise the safety ratings of new vehicle models, the automakers are implementing a number of airbag systems, including frontal, side curtain, and knee airbags. Additionally, airbag systems that deploy more quickly in collisions at high speeds are being developed by industry players. Investment in R&D to create new airbag technologies, including exterior airbags, will open up further chances to increase safety performance and their revenue share.
Global Automotive Airbags Market, By Region
Due to strict vehicle safety standards established by transportation authorities throughout the globe, North America accounted for over 18% of revenue in the automotive airbags market in 2019. Since September 1998, it has been required in the United States for passenger cars and light commercial vehicles to have airbags. In addition, the NHTSA has established severe crash tests, such as the Oblique Moving Deformable Barrier (OMDB), which automakers must pass in order to get a 5-star safety certification.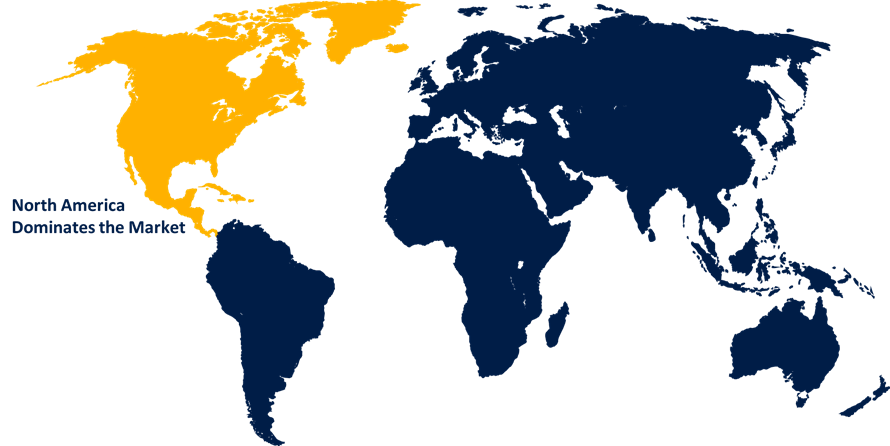 Get more details on this report -
Request Free Sample PDF
The development of a new airbag module in the region, combined with government-funded safety initiatives, is expected to drive the Europe market to demonstrate significant growth during the projected period. Additionally, because of the growing need for airbags and the increase in car sales, manufacturers of airbag raw materials are investing in the area to build manufacturing facilities.
Recent Developments in Global Automotive Airbags Market
January 2021: Location controllers were developed by Aptiv PLC, a global technology business that enables the future of mobility. They transport high-speed and dynamic data between sensors and components while separating input/output (I / O) from a car's computer.
December 2021: The purchase of the Hyundai Autron sector of the conductor has been authorised, according to a statement from Hyundai Mobis' board of directors. Hyundai Mobis and Hyundai Autron executed a transfer agreement for all workers and associated assets after getting the permit. The purchase price was $122 million (KRW 133.2 billion). Hyundai Mobis hopes to broaden its integrated control technology and advance the design, development, and validation of automotive operators with this acquisition.
List of Key Market Players
ZF Friedrichshafen AG
Aptiv PLC
Autoliv Inc
Robert Bosch
Takata Corporation
DENSO Corporation
Continental AG
Ningbo Joyson Electronic Corp
Hyundai Mobis
Toshiba Corporation
Segmentation
By Position
Frontal
Side
Side curtain
Knee
By Fabric
By Vehicle
Passenger vehicles
Commercial vehicles
By Distribution Channel
By Region
North America
North America, by Country
North America, by Position
North America, by Fabric
North America, by Vehicle
North America, by Distribution Channel
Europe
Europe, by Country

Germany
Russia
U.K.
France
Italy
Spain
The Netherlands
Rest of Europe

Europe, by Position
Europe, by Fabric
Europe, by Vehicle
Europe, by Distribution Channel
Asia Pacific
Asia Pacific, by Country

China
India
Japan
South Korea
Australia
Indonesia
Rest of Asia Pacific

Asia Pacific, by Position
Asia Pacific, by Fabric
Asia Pacific, by Vehicle
Asia Pacific, by Distribution Channel
Middle East & Africa
Middle East & Africa, by Country

UAE
Saudi Arabia
Qatar
South Africa
Rest of Middle East & Africa

Middle East & Africa, by Position
Middle East & Africa, by Fabric
Middle East & Africa, by Vehicle
Middle East & Africa, by Distribution Channel
South America
South America, by Country

Brazil
Argentina
Colombia
Rest of South America

South America, by Position
South America, by Fabric
South America, by Vehicle
South America, by Distribution Channel
Need help to buy this report?