Asia Pacific Doors Market Size, Share, and COVID-19 Impact Analysis, By Product (Hinged, Sliding, French), By Material (uPVC, Door, Metal), By Application (Residential, Commercial), and Asia Pacific Doors Market Insights, Industry Trend, Forecasts to 2032
Industry: Construction & Manufacturing
---
REPORT FORMAT

---
Asia Pacific Doors Market Insights Forecasts to 2032
The Asia Pacific Doors Market Size was valued at USD XX Million in 2022.
The Market Size is Growing at a CAGR of 4.3% from 2022 to 2032
The Asia Pacific Doors Market Size is expected to reach USD XX Million by 2032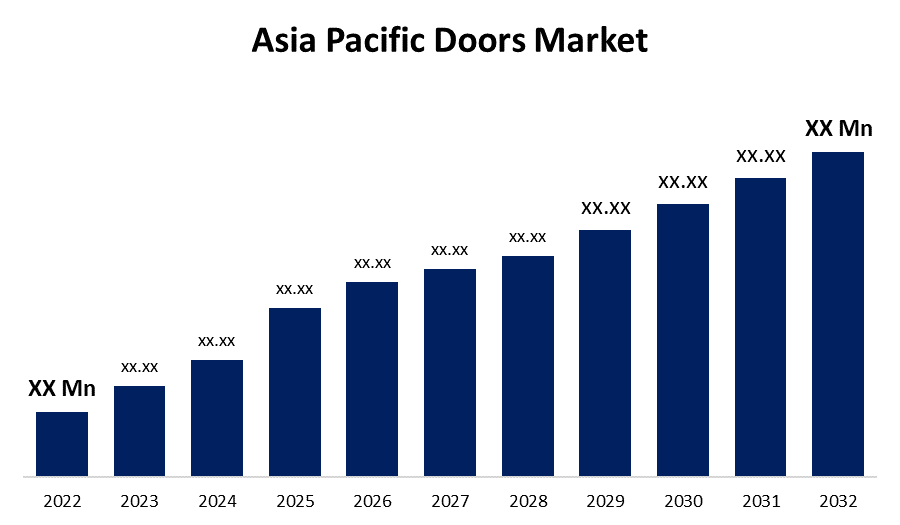 Get more details on this report -
Request Free Sample PDF
The Asia Pacific Doors Market size was valued at USD XX Million in 2022. The Asia Pacific Doors Market is projected to exceed USD XX Million by 2032, Growing at a CAGR of 4.3% from 2022 to 2032. As the region continues to experience economic growth and urban development, the doors market is expected to remain dynamic, with opportunities for innovation and market expansion.
Market Overview
The Asia Pacific doors market refers to the vast industry involved in the production, distribution, and installation of various types of doors throughout the Asia Pacific region. These doors provide access, security, insulation, and aesthetics in residential, commercial, industrial, and institutional structures. This dynamic market includes a wide variety of door types, such as interior doors, exterior doors, fire-rated doors, garage doors, sliding doors, and more, all of which are designed to meet specific functional and architectural requirements. The Asia Pacific doors market is notable for its sheer size and diversity, reflecting the region's diverse building practices, architectural styles, and climatic conditions. It includes both the demand for doors in new construction projects, such as homes, offices, and industrial facilities, as well as the replacement and renovation segment, which includes upgrading or replacing existing doors. Key drivers of this market include rapid urbanization, a burgeoning construction industry, a growing middle class with increasing disposable income, and evolving consumer preferences for stylish and technologically advanced door solutions. Additionally, factors like energy efficiency, security concerns, and adherence to building codes and safety standards play pivotal roles in shaping the Asia Pacific doors market.
Report Coverage
This research report categorizes the market for Asia Pacific doors market based on various segments and regions and forecasts revenue growth and analyzes trends in each submarket. The report analyses the key growth drivers, opportunities, and challenges influencing the Asia Pacific doors market. Recent market developments and competitive strategies such as expansion, product launch, and development, partnership, merger, and acquisition have been included to draw the competitive landscape in the market. The report strategically identifies and profiles the key market players and analyses their core competencies in each sub-segment of the Asia Pacific doors market.
Asia Pacific Doors Market Report Coverage
| Report Coverage | Details |
| --- | --- |
| Base Year: | 2022 |
| Market Size in 2022: | USD XX Million |
| Forecast Period: | 2022-2032 |
| Forecast Period 2022-2032 CAGR: | 4.3% |
| 2032 Value Projection: | USD XX Million |
| Historical Data for: | 2018-2021 |
| No. of Pages: | 200 |
| Tables, Charts & Figures: | 120 |
| Segments covered: | By Product, By Material, By Application |
| Companies Covered: | Lixil Group Corporation, ATIS Group, Pella Corporation, Stollar Systemy Okienne, WEN Holdings, Jarida Group, Century Doors, MASCO Corporation, YFK Corporation, Entrematic Group AB, And other key venders |
| Pitfalls & Challenges: | COVID-19 Empact,Challenges, Future, Growth, & Analysis |
Get more details on this report -
Request Free Sample PDF
Driving Factors
Asia Pacific is experiencing substantial urbanization, with millions of people moving from rural to urban areas. This urban growth fuels the construction of residential and commercial buildings, driving demand for doors. The region's construction industry is expanding rapidly, driven by infrastructure development, commercial real estate projects, and residential housing. Doors are essential components in construction, leading to increased demand. A rising middle-class population in many Asian countries is driving increased homeownership and demand for housing solutions, including doors that offer security, aesthetics, and functionality. As incomes rise, consumers are more willing to invest in higher-quality and technologically advanced doors, including those with smart features, better security, and energy efficiency.
Restraining Factors
Economic fluctuations and uncertainties can affect consumer and business spending on construction projects, leading to delayed or canceled door installations. The doors market is sensitive to fluctuations in the prices of raw materials such as steel, wood, and glass. Price spikes can impact production costs and pricing.
Market Segment
The Asia Pacific Doors Market share is segmented into product and material.
The hinged segment is expected to grow at the rapid pace in the Asia Pacific doors market over the forecast period.
The Asia Pacific doors market is divided by product into Hinged, Sliding, and French. Among these, the Hinged segment is expected to grow at the rapid pace in the Asia Pacific doors market over the forecast period. Hinged doors, also known as swing doors, are doors that are hinged to door frames and can swing open and closed. They are among the most common and traditional door types, and they can be used both inside and outside. Hinged doors offer ease of operation, a wide range of design options, and effective sealing, making them suitable for areas where a tight seal is needed, such as entrance doors.
The uPVC segment is expected to grow at the rapid pace in the Asia Pacific doors market during the forecast period.
Based on the material, the Asia Pacific doors market is classified into uPVC, Door, and Metal. Among these, the uPVC segment is expected to grow at the rapid pace in the Asia Pacific doors market during the forecast period. uPVC (unplasticized polyvinyl chloride) doors are made from a type of plastic that is known for its durability, low maintenance, and resistance to moisture, making it ideal for doors exposed to outdoor elements. uPVC doors are known for their low maintenance requirements, resistance to rotting or warping, and energy efficiency. They are often chosen for their ability to provide good insulation and security.
Competitive Analysis:
The report offers the appropriate analysis of the key organizations/companies involved within the Asia Pacific doors market along with a comparative evaluation primarily based on their product offering, business overviews, geographic presence, enterprise strategies, segment market share, and SWOT analysis. The report also provides an elaborative analysis focusing on the current news and developments of the companies, which includes product development, innovations, joint ventures, partnerships, mergers & acquisitions, strategic alliances, and others. This allows for the evaluation of the overall competition within the market.
List of Key Companies
Lixil Group Corporation
ATIS Group
Pella Corporation
Stollar Systemy Okienne
WEN Holdings
Jarida Group
Century Doors
MASCO Corporation
YFK Corporation
Entrematic Group AB
Others
Key Target Audience
Market Players
Investors
End-users
Government Authorities
Consulting and Research Firm
Venture capitalists
Value-Added Resellers (VARs)
Market Segment
This study forecasts revenue at, regional, and country levels from 2019 to 2032. Spherical Insights has segmented the Asia Pacific Doors Market based on the below-mentioned segments:
Asia Pacific Doors Market, By Product
Asia Pacific Doors Market, By Material
Asia Pacific Doors Market, By Application
Need help to buy this report?