Global Argon Gas Market Size, Share, and COVID-19 Impact Analysis, By Form (Gas, Liquid), By End-Use (Chemicals, Healthcare, Food & Beverages, Electronics, Energy, Manufacturing, Others), and By Region (North America, Europe, Asia-Pacific, Latin America, Middle East, and Africa), Analysis and Forecast 2022 – 2032
Industry: Specialty & Fine Chemicals
---
REPORT FORMAT

---
Global Argon Gas Market Insights Forecasts to 2032
The Global Argon Gas Market Size was valued at USD 11.48 Billion in 2022.
The Market Size is growing at a CAGR of 5.9% from 2022 to 2032
The Worldwide Argon Gas Market Size is expected to reach USD 20.37 Billion by 2032
North America is expected to Grow the fastest during the forecast period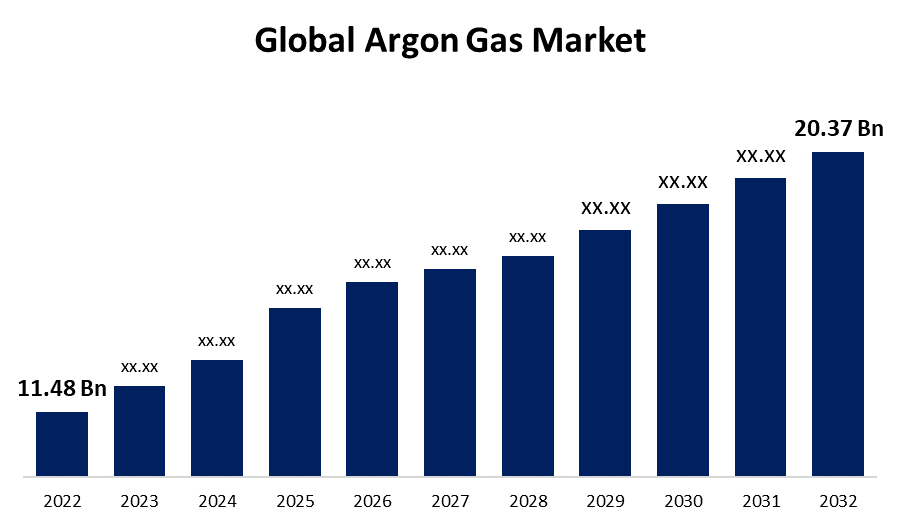 Get more details on this report -
Request Free Sample PDF
The Global Argon Gas Market Size is expected to reach USD 20.37 Billion by 2032, at a CAGR of 5.9% during the forecast period 2022 to 2032.
Argon gas is a noble gas that is colorless, odorless, and tasteless. Following nitrogen and oxygen, it is the 3rd most abundant gas in the Earth's atmosphere. Argon is thought to be safe for both the environment and humans. It provides no health danger when inhaled in small amounts because it is non-toxic and inert. However, if argon displaces oxygen in enclosed environments, it can cause asphyxiation. Among frequent applications include welding, where it functions as a shielding gas to prevent oxidation, and light bulb production, where it prevents the filament from burning out. Argon is often utilized in welding procedures as a shielding gas. Its inert nature shields the weld area from ambient gases like as oxygen and nitrogen. This ensures that the welding process is contaminant-free, resulting in stronger welds. Argon is a versatile element with multiple applications in a variety of sectors due to its unique qualities and abundance. Its inert character, combined with its ability to produce protective conditions in a variety of processes, makes it extremely valuable in the present-day industrial world. Its adaptability and one-of-a-kind features make it an essential component of the contemporary age, contributing to breakthroughs in technology, industry, and research. The demand for argon gas is predicted to expand as industrial growth and technological advancements proliferate around the globe.
Global Argon Gas Market Report Coverage
| Report Coverage | Details |
| --- | --- |
| Base Year: | 2022 |
| Market Size in 2022: | USD 11.48 Billion |
| Forecast Period: | 2022-2032 |
| Forecast Period 2022-2032 CAGR: | 5.9% |
| 2032 Value Projection: | USD 20.37 Billion |
| Historical Data for: | 2018-2021 |
| No. of Pages: | 200 |
| Tables, Charts & Figures: | 110 |
| Segments covered: | By Form, By End-Use, By Region and COVID-19 Impact Analysis. |
| Companies Covered: | Air Liquide, KBR, BASF SE, Linde Gas LLC, AMCS Corporation, Praxair, Matheson Tri-Gas Inc., Iwatani Corporation, Advanced Specialty Gases Inc., Messer Group GmbH, National Industrial Gas Plants, and other key vendors. |
| Pitfalls & Challenges: | COVID-19 Empact, Challenge, Future, Growth, & Analysis |
Get more details on this report -
Request Free Sample PDF
Driving Factors
The argon gas market is positioned to rise as industries throughout the world continue to expand and innovate, reflecting the gas's unique benefits and versatility in various areas. The growing need for argon gas in numerous applications such as metalworking, electronic devices, energy, transportation, lighting, and healthcare is a primary factor driving the expansion of this sector. Furthermore, with increased urbanization, growth in infrastructure, and rising industrialization around the world, there is a fast-increasing demand for argon gas. likewise, as companies implement more stringent quality and safety standards, demand for high-quality argon gas has increased, particularly in fields such as food packaging and pharmaceuticals. In addition, the drive for greener manufacturing methods and sustainable manufacturing procedures has emphasized argon's non-polluting nature, which has contributed to its market growth.
Additionally, with rising technologies, particularly in areas such as electronics, aerospace, and sustainable construction, the argon gas market is predicted to rise rapidly. The welding sector is a major consumer of argon gas. The market has benefited from increased demand for high-quality welding in industries such as automotive, aerospace, and construction. The push for energy-saving measures has resulted in the usage of argon gas in thermal insulation, particularly in double-glazed windows. This application lowers heat transfer, resulting in more energy-efficient structures, that align with global environmental objectives. Furthermore, rising industrialization in developing nations, combined with increased infrastructure expenditure, is expected to open up new prospects for the argon gas market over the projection period.
Market Segmentation
By Form Insights
The gas segment is dominating the market with the largest revenue share over the forecast period.
On the basis of form, the global argon gas market is segmented into the gas and liquid. Among these, the gas segment is dominating the market with the largest revenue share of 57.6% over the forecast period. The more generally known type of argon is gas argon. This dominance can be due to the extensive use of argon gas in welding, which is one of argon's most important application segments. Gaseous argon is the most common option in such applications since it may be used directly without vaporization. It is normally kept and transported as a gas, typically in compressed gas cylinders or bulk containers. Because of its inert nature and great purity, the gas argon is widely used in a variety of industries. Furthermore, other applications of gaseous argon, such as lighting and window insulation, further solidify its market dominance.
By End-Use Insights
The electronics & manufacturing segment accounted for the largest revenue share of more than 37.2% over the forecast period.
On the basis of end-use, the global argon gas market is segmented into chemicals, healthcare, food & beverages, electronics, energy, manufacturing, and others. Among these, the electronics & manufacturing segment is dominating the market with the largest revenue share of 37.2% over the forecast period. A key driver of argon gas consumption is their extensive and regular demand for high-purity argon for activities like as welding and semiconductor fabrication. Argon is essential in the electronics sector, particularly in the production of semiconductors and thin films. It is also utilized in plasma etching and sputtering targets. The electronics industry is a large consumer of argon gas, especially given the global rise of the semiconductor industry. Furthermore, the most common application of argon in production is metal fabrication. It serves as a shielding gas in welding, preventing oxidation and ensuring the weld's integrity. Given the prevalence of welding in many manufacturing processes, the manufacturing sector, particularly metal fabrication, is one of the greatest consumers of argon gas.
Regional Insights
Asia Pacific dominates the market with the largest market share over the forecast period.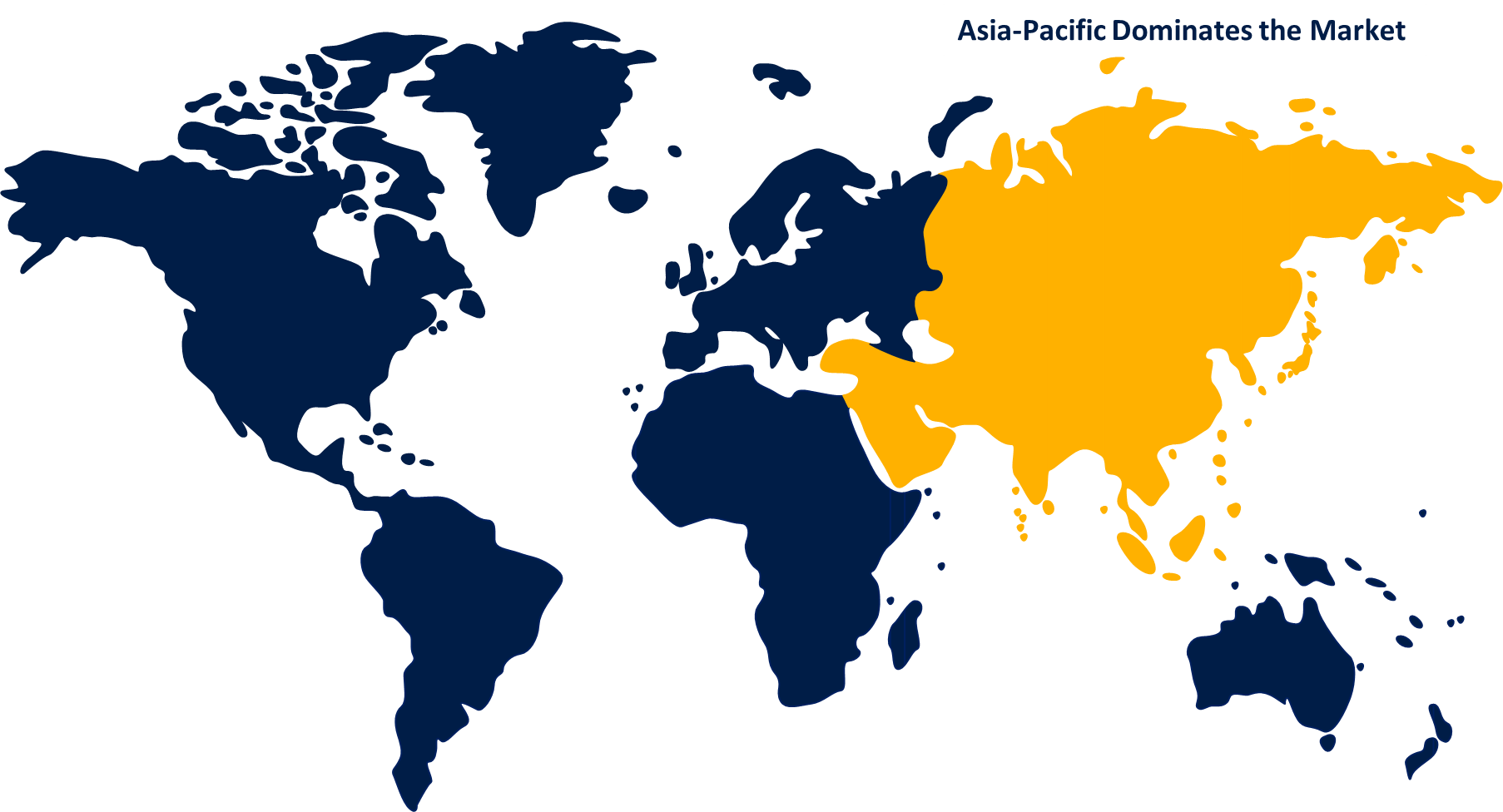 Get more details on this report -
Request Free Sample PDF
Asia Pacific is dominating the market with more than 35.7% market share over the forecast period. This dominance is driven by growing industrialization, as well as significant expansion in major sectors such as construction, automotive, and electronics, notably in nations such as China and India. In addition, the relocation of production bases to the Asia Pacific region due to cost savings drives up demand for argon gas. The electronics industry, which uses argon gas in operations such as semiconductor production, is rapidly increasing in Asia Pacific countries. Furthermore, growing urbanization, favorable government policies for manufacturers, and rising foreign direct investments (FDI) in the industrial sector are all contributing to the growth of the Asia Pacific argon gas market.
North America, on the contrary, is expected to grow the fastest during the forecast period. With its strong industrial sector and technical infrastructure, North America has a high demand for argon gas. The availability of a widely recognized manufacturing base, particularly in the United States and Canada, promotes argon gas demand, especially for welding applications. Furthermore, technical improvements, a focus on sustainable and energy-efficient solutions, and expenditures in research and development all contribute to the demand for argon gas in North America.
The Europe market is expected to register a substantial CAGR growth rate during the forecast period. With its developed industrial sector and emphasis on sustainable production processes, Europe has a consistent demand for argon gas. The European Union's emphasis on R&D, its shift toward sustainable and energy-efficient production, and high-quality standards have all contributed to stable argon gas demand.
List of Key Market Players
Air Liquide
KBR
BASF SE
Linde Gas LLC
AMCS Corporation
Praxair
Matheson Tri-Gas Inc.
Iwatani Corporation
Advanced Specialty Gases Inc.
Messer Group GmbH
National Industrial Gas Plants
Key Market Developments
On May 2023, INOX Air Products has signed a contract with Tata Steel to install two Air Separation Units (ASUs) at Tata Steel's Meramandali Plant in Odisha's Dhenkanal district. In addition to Nitrogen and Argon, each ASU will be able to create 1800 tons of Oxygen per day. The ASUs will also be able to produce rare gases.
On April 2022, Linde plc has signed into a new long-term arrangement to supply bulk industrial gases to a major space launch company based in Florida. The air separation facility in Mims, Florida, will be the source of liquid argon delivery to the client. Linde plc intends to increase production capacity by up to 50%, with the extra capacity expected to be operational in 2023.
Market Segment
This study forecasts revenue at global, regional, and country levels from 2020 to 2032. Spherical Insights has segmented the Global Argon Gas Market based on the below-mentioned segments:
Argon Gas Market, Form Analysis
Argon Gas Market, End-Use Analysis
Chemicals
Healthcare
Food & Beverages
Electronics
Energy
Manufacturing
Others
Argon Gas Market, Regional Analysis
North America
Europe

Germany
Uk
France
Italy
Spain
Russia
Rest of Europe

Asia Pacific

China
Japan
India
South Korea
Australia
Rest of Asia Pacific

South America

Brazil
Argentina
Rest of South America

Middle East & Africa

UAE
Saudi Arabia
Qatar
South Africa
Rest of Middle East & Africa
Need help to buy this report?