Global AI In Medical Writing Market Size, Share, and COVID-19 Impact Analysis, By Type (Clinical Writing, Type Writing, Scientific Writing, and Others), By End-Use (Medical Devices, Pharmaceutical, Biotechnology, and Others), By Region (North America, Europe, Asia-Pacific, Latin America, Middle East, and Africa), Analysis and Forecast 2022 – 2032
Industry: Healthcare
---
REPORT FORMAT

---
Global AI In Medical Writing Market Insights Forecasts to 2032
The AI in medical writing Market Size was valued at USD 0.63 Billion in 2022.
The Market Size is growing at a CAGR of 11.5% from 2023 to 2032
The worldwide AI in medical writing market is expected to reach USD 1.87 Billion by 2032
Asia-Pacific is expected to grow fastest during the forecast period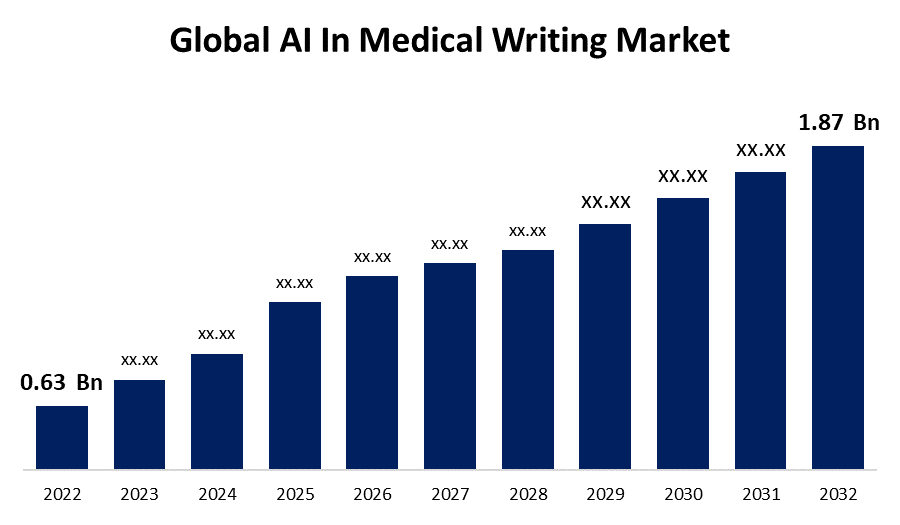 Get more details on this report -
Request Free Sample PDF
The Global AI In Medical Writing Market Size is expected to reach USD 1.87 Billion by 2032, at a CAGR of 11.5% during the forecast period 2022 to 2032.
Market Overview
AI is revolutionizing medical writing by streamlining and enhancing various aspects of the field. Natural language processing (NLP) algorithms are being employed to automate the generation of clinical reports, research papers, and patient documentation, significantly reducing the time and effort required for these tasks. AI-driven tools assist in literature review processes, helping researchers identify relevant studies and extract pertinent information efficiently. Furthermore, machine learning models are aiding in the development of predictive models for disease diagnosis and patient outcomes, revolutionizing clinical decision support systems. AI also plays a crucial role in language translation, enabling medical information to be disseminated globally. However, while AI in medical writing offers numerous advantages, ensuring data security, accuracy, and ethical considerations remain essential challenges to address in this rapidly evolving landscape.
Report Coverage
This research report categorizes the market for AI in medical writing market based on various segments and regions and forecasts revenue growth and analyzes trends in each submarket. The report analyses the key growth drivers, opportunities, and challenges influencing the ai in medical writing market. Recent market developments and competitive strategies such as expansion, product launch, and development, partnership, merger, and acquisition have been included to draw the competitive landscape in the market. The report strategically identifies and profiles the key market players and analyses their core competencies in each sub-segments of the AI in medical writing market.
Global AI In Medical Writing Market Report Coverage
| Report Coverage | Details |
| --- | --- |
| Base Year: | 2022 |
| Market Size in 2022: | USD 0.63 Billion |
| Forecast Period: | 2022-2032 |
| Forecast Period 2022-2032 CAGR: | 11.5% |
| 2032 Value Projection: | USD 1.87 Billion |
| Historical Data for: | 2019-2021 |
| No. of Pages: | 200 |
| Tables, Charts & Figures: | 120 |
| Segments covered: | COVID-19 Impact Analysis, By Type, By End-Use, By Region |
| Companies Covered: | Trilogy Writing & Consulting GmbH, Cactus Communications, Certara's, Freyr, GENINVO, Indegene, Jasper.ai, Morula health, Parexel International Corporation, Symbiance AI Inc., Turacoz, Webicina Kft., Yseop S.A.S, and Other Key vendors |
| Pitfalls & Challenges: | COVID-19 Empact,Challenges, Future, Growth, & Analysis |
Get more details on this report -
Request Free Sample PDF
Driving Factors
The AI in medical writing market is being propelled by several key drivers, each contributing to its rapid growth and adoption. The ever-increasing volume of medical data and literature necessitates efficient tools for processing and extracting valuable insights. AI-powered natural language processing (NLP) algorithms excel at parsing through vast datasets, automating tasks such as literature reviews, data extraction, and summarization, saving time and resources for researchers and medical writers. The demand for precision and accuracy in medical documentation and reports is a critical driver. AI systems can reduce errors in medical writing by providing real-time grammar and style suggestions, ensuring compliance with regulatory and industry standards. This precision is crucial in maintaining the integrity of clinical trial documentation, patient records, and research papers. The rising importance of evidence-based medicine is pushing AI to assist in systematic reviews and meta-analyses. AI-driven tools can identify and extract relevant information from a plethora of research papers, making it easier for healthcare professionals to make informed decisions based on the latest evidence. The increasing complexity of medical terminology and jargon necessitates AI-powered language translation and interpretation tools. These AI systems enable global collaboration among medical researchers, allowing them to access and understand medical literature in multiple languages. Moreover, the pressing need for personalized medicine and predictive analytics is driving the integration of AI into clinical decision support systems. Machine learning models can analyze patient data to predict disease outcomes, recommend treatment plans, and identify potential drug interactions, enhancing patient care and safety. Furthermore, the COVID-19 pandemic accelerated the adoption of AI in medical writing, as researchers urgently sought ways to analyze and communicate vast amounts of data related to the virus's spread and treatment. This has underscored the importance of AI in responding to public health crises. The cost-effectiveness of AI solutions is a compelling factor. Automated medical writing processes reduce labor costs and increase productivity, making them an attractive option for healthcare organizations looking to optimize resources.
Restraining Factors
Despite its rapid growth, the AI in medical writing market faces several notable restraints. Privacy concerns and data security issues remain paramount, particularly when handling sensitive patient information. Ethical dilemmas regarding AI-generated content, including potential biases and the need for human oversight, raise questions about the quality and trustworthiness of automated medical writing. Regulatory challenges and compliance with evolving healthcare standards are additional hurdles, as AI systems must adhere to stringent guidelines. Moreover, the initial investment required for implementing AI solutions and the need for specialized training to utilize these tools effectively can act as barriers, limiting access for smaller healthcare organizations and professionals.
Market Segmentation
In 2022, the typewriting segment accounted for around 30.6% market share
On the basis of the type, the global AI in medical writing market is segmented into clinical writing, typewriting, scientific writing, and others. The typewriting segment has emerged as the dominant force in the market, commanding the largest revenue share due to its widespread applicability and diverse user base. Typewriting, as a fundamental skill, remains a cornerstone in various industries, including administrative, legal, educational, and professional sectors. Moreover, the enduring use of typewriters in official documentation and paperwork ensures a consistent demand for typewriting services. The segment's prominence is further enhanced by its adaptation to modern technology, with typewriting services transitioning into digital formats and embracing AI-enhanced tools, allowing for increased efficiency and accuracy while maintaining its integral role in document creation and management.
The pharmaceutical segment held the largest market with more than 32.5% revenue share in 2022
Based on the end-use, the global AI in medical writing market is segmented into medical devices, pharmaceutical, biotechnology, and others. The pharmaceutical segment has firmly established its dominance in the market, capturing the largest revenue share due to several compelling factors. The pharmaceutical industry is characterized by extensive research, stringent documentation requirements, and the critical need for accurate medical writing, including clinical trial reports, drug documentation, regulatory submissions, and scientific publications. As a result, pharmaceutical companies heavily rely on professional medical writing services and increasingly integrate AI-powered tools to enhance efficiency and compliance. Furthermore, the continual development of new drugs and therapies, coupled with stringent regulatory standards, ensures a sustained demand for medical writing services in this sector, solidifying its significant revenue share.
Regional Segment Analysis of the AI In Medical Writing Market
North America (U.S., Canada, Mexico)
Europe (Germany, France, U.K., Italy, Spain, Rest of Europe)
Asia-Pacific (China, Japan, India, Rest of APAC)
South America (Brazil and the Rest of South America)
The Middle East and Africa (UAE, South Africa, Rest of MEA)
North America dominated the market with more than 31.5% revenue share in 2022.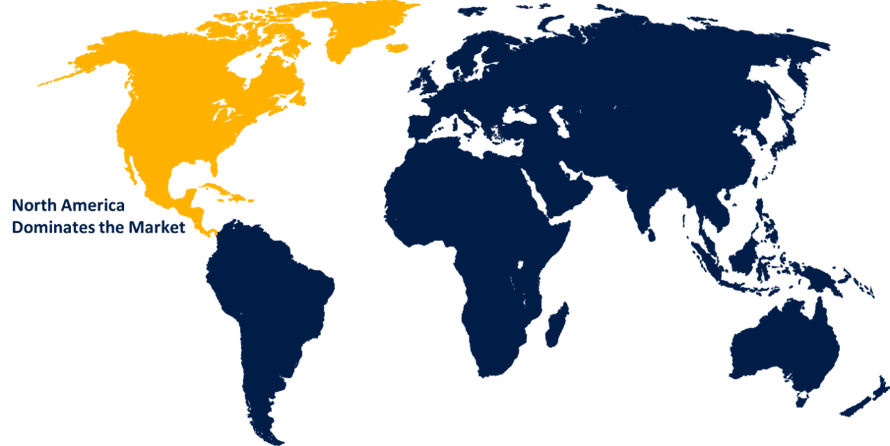 Get more details on this report -
Request Free Sample PDF
Based on region, North America has asserted its dominance in the market, capturing a significant revenue share due to robust healthcare infrastructure, including top-tier research institutions and advanced medical facilities, which facilitates the integration and adoption of AI in medical writing. Furthermore, North America is home to many leading AI and tech companies specializing in healthcare solutions, driving innovation and development in the sector. Additionally, favorable regulatory frameworks and a high level of awareness and acceptance of AI technologies in healthcare contribute to its market leadership. These factors collectively position North America as a leader in AI adoption for medical writing, ensuring its prominent revenue share.
Asia Pacific is projected to experience the fastest growth in the AI in medical writing market over the forecast period for several compelling reasons. The region is witnessing a burgeoning healthcare sector, with increasing investments in research and development. Moreover, the vast patient population and the rising demand for healthcare services have created a strong imperative for efficient medical writing solutions, where AI can play a pivotal role. Additionally, the region's expanding digital infrastructure, rapid technological advancements, and a growing awareness of AI's potential benefits in healthcare are expected to drive significant adoption. These factors collectively position Asia Pacific for rapid market growth in the coming years.
Recent Developments
In June 2022, Yesop, an AI and Natural Language Processing (NLP) firm, collaborated with Sanofi to improve the automation of safety reporting. As a result, these corporate partnerships are expected to fuel market expansion throughout the projection period.
In March 2021, ClinicalTrials.gov listed 454,928 active recruiting trials. Leading pharmaceutical, medical device, and biotechnology businesses devote a significant amount of their income to R&D efforts in order to maintain their market position through the release of game-changing innovations.
Competitive Analysis:
The report offers the appropriate analysis of the key organizations/companies involved within the global AI in medical writing market along with a comparative evaluation primarily based on their product offering, business overviews, geographic presence, enterprise strategies, segment market share, and SWOT analysis. The report also provides an elaborative analysis focusing on the current news and developments of the companies, which includes product development, innovations, joint ventures, partnerships, mergers & acquisitions, strategic alliances, and others. This allows for the evaluation of the overall competition within the market.
List of Companies:
Trilogy Writing & Consulting GmbH
Cactus Communications
Certara's
Freyr
GENINVO
Indegene
Jasper.ai
Morula health
Parexel International Corporation
Symbiance AI Inc.
Turacoz
Webicina Kft.
Yseop S.A.S
Key Target Audience
Market Players
Investors
End-Users
Government Authorities
Consulting and Research Firm
Venture Capitalists
Value-Added Resellers (VARs)
Market Segment
This study forecasts revenue at global, regional, and country levels from 2019 to 2032. Spherical Insights has segmented the global AI in medical writing market based on the below-mentioned segments:
AI In Medical Writing Market, By Type
Clinical Writing
Type Writing
Scientific Writing
Others
AI In Medical Writing Market, By End-Use
Medical Devices
Pharmaceutical
Biotechnology
Others
AI In Medical Writing Market, Regional Analysis
North America
Europe

Germany
UK
France
Italy
Spain
Russia
Rest of Europe

Asia Pacific

China
Japan
India
South Korea
Australia
Rest of Asia Pacific

South America

Brazil
Argentina
Rest of South America

Middle East & Africa

UAE
Saudi Arabia
Qatar
South Africa
Rest of Middle East & Africa
Need help to buy this report?