Global Aerosol Market Size, Share, and COVID-19 Impact Analysis, By Material (Steel, Aluminum, and Others), By Type (Bag-In-Valve and Standard), By Application (Personal Care, Household, Automotive & Industrial, Food, Paints, Medical, and Others), By Region (North America, Europe, Asia-Pacific, Latin America, Middle East, and Africa), Analysis and Forecast 2022 – 2032
Industry: Chemicals & Materials
---
REPORT FORMAT

---
Global Aerosol Market Insights Forecasts to 2032
The aerosol Market Size was valued at USD 72.50 Billion in 2022.
The Market Size is growing at a CAGR of 6.2% from 2022 to 2032
The world wild aerosol Market Size is expected to reach USD 132.31 Billion by 2032
Asia-Pacific is expected to grow fastest during the forecast period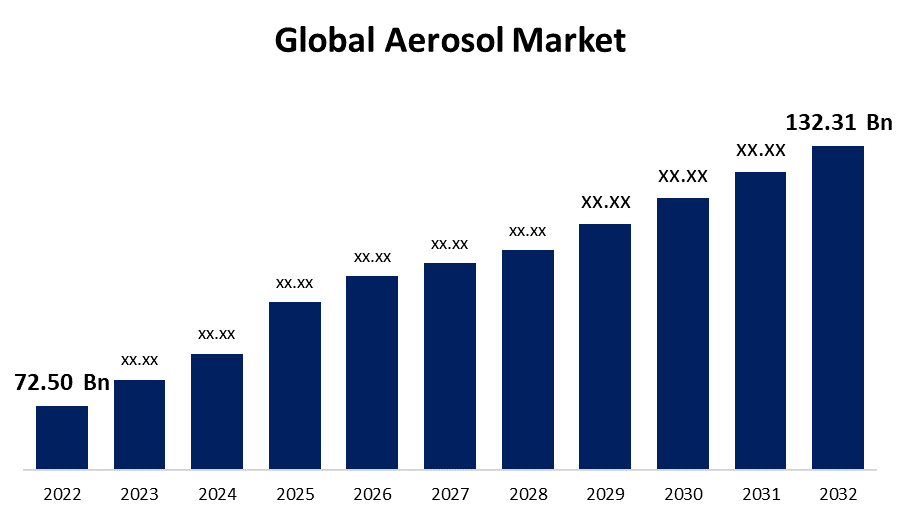 Get more details on this report -
Request Free Sample PDF
The Global Aerosol Market Size is expected to reach USD 132.31 Billion by 2032, at a CAGR of 6.2% during the forecast period 2022 to 2032.
Market Overview
Aerosols are tiny particles or droplets suspended in the air, typically ranging in size from a few nanometers to several micrometers. They can be natural, like dust, pollen, or volcanic ash, or human-made, such as industrial emissions and spray products. Aerosols play crucial roles in various scientific, environmental, and industrial contexts. In the atmosphere, they impact weather patterns and climate by scattering and absorbing sunlight and serving as cloud condensation nuclei. Aerosol research is essential for understanding air quality and its effects on human health, as they can carry pollutants and allergens. Additionally, aerosol technology has applications in fields like pharmaceuticals, cosmetics, and food packaging, where precise control of particle size and distribution is crucial. Understanding and managing aerosols are vital for both environmental preservation and technological advancement.
Report Coverage
This research report categorizes the market for aerosol market based on various segments and regions and forecasts revenue growth and analyzes trends in each submarket. The report analyses the key growth drivers, opportunities, and challenges influencing the aerosol market. Recent market developments and competitive strategies such as expansion, product launch, and development, partnership, merger, and acquisition have been included to draw the competitive landscape in the market. The report strategically identifies and profiles the key market players and analyses their core competencies in each sub-segments of the aerosol market.
Global Aerosol Market Report Coverage
| Report Coverage | Details |
| --- | --- |
| Base Year: | 2022 |
| Market Size in 2022: | USD 72.50 Billion |
| Forecast Period: | 2022-2032 |
| Forecast Period 2022-2032 CAGR: | 6.2% |
| 2032 Value Projection: | USD 132.31 Billion |
| Historical Data for: | 2019-2021 |
| No. of Pages: | 200 |
| Tables, Charts & Figures: | 120 |
| Segments covered: | COVID-19 Impact Analysis, By Material, By Type, By Application, By Region |
| Companies Covered: | Henkel AG & Co., KGaA, S. C. Johnson & Son, Inc., Procter & Gamble, Unilever, Honeywell International Inc., Akzo Nobel N.V., Beiersdorf AG, Estee Lauder Inc., Oriflame Cosmetics Global SA, PPG Industries, Inc., and Other Key vendors |
| Pitfalls & Challenges: | COVID-19 Empact,Challenges, Future, Growth, & Analysis |
Get more details on this report -
Request Free Sample PDF
Driving Factors
The global aerosol market is influenced by a multitude of drivers that collectively shape its dynamics and growth trajectory, such as the rising consumer demand for convenient and eco-friendly packaging solutions has driven the aerosol market's expansion. Aerosol containers offer ease of use and product preservation, making them popular in various industries, including personal care, cosmetics, and household products. Additionally, the pharmaceutical sector leverages aerosols for drug delivery, further boosting market growth. The increasing urbanization and population growth have led to greater consumption of aerosol-based products in emerging economies. As more people move to urban areas, there is a surge in demand for deodorants, air fresheners, insect repellents, and other aerosol-driven products, propelling market expansion. Moreover, technological advancements in aerosol packaging, such as improved valve systems and propellants, have enhanced product performance, safety, and sustainability. This innovation-driven evolution has attracted both manufacturers and consumers, fostering market growth. Furthermore, the ongoing focus on sustainability and environmental concerns is prompting the development of eco-friendly aerosol products. This shift towards propellants with lower greenhouse gas emissions and recyclable packaging materials aligns with global efforts to reduce the carbon footprint, positioning the aerosol market to meet changing consumer preferences and regulatory requirements. Another significant driver is the healthcare sector's growing reliance on aerosols for drug administration. The demand for inhalable medications for respiratory conditions like asthma and COPD has surged, bolstering the aerosol market. The COVID-19 pandemic has underscored the importance of aerosol-based disinfectants and sanitizers, driving a temporary but significant surge in demand. While this spike may taper off post-pandemic, it has highlighted aerosols' versatility in responding to public health crises.
Restraining Factors
The global aerosol market faces environmental concerns and stringent regulations surrounding the use of certain propellants, such as chlorofluorocarbons (CFCs), due to their ozone-depleting potential, have necessitated the development of alternative, eco-friendly solutions. Additionally, rising raw material costs and supply chain disruptions can impact production and pricing. The market is also susceptible to economic downturns, which can reduce consumer spending on non-essential aerosol products. Furthermore, public perception regarding the environmental impact of aerosol packaging and disposal can pose challenges, pushing companies to adopt sustainable practices and materials to mitigate these concerns.
Market Segmentation
In 2022, the aluminum segment accounted for around 58.6% market share
On the basis of the material, the global aerosol market is segmented into steel, aluminum, and others. The aluminum segment's dominance in the market is attributed to being highly favored for their lightweight yet robust properties, offering excellent product protection against external factors like light and air. Furthermore, aluminum is fully recyclable, aligning with growing environmental concerns and regulations. This sustainability aspect has made aluminum aerosol packaging increasingly popular, particularly in regions with stringent environmental standards. Its corrosion resistance and aesthetic appeal have also contributed to its market leadership. Thus, the aluminum segment commands the largest revenue share in the aerosol market, reflecting its combination of durability, recyclability, and consumer appeal.
The standard segment held the largest market with more than 75.2% revenue share in 2022
Based on the type, the global aerosol market is segmented into bag-in-valve and standard. The standard segment's domination in the market can be attributed to its widespread utility and cost-effectiveness. Standard aerosol packaging offers a versatile solution for various products, including household cleaners, automotive products, industrial chemicals, and more. It is characterized by its conventional and straightforward design, making it suitable for a wide range of industries. Manufacturers benefit from economies of scale due to its mass production, while consumers appreciate its familiarity and affordability. Its durability and reliability further contribute to its market dominance. As a result, the standard segment secures the largest revenue share in the aerosol market, reflecting its enduring popularity and practicality.
The personal care segment held the largest market with more than 32.4% revenue share in 2022
Based on the application, the global aerosol market is segmented into personal care, household, automotive & industrial, food, paints, medical, and others. The personal care segment's dominance in the market can be attributed to its consistent and growing demand in the cosmetics and personal care industry. Consumers worldwide rely heavily on aerosol-based products for items like deodorants, hair sprays, and skincare products due to their convenient application and precise dosage. Moreover, continuous innovation in product formulations, scents, and packaging within the personal care sector has driven its prominence, catering to evolving consumer preferences and trends. With a vast and loyal customer base, the personal care segment consistently contributes the largest revenue share in the aerosol market, cementing its position as a key driver of industry growth.
Regional Segment Analysis of the Aerosol Market
North America (U.S., Canada, Mexico)
Europe (Germany, France, U.K., Italy, Spain, Rest of Europe)
Asia-Pacific (China, Japan, India, Rest of APAC)
South America (Brazil and the Rest of South America)
The Middle East and Africa (UAE, South Africa, Rest of MEA)
Europe dominated the market with more than 35.4% revenue share in 2022.
Get more details on this report -
Request Free Sample PDF
Based on region, Europe's dominance in the aerosol market can be attributed to a well-established consumer base with a high demand for aerosol-based products, ranging from personal care items to household cleaners. Furthermore, stringent environmental regulations in Europe have encouraged the development and adoption of eco-friendly aerosol technologies, aligning with the growing global emphasis on sustainability. European manufacturers have also been at the forefront of innovation in aerosol packaging and propellant technologies, contributing to the region's competitive advantage. This combination of market demand, regulatory compliance, and technological leadership has allowed Europe to secure the largest revenue share in the global aerosol market.
Asia Pacific region is experiencing rapid growth in the aerosol market due to the population with increasing disposable income, leading to greater consumer demand for aerosol-based products, including personal care items, household goods, and insect repellents. Moreover, expanding urbanization in countries like China and India has further boosted aerosol consumption. Additionally, the region's robust manufacturing capabilities, coupled with a growing focus on innovation and sustainability, position it as a hub for aerosol production and technological advancement, contributing to its status as one of the fastest-growing regions in the forecast period.
Recent Developments
In December 2022, Honeywell said that its facility in Baton Rouge, Louisiana, has doubled the manufacturing capacity of Honeywell Solstice ze (HFO-1234ze), an ultra-low-GWP and energy-efficient solution compared to other current technologies. Solstice ze is used in foam insulation, aerosol propellants, refrigeration and air conditioning systems, and other applications.
In August 2023, The acquisition of Sherwin-Williams' Chinese Decorative Paints branch by AkzoNobel has been completed. The acquisition will help the company's position in China by allowing us to further segment the market and expand our reach beyond the premium category.
Competitive Analysis:
The report offers the appropriate analysis of the key organizations/companies involved within the global Aerosol Market along with a comparative evaluation primarily based on their product offering, business overviews, geographic presence, enterprise strategies, segment market share, and SWOT analysis. The report also provides an elaborative analysis focusing on the current news and developments of the companies, which includes product development, innovations, joint ventures, partnerships, mergers & acquisitions, strategic alliances, and others. This allows for the evaluation of the overall competition within the market.
List of Companies:
Henkel AG & Co., KGaA
S. C. Johnson & Son, Inc.
Procter & Gamble
Unilever
Honeywell International Inc.
Akzo Nobel N.V.
Beiersdorf AG
Estee Lauder Inc.
Oriflame Cosmetics Global SA
PPG Industries, Inc.
Key Target Audience
Market Players
Investors
End-Users
Government Authorities
Consulting and Research Firm
Venture Capitalists
Value-Added Resellers (VARs)
Market Segment
This study forecasts revenue at global, regional, and country levels from 2019 to 2032. Spherical Insights has segmented the global aerosol market based on the below-mentioned segments:
Aerosol Market, By Material
Aerosol Market, By Type
Aerosol Market, By Application
Personal Care
Household
Automotive & Industrial
Food
Paints
Medical
Others
Aerosol Market, Regional Analysis
North America
Europe

Germany
UK
France
Italy
Spain
Russia
Rest of Europe

Asia Pacific

China
Japan
India
South Korea
Australia
Rest of Asia Pacific

South America

Brazil
Argentina
Rest of South America

Middle East & Africa

UAE
Saudi Arabia
Qatar
South Africa
Rest of Middle East & Africa
Need help to buy this report?