Global Agrigenomics Market Size, Share, and COVID-19 Impact Analysis, By Objective (DNA Extraction & Purification, RNA/Agrigenomics, Genotyping, Gene Expression Profiling, GMO/Trait Purity Testing, Marker-Assisted Selection, Others), By Sequencer Type (Sanger Sequencing, Illumina HSEQ Family, Solid Sequencers, Pacbio Sequencers, Other Sequencers), By Application (Crops, Livestock), and By Region (North America, Europe, Asia-Pacific, Latin America, Middle East, and Africa), Analysis and Forecast 2021 – 2030
Industry: Agriculture
---
REPORT FORMAT

---
Global Agrigenomics Market Insights Forecasts to 2030
The Global Agrigenomics Market Size was valued at USD 3.27 Billion in 2021
The Market is Growing at a CAGR of 9.3% from 2021 to 2030
The Worldwide Agrigenomics Market size is expected to reach USD 7.30 Billion by 2030
Asia Pacific is expected to grow the fastest during the forecast period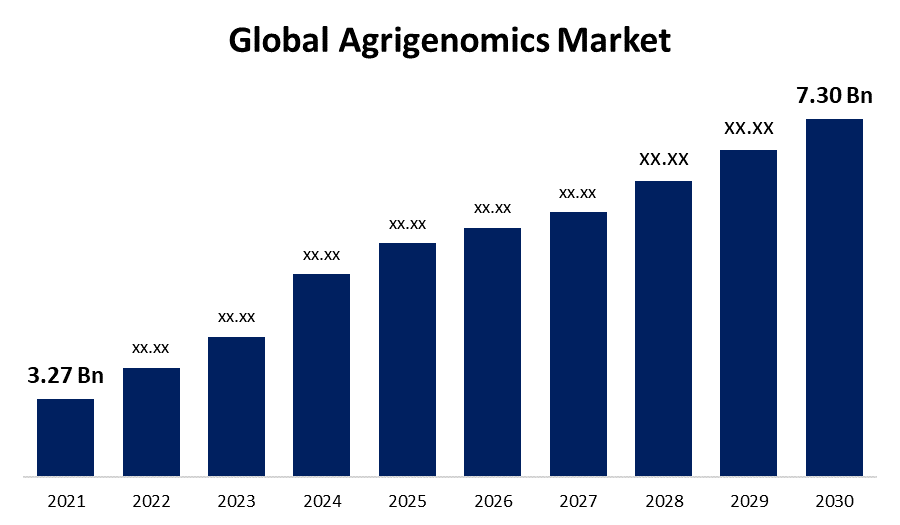 Get more details on this report -
Request Free Sample PDF
The Global Agrigenomics Market is anticipated to reach USD 7.30 Billion by 2030, at a CAGR of 9.3% during the predicted period from 2021 to 2030. Rising agrigenomics applications in routine agriculture activities, an increase in DNA/RNA sequencing project grants, and technological advancements in genomics and agriculture are some of the key drivers anticipated to propel market expansion over the forecast period. Other factors driving the growth of the global agrigenomics market include rising food consumption, increased use of advanced tools and techniques for genome research testing, and continuing to invest in research and development by government-funded organizations.
Market Overview
Agrigenomics is the study of livestock and crop genetic makeup, as well as how genes influence crop production. The use of genomics in agriculture contributes to increased productivity and sustainability in livestock and crop production. Significant technological advancements are supporting the trend away from single-gene sequencing and toward whole-genome sequencing. Agriculture has sustained and improved human life for countless generations, but a changing environment and rapidly increasing population are increasing the demand for more productive and sustainable farming. The use of genomics in agriculture, also known as Agrigenomics, has and will continue to fuel sustainable productivity while also offering solutions to the biggest challenges of feeding the worldwide growing population. Farmers, breeders, and researchers can use advanced technology to easily identify genetic markers linked to desirable traits, informing cultivation and breeding decisions while farming. Other factors influencing global agrigenomics market growth include the growing global population burden and rising demand for dairy products and livestock. The introduction of technological advancements in genome databases by livestock breeders, as well as an increase in demand from breeders for high quality livestock animals, are some of the factors assisting the market's growth.
Report Coverage
This research report categorizes the market for the global agrigenomics market based on various segments and regions and forecasts revenue growth and analyzes trends in each submarket. The report analyses the key growth drivers, opportunities, and challenges influencing the agrigenomics market. Recent market developments and competitive strategies such as expansion, product launch, and development, partnership, merger, and acquisition have been included to draw the competitive landscape in the market. The report strategically identifies and profiles the key market players and analyses their core competencies in each sub-segment of the agrigenomics market.
Driving Factors
Rapid advances in the functional genomics sector, such as the adoption of massively parallel sequencing technologies and the development of protocols to efficiently analyze cellular behaviour at the molecular level, are driving the global market. In terms of applied genomics in agriculture, molecular marker-assisted crop breeding has proven to be more effective than conventional breeding programmes in terms of increasing crop selection scope, speed, and efficiency. Advanced genome characterization techniques have increased crop quality and yield while using less fertilizer, water, and pesticides. Novel livestock technologies are known to significantly improve desirable traits such as milk yield, meat quality, and reproductive life.
Restraining Factors
Due to budgetary limitations, the implementation of automated systems in agrigenomics research has been relatively low when compared to other fields such as human genetics. Thus, despite being aware of the benefits of using automated systems, researchers in developing countries continue to prefer manual methods over automated ones. Similarly, investment in such systems is difficult for academic research laboratories in emerging economies. As a result, developed-country penetration of these high-cost automated systems is limited, hampering the potential of future market growth in agrigenomics research automation.
Market Segmentation
The Global Agrigenomics Market share is categorized into objective, sequencer type, and application.
The marker-assisted selection is anticipated to hold the largest market over the forecast period.
On the basis of objective, the global agrigenomics market is classified into DNA extraction & purification, RNA/agrigenomics, genotyping, gene expression profiling, GMO/trait purity testing, marker-assisted selection, and others. Among these, the marker-assisted selection in the agrigenomcis market is estimated to account for the largest share over the study period. Because it improves breeding efficiency and effectiveness significantly more than conventional breeding, marker-assisted selection is projected to hold the greatest market share. Because of the strong research support and presence of key technology providers in the US, the marker-assisted selection is gaining popularity in North America.
The Illumina HSEQ sequencing segment held the largest share of the agrigenomics market.
Based on the sequencer type, the global agrigenomics market is differentiated into sanger sequencing, Illumina HSEQ family, solid sequencers, pacbio sequencers, and other sequencers. Among these, the Illumina HSEQ sequencing tests accounted for the largest share of the agrigenomics market in 2021. It is a very powerful sequencing system that can handle multiple applications. Illumina HSEQ sequencing is a powerful tool for agrigenomics research that allows researchers to study the genetic makeup of crops and livestock at a high level of detail. By identifying genetic markers associated with desirable traits, researchers can develop new varieties of crops and livestock that are more productive, disease-resistant, and environmentally sustainable. Despite the presence of other next-generation sequencers, Sanger sequencing ranked second among research institutions and service providers in 2021 due to low machine costs.
The crops segment is expected to hold the highest share in the agrigenomcis market during the predicted period.
Based on the application, the global agrigenomics market is categorized into crops and livestock. Among these, the crops segment is expected to hold the highest share in the agrigenomcis market during the predicted period. In the crop segment of agrigenomics, researchers are using genomics technologies to study the genetic makeup of different crops such as wheat, rice, corn, soybeans, and others. By identifying genetic markers associated with desirable traits such as yield, disease resistance, and quality, researchers can develop new varieties that are better suited to different growing conditions and can help feed a growing global population. CRISPR (Clustered Regularly Interspaced Short Palindromic Repeats) tools are accelerating development because they are cost-effective and offer advanced features like multiplexing.
Regional Segment Analysis of the Agrigenomics Market
North America (U.S., Canada, Mexico)
Europe (Germany, France, U.K., Italy, Spain, Rest of Europe)
Asia-Pacific (China, Japan, India, Rest of APAC)
South America (Brazil and the Rest of South America)
The Middle East and Africa (UAE, South Africa, Rest of MEA)
North America is expected to hold the largest share of the market during the predicted timeframe.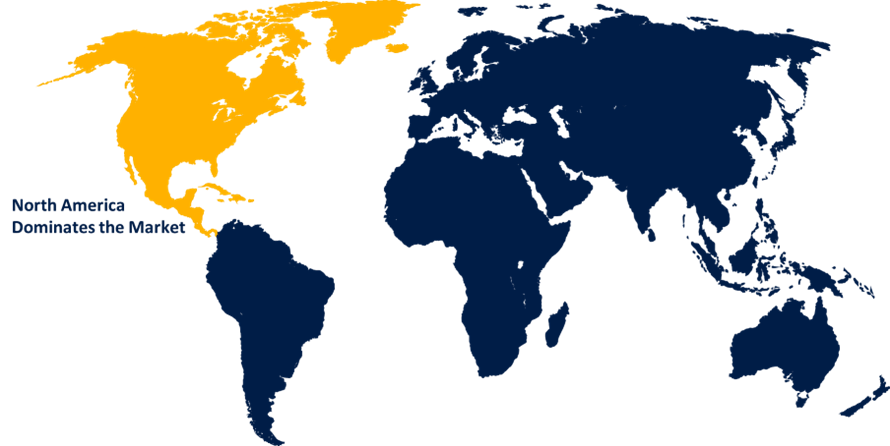 Get more details on this report -
Request Free Sample PDF
North America is currently the largest market for agrigenomics, accounting for a significant share of global revenue. This is due to several factors including a strong agricultural sector, advanced research infrastructure, and supportive government policies. The United States is a major player in this market, with many companies and research institutions conducting cutting-edge research in agrigenomics. Because of advances in sequencing and molecular breeding used in applications such as food and agriculture, animal health, and public health, the United States accounted for the largest country-level share in 2021.
Asia Pacific is another important region for the agrigenomics market, with several countries such as China, India, and Japan investing in research and development in this area. The region has a large population and increasing demand for food, which is driving growth in the agricultural sector. Additionally, many companies are partnering with local research institutions to develop new varieties of crops and livestock that are better suited to local growing conditions. Rapid technological advancement towards agricultural improvement boosts market growth in the Asia Pacific developing countries.
Competitive Analysis:
The report offers the appropriate analysis of the key organizations/companies involved within the global agrigenomics market along with a comparative evaluation primarily based on their product offering, business overviews, geographic presence, enterprise strategies, segment market share, and SWOT analysis. The report also provides an elaborative analysis focusing on the current news and developments of the companies, which includes product development, innovations, joint ventures, partnerships, mergers & acquisitions, strategic alliances, and others. This allows for the evaluation of the overall competition within the market.
List of Key Companies
Agilent Technologies, Inc.
Eurofins Scientific SE
LGC Limited
SciGenom Labs Pvt. Ltd
Illumina
Tecan Genomics, Inc.
Zoetis' Inc
Monsanto Company
Nufarm Limited
Biogenetic Services
Affymetrix
Genotypic Technology Pvt Ltd
Thermo Fisher Scientific
GalSeq SRL
Edico Genome
Key Target Audience
Market Players
Investors
End-users
Government Authorities
Consulting And Research Firm
Venture capitalists
Value-Added Resellers (VARs)
Recent Developments
In February 2021, Thermo Fisher Scientific Inc. purchased cell sorting technology from Propel Labs, a wholly owned subsidiary of SIDIS Corp. Thermo Fisher intends to expand its cell analysis and cell medical intervention research businesses by combining flow cytometry expertise, R&D capabilities, and engineering capability.
In February 2023, Singrow, a Singapore-based agri-genomics firm with a proprietary genomics technology platform, has just announced the release of the world's first climate-resilient strawberry variety. The novel strawberry variety is the first application of this transformative technology. The company is currently developing other crop segments to address food security challenges around the world, particularly in Asia and Africa, which have been impacted by climate change.
Market Segment
This study forecasts revenue at global, regional, and country levels from 2019 to 2030. Spherical Insights has segmented the Global Agrigenomics Market based on the below-mentioned segments:
Global Agrigenomics Market, By Objective
DNA Extraction & Purification
RNA/Agrigenomics
Genotyping
Gene Expression Profiling
GMO/Trait Purity Testing
Market-Assisted Selection
Others
Global Agrigenomics Market, By Sequencer Type
Sanger Sequencing
Illumina HSEQ Family
Solid Sequencers
Pacbio Sequencers
Other Sequencers
Global Agrigenomics Market, By Application
Global Agrigenomics Market, By Region
North America
Europe

Germany
Uk
France
Italy
Spain
Russia
Rest of Europe

Asia Pacific

China
Japan
India
South Korea
Australia
Rest of Asia Pacific

South America

Brazil
Argentina
Rest of South America

Middle East & Africa

UAE
Saudi Arabia
Qatar
South Africa
Rest of Middle East & Africa
Need help to buy this report?