---
---
Global Wi-Fi Chipset Market Worth $25 Billion By 2030
According to a research report published by Spherical Insights & Consulting, the Global Wi-Fi Chipset Market Size to grow from USD 18 billion in 2021 to USD 25 billion by 2030, at a Compound Annual Growth Rate (CAGR) of 4% during the forecast period. Due to elements including the rising demand for WIGIG wireless technology, the market is growing. The global Wi-Fi Chipset Market study offers a thorough analysis of the market.
Get more details on this report -
Request Free Sample PDF
Browse 55 market data Tables and 65 Figures spread through 225 Pages and in-depth TOC on Global Wi-Fi Chipset Market Size, Share, and COVID-19 Impact Analysis, By Product (Smartphones, Tablet, PCS Access Points, Others), By Band (Single Band, Dual Band, TRI Band), by Region (North America, Europe, Asia-Pacific, Latin America, Middle East, and Africa), Analysis and Forecast 2021 – 2030
Wi-Fi has replaced traditional internet connectivity in practically every industry. The services that are easily accessible, straightforward, and rapid thanks to technology advancements are what attract customers most to wireless connectivity. Wi-Fi is currently the most widely used consumer electronics technology. There are currently numerous Wi-Fi connection spots in every house and business. Every subscriber has two or more devices with Wi-Fi capabilities, including a laptop, a smartphone, and a smartwatch. As a result, each access point must be able to support more Wi-Fi connections each year. Multiple Wi-Fi connections would require additional channels and better spectral efficiency to quickly connect such a large number of devices.
The demand for Wi-Fi technologies that support MU-MIMO and gigabit data transfer speeds, such as 802.11ax, 802.11ay, and 802.11ac Wave 2, which operate across a 60GHz band, is predicted to rise as a result of this factor. A piece of internal hardware known as a Wi-Fi semiconductor chipset was developed to enable communication between two wireless technology-capable devices. This kind of Wi-Fi semiconductor chipset is present in all wireless devices, including mobile phones, laptops, desktop computers, and other gadgets. Wi-Fi semiconductor chipset is widely used in a variety of automation systems, including industrial and home automation, in addition to these devices. Due to elements including the rising demand for WIGIG wireless technology, the market is growing. Multi-gigabit per second wireless communication technology was developed and promoted by a trade association called the Wireless Gigabit Alliance (WiGig), which operates in the unlicensed 60 GHz frequency band. The alliance was acquired into the Wi-Fi Alliance in 2013. This alliance is made up of several well-known technology firms, including Cisco, Dell, Huawei Technologies, Intel, Apple, Microsoft, NEC, and NVIDIA. WiGig technology is faster and more capable of data transport than Wi-Fi.
One issue that is expected to slow the growth of the Wi-Fi Chipset market is the existence of cyber and security concerns. The Wi-Fi chipset industry is still expanding steadily despite ongoing security concerns and data breaches. The cyber network's use of sophisticated hacking techniques makes internet connectivity less reliable. Despite security measures like WEP and WPA, data leaks and hacking incidents have been widespread. Wi-Fi connections give hackers access to vulnerable points where they can obtain private information and cause serious harm.
In 2021, Smartphones segment is dominating the market with the largest market share.
Based on type, the global Wi-Fi Chipset market is segmented into smartphones, tablets, PCS, Access Points, Others. With the biggest market share of these, the smartphones segment is currently ruling the industry. Due to technical advancements and smartphones' low price, the market for smart devices is expanding quickly. Thanks to the prevalence of wireless technology in smartphones, users now find it easier to use wireless applications. The chipsets in smartphones provide connectivity, whether it is 2G/3G or Wi-Fi. The digital market, which has always tried to advance, has witnessed a boom in the tablet sector since tablets began to displace laptops.
Single Band segment holds the largest market share over the forecast period.
On the basis of band, the global Wi-Fi Chipset market is segmented into single band, dual band, TRI band. Among them, the single band segment is expected to have the highest market share. The Single-band Wi-Fi chipset has very integrated plug and play features. It is an embedded wireless subsystem with a small form factor that consists of a Wireless LAN (WLAN) stack, supplicant, and TCP/IP stack. Dual-band Wi-Fi chipsets are a significant player in the Wi-Fi chipset market because they allow clients and routers to send and receive data simultaneously over multiple bands, improving the speed and quality of connections. Single and dual band chipsets are no longer the only Wi-Fi solutions available today. There is now a tri-band Wi-Fi chipset with built-in multi-gigabit performance.
Asia Pacific region is dominating the market with the market share of 41% during the forecast period.
Due to increased efforts to promote the allocation of new frequency bands for next generation Wi-Fi in the area, Asia Pacific, which now owns the greatest market share of 41%, is expected to experience overall growth of 4% during the upcoming years.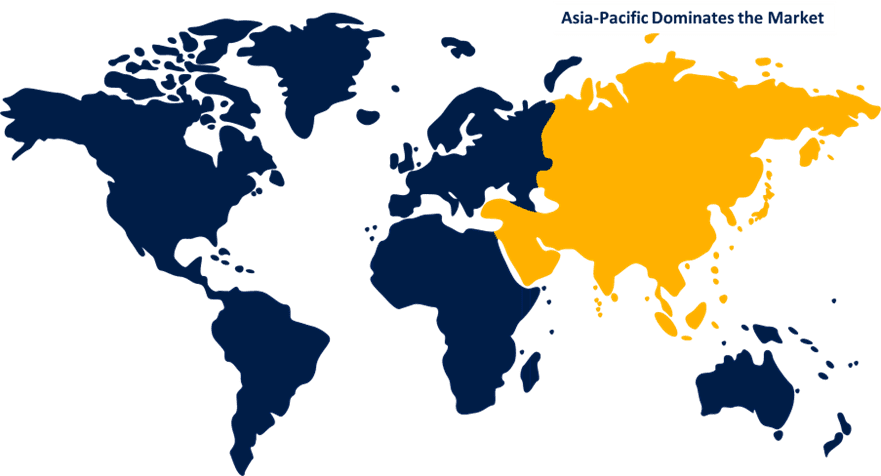 Get more details on this report -
Request Free Sample PDF
Major Vendors in Wi-Fi Chipset Market: Quantenna Communications Inc., STMicroelectronics N.V., BROADCOM, QUALCOMM, Intel Corporation, Samsung Electronics Co. Ltd., Peraso Technologies, Inc., Cypress Semiconductor Corporation, Marvell Technology Group Ltd.
Contact Us: https://www.sphericalinsights.com/contact-us
Need help to buy this report?