Global Thermoplastic Polyolefin Market Size To Worth USD 9.4 Billion by 2032 | CAGR of 7.2%
Category: Chemicals & Materials
---
---
Global Thermoplastic Polyolefin Market Size To Worth USD 9.4 Billion by 2032.
According to a research report published by Spherical Insights & Consulting, the Global Thermoplastic Polyolefin Market Size To Grow from USD 5.2 Billion in 2022 to USD 9.4 Billion by 2032, at a Compound Annual Growth Rate (CAGR) of 7.2% during the forecast period.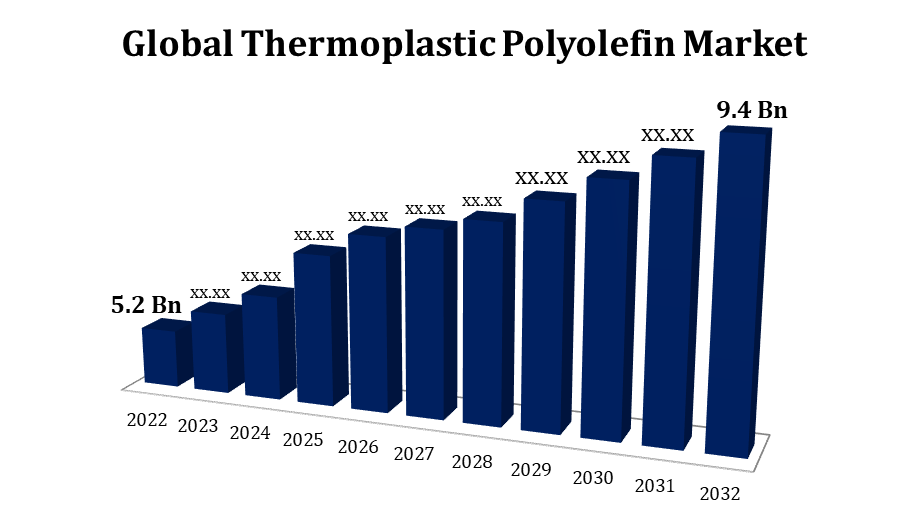 Get more details on this report -
Request Free Sample PDF
Browse key industry insights spread across 200 pages with 110 market data tables and figures & charts from the report on "Global Thermoplastic Polyolefin Market Size By Type (In-situ TPO, Compounded TPO), By Application (Automotive, Building and Construction), By Region, And Segment Forecasts, By Geographic Scope And Forecast 2022 – 2032." Get Detailed Report Description Here: https://www.sphericalinsights.com/reports/thermoplastic-polyolefin-market
The automotive industry is a major driver of the TPO market. TPOs are widely used in automobile applications, such as exterior and interior components, because to their durability and lightweight nature. TPOs are utilised in the construction industry for roofing membranes. The increasing requirement for energy-efficient roofing solutions has led to a rise in the use of TPO membranes in both residential and commercial construction. TPOs' adaptability and versatility make them suitable for a wide range of applications. This includes not just the construction and automotive sectors, but also the consumer goods, packaging, and healthcare sectors. TPOs are widely used in the automotive industry to produce bumpers, interior components, and external body elements. Because TPOs are lightweight and robust, they are ideal for these kinds of applications.
Thermoplastic Polyolefin Market Value Chain Analysis
The value chain begins with the production of raw materials, namely ethylene and polypropylene. These constituents function as the cornerstone of TPOs. Raw components are used in polymerization processes to generate the base TPO polymer. The characteristics of the finished TPO product are mostly determined by the polymerization process. During the compounding process, a number of additives, such as fillers, stabilisers, and reinforcing agents, are combined with the TPO polymer. Certain attributes including strength, flexibility, and UV resistance are enhanced by this technique. The TPO is formed into sheets or films by extrusion or other shaping methods after compounding. These sheets or films serve as the basis for numerous applications, including roofing membranes, automotive components, and packaging materials.
Thermoplastic Polyolefin Market Opportunity Analysis
The trend in the automotive industry towards lightweighting for fuel economy can be advantageous to TPOs. Their ability to replace traditional materials and their lightweight nature make them appealing for usage in automobile applications as they contribute to fuel economy. There's a likelihood that as emerging markets' infrastructural and industrial sectors expand, so too will the need for TPOs. These sectors usually search for reasonably priced, versatile building and industrial supplies. The growing popularity of electric vehicles presents an opportunity for TPOs in the automotive sector. TPOs are utilised in some parts of electric vehicles, which can help them become lighter. TPO materials' robustness in harsh environments and weatherability open up options for industries like marine, where UV and saltwater resistance are crucial.
TPOs' unique qualities of flexibility, durability, and chemical resistance make them ideal for use in the manufacturing of a variety of medical devices. These could include components for disposable medical gadgets, diagnostic tools, and surgical instruments. TPOs can be used in the production of furnishings and equipment for medical use. These characteristics make them suitable for usage as hospital beds and medical cart furniture in healthcare facilities. Packaging materials for medicinal products can be made using TPOs. Because of their flexibility and sealing properties, TPOs are useful in the development of packaging solutions that ensure the integrity and safety of pharmaceutical goods. Facilities that produce pharmaceuticals and medical equipment must have cleanrooms.
TPOs are rivalled by thermosetting polymers, other thermoplastics, and popular materials such as polyvinyl chloride (PVC). Industry adoption of TPOs as a replacement for conventional materials can be challenging. Changes in the price of ethylene and polypropylene, two raw materials required for the synthesis of TPO, may have an impact on the overall cost of TPO production. Producers may find it challenging to control costs when prices fluctuate. TPO processing can be challenging, especially if you want a finished product with consistent features and appearance. Process control and optimisation are critical to ensuring quality and consistency. TPOs perform well in temperatures that are moderate, but they might not be the best option for applications that need to withstand very high temperatures.
Insights by Type
The compounded TPO segment accounted for the largest market share over the forecast period 2023 to 2032. In the automotive industry, compound thermoplastic polymers (TPOs) are widely used for manufacturing exterior body parts, interior components, and other automotive applications. One of the things that contributes to TPO formulations' popularity in this business is their versatility. Compound TPO roofing membranes are in high demand in the building industry. Additives enhance weatherability, durability, and other properties that are critical for roofing applications in residential and commercial buildings. Compound TPOs are used in the packaging and consumer goods industries. Manufacturers can tailor TPO formulations to meet unique requirements for various applications.
Insights by Application
Automotive segment is witnessing the fastest market growth over the forecast period 2023 to 2032. The automotive industry is seeing an increase in the importance of lightweighting as a means of meeting increasingly stringent emission requirements and improving fuel efficiency. In many automotive components, thermoplastic polymers (TPOs) are taking the place of traditional materials because of their exceptional strength-to-weight ratio and low weight. TPOs are less expensive when compared to some conventional materials like metal and thermosetting polymers. This cost advantage has played a major role in their adoption for large-scale vehicle manufacture. With the growing market for electric vehicles, TPOs are becoming increasingly important in terms of lightweighting EV components. Their use in the manufacture of electric cars raises the sustainability and overall efficiency of the vehicles.
Insights by Region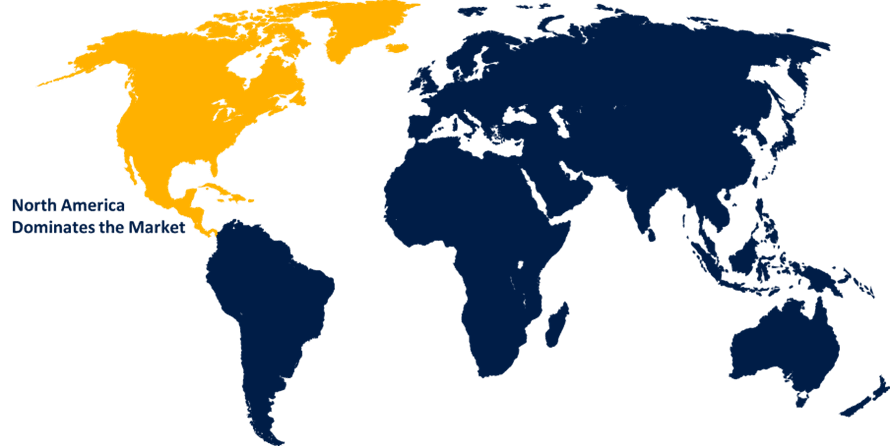 Get more details on this report -
Request Free Sample PDF
North America is anticipated to dominate the Thermoplastic Polyolefin market from 2023 to 2032. The auto industry in North America is a major driver of the TPO market. TPOs are widely used in bumpers, interior components, and exterior parts for automobiles since they are affordable, robust, and lightweight. Because TPO roofing membranes save energy, they are popular in the building industry. The emphasis on energy-efficient roofing solutions and sustainable building practises has led to an increase in the use of TPO membrane in commercial and residential construction projects. TPOs are employed in the production of consumer goods and packaging. Because of their versatility and ability to take on many shapes, they can be used in toys, household items, and packaging, among other products.
Asia Pacific is witnessing the fastest market growth between 2023 to 2032. The Asia-Pacific region is industrialising and urbanising quickly. This increase is the driving force behind the requirement for TPOs in construction applications, including as roofing membranes for residential and commercial constructions. The automotive industry in Asia-Pacific is growing rapidly, particularly in countries like China and India. The automotive sector commonly uses TPOs to create lightweight parts that improve fuel efficiency. The packaging market in Asia-Pacific is expanding due to an increase in e-commerce and consumer population. TPOs are getting more and more popular because of how versatile and appropriate they are for use in packaging. The production of consumer goods is growing in the Asia-Pacific region.
Major players in the market
Exxon Mobil Corporation
S&E Specialty Polymers
SABIC
INEOS Olefins & Polymers
Johns Manville
A Berkshire Hathaway Company
Arkema SA
The Hexpol group of companies
LyondellBasell
Sumitomo Chemical Co., Ltd.
RTP Company
Noble Polymers
Market Segmentation
This study forecasts revenue at global, regional, and country levels from 2023 to 2032.
Thermoplastic Polyolefin Market, Type Analysis
In-situ TPO
Compounded TPO
Thermoplastic Polyolefin Market, Application Analysis
Automotive
Building and Construction
Thermoplastic Polyolefin Market, Regional Analysis
About the Spherical Insights & Consulting
Spherical Insights & Consulting is a market research and consulting firm which provides actionable market research study, quantitative forecasting and trends analysis provides forward-looking insight especially designed for decision makers and aids ROI.
Which is catering to different industry such as financial sectors, industrial sectors, government organizations, universities, non-profits and corporations. The company's mission is to work with businesses to achieve business objectives and maintain strategic improvements.
CONTACT US:
For More Information on Your Target Market, Please Contact Us Below:
Phone: +1 303 800 4326 (the U.S.)
Phone: +91 90289 24100 (APAC)
Email: inquiry@sphericalinsights.com, sales@sphericalinsights.com
Contact Us: https://www.sphericalinsights.com/contact-us
Need help to buy this report?