Global Telemedicine Market Size To Worth USD 374.67 Billion by 2032 | CAGR of 17.4%
Category: Healthcare
---
---
Global Telemedicine Market Worth $374.67 Billion by 2032
According to a research report published by Spherical Insights & Consulting, The Global Telemedicine Market size is to grow from USD 75.33 Billion in 2022 to USD 374.67 Billion by 2032, at a Compound Annual Growth Rate (CAGR) of 17.4% during the forecast period.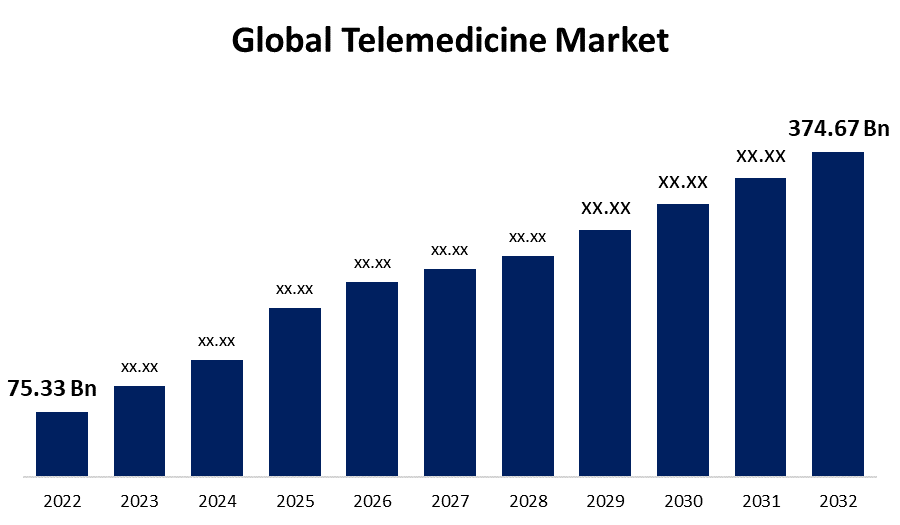 Get more details on this report -
Request Free Sample PDF
Browse key industry insights spread across 200 pages with 130 market data tables and figures & charts from the report on "Global Telemedicine Market Size, Share, and COVID-19 Impact Analysis, By Service (Tele-consulting, Tele-monitoring, Tele-education/training, and Others), By Type (Telehospital and Telehome), By Specialty (Cardiology, Gynaecology, Neurology, Orthopaedics, Dermatology, Mental health, and Others), By Delivery Mode (Web/mobile and Call centers), By Region (North America, Europe, Asia-Pacific, Latin America, Middle East, and Africa), Analysis and Forecast 2023 – 2032." Get Detailed Report Description Here:https://www.sphericalinsights.com/reports/telemedicine-market
Telemedicine is a rapidly evolving field that uses technology to deliver medical care remotely. It involves the use of telecommunication tools such as video conferencing, phone calls, and secure messaging to facilitate virtual consultations, remote monitoring, and digital health solutions. Telemedicine has gained immense popularity in recent years, driven by factors such as the increased adoption of smartphones, improved internet connectivity, and the need for convenient and accessible healthcare services. It has been widely used in various medical specialties, including primary care, mental health, and specialty consultations, offering benefits such as reduced travel time, increased patient convenience, and cost-effective care. Telemedicine has also played a crucial role in improving access to healthcare in rural and underserved areas.
The orthopaedics segment is anticipated to grow at a higher CAGR of 20.1% during the forecast period
Based on speciality type, the telemedicine market is divided into cardiology, gynaecology, neurology, orthopaedics, dermatology, mental health, and others. The telemedicine market in orthopedics is witnessing growth due to the increasing demand for routine post-surgical visits and enhanced clinical coordination between primary care physicians and orthopedic specialists. The integration of telemedicine in orthopedic care brings advantages such as cost-effectiveness, improved patient satisfaction, and enhanced efficacy and accuracy of care. Moreover, technological advancements and the rising number of follow-up visits for test results, such as MRI and EMG, are also driving the growth of the telemedicine market in orthopedics. These factors collectively contribute to the positive outlook for the telemedicine market in orthopedics, as it addresses the growing need for remote healthcare services in the field of orthopedic care.
The web/mobile segment dominated the market with around 76.8% revenue share in 2022
Based on the delivery mode, the global telemedicine market is segmented into web/mobile and call centers. The web/mobile category accounted for the largest share in the market in 2022, due to widespread availability of smartphones, tablets, and computers, enabling easy access to telemedicine services. The adoption of telehealth platforms and mobile apps has facilitated seamless communication and remote healthcare delivery. The convenience and flexibility of web/mobile telemedicine solutions have gained popularity among patients, eliminating the need for physical visits and offering greater convenience, especially in remote areas. Advancements in telecommunication technology and acceptance of web/mobile telemedicine solutions by healthcare organizations have further fueled the growth of this segment, making it the largest market segment in the telemedicine industry.
The Asia-Pacific segment is expected to grow at a higher CAGR of around 21.4% over the forecast period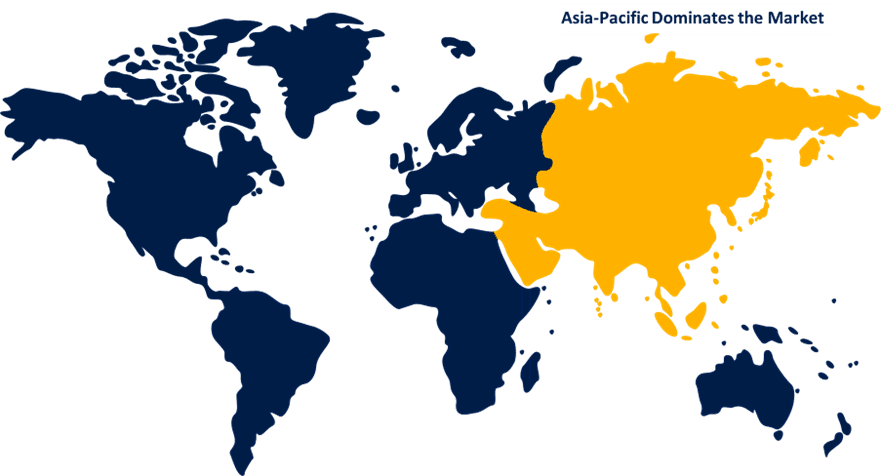 Get more details on this report -
Request Free Sample PDF
Based on region, the Asia-Pacific region is witnessing rapid growth in the telemedicine market due to several key factors. The region's large and diverse population, along with increasing healthcare needs, has driven the demand for telemedicine services. Rapid urbanization, rising healthcare costs, and the need for improved healthcare access in remote or underserved areas have further fueled the adoption of telemedicine. Additionally, the growing penetration of smartphones and internet connectivity, coupled with advancements in telecommunication technology, has enabled the expansion of telemedicine services in the Asia-Pacific region. Furthermore, supportive government initiatives, increasing investments in digital health, and a growing focus on telehealth solutions have also contributed to the rapid growth of telemedicine in the region.
Some of the major players in the global telemedicine market include MDlive, Inc., American Well Corp., Twilio, Inc., Teladoc Health, Inc., Doctor On Demand, Inc., Zoom Video Communications, Inc., SOC Telemed, Inc., NXGN Management, LLC, Plantronics, Inc., Practo, VSee, Sesame, Inc., Doxy.me Inc., PlushCare, and HealthTap, Inc.
About the Spherical Insights & Consulting
Spherical Insights & Consulting is a market research and consulting firm which provides actionable market research study, quantitative forecasting and trends analysis provides forward-looking insight especially designed for decision makers and aids ROI.
Which is catering to different industry such as financial sectors, industrial sectors, government organizations, universities, non-profits and corporations. The company's mission is to work with businesses to achieve business objectives and maintain strategic improvements.
CONTACT US:
For More Information on Your Target Market, Please Contact Us Below:
Phone: +1 303 800 4326 (the U.S.)
Phone: +91 90289 24100 (APAC)
Email: inquiry@sphericalinsights.com, sales@sphericalinsights.com
Contact Us: https://www.sphericalinsights.com/contact-us
Need help to buy this report?