Global Surveillance Radar System Market Size to grow USD 47.9 billion by 2030 | CAGR of 4.9%
Category: Aerospace & Defense
---
---
Global Surveillance Radar System Market is predicted to reach $ 47.9 billion at a CAGR of 4.9% from 2021 to 2030
As per the latest research report by Spherical Insights & Consulting, The Global Surveillance Radar System Market size was valued at USD 32.4 billion in 2021 and is expected to grow at a CAGR of 4.9% during the forecast period. The surveillance radar system market size is expected to surpass USD 47.9 billion by 2030.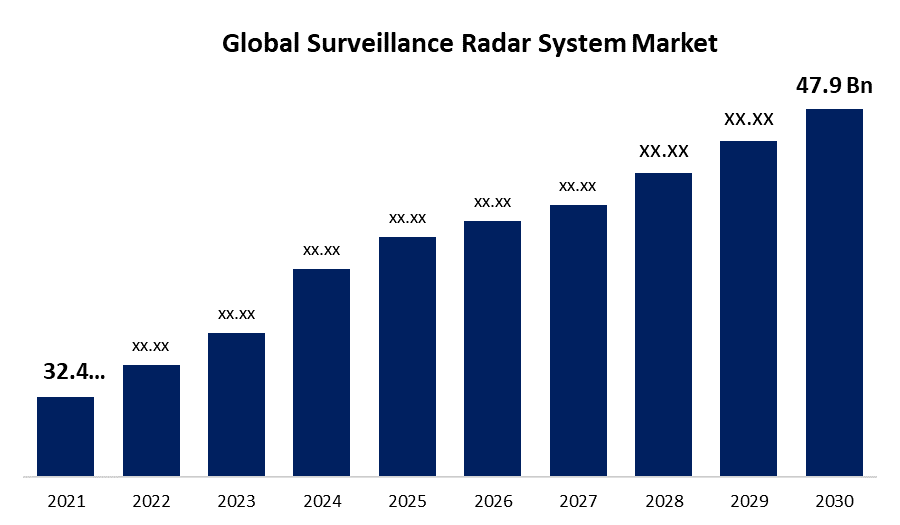 Get more details on this report -
Request Free Sample PDF
Browse key industry insights spread across 220 pages with 110 market data tables and figures & charts from the report "Global Surveillance Radar System Market Size, Share, and COVID-19 Impact Analysis, By Component (Hardware, Software), By Platform (Land, Air, Naval, Space), By Radar Range Type (Short range, medium range, long-range), By Application (Commercial, Military, Homeland, Security), By Region, Analysis and Forecast 2021 – 2030." in detail along with the table of contents. https://www.sphericalinsights.com/reports/surveillance-radar-system-market
A radar is an electromagnetic device that uses radio waves to detect the spread, angle, and speed of objects within its range as well as their location and distance. In order to transmit an electromagnetic signal into space, a transmitter and an antenna are used in a radar system. It is used to forecast and monitor the movement of various kinds of vehicles, including planes, missiles, and spacecraft. Due to their higher robustness in measuring distances, velocities, and angles than optical or ultrasound systems, radar systems are frequently used in industrial applications also including speed monitoring, object classification & tracking, area & distance monitoring, and collision avoidance with static and moving objects.
Radar Systems Market - Growth Factors
Digital signal processing radar systems are utilized to address security concerns. Furthermore, during the course of the projected period, their demand is likely to be driven by rising security and safety concerns as well as rising defense budgets. Additionally, it is projected that the construction of new airports and terminals would considerably contribute to the market's total growth. The demand for radar is being significantly fuelled by the rise of terrorist activities, international wars, and border infiltrations.
Radar-based sensors are increasingly being used in cars, trains, and aeroplanes. Flexible mounting, tolerance to adverse weather conditions, and long-range detection are three of these sensors' main benefits for detection. As a result, radars are being produced in large quantities. Countries are being encouraged to expand their fleets of merchant ships in order to balance supply and demand as a result of the expansion of international sea trade and the transfer of large volumes of products. These vessels may be followed using radar, which is projected to have a favourable impact on the market expansion.
Additionally, a number of national governments and their defense agencies are being forced to strengthen border security and surveillance due to the rise in cross-border conflicts and terrorist activities in various regions of the world in recent years. Modern radar systems that are more accurate, dependable, and perform better are essential to the border security and surveillance techniques being used by different countries. Military radar system producers are particularly focused on striking a balance between quality and price while installing retrofit solutions to upgrade the existing solutions to the latest standards after realizing that governments are looking for effective as well as cost-effective defense solutions.
Radar Systems Market – Market Trends
Radar is mostly used to track and measure the angle and speed of ships, airplanes, and moving vehicles.
Radar technology is widely used in fields such as medicine and the military. Radar is capable of covering both long-range and near distances and can operate in poor conditions including fog, rain, and dust.
Radar's increased use in the automobile industry is anticipated to be positive for the market. Lane changing, cruise control, and improved safety and navigational functions are all made possible by the employment of radar technology in semi-autonomous and driverless vehicles. Sales will continue to increase because of the rising demand for driver assistance systems in both commercial and passenger vehicles.
Surveillance Radar System Market – Segmentation
Market, By Component
Market, By Platform
Market, By Radar Range Type
Short range
Medium range
Long range
Market, By Application
Commercial
Military
Homeland
Security
Surveillance Radar System Market –Regional Analysis
It is projected that the ongoing territorial disputes and the development of nations like China and India become key aviation hubs in the region will increase the demand for new surveillance radars. By 2036, China and India intend to build a total of more than 350 airports. During the projection period, it is anticipated that such airport building and modernization programs will lead to a demand for new airport surveillance radars. Additionally, the region's rising territorial disputes highlight the need for improved surveillance systems throughout land and maritime borders. To acquire these enhanced monitoring capabilities, nations are making investments in the creation and acquisition of domestic radar systems.
Surveillance Radar System Market – Key Market players
BAE Systems
Dassault Aviation
General Dynamics Corporation
Honeywell International Inc.
Lockheed Martin Corporation
L3 TECHNOLOGIES INC.
Northrop Grumman Corporation
Rockwell Collins Inc.
Saab AB
Thales Group
Contact Us: https://www.sphericalinsights.com/contact-us
Need help to buy this report?