Global Stand-Up Pouches Market Size to Worth USD 44.7 Billion by 2032 | CAGR of 9.6%
Category: Consumer Goods
---
---
Global Stand-Up Pouches Market Size to Worth USD 44.7 Billion by 2032
According to a research report published by Spherical Insights & Consulting, the Global Stand-Up Pouches Market Size to grow from USD 25.2 Billion in 2022 to USD 44.7 Billion by 2032, at a Compound Annual Growth Rate (CAGR) of 9.6% during the forecast period.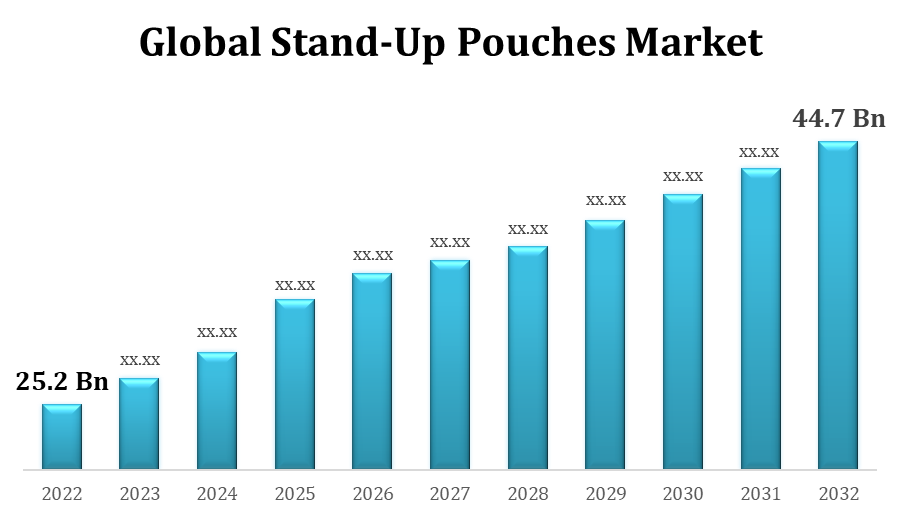 Get more details on this report -
Request Free Sample PDF
Browse key industry insights spread across 200 pages with 110 market data tables and figures & charts from the report on the "Global Stand-Up Pouches Market Size By Materials (Plastic, Paper, Metal), By Type (Standard, Aseptic, Retort), By Closure (Tear Notch, Zipper, Spout), By Application (Food & Beverages, Pet Food, Healthcare), By Region, And Segment Forecasts, By Geographic Scope And Forecast 2022 - 2032". Get Detailed Report Description Here : https://www.sphericalinsights.com/reports/stand-up-pouches-market
Stand-up pouches can be used for the packaging of food, beverages, pet food, and non-food products. Because they come in various sizes and styles, they can be used for a variety of purposes. The stand-up style makes storing and exhibiting it more convenient. The pouches are aesthetically pleasing and practical for retailers and customers due to their lightweight design and capacity to stand on shelves. Superior barrier properties of stand-up pouches often protect contents from air, light, and moisture. This keeps perishable foods fresher longer and extends their shelf life. In comparison to traditional packaging options such as rigid containers, stand-up pouches may be less expensive. They use less material, weigh less, and require less energy to make. The need is fueled by the need for innovative and practical packaging solutions.
Stand-Up Pouches Market Value Chain Analysis
Stand-up pouches are commonly made from a variety of polymers, such as polyester, polypropylene, and polyethylene. These polymers are supplied to packaging manufacturers by raw material suppliers. Printing ink and adhesive vendors supply materials for branding and customizing stand-up pouches. Experts in flexible packaging create stand-up pouches. This includes printing designs, integrating closing systems, and laminating layers. With features like resealable zippers or spouts, manufacturers of these closure systems add to the overall functioning of the bag for stand-up pouches. Companies that specialize in contract packaging or co-packing fill stand-up pouches with food, beverages, pet food, and other products. Companies own the trademarks and goods that are wrapped in stand-up pouches, and they have a big say in the layout and features of the packaging.
Stand-Up Pouches Market Opportunity Analysis
The increasing need for sustainable packaging solutions presents potential for innovation in eco-friendly stand-up pouches. Businesses may consider recyclable, biodegradable, and environmentally friendly materials when making pouches. Stand-up pouches offer a space for distinctive and creative branding. Companies can benefit from this by creating visually appealing designs that will boost consumer engagement and brand recognition by utilizing cutting-edge printing technology, which includes unique shapes. Stand-up pouch manufacturers now have the opportunity to design packaging that meets the needs of online shopping thanks to the expansion of e-commerce. Considerations include easy-to-operate opening and shutting mechanisms, space efficiency, and durability in transportation. Stand-up pouches are versatile and fit a variety of products effectively.
Growing consumer awareness of and concern for environmental sustainability has resulted in a significant shift in the market's desire for eco-friendly packaging solutions. Stand-up pouch producers have an opportunity to develop and promote eco-friendly products, such as pouches made of recyclable or biodegradable materials. Because consumers like to consume products while on the go and lead busy lives, convenient packaging options have grown in popularity. Because of their lightweight and user-friendly form, stand-up pouches are a popular choice for snacks, drinks, and other portable products. This design perfectly fits the desire for convenience. The increasing focus on health and wellbeing has led consumers to seek out products they perceive to be fresher and healthier. Consumers are drawn to packaging that is visually appealing and lovely. These days, design and branding play a big role in consumer decision-making. Stand-up pouches give companies the opportunity to create packaging that draws in customers by offering a blank canvas for eye-catching patterns and customized branding.
Finding a balance between sustainability and the need for barrier attributes can be challenging. Stand-up pouches are made of a variety of multi-layered materials that can be difficult to recycle. It can be challenging for manufacturers of stand-up pouches to comply with a range of changing regulatory standards, especially when it comes to food safety and contact materials. Informing clients about the viability of stand-up pouches for recycling or appropriate disposal techniques can be challenging, especially in light of the global variations in recycling infrastructure. Customers may become wary of or reluctant to utilize stand-up pouches due to misinformation or ignorance, which could impede the market's growth.
Insights by Material
The Plastic segment accounted for the largest market share over the forecast period 2023 to 2032. Plastics can be engineered to have excellent barrier properties that protect contents from external elements such as moisture, oxygen, and light. For products that require longer shelf lives and protection from the weather, stand-up pouches are the recommended option. High-barrier plastic materials are used to make them. Plastic stand-up pouches are a well-liked and reasonably priced packaging option for businesses looking for low-cost and efficient solutions to package their goods. Polymers can be used to make liquids, powders, and solids, among other items. Plastic stand-up pouches are widely used in many different industries, such as household items, personal care, and food and beverage, proving how versatile they are.
Insights by Type
Standard type segment is witnessing the fastest market growth over the forecast period 2023 to 2032. Standard-type stand-up pouches typically have simpler designs and constructions, which results in lower production and material costs. For brands and manufacturers looking for packaging solutions, standard-type stand-up pouches are a more cost-effective choice, especially for goods that don't require complex features. The production process is simpler for stand-up pouches with conventional characteristics compared to those with advanced qualities. Because they can be produced more quickly and at a cheaper cost due to their simpler manufacturing techniques, standard-type pouches are more aesthetically pleasing. Standard stand-up pouches offer a convenient and space-saving solution for larger product quantities, making them perfect for bulk packaging. Compared to complex printing on specialty pouches, standard-type pouch printing solutions may end up being more cost-effective.
Insights by Closure
The Tear notch closure segment accounted for the largest market share over the forecast period 2023 to 2032. To open stand-up bags conveniently, tear notches provide an alternative to additional tools or utensils. By adding tear notch closures to various stand-up pouch types, numerous product categories can be supported. Due to their relatively simple design, rip notches use less material to make and manufacture. Tear notch closures can be constructed to offer a tight seal to preserve product freshness. Stand-up pouches with tear-notch closures fit nicely into traditional production processes and are created in an efficient manner. Manufacturers benefit from this efficiency since it allows for quicker turnaround times and fewer production steps.
Insights by Application
Food and beverage segment is witnessing the fastest market growth over the forecast period 2023 to 2032. Stand-up pouches are a trend that works well with today's busy lifestyles because of their portability. Stand-up pouches are very flexible and can be found in many different forms, including spouted, resealable, and tear-notched pouches. Food and beverage firms are able to choose the most appropriate packaging form for their products due to their versatility, which facilitates market expansion. As e-commerce has expanded, so too has the need for packaging that can survive storage and transportation. Stand-up pouches are a perfect fit for e-commerce due to their sturdy and flexible structure, which has contributed to an increase in the sales of food and beverage products online. Stand-up pouches can hold a wide range of food and drink items, including sauces, dry goods, snacks, and beverages.
Recent Market Developments
On March 2021, Amcor and Alliance are collaborating to eliminate plastic waste in order to enhance the infrastructure for waste management and recycling.
Competitive Landscape
Major players in the market
Amcor plc
Sonoco Products Company
ProAmpac
Mondi
Clondalkin Group
Winpak Ltd.
Coveris
Huhtamaki Group Sealed Air
Glenroy Inc.
Smurfit Kappa
Bischof+Klein
Hood Packaging Corporation
Uflex Limited
FLAIR Flexible Packaging Corporation
Market Segmentation
This study forecasts revenue at global, regional, and country levels from 2023 to 2032.
Stand-Up Pouches Market, Material Analysis
Stand-Up Pouches Market, Type Analysis
Stand-Up Pouches Market, Closure Analysis
Stand-Up Pouches Market, Application Analysis
Food & Beverages
Pet Food
Healthcare
Stand-Up Pouches Market, Regional Analysis
About the Spherical Insights & Consulting
Spherical Insights & Consulting is a market research and consulting firm which provides actionable market research study, quantitative forecasting and trends analysis provides forward-looking insight especially designed for decision makers and aids ROI.
Which is catering to different industry such as financial sectors, industrial sectors, government organizations, universities, non-profits and corporations. The company's mission is to work with businesses to achieve business objectives and maintain strategic improvements.
CONTACT US:
For More Information on Your Target Market, Please Contact Us Below:
Phone: +1 303 800 4326 (the U.S.)
Phone: +91 90289 24100 (APAC)
Email: inquiry@sphericalinsights.com, sales@sphericalinsights.com
Contact Us: https://www.sphericalinsights.com/contact-us
Need help to buy this report?