---
---
Global Robot Sensors Market worth $5.5 Billion By 2030
According to a research report published by Spherical Insights & Consulting, the Global Robot Sensors Market Size to grow from USD 2.1 billion in 2021 to USD 5.5 billion by 2030, at a Compound Annual Growth Rate (CAGR) of 11.6% during the forecast period. The introduction of Industry 4.0 and digitization has led to a significant rise in the use of robots throughout the course of the projection period. As robotics innovations result in flexible production models, it is projected that the use of robotics will increase dramatically during the projection period.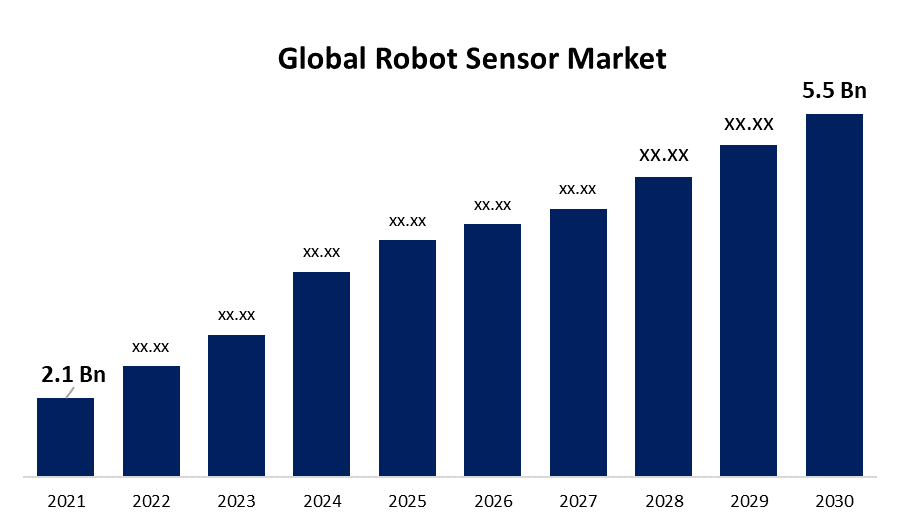 Get more details on this report -
Request Free Sample PDF
Browse 58 market data Tables and 68 Figures spread through 245 Pages and in-depth TOC on "Global Robot Sensor Market Size, Share, and COVID-19 Impact Analysis, By Type (Light Sensor, Temperature Sensors, Tactile Sensor, Temperature Sensor, Pressure Sensor, Navigation and Positioning Sensors, Proximity Sensors, others), By End-use (Aerospace and Defence, Chemicals, Automotive, Consumer, Electronics, Food and Beverages, Chemicals, Healthcare, Manufacturing, Agriculture, Others), by Region (North America, Europe, Asia-Pacific, Latin America, Middle East, and Africa), Analysis and Forecast 2021 – 2030"
Robotics, automation, and control technologies are increasingly in demand as smart factories proliferate since they assist manufacturers in boosting effectiveness, productivity, and profitability. Robotic systems require a variety of sensors to help them carry out diverse sensing tasks in an unstructured environment. Robotic sensors are a key element of robotics because they enable flexible and intelligent interaction between the robots and their environment. Before integrating them into the system, various factors such stability, sensitivity, temperature range, linearity, self-test capability, and power consumption are taken into consideration. For instance, the pressure sensors offered by TE connection are suitable for a range of industrial applications, including as those in dangerous environments. Numerous military and defence organisations have begun employing robots in their facilities as a result of ongoing automation breakthroughs and accelerating robotics advancements. These robots have sensors embedded into them that enable them to carry out a wider range of combat operations, such as better sniper target acquisition.
Various security systems, intrusion detection systems, explosives detection systems, civil establishments for propulsion, crime detection systems, communication purposes, weaponry controls, site monitoring, and flight controls are just a few of the applications that military and defence organisations are incorporating sensors into. In addition, a number of defence organisations and nations have begun to spend heavily in sea machine robotics and search and rescue robots. Autonomous mobile robots transport inventory throughout the warehouse by utilising robotics sensors and software applications in their surroundings. The most often utilised sensors in warehouse robots are ultrasonic sensors, angel sensors, and position sensors. A safe and efficient operation is made possible by these sensors' ability to produce accurate data on 3D orientation, gripper angle, lift position, and navigation direction. Although sensors are widely utilised in many different applications, their limited range and constrained bandwidth prevent them from collecting data from far-off places. It's crucial to permit the continuous operation of sensors because robotic sensors rely on electrical resources in low-power situations. These are a few of the elements that have an impact on the market's overall expansion.
Proximity sensors market holds the largest market share over the forecast period.
Based on type, the robotic sensor market is segmented into light sensor, temperature sensors, tactile sensor, temperature sensor, pressure sensor, navigation and positioning sensors, and proximity sensors, and others. Due to their low price, proximity sensor sensors are leading the industry with the biggest market share. In addition, its extensive use in the detection of objects entering sensor fields will accelerate market expansion. In addition, the market for navigation and positioning sensors is predicted to develop at the quickest rate during the forecast period due to the growing number of industrial robots being used for operations like material handling and product testing.
Manufacturing segment is dominating the market over the forecast period.
On the basis of end use industry, the global robotics sensor is segmented into aerospace and defence, chemicals, automotive, consumer, electronics, food and beverages, chemicals, healthcare, manufacturing, agriculture, others. Due to the widespread deployment of automation in manufacturing facilities, the manufacturing segment will continue to dominate the market. Collaborative and humanoid robots with sensor orientation are employed for a variety of tasks, including rolling, picking, and packing. As a result of the growing need for sensor-based robots to perform various agricultural tasks including sorting and packing, harvesting and control, sowing, and others, the agriculture segment will, on the other hand, see the greatest CAGR throughout the projected period.
Asia Pacific region is dominating the market with largest market share of 30.1%.
As growing nations like China and India are increasing their spending on the electronic sector, the Asia Pacific market is now dominating the global robotics sensors market with the market share of 30.1%. To fulfil the demand for quickly producing vehicles, the companies in the automotive business have started deciding to use cutting-edge robotics technology in recent years. In order to reduce the high labour costs and increase manufacturing process efficiency, many automakers have begun to automate the shop floor in their facilities.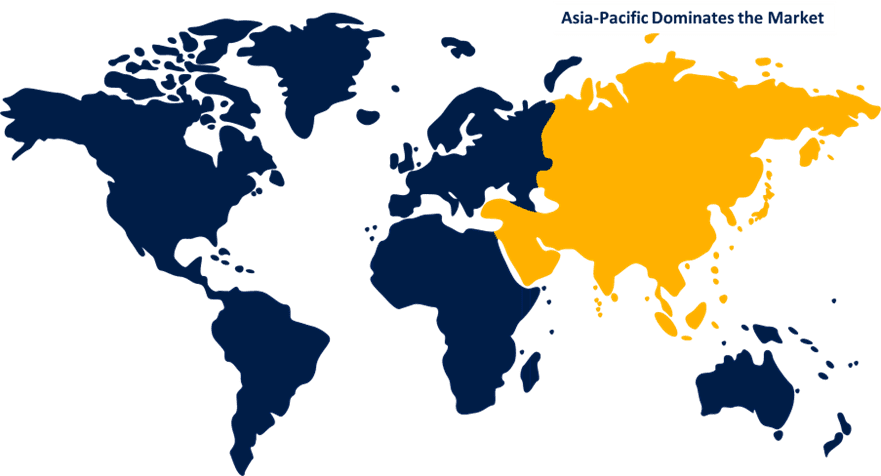 Get more details on this report -
Request Free Sample PDF
Major Vendors in Robot Sensor Market: ATI Industrial Automation, Inc.,Ams AG, Baymer Group, CAPTRON Electronic GmbH, DAIHEN Corporation, Fanuc Corporation
Contact Us: https://www.sphericalinsights.com/contact-us
Need help to buy this report?