Global PUR-based Reactive Hot Melt Adhesives Market Size To Grow USD 1401.5 Million by 2030 | CAGR of 7.64%
Category: Chemicals & Materials
---
---
Global PUR-based Reactive Hot Melt Adhesives Market worth $ 1401.5 Million by 2030
According to a research report published by Spherical Insights & Consulting, The Global PUR-based Reactive Hot Melt Adhesives Market Size is said to reach USD 722.5 million in 2021 to USD 1401.5 million in 2030, at a CAGR of 7.64% during the forecast period.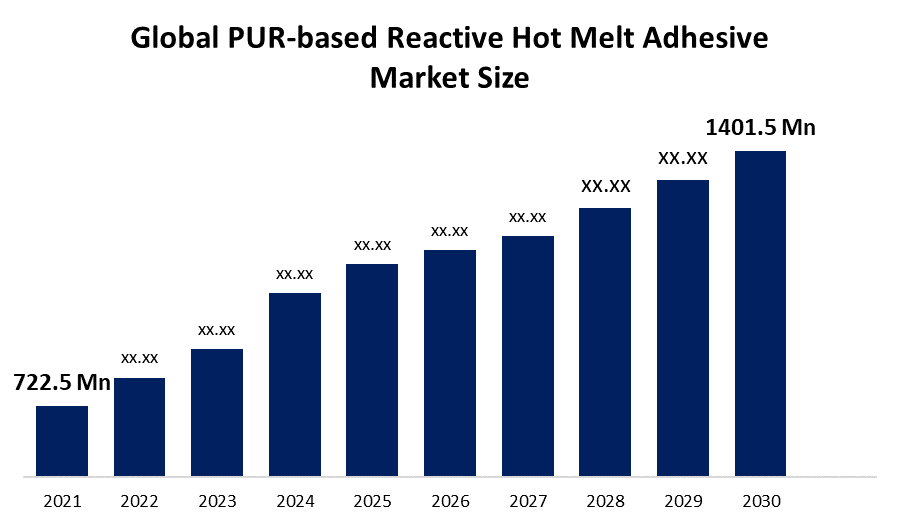 Get more details on this report -
Request Free Sample PDF
Browse key industry insights spread across 210 pages with 123 market data tables and figures & charts from the report on" Global PUR-based Reactive Hot Melt Adhesives Market Size, Share, and COVID-19 Impact Analysis, By Substrate (Fiberglass, Nylon, Plastics) By Application (Automotive, Electronics), By Regional (North-America, Europe, Asia-Pacific) Analysis and Forecast till 2022-2030" Get Detailed Report Description Here: https://www.sphericalinsights.com/reports/pur-based-reactive-hot-melt-adhesive
The increased demand from the automotive and electronics sectors is driving the growth of the global PUR-based Reactive Hot Melt Adhesives market.
One of the most divided markets that has seen significant expansion in recent years is the global PUR reactive hot melt adhesives industry. Due to the high demand from the automotive and electronic industries, the adhesive market is expanding quickly. In addition to these, the textile, packaging, and paper processing industries all use hot melt adhesives for different purposes. Until the forecasted period of 2021 to 2030, the aforementioned market is predicted to grow at a staggering CAGR of 7.64%, with revenue of USD 1401.5 million. This is significantly more than the revenue generated in 2021, which was USD 722.5 million.
The market for hot melt adhesives is being driven by the growing need for lightweight automobiles and the market's robust characteristics.
Manufacturers of automobiles are forced by public demand for a lightweight and aesthetically pleasing car to come up with novel and inventive ways to make the vehicle lighter while maintaining a nice design. Because PUR-based reactive hot melt adhesives have properties like quick setting, temperature resistance, wear resistance, etc., manufacturers are incorporating them into the production of vehicles for this reason. Additionally, hot melt adhesives protect the environment by reducing toxic emissions and carcinogenic fumes.
Additionally, the strong features that the hot melt adhesives have give the manufacturers a further advantage. There are several applications for hot melt adhesives in every type of industry. Any substrate, including composites, plastics, rubber, paper, ceramics, wood, metals, and glass, can be used with hot melt adhesives. Depending on the type of product being produced, rolling and spraying processes are also often utilised to apply such hot melt adhesives. Extrusion is the primary method used to apply these adhesives.
Strong expansion of the packaging and labelling sector will fuel the growth of the adhesives market.
After the pandemic, the packaging and labelling sector revolutionised their offerings and is now more concerned with quality and tenacity. The ready-to-eat food culture has pushed the food business to the edge of the timeline because to the rise in consumer goods demand and the requirements of modern lifestyles. In order to preserve the freshness and viability of the food that has been packed, such delivery services are using hot melt adhesive manufactured packaging materials. Along with this, the eco-friendly model also has a favourable effect on the sales and production of hot melt adhesives because it has features that are compatible with the industry's environmental policies and are suitable for non-commercial use.
Regional Analysis
North America, Asia-Pacific, and Europe make up the three major geographic segments of the global market for PUR-based reactive hot melt glue. With an estimated revenue of USD 630.30 million in 2030 and a CAGR of 11.35%, the Asia-Pacific area is the most prominent among them, having experienced a significant increase from its USD 239.9 million sales in 2021. One of the important regions in the manufacture of PUR-based hot melt adhesives is North America, which is also at the forefront of technological advancements.
The region generated USD 142.7 million in revenue in 2021, and it is anticipated that it will generate USD 204.34 million at a CAGR of 4.07% in 2030. In order to manufacture modern automobiles and satisfy the demands of their end users, Europe, the primary worldwide hub for the automotive industry, has a high demand for such hot melt adhesives. Sales in the European region are expected to reach USD 189.62 million in 2030 with a CAGR of 7.44%, from USD 99.40 million in 2021.
Key Highlights –
Based on the facts presented above, it can be concluded that the global market for PUR-based reactive hot melt adhesives is expanding quickly and is predicted to generate an all-time high amount of revenue in 2030, with a CAGR of 7.64%.
With an estimated sales figure of USD 617.5 million and a CAGR of 8.15% through the forecasted period (2021-2030), the Plastic substrate of the hot melt adhesives dominates the segmentation analysis of the worldwide hot melt adhesives.
The plastics category, which finds use in several industrial industries and helps the market grow to USD 334.85 million at a CAGR of 6.7% in 2030, is where fibreglass substrate for hot melt adhesives comes in second.
Given that nylon polymers have a low surface energy and a challenging bonding environment, they are typically used in limited quantities or for specialised applications. Nevertheless, this segment generates a staggering USD 81.15 million at a CAGR of 5.32% from 2021 to 2030.
Competitive Players –
The Global Competitive players in the industry are - BASF SE, 3M, Henkel, Bostik Inc, H B Fuller, Sika AG, Hunstman International LLC, etc.
Market News –
The Uvinul A-plus production facility in Asia was purchased by BASF SE in December 2021; production is scheduled to begin there in early 2023.
3M unveiled a brand-new item in September 2021 dubbed the Next Generation Clear Aligner System to further customise and modernise the designs.
Henkel Adhesives' Loctite glue products received RecyClass Approval in November 2021 for their potential to be recycled.
By purchasing Sable Marco Inc, a Canadian maker of cement materials, in March 2022, Sika AG established a new distribution network in Canada.
Global PUR based Reactive Hot Melt Adhesives Market Segmentation
By Substrates –
Fiberglass
Nylon
Plastics
By Applications –
By Region –
North-America
Europe
Asia-Pacific
About the Spherical Insights & Consulting
Spherical Insights & Consulting is a market research and consulting firm which provides actionable market research study, quantitative forecasting and trends analysis provides forward-looking insight especially designed for decision makers and aids ROI.
Which is catering to different industry such as financial sectors, industrial sectors, government organizations, universities, non-profits and corporations. The company's mission is to work with businesses to achieve business objectives and maintain strategic improvements.
CONTACT US:
For More Information on Your Target Market, Please Contact Us Below:
Phone: +1 303 800 4326 (the U.S.)
Phone: +91 90289 24100 (APAC)
Email: inquiry@sphericalinsights.com, sales@sphericalinsights.com
Contact Us: https://www.sphericalinsights.com/contact-us
Need help to buy this report?