Global Platelet Aggregation Device Market Size To Worth USD 8.5 Billion By 2032 | CAGR of 6.5%
Category: Healthcare
---
---
Global Platelet Aggregation Device Market worth $16.7 billion by 2032
According to a research report published by Spherical Insights & Consulting, the Global Platelet Aggregation Device Market Size to grow from USD 5.2 billion in 2021 to USD 8.5 billion by 2032, at a Compound Annual Growth Rate (CAGR) of 6.5% during the forecast period.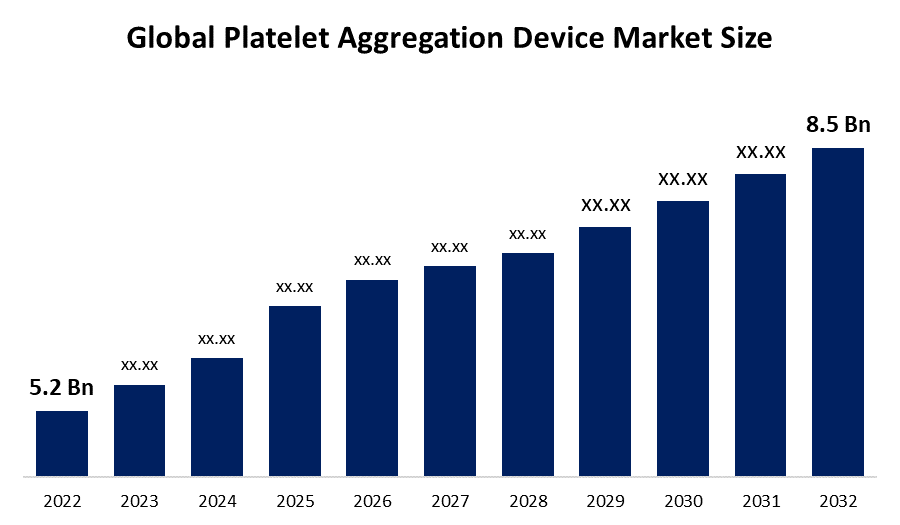 Get more details on this report -
Request Free Sample PDF
Browse key industry insights spread across 200 pages with 123 market data tables and figures & charts from the report on "Global Platelet Aggregation Device Market Size, Share, and COVID-19 Impact Analysis, By Product (Systems, Reagents, Consumables and Accessories); By Application (Research Applications, Clinical Applications, Others); By End Use (Standalone Hospitals, Diagnostic Laboratories, Research and Academic Institutes, Blood Banks, and Other End Users), by Region (North America, Europe, Asia-Pacific, Latin America, Middle East, and Africa), Analysis and Forecast 2021 – 2032" Get Detailed Report Description Here: https://www.sphericalinsights.com/reports/platelet-aggregation-device-market
In order to conduct the platelet aggregation test, a venpuncture is done in a non-clotting medium that is made during the centrifugation-based plasma extraction method. Additionally, aggregatometers are used in this procedure. Medical equipment is used to precisely control the active blood flow during the platelet aggregation process, which in turn reduces the amount of platelet thrombus formation. Equipment for platelet aggregation includes things like aggregatometers, platelet collection systems, platelet function centrifuges, and platelet function analyzers.
COVID 19 Impact
The global platelet aggregation device industry has been significantly impacted by the COVID 19 pandemic, and there is strong evidence linking SARS-CoV-2 infections to atheothrombotic disorders. The presence of thrombocytopenia, which might impair respiratory symptoms while also raising the risk of mortality and being a prognostic factor associated to platelet in COVID 19, was described as a serious condition in a July 2021 article by NCBI. The expansion of the market over the anticipated period has been significantly impacted by the increase in research based on the platelet aggregation process on human platelet cells implicated in COVID 19.
The demand for platelet function testing has increased dramatically as a result of the rise in cardiovascular problems, malaria, dengue, HIV, and leukaemia. Dengue is regarded as an epidemic in more than 100 countries in the Americas, APAC, Africa, and the Caribbean, according to the Centre for Disease and Control (CDC). Around 75 million dengue illnesses happen annually on average all across the world. Additionally, it is predicted that in 2017, malaria affected about 200 million individuals worldwide. In tropical, subtropical, and underdeveloped regions around the world, malaria risk is considerable. of the market over the forecast period. As of 2017, there were an estimated 35 to 40 million HIV-positive people globally, 40% of whom were undiagnosed. Platelet function tests are becoming increasingly and more common to diagnose these conditions. In the world, there are between 35 and 40 million people living with HIV, of which 40 percent go untreated. As a result, there is a rising need for platelet function testing to diagnose these medical conditions.
The market for platelet aggregation devices faces numerous obstacles in addition to its numerous driving forces. The market's expansion is constrained by the high cost of equipment, a lack of qualified specialists, and procedural restrictions. The price of these specialised platelet aggregometers, which vary from USD 10,000 to 20,000 depending on their features, is very high. By including related chemicals, accessories, and consumable costs, this rate will rise even further. Small to mid-sized hospitals and diagnostic facilities find it quite difficult to pay for it.
Product Insights
Reagents segment holds the highest market share over the forecast period
On the basis of product, the global platelet aggregation device market is bifurcated into systems, reagents, and consumables and reagents. Among these, the reagents segment holds the highest market share over the forecast period. On the other hand, the growing usage of automated analyzers has an impact on this dominance. Platelet function centrifuges (PFC), flow cytometry platelet function analyzers, and aggregometers are the three primary types of platelet aggregation equipment. According to changes in methodology, there are several types of aggregometers, including impedance whole blood aggregometry, lumi-aggregometry, light transmission aggregometry, and flow cytometry. LTA is one of the most popular methods for evaluating platelet function out of all of them. It is used to keep track of antiplatelet treatments and problems of platelet function.
Hospitals and specialised laboratories have increased significantly more in the developing economies. Aggregation systems are increasingly being used in hospitals and laboratories as a result of increased investments in healthcare infrastructure. There is an increase in the demand for platelet aggregation systems in academic institutions and pharmaceutical companies as a result of the growing number of research studies to comprehend the mechanisms underlying platelet interaction with vascular surfaces as well as the evaluation and screening of anti-thrombotic factors to identify new targets for anti-platelet drugs.
End Use Insights
Standalone hospitals segment is dominating the market with the largest market share
Based on the end use, the global platelet aggregation devices market is segmented into standalone hospitals, diagnostic laboratories, blood banks, research and academic institutes, and others. Among these, standalone hospitals segment is dominating the market with the largest market share. The rise in platelet function tests used in the assessment of pre- and post-operative hemostasis and in transfusion medicine, as well as rising private and public investments for development and advancement of healthcare infrastructure, are all cited as contributing factors to the growth.
In the clinical laboratories of hospitals, screening techniques such visco elastometry are created to ascertain the strength of a blood clot. The demand for such devices in hospitals is also being driven by rising healthcare professional awareness of the advantages of platelet function tests and technological advancements in platelet aggregation devices, rising hospital use of advanced platelet aggregation devices, and rising surgical procedures.
Regional Insights
North America is dominating the market with the largest market share over the forecast period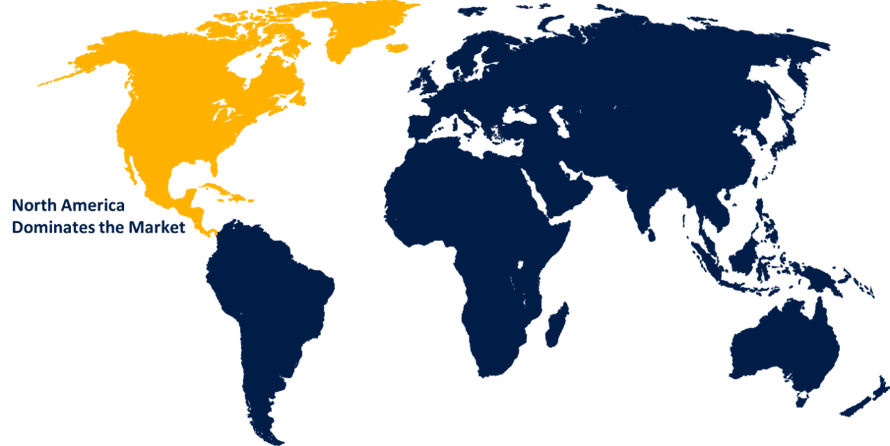 Get more details on this report -
Request Free Sample PDF
Due to factors such as an ageing population, an increase in target disorders, technological advancements in platelet aggregation metres, and a growing awareness among medical professionals of the benefits of platelet aggregation testing in disease detection, North America will continue to dominate the market with the largest market share over the forecast period. An American may experience a heart attack every 40 seconds, according to predictions from the United States Centres for Disease Control (CDC) that were updated in 2021. A further estimate of 14,816 haemophiliacs lived in the United States in 2021, with 11,790 cases of haemophilia A and 3,026 cases of haemophilia B, according to the World Federation of Haemophilia 2021 report. 3,924 haemophiliacs lived in Canada in 2021, of whom 3,223 had haemophilia A and 701 had haemophilia B. The high prevalence of various chronic and blood diseases in this area is anticipated to raise demand for platelet aggregation devices as a result of accurate illness detection.
On the other hand, Asia Pacific will experience the fastest market growth during the forecast period because of the region's growing paediatric population, increased risk of developing specific diseases, and rising demand for platelet screening programmes for the detection of HIV and other diseases like malaria and dengue.
Major vendors in the Global Platelet Aggregation Devices Market include F. Hoffmann La-Roche Ltd., Siemens AG, Haemonetics Corporation, Sysmex Corporation, Helena Laboratories Corporation, Accriva Diagnostics, Aggredyne, Inc, Bio/Data Corporation.
Market Segment
This study forecasts revenue at global, regional, and country levels from 2019 to 2032. Spherical Insights has segmented the global Platelet Aggregation Device Market based on the below-mentioned segments:
Platelet Aggregation Device Market, Product Analysis
Systems
Reagents
Consumables and reagents
Platelet Aggregation Device Market, End Use Analysis
Standalone Hospitals
Diagnostic laboratories
Blood banks
Research and academic institutes
Others
Platelet Aggregation Device Market, Regional Analysis
· North America
o US
o Canada
o Mexico
· Europe
o Germany
o Uk
o France
o Italy
o Spain
o Russia
o Rest of Europe
· Asia Pacific
o China
o Japan
o India
o South Korea
o Australia
o Rest of Asia Pacific
· South America
o Brazil
o Argentina
o Rest of South America
· Middle East & Africa
o UAE
o Saudi Arabia
o Qatar
o South Africa
o Rest of Middle East & Africa
About the Spherical Insights & Consulting
Spherical Insights & Consulting is a market research and consulting firm which provides actionable market research study, quantitative forecasting and trends analysis provides forward-looking insight especially designed for decision makers and aids ROI.
Which is catering to different industry such as financial sectors, industrial sectors, government organizations, universities, non-profits and corporations. The company's mission is to work with businesses to achieve business objectives and maintain strategic improvements.
CONTACT US:
For More Information on Your Target Market, Please Contact Us Below:
Phone: +1 303 800 4326 (the U.S.)
Phone: +91 90289 24100 (APAC)
Email: inquiry@sphericalinsights.com, sales@sphericalinsights.com
Contact Us: https://www.sphericalinsights.com/contact-us
Need help to buy this report?