Global Mold Release Agents Market Size Worth USD 3.6 Billion by 2032 | CAGR of 5.9%
Category: Chemicals & Materials
---
---
Global Mold Release Agents Market Size Worth USD 3.6 Billion by 2032
According to a research report published by Spherical Insights & Consulting, the Global Mold Release Agents Market Size to grow from USD 2.2 billion in 2022 to USD 3.6 billion by 2032, at a Compound Annual Growth Rate (CAGR) of 5.9% during the forecast period.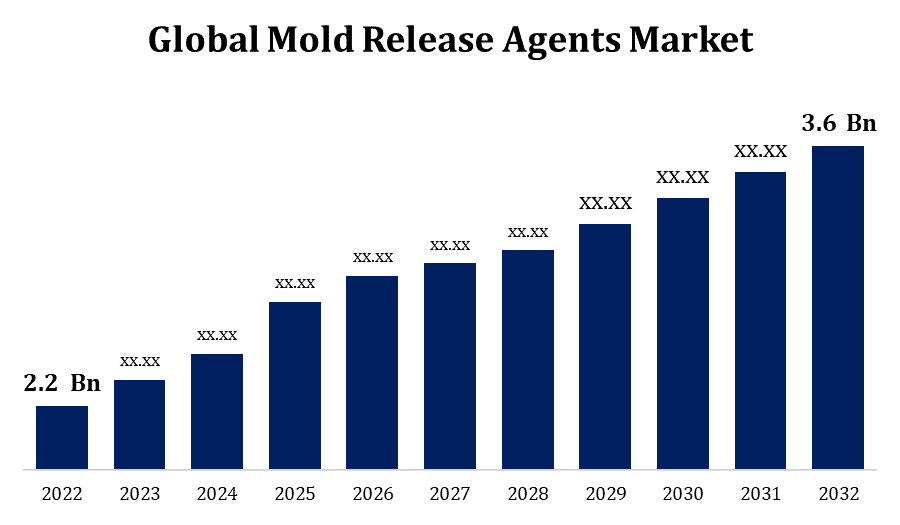 Get more details on this report -
Request Free Sample PDF
Browse key industry insights spread across 200 pages with 120 market data tables and figures & charts from the report on the "Global Mold Release Agents Market Size By Type (Water Based, Solvent Based), By Application (Die-Casting, PU Molding, Plastic Molding, Concrete, Composite Molding, Rubber Molding, Wood Composites & Panel Pressing), By Region, And Segment Forecasts, By Geographic Scope And Forecast 2032." Get Detailed Report Description Here: https://www.sphericalinsights.com/reports/mold-release-agents-market
The global market for mold release agents is being driven by rising demand in industries such as manufacturing, construction, and the automotive sector. These agents increase production efficiency and smoothness by keeping molding materials from adhering to mold surfaces. The expanding automotive industry, advancements in production technology, and the need for superior surface finishes are all contributing to the market's growth. The mold release agents market is growing gradually and smoothly, like a well-oiled machine. There are several factors contributing to this upward trajectory. First off, as industries like construction, automotive, and aerospace continue to expand, there is an increasing need for efficient manufacturing methods.
Mold Release Agents Market Value Chain Analysis
Chemical mixtures and formulations that support the properties of the agent are the raw materials utilized to create mold release agents. Suppliers are necessary to keep up a dependable and superior supply chain. The raw materials are essential to the manufacturing process. Formulations are mixed and processed to get the final mold release agent. At this point, precision and adherence to quality standards are required to ensure the product's efficacy. When the agents are ready to make their public debut, they go into distribution. Logistics, storage, and transportation are required to get the product to manufacturers in many sectors. The industries using mold release agents are the ultimate winners.
Mold Release Agents Market Opportunity Analysis
The global aerospace, automotive, and building sectors are expanding. As these industries grow and strive toward more advanced and efficient manufacturing processes, mold release agents will become more and more necessary. Creative formulations of mold release agents are made possible by the constantly evolving field of manufacturing technologies. Companies who spend in research and development to produce high-performing, eco-friendly agents are probably going to be emphasized in this way. In this internationally interconnected world, businesses have the opportunity to grow their clientele. Gaining an edge will come from being able to traverse the global market and adapt to local demands. The digital space is expanding swiftly. Distributing mold release agents via e-commerce allows companies to streamline their supply chain.
The construction industry is a major contributor to the global requirement for mold release agents due to the ongoing expansion in urbanization and infrastructure development. These release chemicals facilitate a seamless mold release and enhance the overall effectiveness of the building process. They are necessary for the production of many building supplies and parts. Mold release agents are growing in popularity as a result of the automobile industry's unwavering commitment to innovation and development. Mold release agents are essential for ensuring the precision and quality of the finished product in the production of intricate automotive parts and cutting-edge designs. With the expansion of the automotive sector, reliable and efficient mold release methods are becoming more and more important.
As production technology advance, so does the demand for more complex and specialized mold release agents. Keeping up with these technological advancements and developing formulations that satisfy specific industry requirements can be difficult. Companies are always looking for methods to reduce expenses. Striking a balance between cost effectiveness and the need for high-performance agents can be challenging for producers, especially in an unpredictable raw material market. The competition and the stage are both international. Companies need to establish a strong global presence, understand local expectations, and adjust their strategy as necessary in order to be competitive in this dynamic industry.
Insights by Type
The Water Based segment accounted for the largest market share over the forecast period 2023 to 2032. The water-based formula is often less hazardous than its solvent-based alternatives. Employers who respect employee wellness highly will find this to be in compliance with workplace safety regulations and enticing. Water-based mold release agents operate seamlessly. They aid in the achievement of excellent surface finishes, which are crucial in fields like the automotive and aerospace industries where precision and aesthetics are prized. The water-based part is flexible. Serving a range of industries, such as the building and automotive sectors, it demonstrates its adaptability and flexibility in a number of industrial processes. The expanding water-based category is gaining market share from traditional solvent-based treatments.
Insights by Application
Wood Composites & Panel Pressing segment is witnessing the fastest market growth over the forecast period 2023 to 2032. The need for wood composites and panels is rising as a result of the growing worldwide construction industry, especially in the residential and commercial sectors. Mold release agents are a crucial component in ensuring the efficient production of these materials. In applications like the production of furniture or architectural panels, achieving an excellent surface finish is essential. Mold release agents are crucial in this sector to produce finished goods that are smooth and aesthetically pleasing. Producers are trying to think of innovative solutions to satisfy the increasing consumer demand for unique and customized wood composite products. Mold release agents that are adaptable to different formulations and production processes are desperately needed.
Insights by Region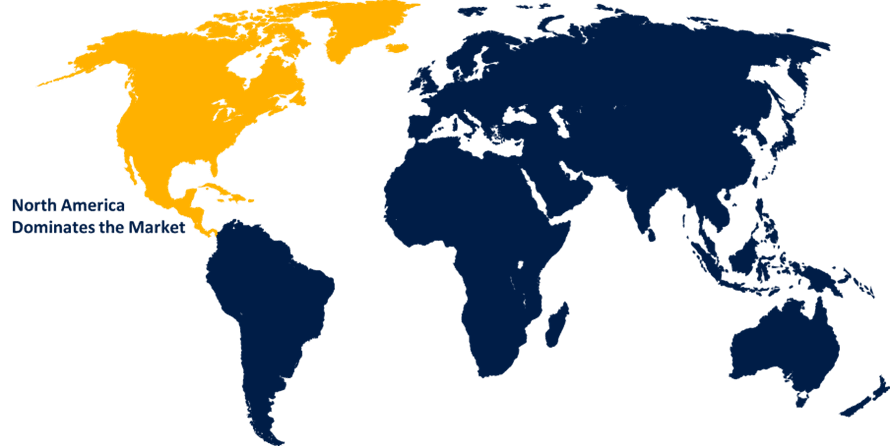 Get more details on this report -
Request Free Sample PDF
North America is anticipated to dominate the Mold Release Agents market from 2023 to 2032. Among the robust industrial sectors in North America are the aerospace, automotive, and construction sectors. The requirement for effective production processes across a range of industries has a significant impact on the application of mold release agents. Because North America is a continent that cares about the environment, there are severe regulations. Sustainable and environmentally friendly mold release agents are becoming increasingly important in order to comply with environmental requirements. The region has embraced the digital era, with many businesses distributing mold release agents via e-commerce platforms. This modification enhances accessibility and streamlines the supply chain. Industry in North America places a high importance on quality.
Asia Pacific is witnessing the fastest market growth between 2023 to 2032. A hotspot for industrial expansion is the Asia-Pacific area, especially countries like China and India. The desire to streamline production processes in the growing industrial sectors of electronics, construction, and automotives is the primary driver of the need for mold release agents. One of the largest consumers of mold release agents is the growing automotive industry in Asia-Pacific. As the region becomes a major hub for the production of automobiles, there is an increasing need for high-quality and efficient mold release solutions. The rush of infrastructure projects in the region is mostly the result of the construction industry. Since they ensure the smooth production of building materials, mold release agents are crucial to the overall efficiency of the construction sector.
Major players in the market
Chem-Trend L.P. (US)
Henkel AG & Co. KGaA (Germany)
Croda International Plc (UK)
LANXESS Group (Germany)
Shin-Etsu Chemical Co. Ltd. (Japan)
Daikin Industries Ltd. (Japan)
Michelman Inc. (US)
Marbocote Limited (UK)
McGee Industries Inc. (US)
Miller-Stephenson Inc. (US)
Market Segmentation
This study forecasts revenue at global, regional, and country levels from 2023 to 2032.
Mold Release Agents Market, Type Analysis
Water Based
Solvent Based
Mold Release Agents Market, Application Analysis
Die-Casting
PU Molding
Plastic Molding
Concrete
Composite Molding
Rubber Molding
Wood Composites & Panel Pressing
Mold Release Agents Market, Regional Analysis
About the Spherical Insights & Consulting
Spherical Insights & Consulting is a market research and consulting firm which provides actionable market research study, quantitative forecasting and trends analysis provides forward-looking insight especially designed for decision makers and aids ROI.
Which is catering to different industry such as financial sectors, industrial sectors, government organizations, universities, non-profits and corporations. The company's mission is to work with businesses to achieve business objectives and maintain strategic improvements.
CONTACT US:
For More Information on Your Target Market, Please Contact Us Below:
Phone: +1 303 800 4326 (the U.S.)
Phone: +91 90289 24100 (APAC)
Email: inquiry@sphericalinsights.com, sales@sphericalinsights.com
Contact Us: https://www.sphericalinsights.com/contact-us
Need help to buy this report?