Global Krabbe Disease Treatment Market Size To Grow USD 6,945.9 Million By 2032 | CAGR of 7.3%
Category: Healthcare
---
---
According to a research report published by Spherical Insights & Consulting, The Global Krabbe Disease Treatment Market Size is to grow from USD 3420.4 million in 2022 to USD 6945.9 million by 2032, at a Compound Annual Growth Rate (CAGR) of 7.3% during the forecast period.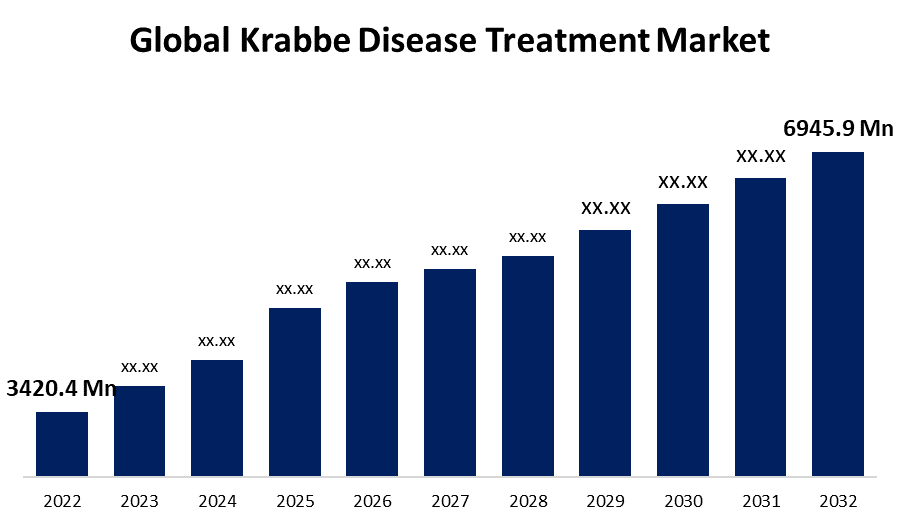 Get more details on this report -
Request Free Sample PDF
Browse key industry insights spread across 200 pages with 125 market data tables and figures & charts from the report on the "Global Krabbe Disease Treatment Market Size, Share, and COVID-19 Impact Analysis, By Types of Treatment (Anticonvulsant Medication, Physical Therapy, Muscle Relaxer Drugs, Bone Marrow Transplantation), By End Users (Hospitals and Clinics, Research Centers, Laboratories, & Others), By Region (North America, Europe, Asia-Pacific, Latin America, Middle East, and Africa), Analysis and Forecast 2022 – 2032", Get Detailed Report Description Here: https://www.sphericalinsights.com/reports/krabbe-disease-treatment-market
Krabbe Disease is a hereditary illness that causes the myelin sheaths of nerve cells in the central nervous system and brain to degenerate. Krabbe disease has been detected in children as young as six years old, and there is currently no cure; nevertheless, the ailment is managed by supportive care. Krabbe disease in infants is distinguished by recurrent vomiting, feeding difficulties, fever, muscle spasms, and other symptoms such as loss of head control. As the disorder progresses within the body, several symptoms such as seizures, developmental ability imbalances, loss of hearing and sight, restricted muscles, and many others become more severe. If Krabbe disease develops later in infancy or age, a few symptoms such as difficulty walking, vision loss, and muscle weakness are researched and discovered. Krabbe disease is also known as globoid cell leukodystrophy, and stem cell transplantation in infants has shown encouraging results if they are treated before the disease manifests itself.
Increasing awareness of Krabbe illness, a rare genetic ailment, and standard tools for diagnosing Krabbe disease are projected to drive the market during the forecast period. Imaging scans, nerve conduction, eye examination, and genetic testing are just a few of the aspects that are likely to drive the Krabbe disease therapy market throughout the forecast period. The Krabbe disease therapy market is quickly expanding as a result of the introduction of biologics, which are viewed as a safe and effective treatment for the disease. rising clinical development of Krabbe disease treatments, as well as rising R&D expenditure, are major drivers projected to drive the global market in the next years. Furthermore, Key considerations such as the availability of a limited patient pool for clinical trials are being introduced to the global market. These challenges are combined with others, such as an increasing lack of information and awareness, which may limit business leaders' and analysts' expansion plans for the present projected period. The industry's expansion is likely to be hampered by a lack of competent healthcare providers and restricted pharmaceutical supply.
COVID 19 Impact
The COVID-19 pandemic has had a moderate impact on healthcare systems and the market. In the uncommon metabolic community, where all patients, including youngsters, have multiorgan deficits due to their chronic disease, the chance of severe forms of COVID-19 may be substantial. The European Reference Network for Hereditary Metabolic Diseases, MetabERN, performed two surveys: one for patients' organizations (PO) and one for healthcare providers (HCPs). The incidence was lower in the community of rare metabolic patients (72.9 per 100,000 vs. 117 per 100,000) than in the overall European population. On the other hand, Patients experienced considerable disruptions in their care, with the majority of visits and treatments being canceled, reduced, or postponed. Almost all HCPs (90 percent) used telemedicine to replace face-to-face consultations, approximately half of the patients experiencing treatment adjustments transferred from hospital to home therapy, and a quarter of patients experienced problems obtaining their drugs.
The bone marrow transplantation segment is dominating the market with the largest market share over the forecast period.
Based on the types of treatment, the global krabbe disease treatment market is bifurcated into anticonvulsant medication, physical therapy, muscle relaxer drugs, and bone marrow transplantation. Throughout these segments, the bone marrow transplantation segment is leading the market because it has the potential to slow or stop the progression of the disease and improve the quality of life for individuals who are affected. However, it is important to realize that the success and suitability of bone marrow transplantation may vary depending on individual features and illness stage.
The hospitals and clinics segment are influencing the largest market growth during the forecast period.
On the basis of end users, the global krabbe disease treatment market is segmented into different segments such as hospitals and clinics, research centers, laboratories, & others. Among these segments, the hospitals and clinics segment are expected to dominate the market over the forecast period because it is important in identifying, treating, and managing Krabbe's sickness. These healthcare facilities have the necessary infrastructure, medical equipment, and skilled healthcare workers to give complete care to Krabbe disease patients. They offer services such as diagnosis, medical consultations, medication administration, supportive care, and post-transplant follow-up.
North America is leading the market with the largest market growth during the forecast period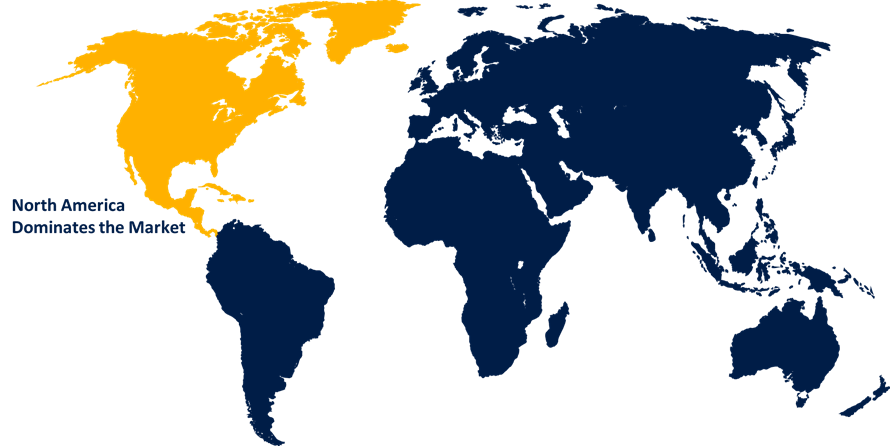 Get more details on this report -
Request Free Sample PDF
North America is expected to lead substantial market growth throughout the projection period due to factors such as the rapid adoption of highly developed technologies and innovative treatments for Krabbe disease management. Furthermore, growing technology, the presence of key competitors, rising healthcare spending, high disposable income, improved healthcare infrastructure, and increased government initiatives are projected to drive market growth.
Europe is expected to witness rapid revenue market expansion over the projection period. The existence of major enterprises in Europe providing pharmaceutical and other therapies for the complications and symptoms of Krabbe disease, particularly in newborns, is one of the factors projected to boost the market in Europe. Furthermore, many groups in Europe are working together to find the gene mutation and promote awareness of Krabbe's condition. During the projected period, this is also expected to drive the European market.
Key Companies & Market Share Insights
Major vendors in Global Krabbe Disease Treatment Market include Abbott Laboratories, GlaxoSmithKline Plc, Novartis AG, Johnson & Johnson Services Inc, Pfizer, Polpharma, Sanofi S.A., Takeda Pharmaceutical Company Limited, Teva Pharmaceutical Industries Ltd., UCB Pharmaceuticals, Zhejiang Jiuzhou Pharmaceuticals Co Ltd, Polaryx Therapeutics, and Others.
Recent Development
In February 2021, Forge Biologics Inc. reported that the USFDA had granted FBX-101 Fast Track, Orphan Drug, and Rare Pediatric illness (RPD) designations for the treatment of Krabbe Illness. FBX-101, the company's first intravenous gene therapy program for Krabbe disease patients, offers a significant advancement in the hybrid approach to gene therapy manufacture and development.
key Target Audience
Market Players
Investors
End-users
Government Authorities
Consulting and Research Firm
Venture capitalists
Value-Added Resellers (VARs)
Freelancer Consulting Experts
All Other Verticles
Market Segment
This study forecasts revenue at global, regional, and country levels from 2022 to 2032. Spherical Insights has segmented the Global Krabbe Disease Treatment Market based on the below mentioned segments:
Global Krabbe Disease Treatment Market, By Type of Treatment
Anticonvulsant Medication
Physical Therapy
Muscle Relaxer Drugs
Bone Marrow Transplantation
Global Krabbe Disease Treatment Market, By End Users
Hospitals and Clinics
Research Centers
Laboratories
Others
Krabbe Disease Treatment Market, By Regional Analysis
Europe

Germany
Uk
France
Italy
Spain
Russia
Rest of Europe

Asia Pacific

China
Japan
India
South Korea
Australia
Rest of Asia Pacific

South America

Brazil
Argentina
Rest of South America

Middle East & Africa

UAE
Saudi Arabia
Qatar
South Africa
Rest of the Middle East & Africa
About the Spherical Insights & Consulting
Spherical Insights & Consulting is a market research and consulting firm which provides actionable market research study, quantitative forecasting and trends analysis provides forward-looking insight especially designed for decision makers and aids ROI.
Which is catering to different industry such as financial sectors, industrial sectors, government organizations, universities, non-profits and corporations. The company's mission is to work with businesses to achieve business objectives and maintain strategic improvements.
CONTACT US:
For More Information on Your Target Market, Please Contact Us Below:
Phone: +1 303 800 4326 (the U.S.)
Phone: +91 90289 24100 (APAC)
Email: inquiry@sphericalinsights.com, sales@sphericalinsights.com
Contact Us: https://www.sphericalinsights.com/contact-us
Need help to buy this report?