Global Gout Therapeutics Market Size To Grow USD 7.1 Billion by 2032 | CAGR of 12.7 %
Category: Healthcare
---
---
Global Gout Therapeutics Market to Grow $7.1 billion by 2032
According to a research report published by Spherical Insights & Consulting Global Gout Therapeutics Market Size is to grow from USD 2.1 billion in 2022 to USD 7.1 billion by 2032, at a Compound Annual Growth Rate (CAGR) of 12.7 % % during the forecast period.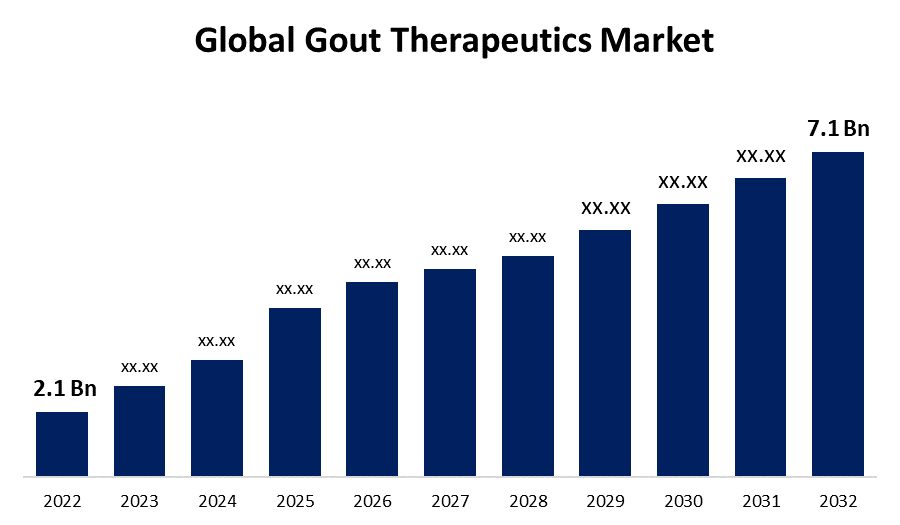 Get more details on this report -
Request Free Sample PDF
Browse key industry insights spread across 200 pages with 120 market data tables and figures & charts from the report on the "Global Gout Therapeutics Market Size, Share, and COVID-19 Impact Analysis, By Drug Class (Non-steroidal Anti-Inflammatory Drugs (NSAIDs), Corticosteroids, Colchicine, anti-hyperuricemic Agents (Urate-Lowering Drugs), By Disease Condition (Acute Gout, Chronic Gout), By Region (North America, Europe, Asia-Pacific, Latin America, Middle East, and Africa), Analysis and Forecast 2022– 2032." Get Detailed Report Description Here: https://www.sphericalinsights.com/reports/gout-therapeutics-market
Gout is an inflammatory condition that primarily affects males over 40 who have high blood levels of uric acid. The chemical can significantly aggravate joint pain, inflammation, and stiffness by forming crystals that resemble needles. Gout is a complex kind of arthritis that affects the joints and is characterized by excruciating pain, stiffness, and redness. There are several ways to treat and prevent gout symptoms, which might differ from person to person. NSAIDs or corticosteroids can be used to treat the condition's discomfort and inflammation. Intense pain, swelling, redness, and sensitivity in one or more joints, most frequently the big toe, characterize it. It often occurs in females following menopause. Because they have higher uric acid levels during the bulk of their lives, males are three times more likely to develop it than women. After menopause, women achieve these uric acid levels.
The gout treatment market is being driven by the rising occurrence of gout as a result of aging populations and changing lifestyle patterns. The number of the elderly has grown as a result of an increase in life expectancy worldwide. This trend has increased the incidence of this condition and increased the per capita demand for its medications, both of which have been beneficial to their company. Recently released biologics include Krystexxa, Canakinumab, and Rilonacept. In addition, rising adoption of these biologics is anticipated to fuel the market over the forecasted period because of their ability to have a considerable anti-inflammatory impact. In addition, several other drugs now undergoing clinical trials are anticipated to be released over the projection period, thereby boosting the industry. Furthermore, Gout is usually inadequately or incorrectly diagnosed, which causes therapy to be postponed or inadequate. Additionally, a lack of knowledge about the symptoms and side effects of gout among patients and medical professionals may keep the market for gout drugs stagnant. Gout is also linked to lifestyle factors including diet, alcohol use, and obesity.
COVID 19 Impact
Significant market expansion has been hampered by the COVID-19 epidemic. The COVID-19 pandemic's arrival has resulted in a state of emergency across the country, the suspension of routine non-urgent hospital admissions, and a delay in the diagnosis of gout patients. For instance, a March 2022 article titled "Gout and the COVID-19 pandemic" in the Rheumatology Journal predicted that those with gout would be more likely than the general population to experience negative effects after contracting COVID-19 because of the co-occurring cardiometabolic illnesses. According to the same source, the COVID-19 epidemic has also presented gout sufferers with a number of challenges. Additionally, the lack of guidelines for managing gout during the pandemic and the paucity of studies examining the effects of COVID-19 infection on gout sufferers have had an impact on the studied market's growth during the pandemic.
The anti-hyperuricemic agents (urate lowering Agents) segment is influencing the market with the largest market share over the forecast period.
The market for encephalitis vaccines is divided into several categories based on the pharmacological class used, including non-steroidal anti-inflammatory medicines (NSAIDs), corticosteroids, colchicine, and anti-hyperuricemic agents (drugs that lower urate). The anti-hyperuricemic Agents (urate-lowering agents) sector generated the most income out of all of them over the forecasted period. Antigout drugs are frequently used interchangeably with anti-hyperuricemic drugs. Due to factors including the rising use of these pharmaceuticals to treat gout, the anti-hyperuricemic agent market is anticipated to grow significantly over the projected period. Antihyperuricemic drugs reduce blood uric acid levels by either boosting urine uric acid excretion or reducing the synthesis of excess uric acid.
The chronic segment is dominating the largest market growth during the forecast period.
On the basis of disease condition, the global gout therapeutics market is classified into acute gout and chronic gout. The chronic sector is anticipated to generate the largest revenue share of these over the forecast period. This group of pharmaceuticals includes urirate-lowering xanthine oxidase inhibitors and uricosurics. The market is expected to grow at the fastest rate during the projected period due to the release of urate-lowering drugs and the anticipated entry of pipeline pharmaceuticals.
North America is leading the market with the largest market growth over the forecast period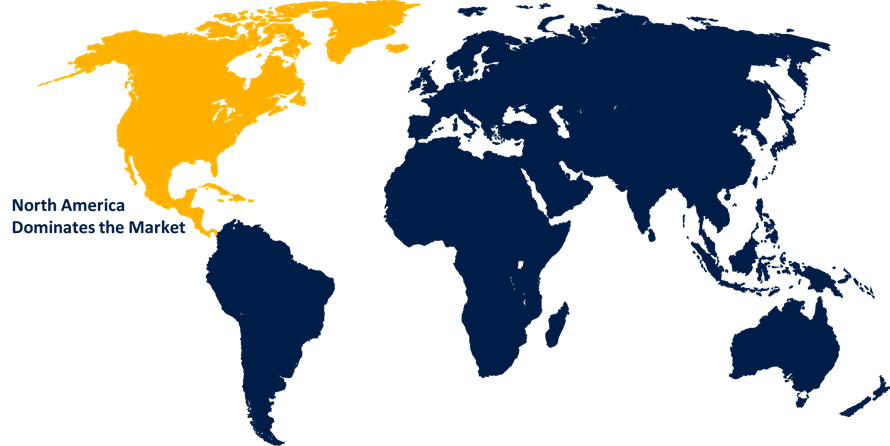 Get more details on this report -
Request Free Sample PDF
North America made up the greatest portion of the global market, due to the expanding gout prevalence, the region's established healthcare infrastructure, and rising healthcare costs, North America made up the greatest portion of the global market. The Organization for Economic Cooperation and Development (OECD) estimates that in June 2022, healthcare spending in the US accounted for 17.8% of GDP. This is partly because there is considerable local participation, gout therapy is widely used, and brand-name drugs are expensive in the US. The region is expected to maintain its dominance during the projected period due to the anticipated introduction of urate-lowering medications in the area.
Asia Pacific is predicted to grow fastest over the next few years, owing to an expanding patient base, increased investment by significant rivals in the region, and growing gout treatment use. Furthermore, it is anticipated that during the projected time, there would be a rise in the prevalence of smoking, alcohol use, and a stressful lifestyle.
Major vendors in Global Gout Therapeutics Market include Lannett Company, Inc, Boehringer Ingelheim, GlaxoSmithKline PLC, Horizon Therapeutics plc, Viatris, Novartis International AG, Regeneron Pharmaceuticals, Romeg Therapeutics, LLC., Takeda Pharmaceutical Company Ltd, Teijin Pharma Ltd, and Others.
key Target Audience
Market Players
Investors
End-users
Government Authorities
Consulting and Research Firm
Venture capitalists
Value-Added Resellers (VARs)
Recent Development
In August 2022, A new drug candidate for the treatment of gout has been developed in collaboration with Ginkgo Bioworks, a top horizontal platform for cell programming, as reported by Synlogic, Inc., a clinical-stage biotechnology company that uses its unique synthetic biology approach to develop medications for metabolic and immunological diseases.
In March 2022, Strides Pharma's Colchicine tablets USP, 0.6 mg, have been certified by the US Food and Drug Administration for the treatment and prevention of gout.
Market Segment
This study forecasts revenue at global, regional, and country levels from 2022 to 2032. Spherical Insights has segmented the Global Gout Therapeutics Market based on the below mentioned segments:
Global Gout Therapeutics Market, By Drug Class
Non-steroidal Anti-Inflammatory Drugs (NSAIDs)
Corticosteroids
Colchicine
anti-hyperuricemic Agents (Urate-Lowering Drugs)
Global Gout Therapeutics Market, By disease condition
Gout Therapeutics Market, By Regional Analysis
Europe

Germany
Uk
France
Italy
Spain
Russia
Rest of Europe

Asia Pacific

China
Japan
India
South Korea
Australia
Rest of Asia Pacific

South America

Brazil
Argentina
Rest of South America

Middle East & Africa

UAE
Saudi Arabia
Qatar
South Africa
Rest of the Middle East & Africa
About the Spherical Insights & Consulting
Spherical Insights & Consulting is a market research and consulting firm which provides actionable market research study, quantitative forecasting and trends analysis provides forward-looking insight especially designed for decision makers and aids ROI.
Which is catering to different industry such as financial sectors, industrial sectors, government organizations, universities, non-profits and corporations. The company's mission is to work with businesses to achieve business objectives and maintain strategic improvements.
CONTACT US:
For More Information on Your Target Market, Please Contact Us Below:
Phone: +1 303 800 4326 (the U.S.)
Phone: +91 90289 24100 (APAC)
Email: inquiry@sphericalinsights.com, sales@sphericalinsights.com
Contact Us: https://www.sphericalinsights.com/contact-us
Need help to buy this report?