Global Gas Separation Membranes Market Size To Worth USD 2.2 Billion by 2032 | CAGR of 4.6%
Category: Advanced Materials
---
---
Global Gas Separation Membranes Market Size To Worth USD 2.2 Billion by 2032.
According to a research report published by Spherical Insights & Consulting, the Global Gas Separation Membranes Market Size To Grow from USD 0.81 Billion in 2022 to USD 2.2 Billion by 2032, at a Compound Annual Growth Rate (CAGR) of 4.6% during the forecast period.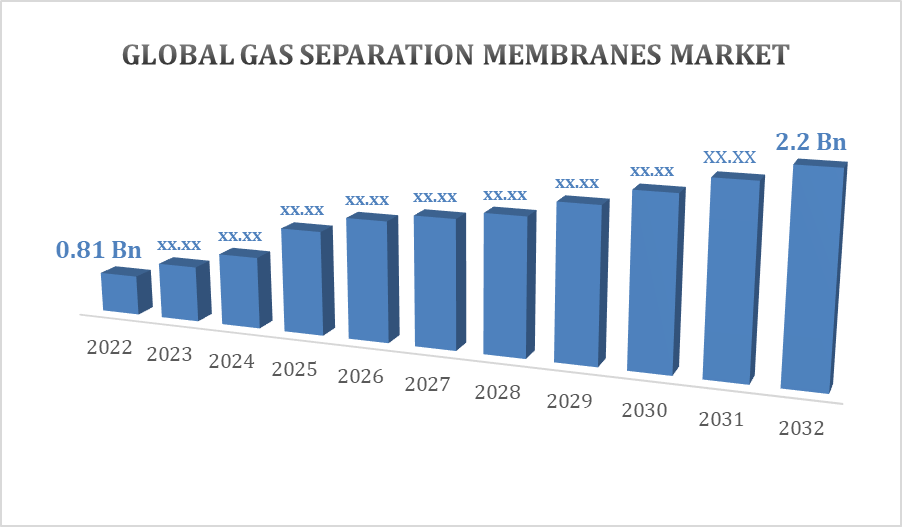 Get more details on this report -
Request Free Sample PDF
Browse key industry insights spread across 200 pages with 110 market data tables and figures & charts from the report on "Global Gas Separation Membranes Market Size By Material Type (Cellulose Acetate, Polysulfone), By Application (Carbon Dioxide Removal, Vapor Or Gas Separation), By Region, And Segment Forecasts, By Geographic Scope And Forecast 2022 - 2032." Get Detailed Report Description Here: https://www.sphericalinsights.com/reports/gas-separation-membranes-market
As the world grows more sustainable, the industry is witnessing a trend towards eco-friendly and energy-efficient membranes. As interest in hydrogen as a sustainable energy carrier grows, hydrogen separation membranes, for instance, are becoming more and more popular. Gas separation membranes are employed in a wide range of industries. These membranes are versatile, having uses in the energy sector for carbon capture and storage as well as nitrogen generation in the food and beverage business. Of course, every market has its share of challenges. The high initial cost of membrane systems and the need for continuous improvement of membrane performance are two of the sector's problems.
Gas Separation Membranes Market Value Chain Analysis
Everything starts with the raw materials. Depending on the kind, specific polymers or inorganic components are required for production. These basic components serve as the foundation for the whole value chain. During manufacture, these fundamental materials are changed into membranes. This stage often requires accuracy and complex processes to manufacture membranes with the necessary properties for efficient gas separation. Membranes are then assembled into modules that can be customised to fit the specific requirements of different applications. These modules are the functional units that will perform the gas separation process. After they are ready, the membranes or membrane modules move on to the distribution phase. Companies might use wholesalers or sell straight to consumers.
Gas Separation Membranes Market Opportunity Analysis
The growing popularity of hydrogen as a clean energy source presents a significant opportunity. Gas separation membranes have the potential to significantly improve hydrogen generation and purification, which will support the growth of the hydrogen economy. As the emphasis on reducing carbon emissions increases, the use of gas separation membranes for carbon capture and storage poses a considerable prospect. This can be particularly significant in high-carbon industries like power generation and heavy industry. The field of upgrading biogas becomes viable as the demand for sustainable energy sources rises. Gas separation membranes are an efficient way to convert biogas into biomethane, which may then be fed into pipelines for natural gas or used as a fuel for vehicles.
Interest in CCS projects has surged due to the global emphasis on reducing carbon emissions and tackling climate change. Gas separation membranes are crucial for absorbing CO2 emissions from industrial operations, particularly in the heavy and power producing sectors. Businesses and industries are becoming more aware of their carbon impact. When utilised for CO2 removal, gas separation membranes enhance operational environmental performance and align with business sustainability goals. In renewable energy systems, CO2 produced during biomass and bioenergy processes can be collected using gas separation membranes. This integration facilitates the growth of renewable energy sources while meeting the need for carbon management.
Membrane systems may require a large initial investment. This cost factor could be troublesome, especially for smaller businesses or economically constrained industries. Membrane fouling is a persistent issue caused by unwanted contaminants accumulating on the membrane surface. It might become less effective with time and need to be cleaned or replaced more frequently, which would raise running costs. Certain applications require extremely high temperatures and caustic chemicals, such as those used in the petrochemical industry. The development of membranes that can withstand such circumstances without experiencing significant degradation is an ongoing battle. Applications are limited when it comes to finding materials that can maintain structural integrity and performance at high temperatures.
Insights by Material Type
The Polymide and Polyaramide segment accounted for the largest market share over the forecast period 2023 to 2032. Polyimide and polyaramide membranes are well known for their exceptional heat stability. This feature makes them suitable for applications requiring high temperatures, such as the gas separation process used in the petrochemical industry. Due to the variety of gas streams and challenging working environment, the petrochemical industry benefits from the use of polyimide and polyaramide membranes. Because they can withstand high temperatures and pressures, they are utilised in gas separation processes in petrochemical facilities. Membranes made of polyimide and polyaramide are extensively utilised in numerous industries due to their versatility and dependability. These membranes are suitable for processing natural gas as well as air separation, among other gas separation needs.
Insights by Application
Nitrogen Generation and Oxygen Enrichment segment is witnessing the fastest market growth over the forecast period 2023 to 2032. Many industries use a lot of nitrogen, including the food & beverage, electronics, and pharmaceutical sectors. Because gas separation membranes can efficiently manufacture nitrogen on-site, this market is growing. In the food and beverage industry, nitrogen is utilised for packaging and preservation. Gas separation membranes enable on-site nitrogen production, providing a useful and cost-effective alternative for food packaging applications. Nitrogen production is critical to the oil and gas industry's purging, blanketing, and enhanced oil recovery procedures. Gas separation membranes offer a dependable and portable solution for on-site nitrogen generation in oil and gas operations.
Insights by Region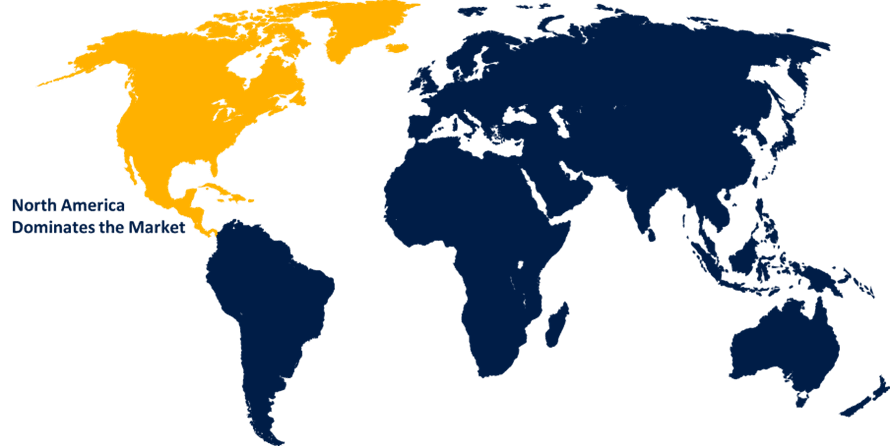 Get more details on this report -
Request Free Sample PDF
North America is anticipated to dominate the Gas Separation Membranes market from 2023 to 2032. The market's size and growth are a result of the area's emphasis on advanced industrial infrastructure and technological innovation. The energy sector, which includes the oil and gas sectors, is a major driver of the need for gas separation membranes. Applications such as natural gas processing, hydrogen production, and carbon capture are particularly relevant in North America. An growth in the pursuit of renewable energy sources supports the gas separation membrane industry even more. In the expanding field of hydrogen production based on renewable energy, gas separation membranes are essential. North America is home to a number of important businesses in the gas separation membrane industry.
Asia Pacific is witnessing the fastest market growth between 2023 to 2032. One of the primary drivers of the gas separation membrane market is the ongoing industrial expansion in countries such as China and India. These membranes find use in the petrochemical, chemical, and steel industries. The demand for gas separation membranes is increasing as countries in the Asia-Pacific region focus on transitioning to more environmentally friendly energy sources, particularly for applications involving the production of hydrogen and the processing of natural gas. In the Asia-Pacific region, renewable energy initiatives are booming. These projects, which include producing clean hydrogen from renewable resources, make use of gas separation membranes.
Major players in the market
Air Liquide Advanced Separations
Fujifilm Manufacturing Europe B.V.
DIC Corporation
Evonik Industries AG
Parker-Hannifin, UBE Industries
Schlumberger Limited
Honeywell Uop
Sepratek Inc.
Air Products and Chemicals
Market Segmentation
This study forecasts revenue at global, regional, and country levels from 2023 to 2032.
Gas Separation Membranes Market, Material Type Analysis
Cellulose Acetate
Polysulfone
Polyimide and Polyaramide
Gas Separation Membranes Market, Application Analysis
Carbon Dioxide Removal
Vapor Or Gas Separation
Nitrogen Generation and Oxygen Enrichment
Gas Separation Membranes Market, Regional Analysis
About the Spherical Insights & Consulting
Spherical Insights & Consulting is a market research and consulting firm which provides actionable market research study, quantitative forecasting and trends analysis provides forward-looking insight especially designed for decision makers and aids ROI.
Which is catering to different industry such as financial sectors, industrial sectors, government organizations, universities, non-profits and corporations. The company's mission is to work with businesses to achieve business objectives and maintain strategic improvements.
CONTACT US:
For More Information on Your Target Market, Please Contact Us Below:
Phone: +1 303 800 4326 (the U.S.)
Phone: +91 90289 24100 (APAC)
Email: inquiry@sphericalinsights.com, sales@sphericalinsights.com
Contact Us: https://www.sphericalinsights.com/contact-us
Need help to buy this report?