Global Antibody Drug Conjugates Market Size To Grow USD 23.9 Billion by 2032 | CAGR of 10.7%
Category: Healthcare
---
---
Global Antibody Drug Conjugates Market to Grow $23.9 Billion by 2032
According to a research report published by Spherical Insights & Consulting Global Antibody Drug Conjugates Market Size is to grow from USD 8.6 Billion in 2022 to USD 23.9 billion by 2032, at a Compound Annual Growth Rate (CAGR) of 10.7% during forecast period.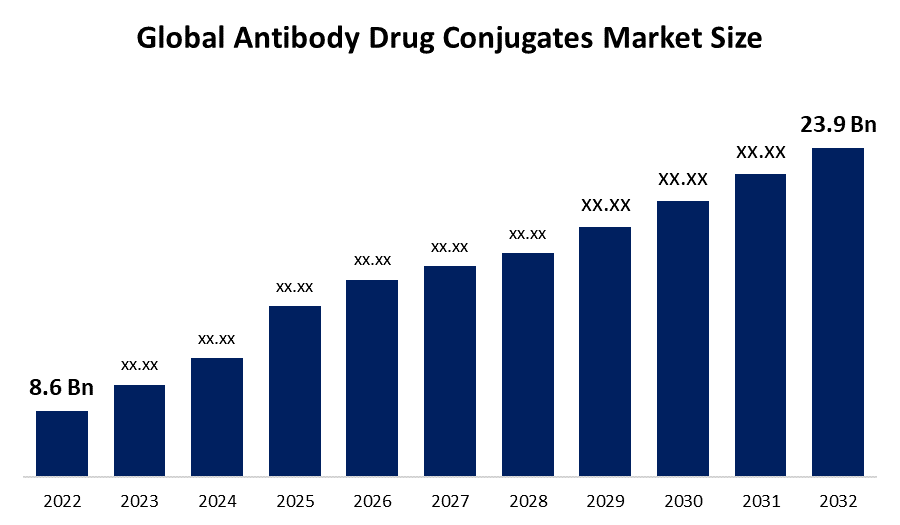 Get more details on this report -
Request Free Sample PDF
Browse key industry insights spread across 212 pages with 110 market data tables and figures & charts from the report on "Global Antibody Drug Conjugates Market Size, Share, and COVID-19 Impact Analysis, By Application (Blood Cancer, Breast Cancer, Ovary Cancer, Lung Cancer, Skin Cancer, Brain Tumor, and Other Applications), By Technology (Cleavable and Non-Cleavable), By Region (North America, Europe, Asia-Pacific, Latin America, Middle East, and Africa), Analysis and Forecast 2022– 2032" Get Detailed Report Description Here: https://www.sphericalinsights.com/reports/antibody-drug-conjugates-market
The use of antibody-drug conjugates as therapeutic agents is innovative and advantageous because they combine the potent cell-killing effects of highly cytotoxic small molecule drugs with distinctive anti-tumor action. On the other hand, systemic toxicity is reduced by antibody-drug conjugates. Contrarily, traditional long-term chemotherapy cannot tell the difference between malignant and healthy cells which might have a severe impact on a person's health. The ideal monoclonal antibody-drug conjugate consists of a potent cytotoxic agent, a highly selective monoclonal antibody, and a stable linker. Antibody-drug conjugates aim to specifically and effectively target cancer cells while causing the least amount of damage to normal cells. These antibody-drug conjugates effectively transport the treatment to the cancer cells they are intended to treat. Most companies conduct clinical trials to introduce new drugs onto the market and get label extensions for medications that have already obtained clearance. For instance, in January 2022 Seagen began phase 1 clinical investigations of two novel antibody-drug conjugates in patients with advanced solid tumors, SGN-B7H4V & SGN-PDL1V.
Due to increased spending on research and development (R&D) initiatives, the market for antibody-drug conjugates is growing. The antibody-drug conjugates are the ideal cancer treatment since they have low side effects. Because they offer a blend of conventional and cutting-edge therapies that guarantee outstanding results, antibody-drug conjugates are becoming increasingly important on a worldwide scale. The industry is also growing as a result of technological advancements. For instance, in February 2022, ImmunoGen Inc. and Eli Lilly and Company signed a global, multi-year, definitive licensing agreement that grants Lilly the exclusive right to conduct research on, develop, and market antibody-drug conjugates (ADCs) that are intended for targets selected by Lilly based on ImmunoGen's state-of-the-art camptothecin technology. Furthermore, the limitations and challenges that antibody-drug conjugates encounter include low penetrating capabilities and poor outcomes. The effectiveness of treatment for cancer patients may be harmed by various limitations and difficulties with antibody-drug conjugates, including immunogenicity, a lack of stable linkage in blood circulation, drug resistance, unknown toxicity, an insufficient mechanism of penetration, and unusually large mAbs.
COVID 19 Impact
The Covid-19 epidemic harmed the world's cancer treatment facilities and disrupted the market for antibody therapeutic conjugates. Due to the severe lockdown regulations in place during the pandemic, production procedures and contracts for antibody-drug conjugates were postponed or rejected. However, a swift recovery of the worldwide market for antibody-drug conjugates following the pandemic is anticipated. Positively, the pandemic has compelled patients to seek cutting-edge medical interventions; this will lead to a rise in cancer diagnoses and, as a result, raise the need for antibody-drug conjugates.
The breast cancer segment is influencing the largest market revenue of 50.6% over the forecast period.
The global market for antibody drug conjugates is categorized based on application into blood cancer, breast cancer, ovarian cancer, lung cancer, skin cancer, brain tumor, and other applications. Due to the relatively high frequency of the illness worldwide, the breast cancer sector is leading the market with the highest revenue share of 50.6%. In 2020, it was estimated that 2.26 million new cases of breast cancer will have been discovered worldwide and 685,000 people would have perished from cancer. Three drugs are currently available for the treatment of breast cancer: Kadcyla from Hoffmann-La Roche Ltd., Enhertu from AstraZeneca, and Trodelvy from Gilead Sciences, Inc.
The cleavable linker segment is dominating the largest market share during the forecast period.
The market for antibody-drug conjugates is divided into cleavable and non-cleavable segments based on technology. The market leader among these segments is the cleavable linker sector. The cleavable linker technology is the most popular method for treating antibody-drug conjugates because it may release cytotoxin from the conjugates. Cleavable linkers considerably contribute to the success of antibody-drug conjugates by using the properties of tumor cells; their unmatched advantages in the treatment of cancer further promote the segment's growth.
North America dominates the market with the largest market revenue of 53.2% during the forecast period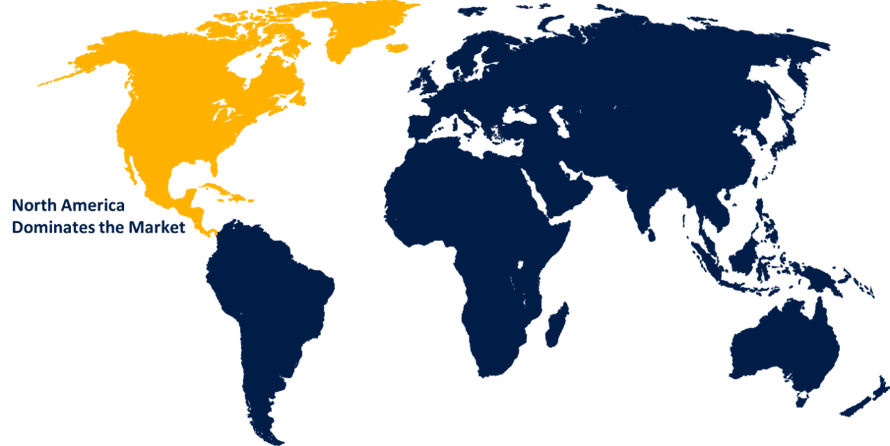 Get more details on this report -
Request Free Sample PDF
North America is leading with a considerable market growth of 53.2% throughout the anticipated period. The region's established research facilities for developing new ADCs, rising per capita healthcare expenses, and increasing cancer prevalence are the key factors contributing to the region's supremacy. In 2022, the American Cancer Society anticipates that there will be 1.9 million new cases of cancer, with a total death toll of 609,360. The authorization of further antibody drug conjugates in the region is predicted to fuel market expansion.
Major vendors in Global Antibody Drug Conjugates Market include Seagen, Inc., Takeda Pharmaceutical Company Limited, AstraZeneca, F. Hoffmann-La Roche Ltd., Pfizer, Inc., Gilead Sciences, Inc., Daiichi Sankyo Company Limited, GlaxoSmithKline plc, Astellas Pharma, Inc., ADC Therapeutics SA, and other key players.
key Target Audience
Market Players
Investors
End-users
Government Authorities
Consulting and Research Firm
Venture capitalists
Value-Added Resellers (VARs)
Recent Development
In February 2023, an advisory board has been established by the clinical-stage biotechnology business Immunome, which develops innovative targeted antibody pairs, to give priority to the choice of new targets for antibody-drug conjugates and T-cell redirection techniques.
In December 2022, to develop antibody-drug conjugates (ADCs) for the treatment of cancer, Biosion USA Inc. collaborated with ImmunoGen Inc. In the collaborative research project, Biosion would use its unique SynTrace high-throughput (HT) endocytosis platform to produce highly selective antibodies to targets, and ImmunoGen would contribute its unique linker-payload technology to produce new ADCs.
Market Segment
This study forecasts revenue at global, regional, and country levels from 2022 to 2032. Spherical Insights has segmented the Global Antibody Drug Conjugates Market based on the below mentioned segments:
Global Antibody Drug Conjugates Market, By Application
Blood Cancer
Breast Cancer
Ovary Cancer
Lung Cancer
Skin Cancer
Brain Tumor
Other
Global Antibody Drug Conjugates Market, By Technology
Antibody Drug Conjugates Market, By Regional Analysis
North America
Europe

Germany
Uk
France
Italy
Spain
Russia
Rest of Europe

Asia Pacific

China
Japan
India
South Korea
Australia
Rest of Asia Pacific

South America

Brazil
Argentina
Rest of South America

Middle East & Africa

UAE
Saudi Arabia
Qatar
South Africa
Rest of the Middle East & Africa
About the Spherical Insights & Consulting
Spherical Insights & Consulting is a market research and consulting firm which provides actionable market research study, quantitative forecasting and trends analysis provides forward-looking insight especially designed for decision makers and aids ROI.
Which is catering to different industry such as financial sectors, industrial sectors, government organizations, universities, non-profits and corporations. The company's mission is to work with businesses to achieve business objectives and maintain strategic improvements.
CONTACT US:
For More Information on Your Target Market, Please Contact Us Below:
Phone: +1 303 800 4326 (the U.S.)
Phone: +91 90289 24100 (APAC)
Email: inquiry@sphericalinsights.com, sales@sphericalinsights.com
Contact Us: https://www.sphericalinsights.com/contact-us
Need help to buy this report?